The end papers of Made to Measure: Meyer Davis Architecture and Interiors (Vendome) are deep-sea blue and intensely glossy — I wondered for a moment if they were coated in oil. This detail is appropriate, given the penchant of firm principals Will Meyer and Gray Davis for well-placed, but never de trop, lacquered walls and ceilings, gleaming metal fixtures and snappily tiled surfaces. With text by design writer Dan Shaw and an introduction by designer David Netto, the book is probably the year's prettiest and richest decorating tome — it's high calorie in the best way, right down to the paper stock and layout.
The sustenance comes from the designs, which are all in the vein of the high-style modernity the duo have practically patented since they founded their New York firm in 1999. Divided into "Private" and "Public," the book features both Meyer's and Davis's own homes (predictably gorgeous and not fussy) in the first section, while the latter covers their increasingly in-demand hotel projects, including the Paramount in New York and, more recently, Miami's 1 Hotel South Beach. The layouts and furnishings are strikingly relational: You can't help but see how people in them would happily interact with each other. Shaw has it just right when he calls this duo "social engineers."
---
Travelers are always bursting with ideas about how to apply their experiences in the field to everyday life. This urge has been nicely captured in Sara Bliss's Hotel Chic at Home: Inspired Design Ideas from Glamorous Escapes (Monacelli). Bliss, who runs hotelchicblog.com and has written several style-related books, brings her expertise to bear through her contacts at hundreds of properties around the world, from Indonesia to Morocco to Manhattan. The rich color photos create their own Grand Tour.
Unsurprisingly, bedrooms and bathrooms provide the bulk of the ideas. Bliss helpfully takes the how-to approach with every text block and caption, extrapolating the lesson from the pretty picture. Try, for example, mixing fine old china with basic white plates and hanging them all on the wall, as at the Kelly Wearstler–designed Viceroy, in Santa Monica, California. Throughout the book are stand-alone sidebars in which notable design talents talk about their favorite hotels — Dwellstudio founder Christiane Lemieux, for instance, holding forth on Kasbah Tamardot, in Marrakech.
---
If you're devoting a whole book to just one house, it had better be truly great. Acclaimed decorator Bunny Williams's spread in the Dominican Republic's Punta Cana — the subject of A House by the Sea (Abrams) — is just that. The classically inspired residence by Cuban architect Ernesto Buch — with significant input from Williams and her antiques-dealing husband, John Rosselli — has wonderful proportions, not to mention columns, porches and porticos to spare, all of which have been comprehensively photographed for the volume, mostly by Francesco Lagnese.
Inside, of course, Williams can employ her patented traditional-but-comfortable look, which she does to perfection in a palette of many ocean-inspired blues and greens and a not-inconsiderable amount of yellow. Famous friends like architect Gil Schafer, antiques dealer Angus Wilkie and garden writer Jane Garmey contribute paeans to the home based on their personal experiences as guests. And if you like dogs, Williams's pack appears in dozens of the images. You'll wag your tail appreciatively at the whole package.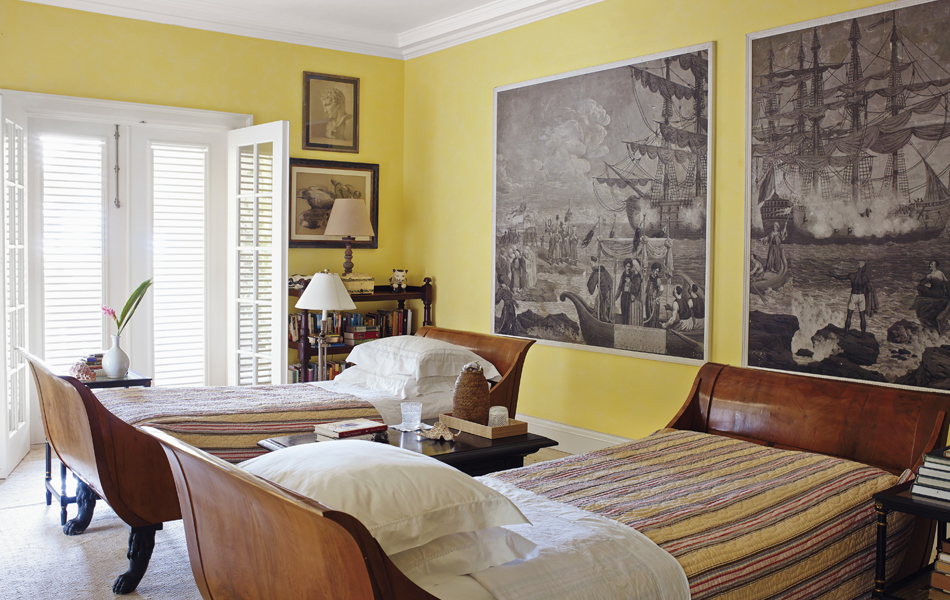 ---
There's something slightly mysterious about Inson Dubois Wood: Interiors (Rizzoli). That applies to both the man — the principal of his own design firm, who is not pictured anywhere in the book — and the rooms lavishly documented within. The projects displayed in photographs by Mark Roskams are mostly in Europe and New York, with one in Asia, but they all have a distinctly Continental feel.
Wood, whose background and upbringing span Asia, Europe and America, isn't impelled to cover every surface he sees or to fill up every inch of the rooms he creates in locales from Lake Como to Saint-Tropez to Berlin. He often lets an interesting surface or a provocative juxtaposition just hang there to be appreciated. With a degree from Harvard's Graduate School of Design and stints working for both Juan Pablo Molyneux and David Easton, Wood certainly has a pedigree, and his intriguing schemes leave lasting impressions.
---
Has there ever been a more important figure in the design life of a country than Britain's Terence Conran? Now 85, Sir Terence (knighted in 1983) has been bringing savvy modern style to the masses for 65 years. The founder of the Habitat affordable furnishings and housewares brand and the Conran Shop has now published a memoir with pictures, My Life in Design (Conran Octopus), with a forward by designer Thomas Heatherwick, a polymath of a younger generation who reveres the great master.
It's a scrapbook of sorts, with 400 images telling the story of how the Dorset native took an interest in textiles and turned it into an empire. Over the decades, his purview has extended beyond his familiar retail wares into architecture (from housing projects to swank restaurants) and extensive philanthropic work promoting the history of design. Conran says he's a furniture designer at heart and that one of his proudest achievements is founding London's Design Museum (recently reconceived and reopened), but let's face it: He's done it all.
---
With Elemental Living: Contemporary Houses in Nature, the editors at Phaidon have attempted a dispassionate, encyclopedic approach to the titular topic, with very little text and a simple organization. The 59 houses included are divided into three categories: those constructed merely to look at nature, those built within it to an unusual degree and those truly constructed with nature. Each gets its own short write-up and well-designed spreads of multiple images.
A few of these buildings are well known: Mies van der Rohe's Farnsworth House, Frank Lloyd Wright's Fallingwater and Philip Johnson's Glass House, among them — all exemplars of embracing the outdoors. But the fun of this book is seeing the far-out, off-the-beaten-track homes that are perfectly in sync with their surroundings. The wow factor tends to come from either being high up (architect Durbach Block Jaggers's cube-shaped Holman House, perched on a cliff over azure waters off Sydney, Australia) or deeply burrowed (Villa Vals, tucked into the ground by SeARCH and CMA in Graubünden, Switzerland). No one can design better than Mother Nature, but these architects have done very well indeed.
---
The small publishing house Acanthus Press has given us a great big gift with Capital Houses: Historic Residences of Washington, D.C. and Its Environs (1735–1965). The handsome volume features 56 amazing houses, described by historian and former Smithsonian curator James M. Goode and beautifully photographed by Bruce M. White. They are arranged by style: Greek Revival, Georgian, and so on.
The book is a good reminder of many things — for instance, that the White House, that singular icon, is also just an example of Federal-style architecture. The volume contains the stately old residences you might expect, like Mount Vernon and Dumbarton Oaks, but is liberal-minded enough to include Frank Lloyd Wright's 1950s exemplar of cinder-block modernism, the Marden House, in McLean, Virginia.