Fernando Mastrangelo, sculptor and artistic furniture designer, has arrived. Over the past decade, he's exhibited his cast-stone tables internationally, attracted the notice of major museums, been featured in the biggest shelter magazines and designed monumental commissions for such luminaries as tech mogul Sean Parker. Not bad for a former assistant to Matthew Barney.
What does one do with such a windfall of success? For Mastrangelo, the answer is to turn his attention outward. He's just moved into a new, 10,000-square-foot studio and gallery space in East New York, one of the few remaining ungentrified neighborhoods in Brooklyn. To celebrate, he's invited a dozen of his favorite artists and designers to show their work in the inaugural exhibition, "In Good Company," on view through September.
"I've been so fortunate in my work recently, so I wanted to extend some of that exposure to the greater design community," Mastrangelo says. "Also, it was just time to do something different. My goal is to make my gallery a destination where people can come to see the passion of young creatives."
The exhibition includes works by sculptural furniture designers Anna Karlin, Material Lust, May Furniture, Another Human and Wintercheck Factory, along with several fine artists, the creative design agency Giancarlo Valle Studio and jewelry designer Eva Fehren. All these creators are "right on the tipping point," says Mastrangelo. "If you haven't already heard of them, you're going to be hearing a lot more about them very soon."
He's collaborated with some of these folks before — Valle called him in to concoct the cement surfaces for a Thakoon store he designed in Soho last year — while others are simply designers whose work he admires. A few, such as Lauren Larson and Christian Swafford, of the New York–based studio Material Lust, are his close friends. Mastrangelo is not taking any commission on the pieces; the show is about community-building, and many of the works are available on 1stdibs.
"I was partly inspired by Damien Hirst's radical group show 'Freeze,' which happened in London in 1988," Mastrangelo says. "He invited a bunch of his artist friends to be part of it, in this warehouse space. Charles Saatchi came and bought a lot of the work, and those artists became famous" — as the Young British Artists, or YBAs.
Larson and Swafford helped him install "In Good Company," and they, like all the designers, are displaying very recent works. The duo are known for their eerie, almost occult sensibility; their palette is typically black and sometimes gold. They're showing a new version of their Crepuscule lamp, an otherworldly piece whose name evokes — and that looks like — insects that come out at night, along with their Okipa rug made of rubber and metal.
"We've always been the rebellious outcasts on the design scene," Larson says, "and Fern accepts us for who we are." Adds Swafford: "Most people say, 'Bring us your bestseller,' which is not very exciting for us. Fern didn't want our hits. He wanted challenging stuff. We're friends, but our approaches are very different. Fern makes things that are very beautiful, whereas we often describe our work as grotesque."
Is East New York the Last Horizon of Brooklyn Design?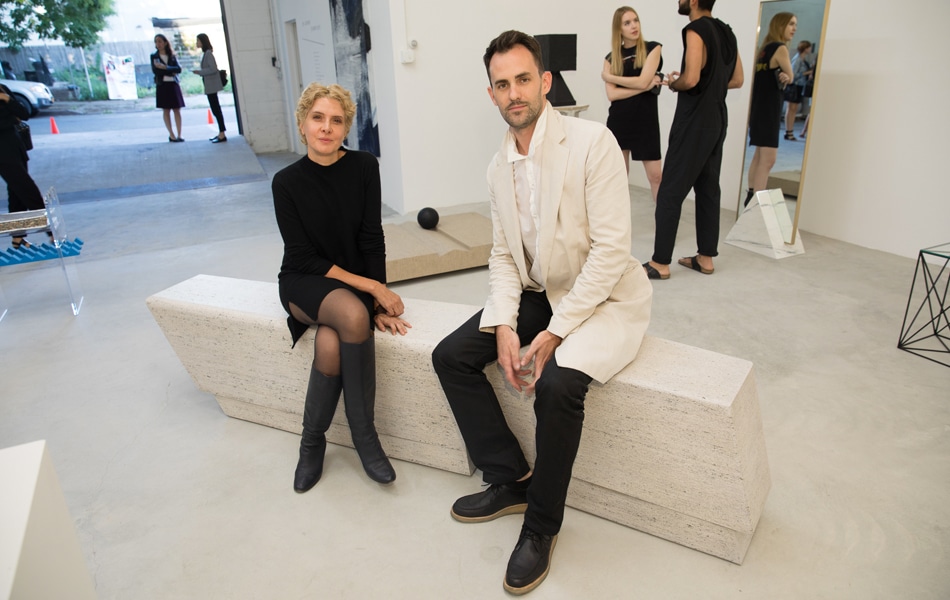 Anna Karlin, who is based on the Lower East Side, is another designer whose approach is notably different from Mastrangelo's, although they both describe their work as essentially functional sculpture. Mastrangelo has always been fascinated by unusual materials, using salt, sand and coffee grounds in his work. For Karlin, the expected emotional impact of a piece is the starting point, after which the materials choose themselves.
Her Dimple lamp, combining glass, marble and brass, "explores the idea of dependency and support," she says. An impression is made in the glass while it's still hot, so the marble sphere can nestle against it perfectly, as if the glowing glass were leaning on a friend's shoulder.
---
"My goal is to make my gallery a destination where people can come to see the passion of young creatives."
---
Karlin, who has a background in art direction, set design and interiors, launched her furniture line in 2013. Since then, she has been setting the design world abuzz. Her brass stools inspired by chess pieces have become hot items, collected by the likes of John Legend and Chrissy Teigen.
Travis James seems to share Mastrangelo's fascination with materials. James is the owner of May Furniture, founded in Brooklyn in 2010. Most of his pieces are made from his proprietary compressed hardwood, which blends timber from fast-growing, sustainable trees such as birch, pine and maple. The transformation of softwood into hardwood is remarkable, resulting in stone-like surfaces that May uses in his brutalist-style designs.
His Sunday coffee table, featured in "In Good Company," has an angular cutout across the top that's reminiscent of Louis Kahn's travertine plaza at the Salk Institute for Biological Studies, in La Jolla, California. "I'm constantly balancing hard and soft, bold and subtle," James says.
When asked about his own work in the exhibition, the affable and gregarious Mastrangelo laughs and then pauses. "I'm just showing a wall piece, one of my sand paintings, because I don't often show those," he says. "Honestly, I really want the exhibition to be focused on everyone else."