Isabel López-Quesada discovered her passion for her profession at an early age.
"When I was thirteen years old, my mother had to do some redecorating around the house, and she called out to me and my sisters, 'Who's coming with me?' " López-Quesada recalls. "So, I went with her. By the time we had finished making the rounds of the shops, I'd announced, 'I'm going to be a decorator.' And I meant it. I knew what I wanted to do for the rest of my life."
As an adolescent, López-Quesada collected international design magazines — not easy to come by in the culturally isolated Spain of the 1970s — the way other girls her age collected records and posters of pop stars. By the time she was 20, she had opened her own studio. Early influences were Spanish and Portuguese decorators such as Duarte Pinto Coelho, Pascua Ortega, Paco Muñoz and Fernando Benjumea.
In the following years, her studio achieved a moderate degree of success, but the catalyzing event in López-Quesada's career — the "before and after moment," as she puts it, the one that launched her to a whole new level of recognition and clientele — came in 2001. That year she embarked on an ambitious but highly personal project: the conversion of a former wax factory and warehouse into a studio, showroom and home for herself and her family.
Located in El Viso, a discreetly posh neighborhood of Madrid, the factory was built in the 1930s on what were then the outskirts of the city. Working with architect Pablo Carvajal and landscape architect Fernando Caruncho, López-Quesada converted the small-scale industrial compound, which was still impregnated with the romantic aroma of wax, into a virtuoso example of mixed-use functionality, elegance and comfort.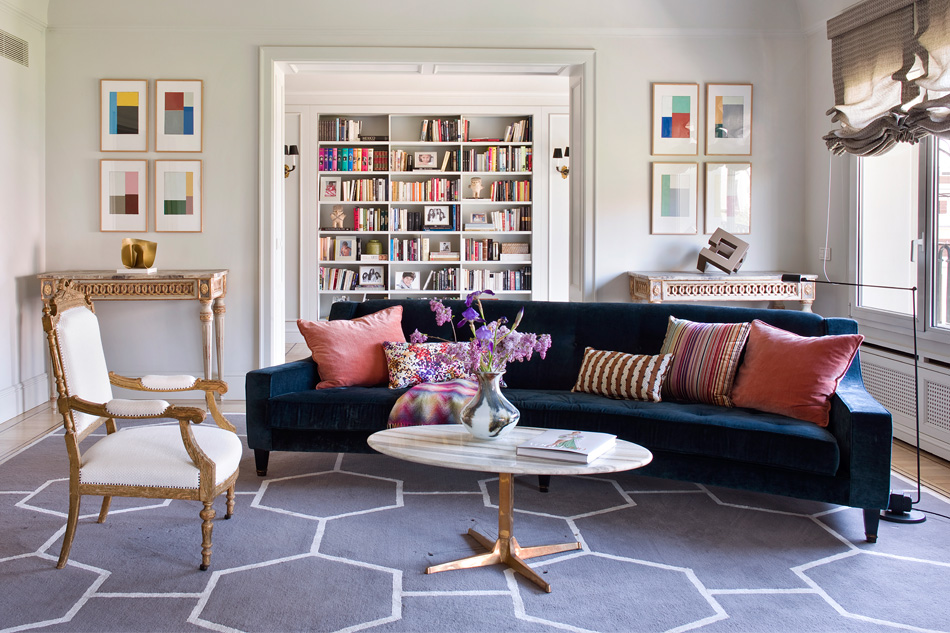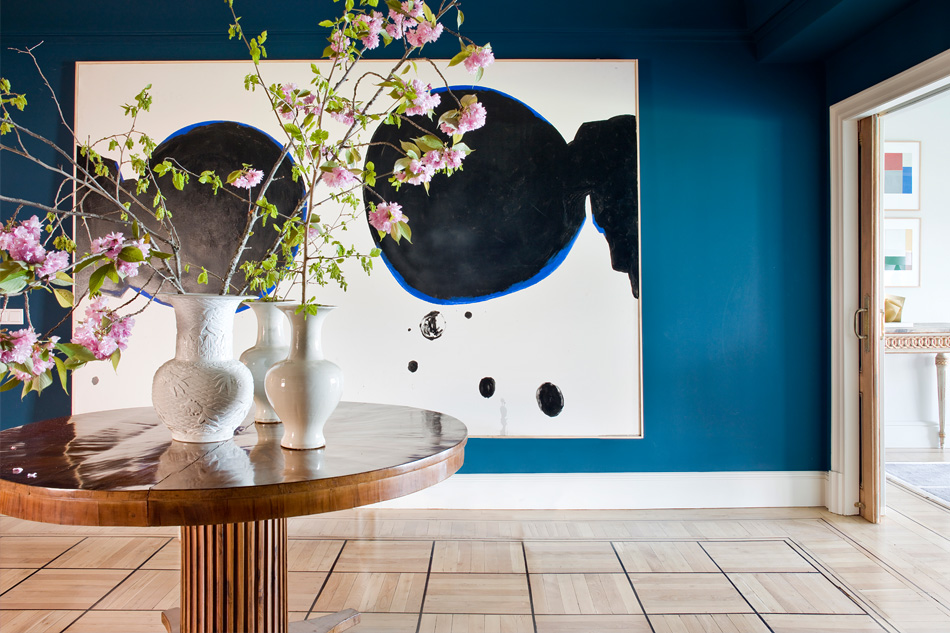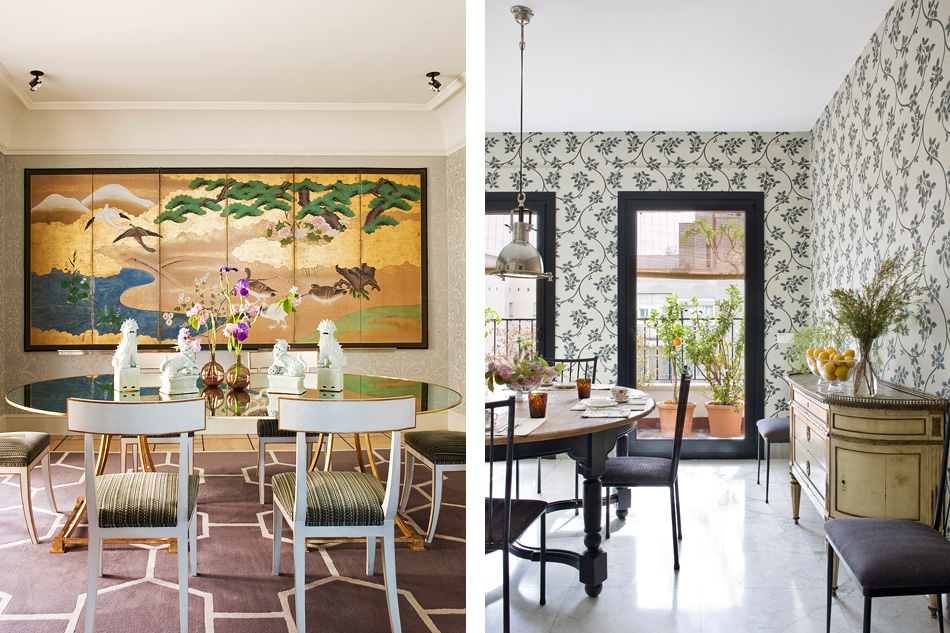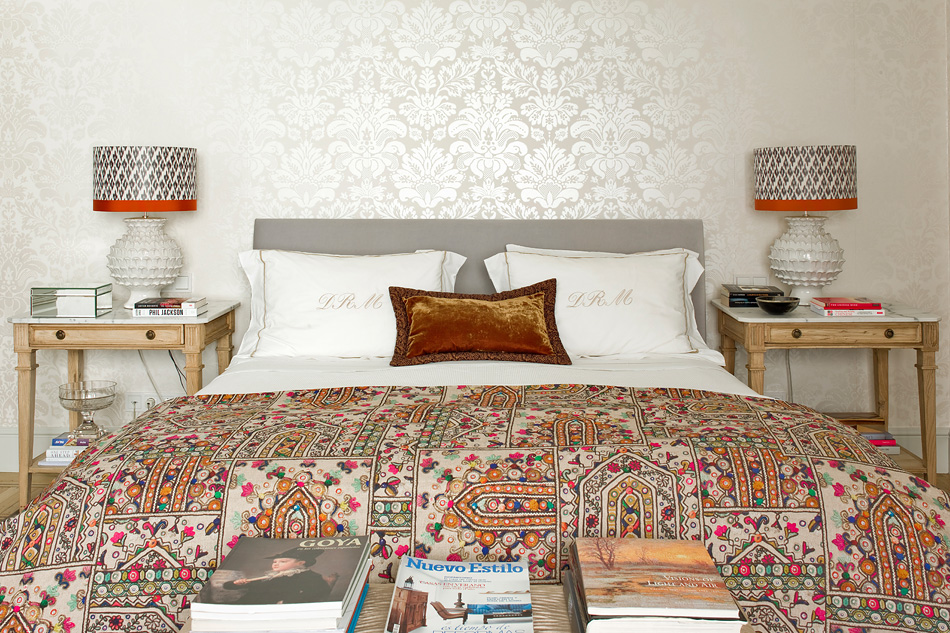 From the street, the simple facade, with its metal door and ivy covering, gives no hint of what lies behind. Once inside, however, you feel that you've been transported into a hidden oasis amid Madrid's urban mayhem. The studio and showroom occupy the building closest to the street, their different uses overlapping and intermingling within the two-story structure's continuous open spaces.
Behind that building, and separated from it by courtyards, leafy passageways and other landscaped barriers, is the family residence. Here, the interior spaces are airy and light-filled, punctuated by plants, books and flowing water. López-Quesada has furnished the rooms with a cohesive mix of antiques and mid-century objects — an 18th-century Swedish bench in the entrance hall and a 1950s coffee table in the living room, for example — as well as contemporary art by the likes of José Dávila, Gonzalo Lebrija and Luis Feito López. Altogether, the home radiates sobriety without severity, simplicity without austerity and ease without effort.
Particularly prominent are textures, old and new. There's the exposed wood of restored furniture, the different weaves of the varied fabrics employed and the rich patinas of recycled tile work. At the same time, López-Quesada freely uses contemporary objects and materials, including innovative textiles, poured concrete and waterproof plaster made to resemble corten steel, as in the curling "Richard Serra" shower she created for a sumptuous summer residence in Greece.
---
"In my profession, we live in this world of splendor, of dreams and luxury and beauty," López-Quesada says. "But we also have a great deal of contact with the real world, with the artisans, artists and craftspeople, people who work with their hands."
---
In person, López-Quesada emanates strength and sensibility. She speaks of her work with pride and chooses her words with care, her conversation accompanied by the steady, penetrating gaze of her dark eyes. Married to an investment banker and the mother of three grown children, López-Quesada is particularly pleased with her reputation for sensible management — "no foolishness, no excess expenses, a housewife's mentality" — in her work. And she feels compelled to preserve not only the objects and materials that populate her designs but also the techniques and ways of life of those she works with.
"In my profession, we live in this world of splendor, of dreams and luxury and beauty. But we also have a great deal of contact with the real world, with the artisans, the artists and craftspeople, people who work with their hands," she says. "We help preserve that sector by bringing it to our clients. It's a dichotomy. It's a bit like Robin Hood, but it works. And it's very satisfying, because the world of wealth has an emptiness to it. It doesn't interest me."
Today, the 54-year-old designer cites as inspirations such 20th-century icons as Jean-Michel Frank — "What he does with wood is incredible," she says — as well as Renzo Mongiardino, John Stefanidis, Le Corbusier and the Bauhaus. She is a fan, as well, of "the glamour" of Italian furniture designer Gabriella Crespi. And she has a particular fondness for 18th-century furnishings, which she acquires throughout Europe, as well as for 20th-century design; among her preferred sources are the Spanish dealer Ramón Portuondo and the Madrid shop Bakelita. But she also frequently incorporates contemporary art into her projects and is an avid collector herself, acquiring works through her sister Inés López-Quesada, a contemporary art dealer at Travesía Cuatro Gallery, in Madrid.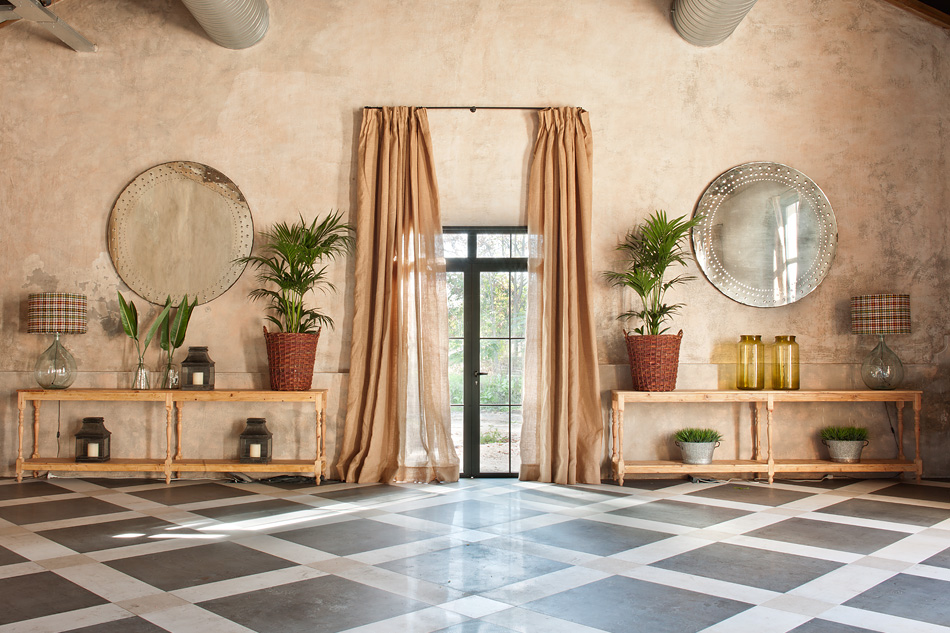 While López-Quesada's El Viso compound established her as Spain's go-to designer for projects involving conversion and repurposing, it also helped extend her client base beyond Spain, through the coverage it received in the international press and extensive word of mouth. The intervening years have brought her commissions such as a residence in a converted barn on a former dairy farm in Chadds Ford, Pennsylvania, and a current project in Malta that involves seamlessly consolidating three existing houses and a garage into a single-family compound.
Not all of López-Quesada's projects, however, involve reuse. In fact, although decorating private residences remains her primary focus, she has also established a sort of parallel career working for such corporate clients as Telefónica (Spain's leading telecommunications company) and Iberia Airlines. For the renewable-energy company Acciona, she decorated the executive headquarters in a distinctly corporate-modern style, matching the company's vibe with decor items like Barcelona chairs and a cashmere-covered sofa of her own design while employing a simple palette of browns and earth tones.
In addition, she has decorated Spanish embassies in Doha, Dakar and — her favorite — Tokyo, whose interiors she redid in 2005. The embassy's 1920s building was designed by an American architect (who was also a priest) in a distinctly American idiom: large transom windows, a predominance of wood, an abundance of moldings. López-Quesada took great pains to retain the original feel while adding lavish carpeting and her treasured 18th-century antiques.
Indeed, her capacity for eclecticism, in López-Quesada's view, is perhaps her strongest suit and the source of her greatest professional satisfaction. "It's like being the kind of actress who can play any role. For example, like Meryl Streep, you can play a teary-eyed New York City divorcée, or you can sing and dance in Mamma Mia!" López-Quesada says. "That's what's best — to not always do the same thing, to have what actors call different registers. You can be dramatic, or you can be funny, or you can do whatever you want."
---
Isabel López-Quesada's Quick Picks