June 27, 2021Listening to James De Wulf talk about concrete is fascinating. "This is a liquid that turns to stone," the furniture designer says over the phone from his Pasadena home. "The process sent me on a nerdy path. . . . Nerdy in a good way. It's just so cool to me."
For 16 years, De Wulf has used the composite material to create custom work for an A-list clientele, masterfully blending advanced concrete technology with modern aesthetics. The result: couture furniture that doubles as intellectual art, constructed in his scrappy-looking Los Angeles workshop. The building features white seagulls painted on its rusty corrugated-metal exterior, the juxtaposition a constant reminder to De Wulf to keep his thinking free.
One of his most popular works is a 900-pound ping-pong table composed of a sleek one-inch slab of carbon-fiber-reinforced concrete with an acid-stained center line, resting atop two refined legs. De Wulf's inspiration for this creation was a photo he stumbled across of Tibetan monks playing table tennis over a massive concrete structure.
"I designed it as a joke to get attention at a trade show," he confesses. "At the time, I had no idea that everyone loves Ping-Pong — from eight-year-olds to eighty-year-olds, it puts a smile on everyone's face. Plus, it's super-healthy for your brain."
Tennis power couple Andre Agassi and Steffi Graf were among the first fans of the minimalist design, which embodies a Fibonacci sequence, a series of numbers underlying proportionally pleasing forms and growth patterns throughout nature. "I think that's why people like it a lot," he says of the statement piece, which doubles as a dining table. Additionally, it's corrosion resistant, making it ideal for indoor or outdoor use. "It's strong, but it's also very peaceful," De Wulf explains. "Space moves around it. Once you set it in a spot, it looks like it's always been there."
The designer has handcrafted utilitarian, decorative and leisure sports tables for Elton John, Charlize Theron, Kanye West, Ellen DeGeneres, Oprah Winfrey, Travis Scott and Kourtney Kardashian. He's also produced custom concrete fire logs for Tom Ford, with whom he hopes to collaborate on a capsule collection. "That would be sick," he says of the potential partnership. Modern home-decor icon and potter Jonathan Adler has a De Wulf piece on display in his stylish Palm Beach, Florida, home.
De Wulf pursued an unconventional path to his current career. Before finding his calling creating neo-brutalist furniture for architects, interior designers, commercial retail outlets and residential clients, he was an investment banker at a financial firm in Atlanta.
"When 9/11 happened, I lost all my money," he says, recalling the attack on the Twin Towers and the ensuing stock market collapse, which dealt a major financial blow to a 22-year-old De Wulf. "Now, I get to wake up every day and make tables. I call it following the goosebumps — I love it."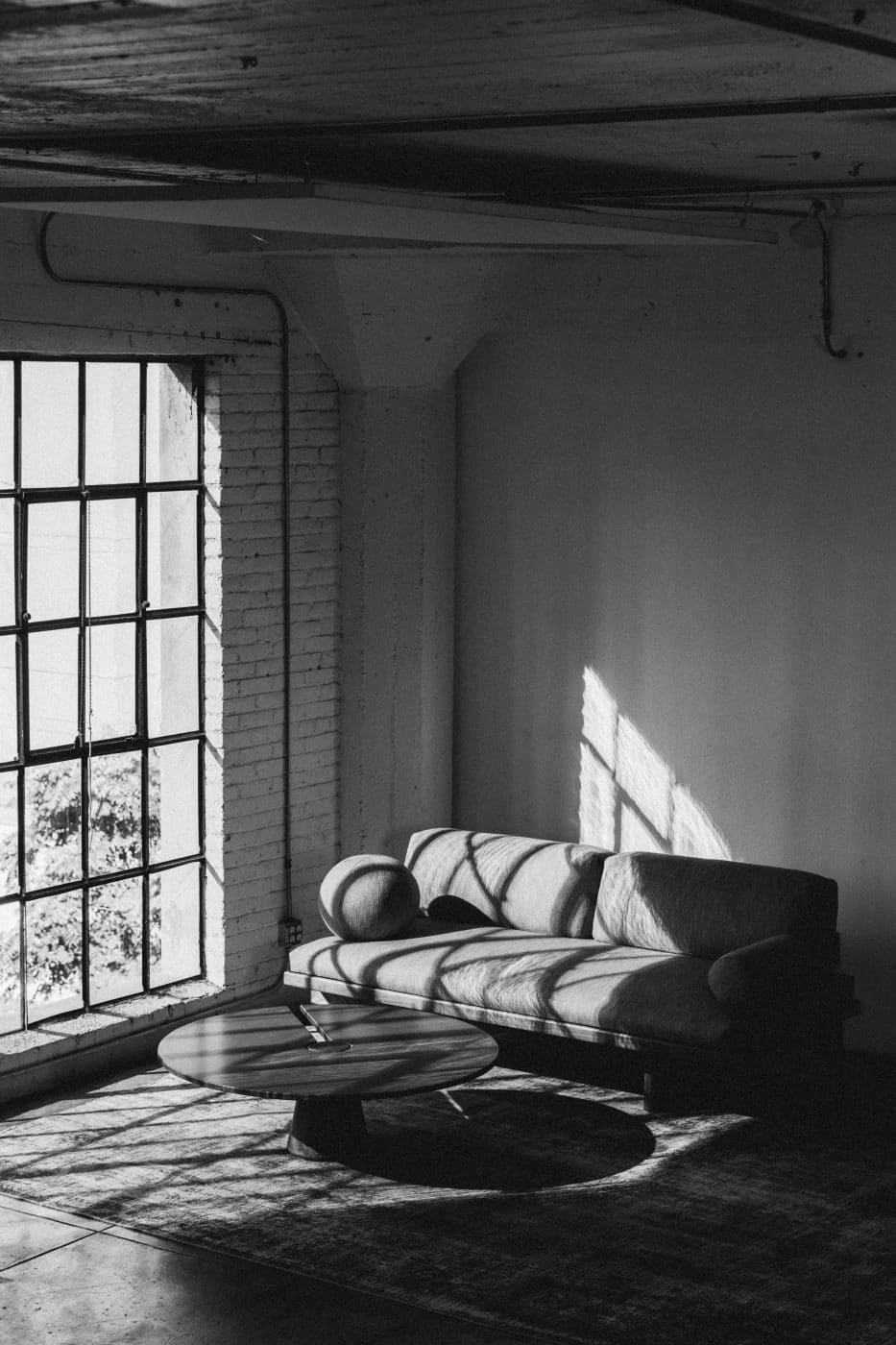 After the economic crash, De Wulf segued from finance into real-estate development, acquiring and remodeling old homes and government-auctioned properties with a single goal: complete four renovations a month to pay rent and put food on the table. "I was driving all over Little Five Points and the Highlands," he says, referring to two of Atlanta's trendiest neighborhoods, "looking for deals and things to develop." Even back then, De Wulf enjoyed working with his hands, but real-estate development, not so much.
One day, he stumbled on a company making concrete beds for prisons and fell in love with the material. "I did a little research," he recalls, "and decided I could pay the bills constructing concrete countertop installations," a skill he acquired refurbishing residential and commercial properties. In 2014, De Wulf left Atlanta for L.A. to explore this new avenue of artistry and the third chapter of his professional life. "I was not thinking that one day I would be fulfilling furniture commissions for celebrities," he says. "I'm so grateful."
A graduate of Emory University with a major in economics and a minor in business, De Wulf describes his upbringing in Atlanta as "beautiful." He's a middle child — his older sister, Capucine, is an entrepreneur and jewelry designer, and his younger brother, Dean, works for AEG, a global sports and live entertainment company. "We're still all very close," he tells me, noting that he's the black sheep of the brood, with multiple tattoos and an attractively scruffy exterior. Eccentric and all, the man has swag.
De Wulf's mother, Vicky, is a sweet southern belle from Texas. "I don't tell everyone this, but I talk to my mom everyday. She's my pillar," he says. His father grew up on a farm in Mormont, a small town in France. "My dad had eight brothers and sisters, so I have a lot of cousins in France," he continues. "In my late teenage years, I'd spend summers there. I became very interested in that side of our family." According to De Wulf's paternal grandmother, design and fabrication is in their DNA. "I had a great-great grandfather who was creating massive metal sculptures," he says.
Exo, De Wulf's latest artistic expression, distills all his successes and failures and, most importantly, his knowledge of concrete. The series comprises a trio of avant-garde tables mimicking the exoskeletons of microorganisms found on the ocean floor. Edges flow freely rather than adhering to rigid lines, and legs and bases have similarly organic forms.
The tables' tops, available in a symbiotic blend of stainless steel or bronze with concrete, are a mere three-quarters of an inch thick. "It took a long time for me to get this thin," he says (nine years, to be exact). "To get surfaces in these shapes and not have them fall apart on you is hard. You could walk across my tables, but they look razor thin."
Next up for the king of concrete? A 22-foot-long Mad Hatter–style dining table with oversize chairs that, he explains, "are all different and weird." The set materialized when De Wulf was asked to create a provocative piece for the Design Pavilion, New York's premiere public design exhibition, opening later this year.
"I've always done very masculine, rigid things," he says. "Part of my focus moving forward is to create pieces that children will feel drawn to, happy expressions that add a little fun to their spaces."