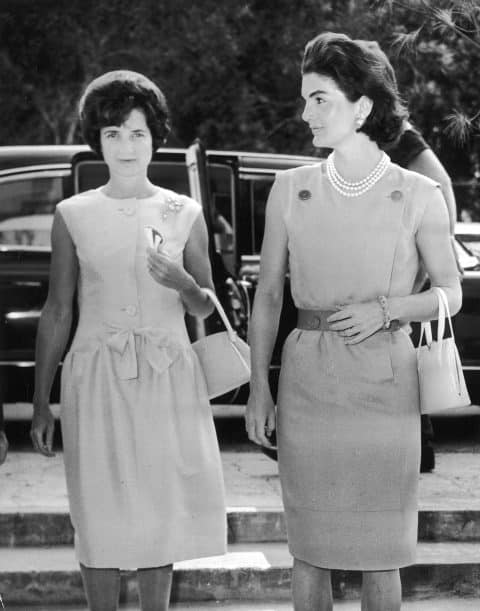 New York society doyenne Jayne Wrightsman, who died earlier this month at age 99, was an arts patron, a sparkling hostess of A-list dinner parties, a couture-clad member of the International Best-Dressed List and a rail-thin beauty who created sumptuous homes for herself and her husband in New York, Palm Beach and London.
She was the widow of Charles B. Wrightsman, an Oklahoma-born oil tycoon and dashing polo player whom she married in 1944 when she was 24. He was then 48, the president of Standard Oil in Kansas and a divorced father of two.
Socially ambitious, Charles started seriously collecting 18th-century French antiques and French decorative arts. For 40 years, the couple traveled the world acquiring museum-quality pieces of FFF (fine French furniture), porcelain and Old Masters for their homes. These included an 18-room apartment at the formidable 820 Fifth Avenue; a flat at 21 St. James Place, near Spencer House, in London (whose contents Sotheby's sold in 2010); and Bythedunes, a Maurice Fatio–designed Mediterranean-inspired mansion in Palm Beach.
All three were decorated by the fashionable Parisian decorators Stephane Boudin, of Jansen, and Henri Samuel. (In Palm Beach, the Wrightsmans became close friends with their neighbors John and Jacqueline Kennedy, and the First Lady later asked for Wrightsman's help in restoring the White House.)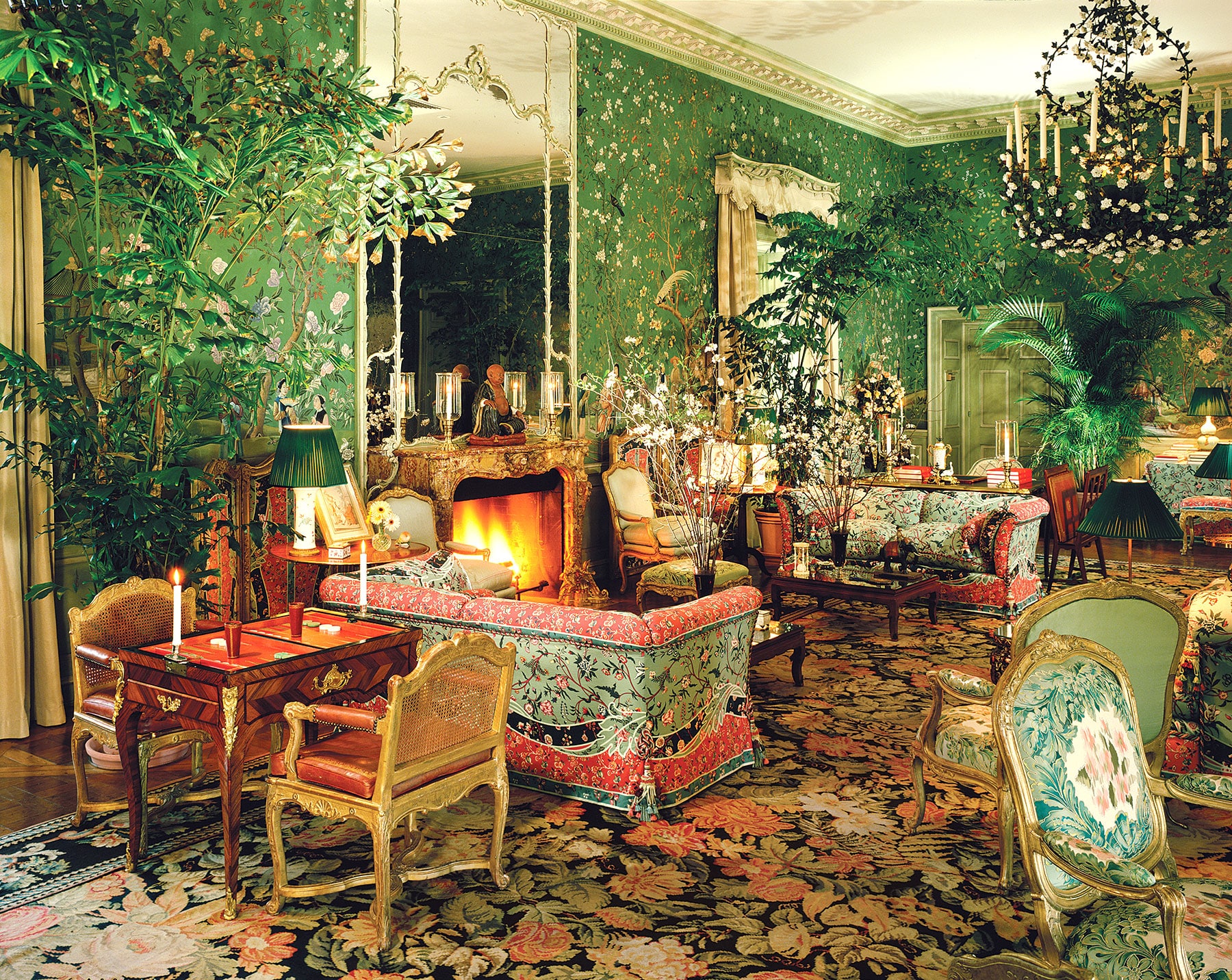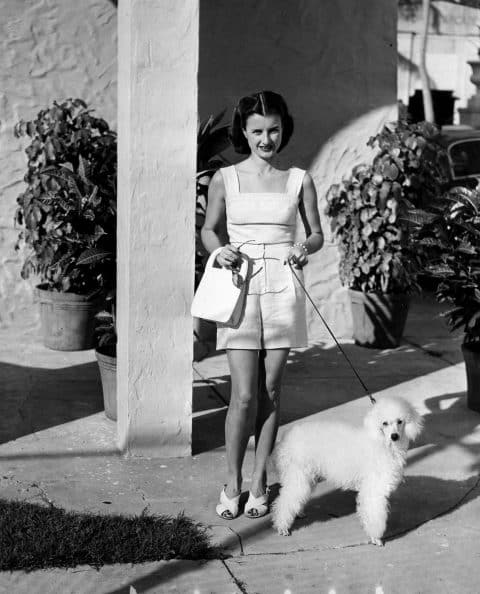 Ever generous, Charles was made a trustee of the Metropolitan Museum of Art in 1956, serving until 1975. The Wrightsmans' social circle came to include Bernard Berenson, John Pope-Hennessy, Kenneth Clark and Met curator James Draper. Jayne's friends included the Duchess of Devonshire, Brooke Astor, Bunny Mellon and Katharine Graham, the publisher of the Washington Post.
Jayne never attended college (after high school in Los Angeles, the Michigan-born beauty modeled bathing suits and worked at a department store), but once married, she learned French and devoted herself to the study of French decorative arts. Over time, she made contacts with leading experts in the field, such as Sir Francis Watson, director of London's Wallace Collection; Pierre Verlet, of the Louvre; and Everett Fahy, chairman of the Met's department of European paintings.
Jayne Wrightsman created a lasting legacy through her decades of devotion and contributions to the Met. She and her husband gave the museum hundreds of works, from couture gowns to porcelain, gilt bronzes, antique furniture, paintings and sculpture. Today, she is fondly remembered by the Met's staff as a thoughtful, curious and caring patron.
After her husband died, in 1986, the publicity-shy doyenne was not afraid to be seen roaming the museum rooms devoted to French decorative arts of the late 17th to the late 18th century, which came to be called the Wrightsman Galleries. Beside her many donations, she was famous for supporting "invisible" improvements like the purchase of new textiles, lighting and reupholstering.
In 2006, when the Met staged the show "Dangerous Liaisons: Fashion and Furniture in the 18th century" in the Wrightsman Galleries, it hired Patrick Kinmonth, an Anglo-Irish opera director and designer, as a consultant. Kinmonth worked with a lighting designer who bathed the mannequins in a soft light (to imitate candlelight) that made the costumes glow. Jayne loved it.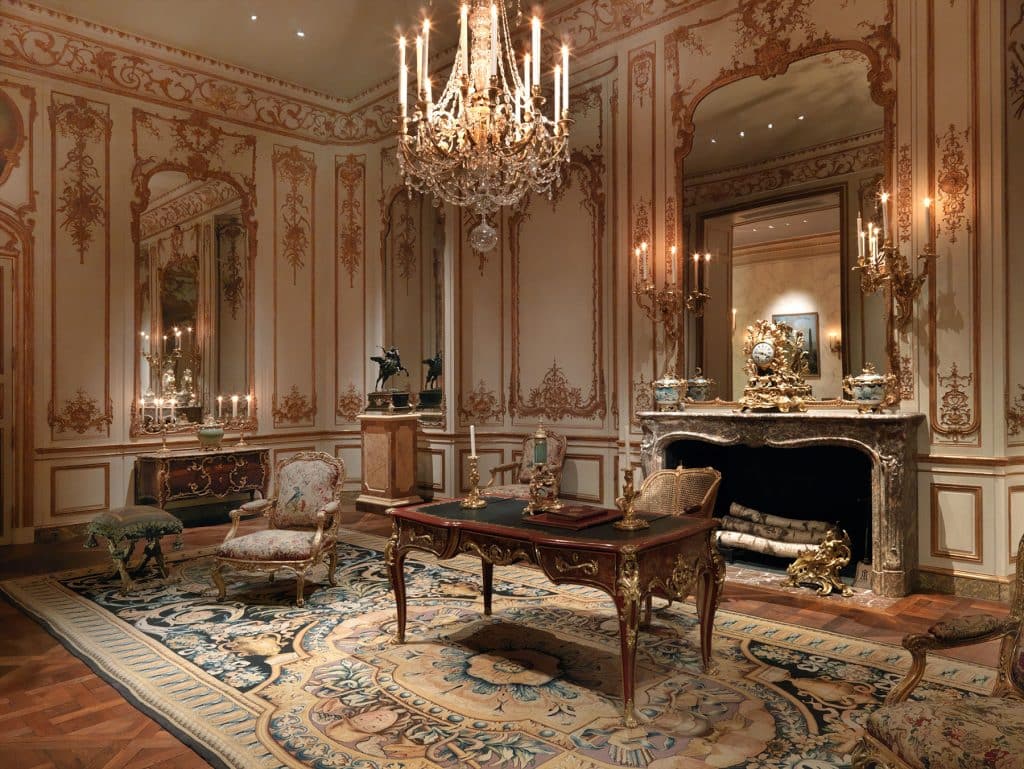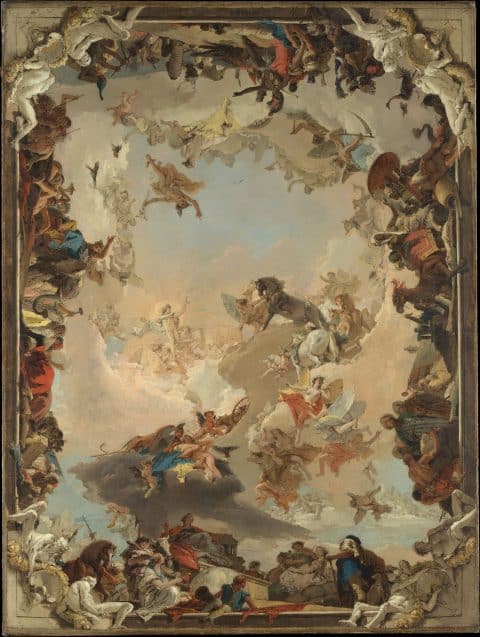 "This snowballed into a much larger renovation of the galleries, with new lighting for the rooms, each presented as if it were at a different time of day," says Danielle Kisluk-Grosheide, the department curator. "Wrightsman never wanted anything triste."
Jayne Wrightsman's involvement with the Met began in the 1950s. Eager to improve its French decorative-arts galleries, she started by underwriting the cost of extremely luxurious fabrics for upholstery and curtains. ("She loved textiles," says Kisluk-Grosheide.)
In the 1960s, she and her husband acquired antique French paneling for the department, beginning with the boiseries from a room in the Hôtel de Varengeville, 1736–52, a private residence at 217 boulevard Saint-Germain in Paris whose painted and gilded oak panels are adorned with rococo carvings evoking military glory, gardening, music and poetry. After this, the couple donated the paneling from Vienna's Palais Paar, 1765–72. Both rooms were then largely furnished with loans from the Wrightsman collection.
In 1972, the Wrightsmans decided to give the Met the elegant boiseries adorning their own Fifth Avenue dining room, which came from the Hôtel de Cabris, circa 1774, in Grasse, France. The elegant, neoclassical panels boast carvings of musical instruments as well as crossed laurel and olive branches, which may refer to the perfume industry in Grasse. Jayne offered the services of her favorite decorator, Henri Samuel, to direct the remodeling. She even gave the Met her own antique dog bed.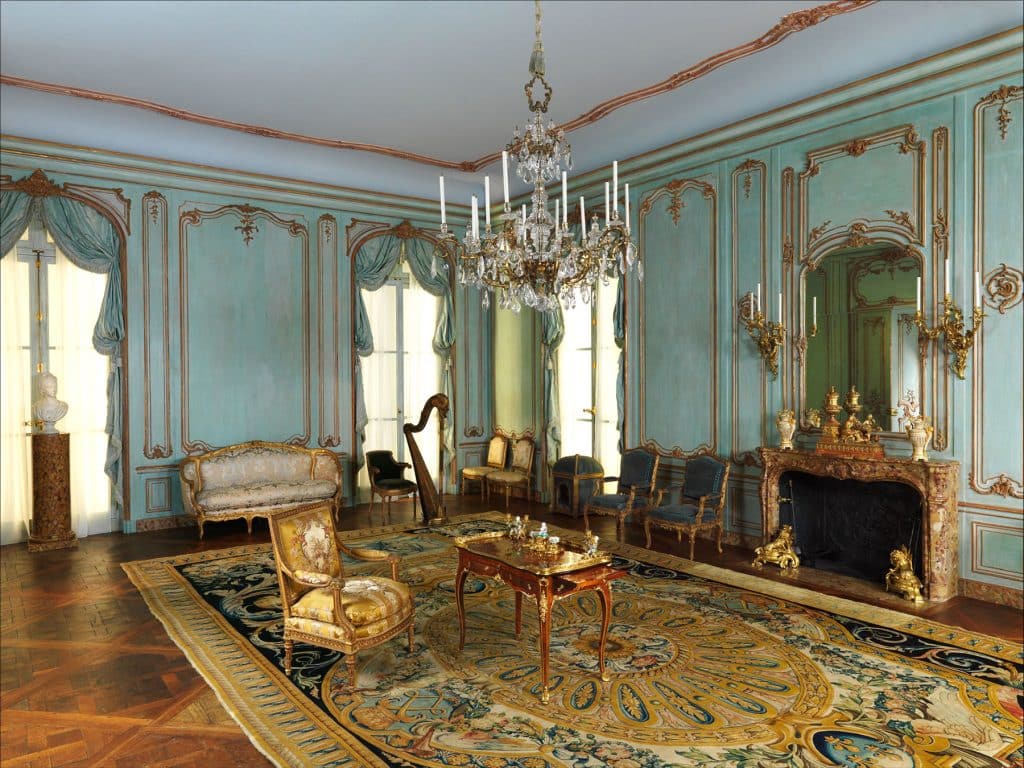 Jayne had three modes of giving: She bought things for the collection, gave things from her own houses or approved purchases from the Wrightsman Fund. The antiques she donated were museum quality and often had a great or fascinating provenance. She loved the research behind it all, and the intriguing back stories are beautifully told in the Met's catalogue of the Wrightsman Galleries. The Wrightsmans were truly generous donors. "It's the end of an era," says Kisluk-Grosheide. "She was our queen."
9 Incredible Pieces the Wrightsmans Donated to the Met