Though being called one of the "grand dames" of early 20th-century interior decoration might suggest someone stodgy and hidebound in style and taste, Syrie Maugham (1879-1955) was anything but. A boldly modern woman, she had a decorative vision that was lively, adventurous and constantly evolving. While she catered to the fashionable and wealthy, her interiors were distinguished more by chic and verve than opulence. Fresh and surprisingly spare, her interiors served as an antidote to the cramped, overwrought decor that had prevailed during the late Victorian era when she was growing up. And through her work, Maugham charted an independent life for herself — which was almost unheard of in her day.
After all, being a bright young woman at the dawn of the Edwardian era did not offer many opportunities other than making a brilliant marriage. Which is what the pretty, petite and society-loving Maugham originally did when just 22, when she married the fabulously rich American-born Henry Wellcome, who was 27 years her senior. The two turned out to be terribly mismatched. Maugham endured the marriage for nine years before fleeing in 1910.
Once single, Maugham became romantically involved with the rakish department store magnate, Gordon Selfridge, who introduced her to the creative side of commerce. Always interested in antiques, she "interned" at Thornton Smith, a venerable decorating firm, to learn about faux finishes, restoration and upholstery, as well as the business side of the trade. Then, in 1913, she met the debonair and celebrated writer W. Somerset Maugham and fell madly in love. Although a closeted gay man, he adored her and a romance of sorts ensued. Two years later, a daughter was born.
Around this time, Maugham turned her vibrant energy and creativity to decorating. In addition to designing her own home in London's Regent's Park, Maugham opened a furnishings shop, Syrie Ltd. The store offered an eclectic mix of Regency pieces (some taken from her own house), limed and painted furnishings, decorative rarities like rock crystal ornaments and Chinese silk paintings, French fabrics and trimmings and avant-garde rugs by Marion Dorn. This openness to combining traditional furnishings with modern pieces and exotic accents was part of a new transitional style dubbed Vogue Regency.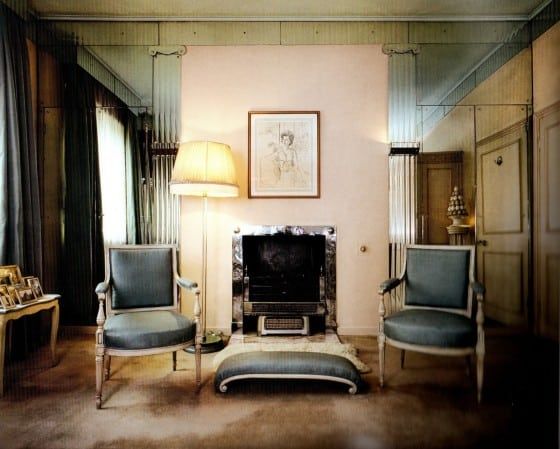 Maugham created this dressing room for the residence of Helen and George Hay Whigham in Mayfair, London.Maugham's taste was instantly admired and soon her decorative services sought. However, it wasn't until 1927, when she introduced an all-white room at a midnight party at her new townhouse on King's Road that her bold originality was fully appreciated by London's smart set. Harper's Bazaar described the room thus: "White walls, white satin curtains, white-flowered chairs, white lilies and the light softened by a white velvet lampshade, all give that modern feeling, which in conjunction with old furniture, is so attractive." By the end of the '20s, her clients included Noel Coward, Wallis Simpson and the Prince of Wales. Making the most of her new tastemaker status, she opened branches of her Syrie Ltd. shop in Chicago and New York.
Five years later, the "White Queen," as she had come to be called, created an even greater sensation, by creating an all-white party room for her soon-to-debut daughter. The room featured a parchment screen (to hide a black piano) and shagreen coffee table, both by Jean-Michel Frank — Maugham was one of the first English decorators to champion his work and decorative vision —, two tailored velvet cream sofas with elaborate fringe (which would become a Maugham signature), a fireplace with mirror surround and mirror baseboards, and to further heighten the dazzle: a tall folding screen of narrow mirrored panes set in chrome-plated frames. The room was roundly deemed the epitome of modern glamour.
How the style translated in America may be seen in the pale master bedroom Maugham produced for socialite Celia Tobin Clark's San Francisco mansion in 1931. Inspired by 18th-century décor, the room is entirely white, except for the walls, which Maugham covered in white linen, stenciled with a green scroll pattern adapted from an 18th-century Swedish leather wallcovering.
Savvy about the fleeting ways of fashion, Maugham was quick to move on to new decorative looks. Before long, she had redecorated her daughter's party room by adorning the walls with brightly colored Christian Bérard murals and recovering the sofas in linen with red fringe and pillows in various shades of scarlet. Her new decorative tack was white-walled rooms that were almost bare of ornament with jewel-toned furnishings and accents.
For more adventurous clients like the wildly eccentric Stephen Tennant, Maugham revved her flair for the theatric into the realm of the surreal. Working with such design stars as the Giacometti brothers, Emilio Terry and Oliver Messel — all of whose designs she stocked in her shops — she created fantastical interiors, with madly eclectic mixes of furnishings, like Jacobean pieces with tufted Victorian upholstery, along with Venetian grotto furniture, rope stools, palm tree pilasters and leafy consoles and decidedly un-PC blackamoor statuary.
With war approaching, Maugham decided in 1939 to close her shop and move to Paris, where she stayed only briefly before fleeing to New York with her daughter and grandchildren. There she focused her energies on war relief efforts. Although after the war she went on to complete several more important projects, in England and the States, most notably for Bunny Mellon and Lila DeWitt Wallace, her popularity had begun to fade. Maugham died in 1955 at the age of 76, but her work has continued to be championed by such influential decorators as Michael S. Smith, Albert Hadley and Mark Hampton.
Want to learn more about the great interior designers of the past? Sign up to receive 1stdibs emails.