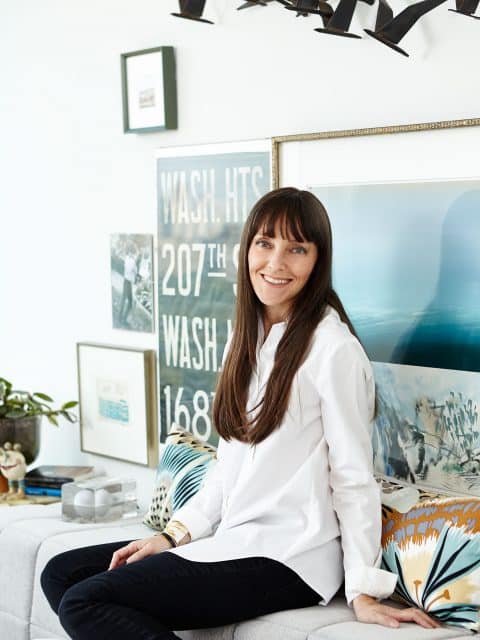 The diminutive interior designer Jenny Dina Kirschner talks a mile a minute. Perched in her airy Brooklyn apartment on a deep-seated gray wool sectional scattered with colorful pillows, she is directing a plumber to a leak near a 30-foot-high wall of windows. At the same time, she is answering this interviewer's questions, pulling up pictures on her cell phone to illustrate something she's said and occasionally asking her junior designer, Ash Smith — working at Kirschner's dining room table — for input or inquiring where her daughters (seven-year-old Minnie and five-year-old Lulu) are. She is dressed in pink jeans and a striped, slightly shimmery pink-and-gray sweater set.
For much of our hour-and-a-half interview, I find myself attempting to determine the exact shade of her eyes. They are mostly pale blue gray, but with browns and greens mixed in. My inability to label the hue reminds me of one of Kirschner's most recognizable style signatures. "I like off colors," she explains at one point. "I use a lot of fabrics and finishes that have one predominant color, but the other colors in it make it hard to read as only that color."
This ambiguous palette is one reason Kirschner's clients — who, in terms of age, "run the gamut from nineteen to pushing seventy" — flock to her work. It automatically imparts a layered complexity. It is also not easily reproduced on the pages of magazines. Although she has been featured in many shelter publications, Kirschner books most of her projects through word-of-mouth recommendations. Her style is the kind people often need to experience to truly understand.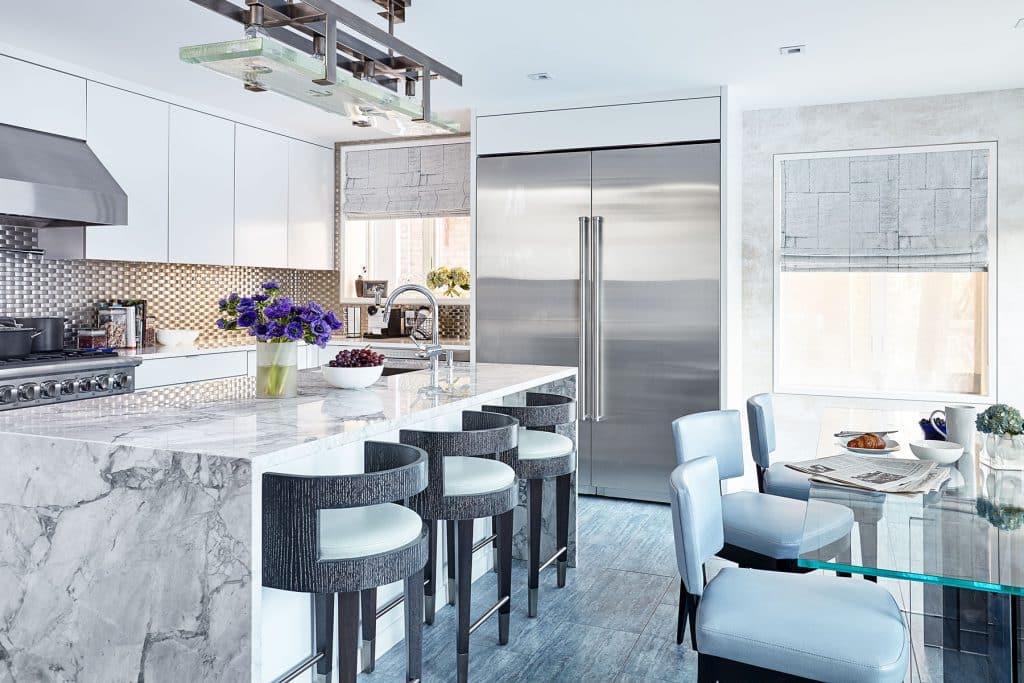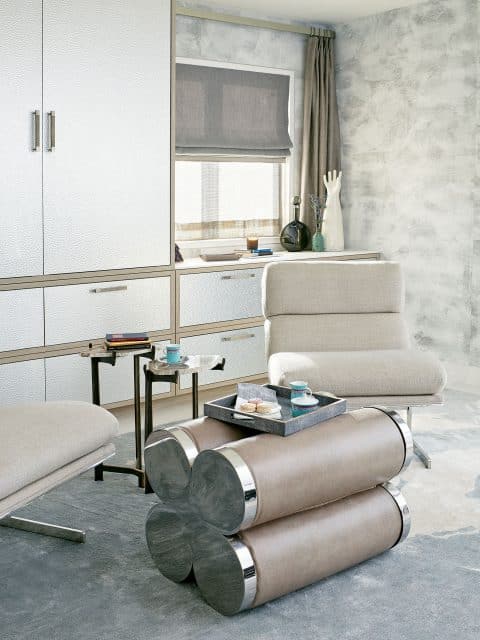 The St. Louis–born designer grew up "in a beautiful sort of Tudor-style home that was over a hundred years old and had a big limestone fireplace," she says. "My mother had impeccable taste." Evidently, Mom was also restless. Kirschner indicates the dining room table and chairs she inherited from her parents. "That table was white lacquer at one point," she says, adding that during her childhood, the chairs were reupholstered about every five years with a different color and style of fabric. Her father helped run the family pharmaceuticals business (her maternal grandfather invented the time-release capsule — and the skinless hot dog), and her mother invented a children's toy called the Surprise Ball. Kirschner herself was decorating and selling sun visors at age 5; by 10 she was transforming dollhouse furniture into earrings, moving on to design and sew her own dupioni-silk bat mitzvah gown. A high school art teacher steered her to the University of Michigan to study fine art. Kirschner graduated cum laude with a bachelor's of fine arts but not before spending a year as a visiting student at New York's Fashion Institute of Technology, where she earned an associate's degree in jewelry design. She stayed in Manhattan to pursue a master's in art education at New York University while running her own jewelry business. As if three degrees weren't enough, she followed this up with yet another: an associate's in interior design from the American Intercontinental University in London, where she also interned at a small design firm.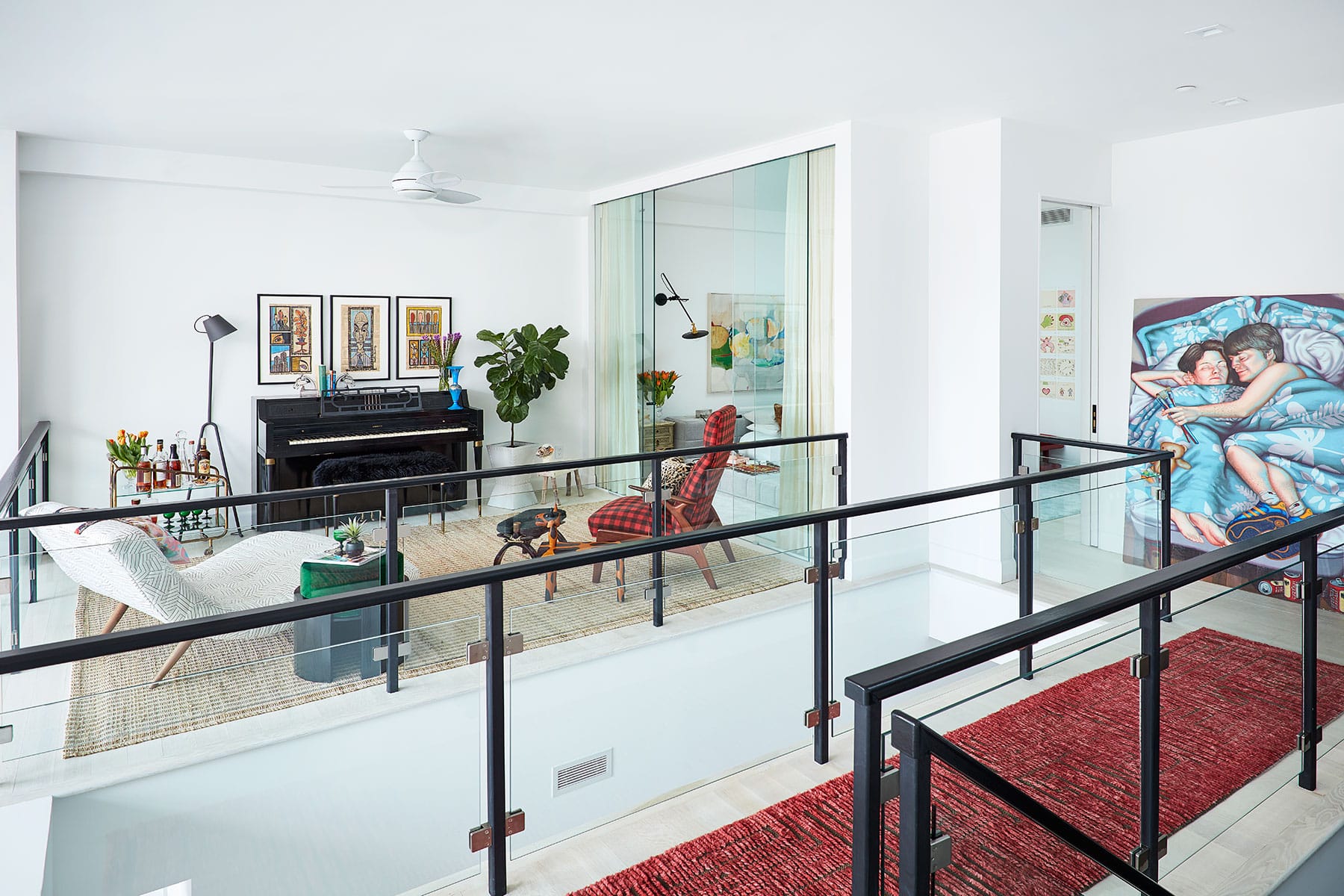 Kirschner came back to New York in 2006 for a job at the architectural firm Grade, followed by a short stint at another studio. By then, she was picking up her own clients, so she left within a year to found her own firm, eventually called JDK Interiors.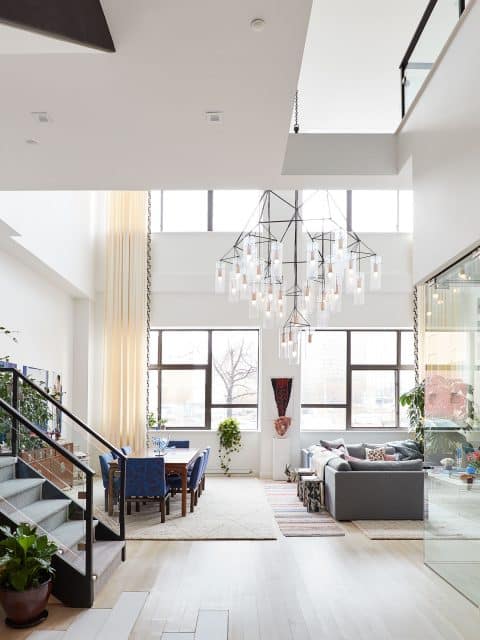 Kirschner had already begun to establish her style. In addition to the can't-put-your-finger-on-it palette, she early on showed a predilection for mixing high and low and sourcing from a wide variety of Internet and brick-and-mortar venues. This affinity is evident in the mezzanine sitting area off her apartment's master bedroom and overlooking the living and dining areas. The mix of furnishings includes her very first 1stdibs purchase more than 10 years ago, a 1940s bar cart; a hand-me-down upright piano; an Adrian Pearsall Wave chaise; a mid-century modern chair (also from 1stdibs) souped up with a Holland & Sherry lumberjack check; painted animal tables picked up on travels; and a casual sisal rug. Downstairs the mash-up is even more freewheeling: Inherited pieces, like the dining set and a pair of Milo Baughman armchairs in the living area, share space with Vitra reproductions of Jean Prouvé's Standard SP chairs at the kitchen island, a custom sectional sofa and a monumentally proportioned chandelier from a church in Scandinavia unearthed on 1stdibs through Venfield. Kirschner has also picked up a few mass-market pieces and elevated them with high-end fabrics and accessories, as she did in a Tribeca pied-à-terre.
The 39-year-old is part of a younger generation of designers inspired by 1960s and '70s style. This manifests in her use of colors like mauve and, in a Brooklyn townhouse, Kelly green. It also comes through in bulky, boxy seating with rounded corners, as in the same home's window-facing couch, which Kirschner paired with Donghia Deco-style sofas and 1930s chairs by Czech designer Jindrich Halabala from Judy Frankel Antiques. "The sixties and seventies are my comfort zone," says Kirschner, "but mixed with some Deco, which is classic at this point." Favored furniture forms recall later mid-century designs, like a quartet of Karl Springer-style ottomans in the townhouse living room. Lately, she has been alluding to the 1980s with Memphis or Memphis-style pieces. "The most fun challenge for me is finding ways to combine unique and special pieces from various eras in a cohesive and intentional way. If such pieces are not used together properly, the space risks feeling choppy rather than effortless and smooth."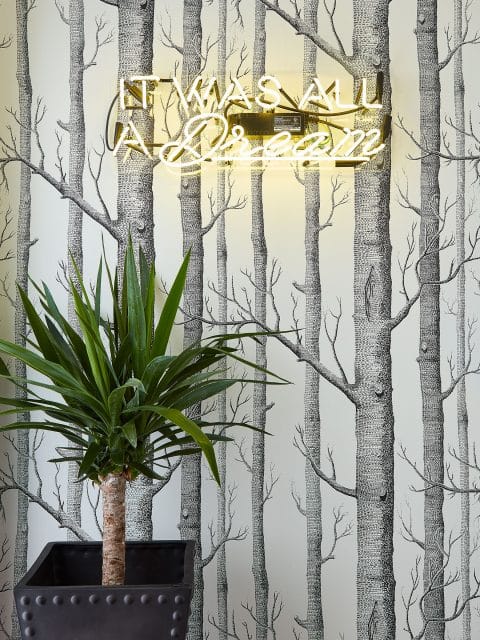 Kirschner has flirted as well with flea market kitsch. In the bedroom she shares with her lawyer husband, Aari Itzkowitz, she paired a custom upholstered platform bed with French Rococo-style nightstands sporting gilded hardware. The latter look like commercial reproductions rather than antiques. But that is the point. "I like elements of surprise," she says. You wouldn't expect pieces like those nightstands here. Nor would you expect a clown painting like the ones mass-produced in the 1960s in a colorful but largely traditional home in Long Island.
Lastly, as exemplified by her sweater set, she embraces sparkle. "I don't use shimmer loosely," she insists. "When I use it, it's for a specific purpose. Shimmer creates extra depth and makes things less flat." It is also part of her broader inclination to mix textures.
But this is hardly the end of Kirschner's story. "I don't get attached," she says, displaying some of the restlessness she seems to have inherited from her mother. "I'm bored and want to do something new. I have other ideas I want to try, so I'll move on — maybe something a little more outrageous." We can hardly wait.
Jenny Dina Kirschner's Quick Picks