August 9, 2020They're traditionalists, but with a modern sensibility." That's how interior designer Jenny Brown describes her clients, the owners of a newly built four-story house with a white Federal-style facade in Chicago's Lincoln Park neighborhood. Chicago-based BBA Architects oversaw the ground-up construction of the freestanding home, which has the slim profile of a city row house. Brown's decade-old eponymous company, which is based in the nearby Gold Coast district, was brought in to consult with the architects on the floor plan and to design the interiors.
In the slender structure, the main living spaces are lined up on the mezzanine floor: formal living room, bar, dining room, kitchen and, finally, a family room at the back. Brown was tasked with creating cohesion among these, while also differentiating them. The family has four school-age children, and a lot of people will be coming and going through the narrow rooms — requiring a lot of seating.
"Maximizing every nook and cranny was crucial," Brown recalls.
The clients wanted their collection of art and antiques integrated into interiors that are chic but livable. Luckily, "traditionalist with a modern sensibility" describes Brown's style to a T. She takes her cues from Billy Baldwin and Frances Elkins, creating spaces with a rich sense of history livened with dashes of playfulness. For this home, that meant deploying inviting colors and patterns throughout, reupholstering antique furniture in contemporary fabrics and adding exquisite handcrafted details courtesy of a decorative painter.
---
LIVING ROOM
The living room's white walls serve as a canvas for art, antiques and sumptuous furnishings whose inviting palette of soft blues, greens and pinks is drawn from the clients' antique Bessarabian rug. The camelback sofa and Bridgewater-style club chair are both upholstered in velvet, the former with custom trim and bullion. The curtains are wool, with a Miles Redd wide-tape trim. An antique French settee that Brown found locally is framed by a paneled wall and built-in bookcases. The latter are filled with the family's antique volumes and other treasures — an antique silver tea caddy, a vintage globe bookend — and lined with a marbleized wallpaper from Twig. "I love putting color, and occasionally pattern, inside bookcases," Brown says. "I think it makes a wonderful backdrop for the books and objects." Hand-colored botanical engravings complement the floral fabric on the settee. Antique pieces like a French bouillotte side table and a black occasional table add to the room's historic flair.
---
DINING ROOM
Located in the center of the house, the dining room is meant to feel like a courtyard garden. To achieve this effect, Brown covered the walls with an English countryside mural by Susan Harter custom printed on canvas. "The mural definitely gave the somewhat modest room a sense of expansiveness," Brown says, adding that it also introduces a touch of nature to the urban environment without being too feminine. Because the space functions as a thoroughfare between the kitchen and the rest of the house, the vintage Kittinger-style pedestal dining table is set to one side, flanked by a custom-tufted green-leather banquette. (A second dining table can be brought in for entertaining.) Older pieces — a French Directoire sideboard, antique Asian urn lamps, vintage French tole sconces — are balanced by a bright, contemporary flame-stitch fabric on pillows and the seats of the Directoire dining chairs. "The sideboard has ample storage, and I try to incorporate antiques wherever I can," Brown says. "They add a sense of soul."
---
BAR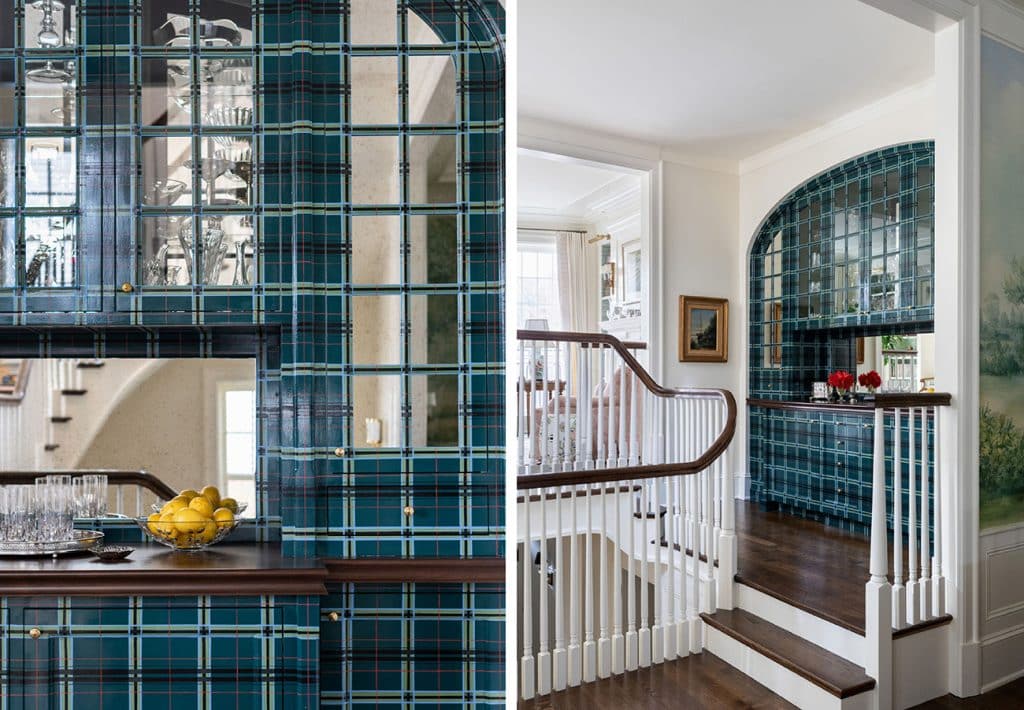 Brown and her clients agreed that the bar located between the living room and the dining room should make a bold, colorful statement. "We talked for ages about what to do with it, perhaps painting a Swedish pattern or lacquering it one color, which is popular now," Brown recalls. "But we wanted it to be really interesting and unexpected, so we settled on this tartan." She commissioned local decorative painter Patrick Roullier to create the green-and-black pattern, which is scaled to the size of the cabinet windows. The green color is carried through elsewhere in the house. Antique mirror panels on the side cabinets and the backsplash add to the aura of warmth and history.
---
KITCHEN
Because the kitchen is visible from the living room, it had to be "pretty but also highly functional," Brown says. Her clients wanted it to be mostly white — to capitalize on the ample natural light — with touches of color. The island was painted with Farrow & Ball's Hague Blue, while panels of green grasscloth wallpaper, used in the family room as well, tie the two spaces together. Urban Electric pendants with an aged-copper finish hang on unlacquered brass chains, and Chinese Chippendale counter stools in limed oak bring in subtle color and texture. Working with the architect, Brown designed the stove hood, which is polished nickel with unlacquered brass strappings. Backsplashes on both sides of the room are made of antique mirror. "Backsplashes can cut a room in half," Brown says, "whereas a bit of mirror throws light around beautifully and opens up the space." She installed sliding doors with mercury-glass windows that allow the clients to close off the kitchen when they entertain while still letting light through. "Mercury glass is a bit more elevated," she observes. 
---
POWDER ROOM
Brown calls this exuberantly colorful powder room, cleverly hidden behind a jib door in the mostly white foyer, "a dramatic surprise." She asked Roullier to create a faux-tortoise pattern on the vanity and a gold fretwork design on the walls. The sconces are vintage Murano glass.
---
FAMILY ROOM
If the dining room is a dainty courtyard garden, the family room is an enchanted forest, packed with cheerful, verdant patterns. The navy sofa is topped with pillows — two in ebullient Josef Frank fabrics and two in a tartan that winks back at the bar. The curtains are Scalamandré linen with a hand-blocked tree of life pattern. There's copious seating to accommodate the large family and guests, including mid-century stools upholstered in a playful geometric Lulu DK pattern. The general informality is punctuated by touches of luxury, including a George III mahogany cellarette and a vintage Chinese Chippendale coffee table. "I like my interiors to mix time periods and have a collected feeling," Brown says.
---
MASTER BEDROOM
The master bedroom is a calming oasis in shades of blue and green inspired, in part, by the hollyhock fabric used to upholster the roll armchair and ottoman. A vintage Chinese ceramic garden stool serves as a side table. The space is warmed by a vintage ratchet floor lamp, an antique French wooden turned-leg settee and an antique nightstand. The latter is topped by a Frances Elkins lamp whose shade Brown had covered in a scallop-pattern fabric that matches the bed skirt. "The canopy bed, ivory rug and strié wallpaper create an atmosphere of understated luxury," she notes.
---
Jenny Brown's Quick Picks