John L. Loeb, Jr., a distinguished New York businessman, philanthropist, vintner and art collector, was the U.S. Ambassador to Denmark from 1981 to 1983. Those years ignited his passion for collecting late-19th- and early-20th-century Danish pictures. In fact, he now has the largest collection of Danish paintings outside of Denmark.
Here, in his own words, he tells us about his attraction to one in particular, Interior, Strandgade 30, an 1899 oil by Vilhelm Hammershoi (1864-1916), who in the last few decades has been the subject of career retrospectives at London's Royal Academy, the Musée d'Orsay, in Paris, and the Guggenheim in New York, among others. While Interior, Strandgade 30 usually hangs in the Sister Parish–designed library of Loeb's Manhattan townhouse, it can currently be seen as one of the stars of a show of the Ambassador's Danish paintings at Scandinavia House (58 Park Ave) in New York through January 18.
---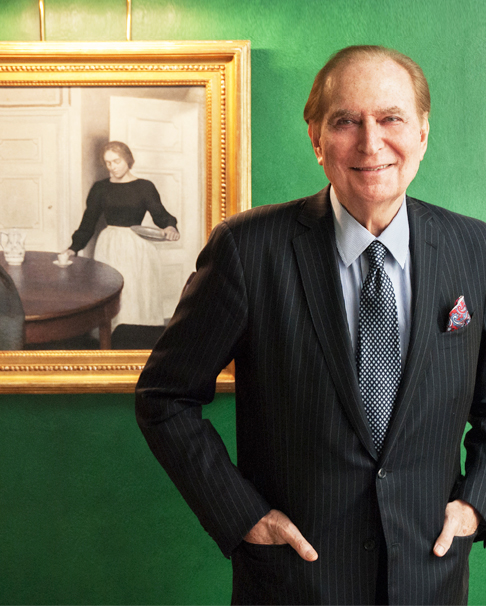 When I was ambassador, I decided to collect the history of Danish painting from the beginning — because no one else was. I started with the 17th century.
"This Hammershoi interested me particularly for the painter's technical work with light and architecture. It's a fascinating picture, which is why I bought it. It's not sad, nor cheery. Danish pictures tend to be a little cool, but this one is quiet and gentle. There is a special feeling about it that is very unusual. It's one of the artist's warmest paintings, but, at the same time, it is quite stark. It's all blacks and whites and grays — in fact almost all his paintings are.
"I also know these particular rooms well, because when I was there, the rooms housed parts of the Danish Ministry of Foreign Affairs. Just as depicted in the painting, these rooms in reality are an exquisite example of Copenhagen architecture. The proportions are from the 17th century, while the paneling on the walls, doors and doorframes is from the 18th century.
"I like this painting because it's one of the few in which you see the full face of Hammershoi's wife, Ida Ilsted. She was his most frequent subject but is often depicted in a way that makes her somewhat remote.
"I'm reminded that the lighting — or at least the summer light — is similar to the lighting in paintings by Vermeer. This painting has the flavor of Vermeer. That plus the feeling of stillness and peace are what drew me to it.
"The painting cost me $15,000 in 1982; no one had ever heard of Hammershoi. Now he's the most expensive Danish painter at auction. It's interesting that he has become so important and such a star."
---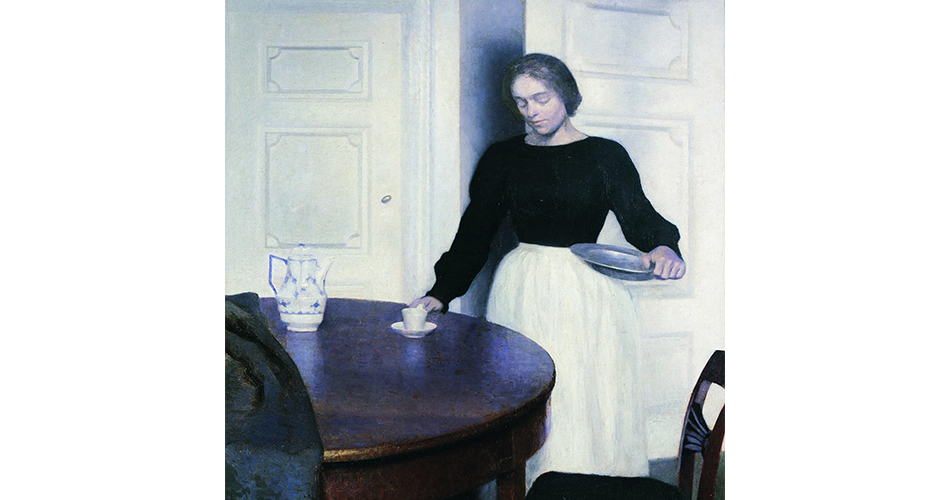 Composed of 37 paintings and drawings, "Danish Paintings from the Golden Age to the Modern Breakthrough: Selections from the Collection of Ambassador John L. Loeb, Jr." will be on view at Scandinavia House through January 18, 2014. Admission is free.