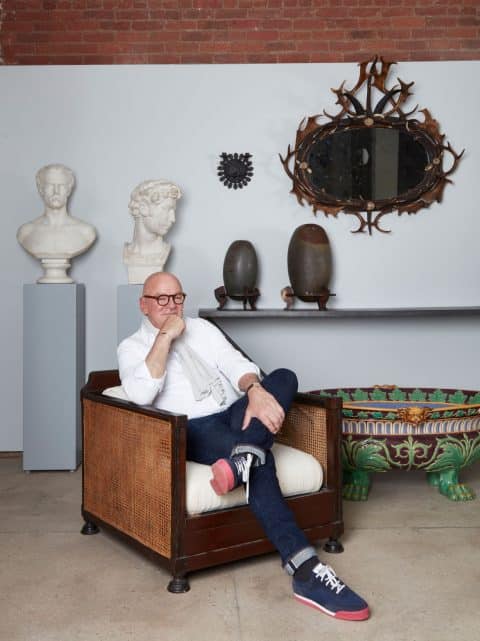 When someone tells you he has a compulsion, often it's a precursor to his describing how he's working to overcome it.
Not so with famed decorator Juan Montoya, a member of seemingly every top-designer list out there and author of several books. "I'm a compulsive buyer," he admits. And far from forswearing his affliction, he's hoping you catch it, too.
Such happy contagion has been made easier by the new partnership between 1stdibs and Christie's that just launched in the recently opened 1stdibs Gallery in Chelsea. The collaboration means that collectors no longer have to wait for a Christie's sale to access the auction house's antique, vintage and contemporary design offerings. Instead, they can enjoy it at anytime.
To inaugurate the program, Montoya curated and then arranged in the Gallery a selection of  just under 100 items from three consignors — himself notably among them — priced from $1,000 to $30,000.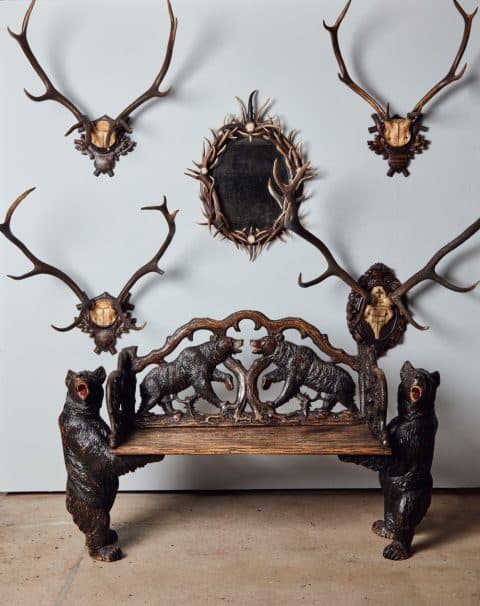 "I think the art is in the mélange," says Montoya, who wasn't shy about layering the residential-style display with items you wouldn't necessarily imagine together. There's a Victorian jockey scale (which was used at a private British estate to weigh riders and he swears can be used as seating today) and a massive majolica cistern, not to mention a chic patinated-metal side table of his own design.
Montoya's ease with eclecticism makes sense. The Colombia-born designer, who splits his time between New York City and Garrison, New York, is known for combining Mayan motifs with Greek keys if he decides a room calls for it. A Parisian pied-à-terre he designed, for example, accommodates Art Deco furniture, traditional African sculpture and abstract contemporary paintings. Et voilà.
The assemblage Montoya has created in the 1stdibs Gallery isn't designed to be bought by a single buyer in one fell swoop. Rather, it's composed of unique pieces that will stand on their own, whatever they're combined with in the future. The ideal collector for this material, Montoya says, is "unafraid of the mix."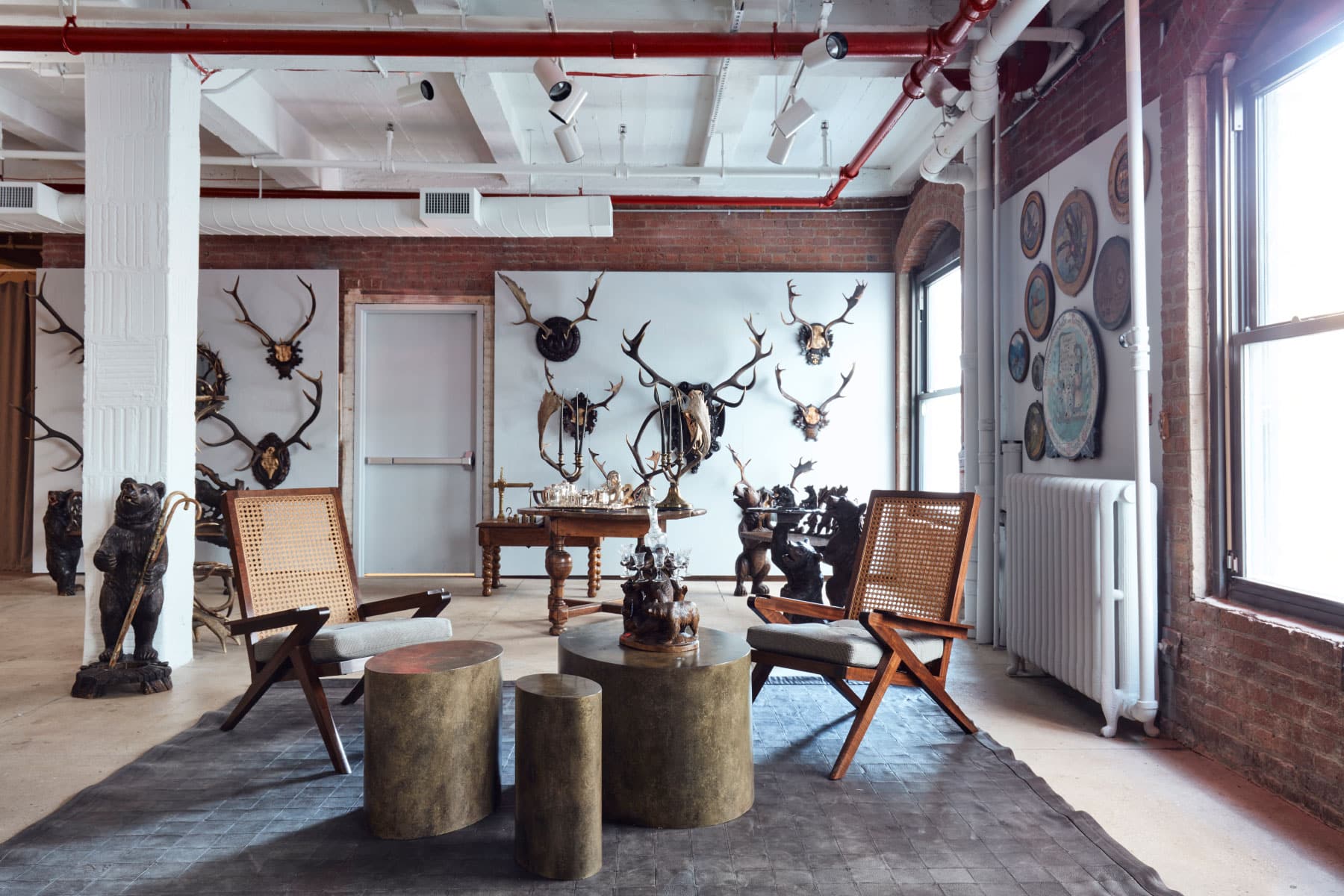 Also showing no fear are the partners in the new collaboration, which targets the territory between the average sale prices of the businesses.
"The two brands are complementary, and it's been interesting for each of us to learn about the other's business model," says Cristina Miller, the chief commercial officer of 1stdibs. "Through this collection, we are giving Christie's customers new avenues to purchase, greater access and the luxury of instant gratification." Christie's, founded in 1766, is the world's largest art business, and it has enormous cachet; for its part, 1stdibs offers the auction house what Miller calls "an online halo."
Richard Nelson, a senior specialist at Christie's with European decorative arts expertise, worked with Montoya on curating the works. "It's quite a disparate group," Nelson says. "But what we've gone for is kind of a masculine, strong statement."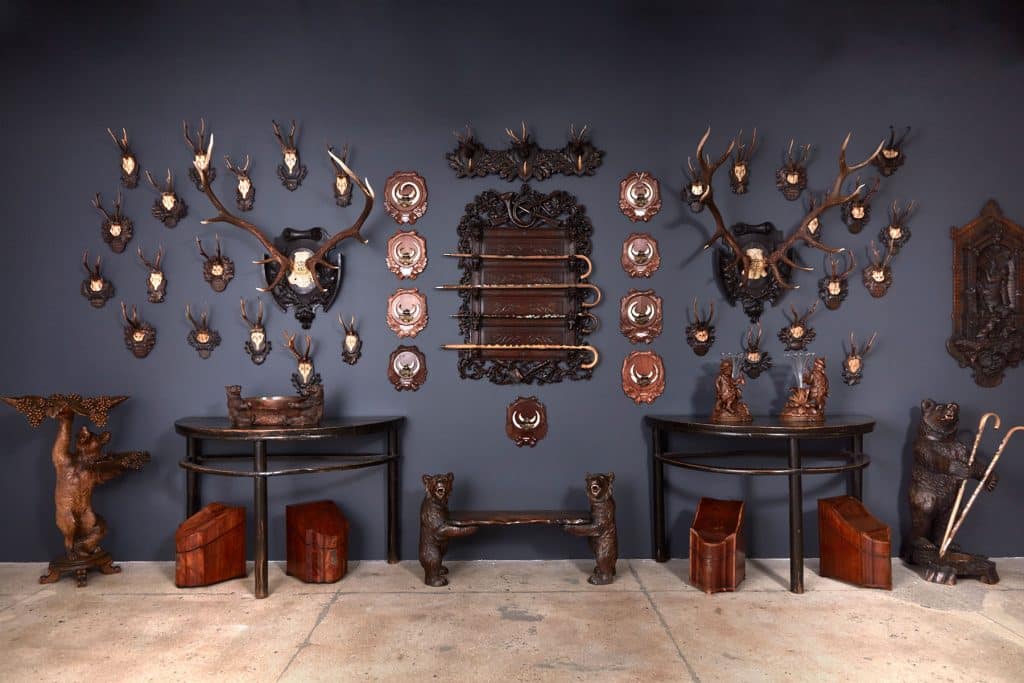 That has been achieved in part by a large number of vintage mounted animal heads and horns from Germany and Austria, which give the installation a look that could be dubbed haute Schloss. The slight exoticism is very much up Montoya's alley. "Some people are scared of horns," he says. "But there's a history and a provenance to these pieces, and they look great."
All the Germanic items, including a selection of dart boards from pubs with visible dart holes, are from one of the homes of a private East Coast consignor. Of the many originally from the Black Forest, Nelson's favorite is a wooden vide poche. "It's a place to put your gloves, your keys, your wallet, and it's beautifully done," he says of the piece, which features swiveling shelves and, notably, a carved fox holding the whole thing up.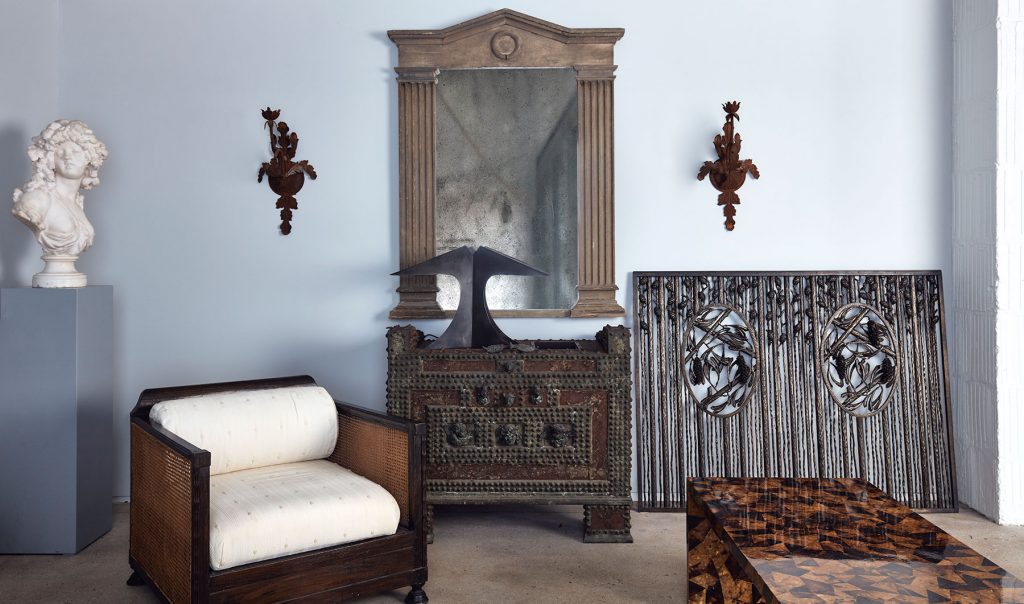 This consignor is the type of person who might also buy from the new 1stdibs space. "Sellers," Nelson notes, "are often already looking for things for their next home." And they just might be tempted by some gems from Montoya's personal collection, much of which he's forced to keep in storage. "Things stay there for years, and you pay rent," the decorator says, explaining his efforts to Marie Kondo his caches (although one imagines a vast ocean of items remain).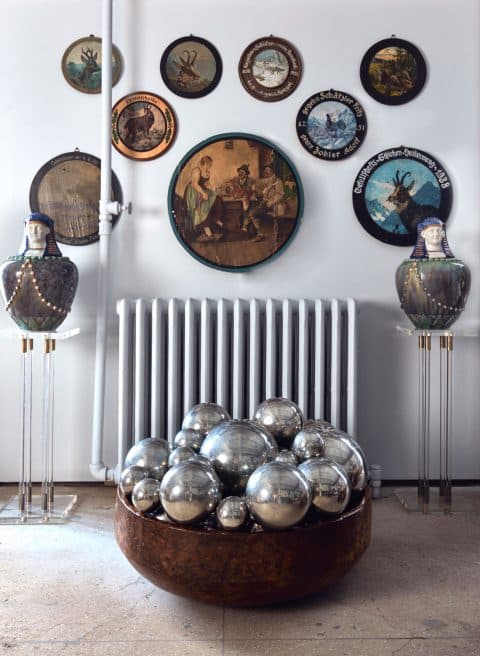 The seating pieces from his trove are particular treasures. A pair of French Art Moderne caned mahogany armchairs with reversible tufted cushions have a throwback chic. Montoya gave one side of the cushions huge pom-pom tufts and left the other side plain, in case your starchy old aunt comes over for tea. Flip as needed. "They are comfortable, and they work well in any environment. They sit nicely amid modern pieces and they mix with older objects, too," says Montoya.
Nelson is especially taken with a quartet of chunky American chestnut side chairs Montoya is parting with, comparing them to "pieces of sculpture." Ditto the decorator's hardwood Anglo-Indian chairs from the 1920s or '30s. "Incredibly heavy and in great condition," pronounces Nelson.
Perhaps the most striking piece is by Montoya's own hand. His "petal table" comprises seven pieces of different sizes that, when pushed together, resemble a flower or star. But the whole point is that, pulled apart, the table is both more visually appealing and more useful. In the all-together state, it's quite large, making a big statement indeed. (Those living in studio apartments might want to stick to a pub dartboard.)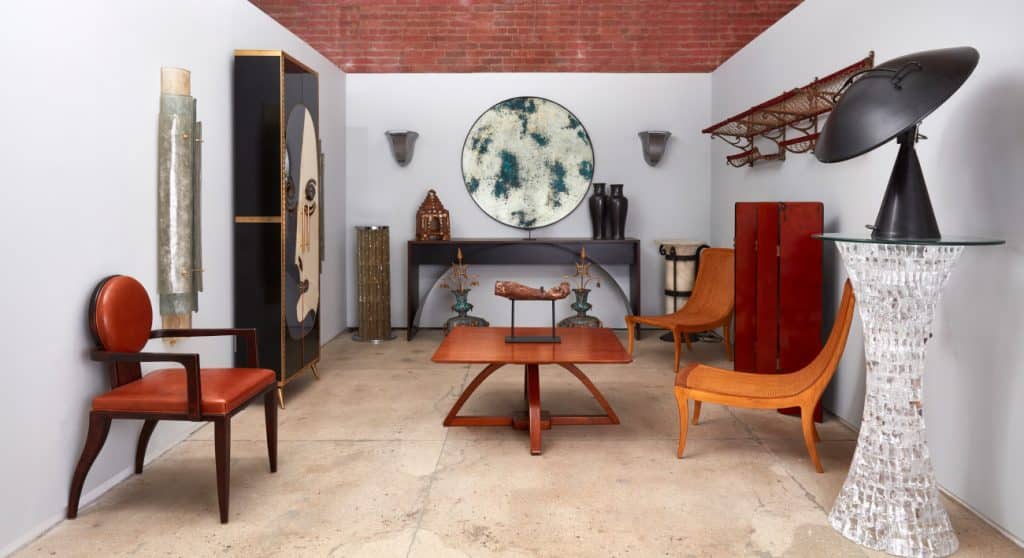 Looking around the Gallery space approvingly, taking particular note of some mounted stag heads making themselves at home over a George III inlaid mahogany cutlery box, Montoya delivers an assessment that could just as easily apply to the combination of Christie's and 1stdibs: "Wow, what an interesting marriage."