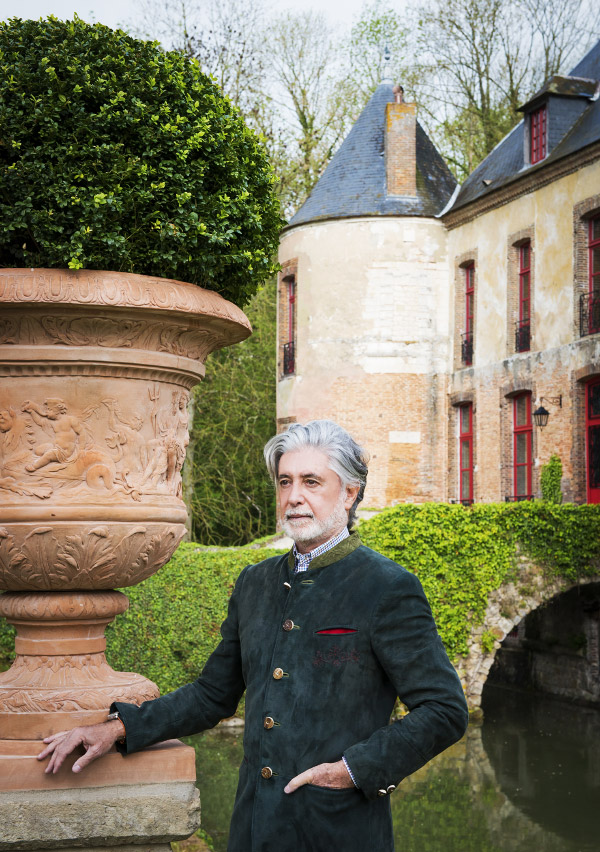 I wonder why Steve Jobs couldn't present a product wearing a jacket," laments Juan Pablo Molyneux, sitting ramrod straight on a delicate-looking chair in his Midtown Manhattan office. "He had the means, and he had that brilliance, so there's something twisted there."
The Chilean-born naturalized American is himself as immaculately turned out as the office he designed, which is awash in cranberry hues and pedigreed antiques. His brown plaid jacket, checked shirt, print tie and corduroy pants are set off by whimsically colorful polka-dot socks and a striking, leonine mane of silver hair. In his fifth decade as an architect and decorator of sumptuous luxury, he simply cannot fathom a billionaire forsaking refined elegance for a casual Friday.
But don't call him a "maximalist." A journalist affixed that label a few years back, and much to Molyneux's dismay, it has stuck. "I've never called myself anything," he insists, professing to enjoy a pared-down, modern approach as much as a classical one. "There's no limit. I've designed [everything] from a motorcycle to china to very contemporary apartments. But it's much easier for someone to put a frame on you, hang you on the wall and say, 'Let's keep him there.' " On the boards of the World Monuments Fund and the American Friends of Versailles, he is big on historical references but, he says, not wedded to them. "I don't live in the past."
Molyneux's clients are among the richest, most powerful people in the world — his most famous recent project is a 40,000-square-foot palace for Sheikh Mohamed Bin Suhaim Al-Thani, of the Qatari ruling family. Such patrons in the rarefied world of haute interior design are also discreet. So for his latest book, due out from Assouline in September, he avoided having to ask permission to publish his projects by focusing on his own extraordinary homes, which he shares with his wife of 41 years, Pilar. Devoting a chapter each to his seven-story Manhattan townhouse, his 1619 Parisian hôtel particulier in the Marais and his château in the French countryside, the book is more than a calling card. "For once, I don't have anything to explain to anyone," he says. "I just like this. It is me. Someone asked me, 'What is your style?' My response was, 'I don't have a style. I have a way of being.' Those are my houses. It is done with no other purpose than to make my wife and myself happy.
"I think they are quite, uh, quite outstanding," he adds with a burst of laughter.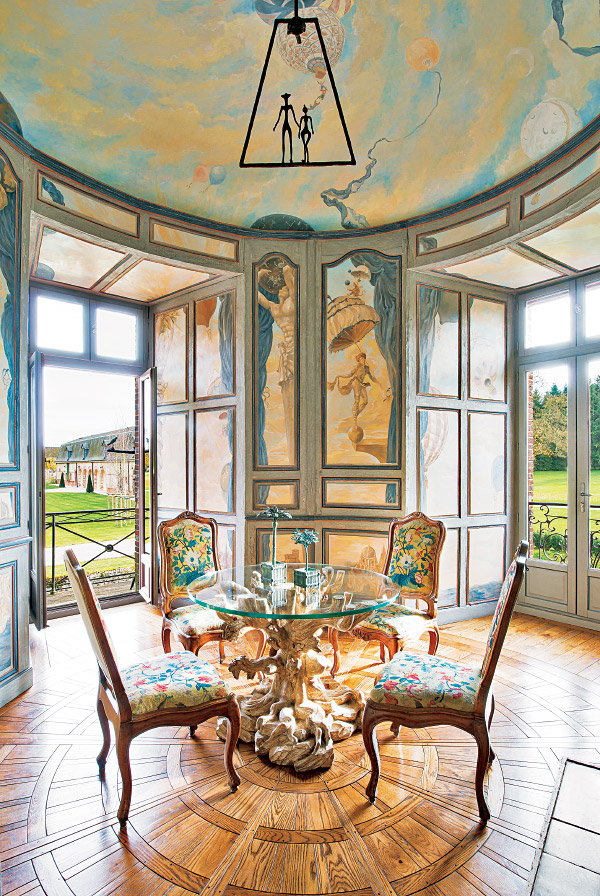 The 12th-century château, in Pouy-sur-Vannes, boasts 14 fireplaces, an indoor swimming pool and a moat, but it is Molyneux's attention to detail in every square inch — embossed leather walls; a mural of hot-air balloons; the use of scagliola, an ancient paint and plaster technique mimicking marble — that captivates. The castle is his favorite place to be, "perhaps because I see it as a final stage, in a way," he says. "It will be a job in progress for the next 20 years."
Molyneux grew up in Santiago, entered the Catholic University of Chile at age 16 to study architecture and continued his studies in Paris. Seeing the world proved formative. On one solo car trip, at age 19, driving from Cape Town, South Africa, to Alexandria, Egypt, he was struck by a village in what was then Rhodesia, now Zimbabwe, where the wind blowing through a thicket of cut bamboo at day's end whistled like a flute. "That's how the shepherds knew it was time to come back to the village. I thought, I want to live here. Things like that you never forget."
Farther north, he indulged his love of animals, watching wildlife roam the Masai Mara. He has since returned to Africa many times with Pilar, and references to animals frequently crop up in his projects, including in the upholstery here in his office. Beyond wildlife, the exceptional light he experienced on safari has also inspired him. "The light is something I have in my brain," he says. "The light on the savanna is something I wish I could have in my architecture. It is extraordinary."
In 1976, the couple left Santiago for the more cosmopolitan Buenos Aires. For a while, Molyneux traveled frequently to New York to shop for his wealthy South American clients. One day in the early 1980s, he was lunching at La Goulue, a smart and now shuttered bistro on the Upper East Side, when a real estate broker friend suggested that he find a place in the city — and the perfect space happened to be available for rent, two blocks away. Molyneux looked at the townhouse piano nobile and took it on the spot. "I didn't know what to say to Pilar," he recalls, giggling nervously at the memory. "She was in Buenos Aires. I spent, like, two weeks thinking, How do I start talking about this?"
He had no local clientele to speak of. So he visited the "ladies" who run the influential Kips Bay Decorator Show House. Told he needed photographs of his work to be considered, Molyneux returned with a big photo of an apartment. "It was my only [Manhattan] job at the time," he says. "But I was demolishing it, so I presented a photograph of the demolition."
---
"I don't have a style," says interior designer Juan Pablo Molyneux. "I have a way of being."
---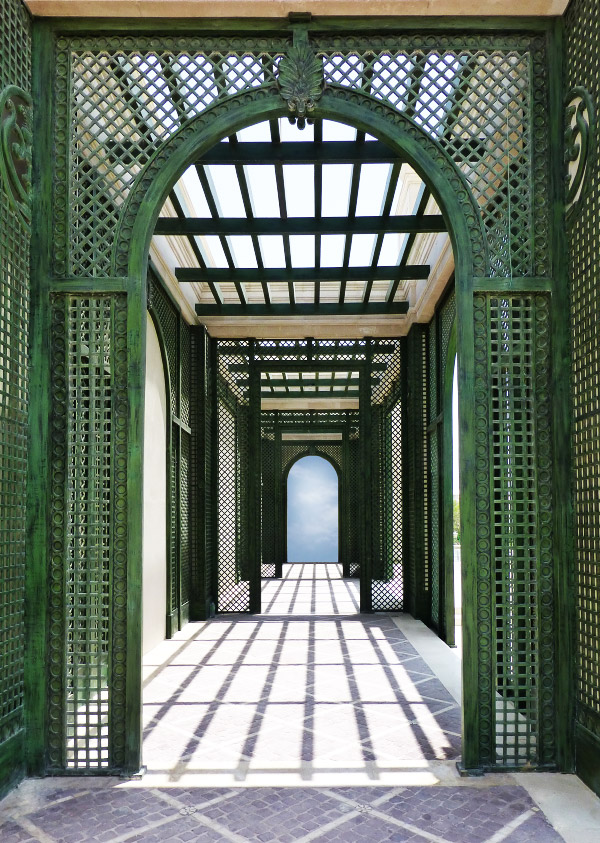 The Kips Bay representative deemed his application "outrageous." Whether Molyneux deployed his suave Latin charm or his newly acquired New York chutzpah — or some combination of both —  in the end he was granted the attic of the showhouse. It was not exactly a plum assignment. "Everyone said, 'No one will ever visit that,' " he recalls. But Molyneux did it up anyway — in red velvet, no less, with an Empire daybed and, on the little terrace, a Japanese garden with a bar whose painted mirrors where reminiscent of those at Venice's Caffè Florian. Not only did he prove the naysayers wrong, but one particularly important visitor made the climb upstairs: Paige Rense, the former longstanding editor-in-chief of Architectural Digest and the doyenne of the decorating world. Her assistant called the next day inviting Molyneux to breakfast, during which Rense inquired about his own home. Here's how he remembers the conversation:
"How is it?" Rense asked.
"It's fantastic," Molyneux confidently replied.
"I'll send a photographer tomorrow."
The resulting image of his rented space, with dark green velvet walls, appeared as a foldout cover of the October 1986 issue of AD. "That was like Sputnik," Molyneux remarks. It launched his nascent business into orbit.
His friendship with Rense has endured. About two years ago, Pilar called Rense, then 84, retired and living in West Palm Beach, and invited her to visit their château "one day," Molyneux recalls. Rense was curious about the number of guest rooms. "Two or three hours later, she calls back and she says, 'I'm coming. I rented a jet, and I invited 11 friends,'" Molyneux says, noting that she provided her hosts with the date of her arrival. "We had a blast. We had the most funny weekend in my life."
Famously, he has claimed to design entire houses in his head by simply visiting the proposed site and communing with the structure or surroundings. "I'm not making that up at all," Molyneux says. "When I go to a site for the first time, most of the time I'm accompanied by the owner, by the local architect, by a lot of people. I always say I would like to return alone. I just need to walk around — I don't want to sound cuckoo — but, like, to talk to the walls. When it is an old building, I imagine what happened there, and I am amused."
If an architect is already involved, Molyneux asserts, "basically, I take over." On many projects, including the Qatar palace, he starts from zero. His vision is complete, from the width of the moldings to the pattern of the fabric to the curve of a chair arm. "It is almost creepy," he says, although he acknowledges, "Before I have that vision, I understand the client or the purpose."
Molyneux does his own initial sketches. "When I was young, my sketches were with the details of Fra Angelico," he says. "Today, they're like Picasso in a rush." From there, he gets more detailed, working with the help of a staff of 28, divided equally between his Paris and Manhattan offices.
He's been at it long enough that he now counts grandchildren of clients as clients. "They want cool lofts, man," he says, doing his best impression of a person under 40. A downtown loft, he adds, is well within his comfort zone. "I like to dance in the shoes of the dancer. I'm not uncomfortable. I'm fully aware of what I'm doing."
The biggest challenge, he says, is "fighting to get through a cloud of mediocrity that is surrounding us." Molyneux rues the fact that many potential clients — think tech billionaires — lack the eye for exceptional design their predecessors honed, and the desire to hone it. "We live in an era when money came too fast to people who were very unprepared culturally [but] very well prepared in their field for producing more money," he says, diplomatically. "These people have an intensity for work that before was unseen, and that intensity leaves very little time to open doors that can lead them to another world of interests. They're very happy with a comfy sofa. There's no elegance because they don't need it."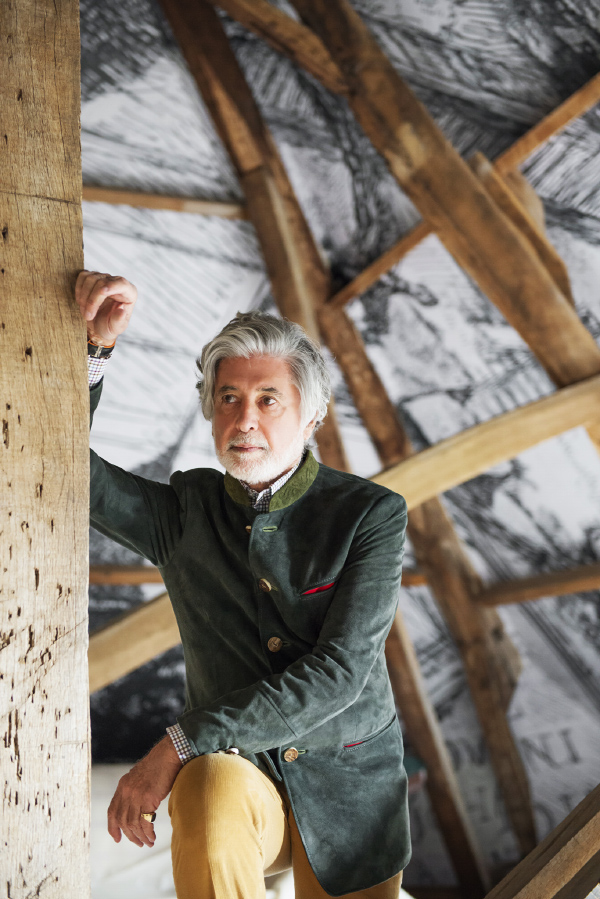 Such cases require Molyneux to undertake the "process to explain, convince, teach, guide — and fight," he says. "I do prevail." So associated is he with palatial — but not glitzy — living that his next book will be titled Palaces. "I know that it is swimming against the current in today's world, but what can I do? I did them." Still, he says, size is not a prerequisite for a project: "I can do a studio."
The most common state of being for Molyneux these days seems to be airborne. With a global practice, the decorator is content with his hectic travel schedule. He is blessed, he says, with a body immune to jet lag, even on a day's round-trip between New York and Moscow. "Every place in the world, I open my eyes, and it is 5:14 in the morning," he says of his enviable ability to adjust instantly to local time.
His secret may lie in his idiosyncratic travel routine: He always has two carry-on bags. In the first, he says, "I have my papers, everything to work. I do nothing. I don't even open it. But I have to have it with me." The second contains "a pillow, a cashmere blanket and a, how do you call that, the thing with feathers inside? A duvet. When you fold it, it's very small, but when you open it, it's king-size. And I sleep like an angel. And I hear a lot of people saying [to the flight attendants], 'I want one of those.' Sorry," he adds with a shrug.
He has recently been commissioned as the in-house decorator for an apartment conversion in Vienna's District 1, the city's answer to Mayfair and Park Avenue. Molyneux describes the building — constructed in the 19th century as a mansion and most recently serving as a bank — as "very pompous, a little Napoleon Trois, between Tuscan and wedding cake." Molyneux will oversee the addition of four penthouses, each with its own swimming pool, and advise on the rest of the renovation. "Even if someone buys an apartment and comes with an architect or decorator, I can veto certain things," he says, letting out a giddy whoop. "This will be address number one in Vienna."
Among his other pressing projects is a more personal one. After nearly 30 years there, the Molyneuxes sold their grand East 69th Street beaux arts townhouse, which included a swimming pool, late last year. "We are only the two of us — we don't have children," he says. "You get to a point where two people living in a house that you need four people to maintain — the equation wasn't right. Somewhere you have to cut down in order to have a more sane life."
In its place, the couple bought a prewar apartment on East 57th Street. (They are temporarily renting a townhouse. "I'm getting very friendly with Sheetrock. But I know it's temporary, so we have just short conversations," he quips.) They may have downsized, but they did not sacrifice drama in their next home. "It has a twist," Molyneux says of the 57th Street apartment, one that includes double-height ceilings. As for its decor, "I still haven't even started, but I know exactly what it's going to be," he says.
Asked for details, he demurs, smiling coyly like a child with a secret. "In about a year, you will come for a drink and see for yourself."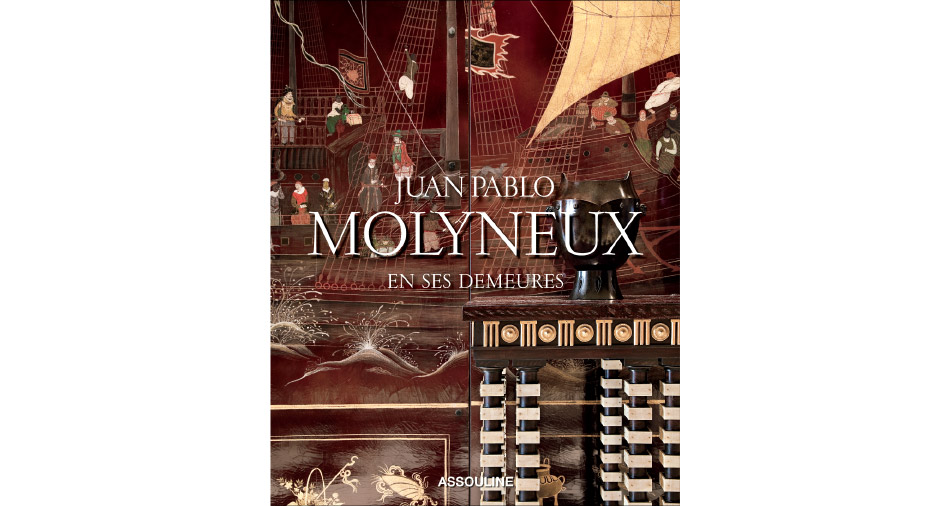 Or Support Your Local Bookstore
---
Juan Pablo Molyneux's Quick Picks on 1stdibs