Katie Martinez clearly remembers her first task as a design professional: to organize and catalog the extensive library of design and art books owned by hospitality magnate André Balazs, for whom she was interning fresh out of Parsons Design School. Like the man's hotels, the titles were inspiring, unexpected and undeniably sexy. "It was hard to define what made his projects so electric — each one was highly personal and never followed a formula," says Martinez, who, ten years later, is mastering her own brand of immersive, high-touch environments for clients who range from ambitious app creators to luxury wineries to boutique jewelry designers to young, aesthetically minded urban families.
In contrast to the time she once spent in buzzing New York City studios, where whole teams of designers tackled dozens of in-progress projects, Martinez now oversees a staff of just two from her petite office in the charming industrial-meets-residential San Francisco neighborhood of Potrero Hill. Her client list may not be long, but each of her exquisitely executed projects has been scooped up and celebrated by the press (including the Wall Street Journal and Domino) — leading many to predict that her small firm may be the next big thing.
Martinez launched Katie Martinez Design more than a decade after and 3,000 miles away from where her career began, and she credits both the distance and the time for preparing her to lead her own studio. "I'm not one of those gutsy people who graduated from school and just jumped right into doing their own thing," she says. "It was only in the last few years that I felt creatively and professionally secure enough to do it, and to do it well, which mattered to me immensely."
Martinez grew up in Bedminster, New Jersey, in an old farmhouse decorated with plenty of chintz and painted with boldly colored walls. Her great grandmother was an abstract artist, and her works were constant set pieces of her youth. "I have art and design in my DNA."
She headed to Dartmouth for college, where she majored in studio art and art history and took classes in architecture. It was there that she found her creative coterie: Unlike at many schools, the architecture classes were grouped with the studio arts, so she studied alongside painters, sculptors and photographers as opposed to engineers. "Dartmouth is where I got my abstract, creative education in design — I learned to think about the broad approach, " says Martinez, who credits inspiring professors with cultivating her aesthetic sensibilities. "That said, I wouldn't call the education I received there 'practical.' We never learned drafting or Photoshop, any of the things you actually can stick on a resume." To refine her real-world design skills, she headed to Parsons for graduate school, where she not only learned the ropes but was taught to put this knowledge to practical use.
It was while completing her studies at Parsons that she landed that internship with Balazs, and then, almost immediately upon her graduation, she was brought on as a designer by the Rockwell Group, another major New York player in the hotel-and-restaurant industry. Over the next three years, she worked on projects ranging from the Andaz Wall Street hotel in New York to the Belvedere Hotel and its Matsuhisa restaurant in Mykonos, Greece. The work was fast-paced and high-concept, and the teams were massive.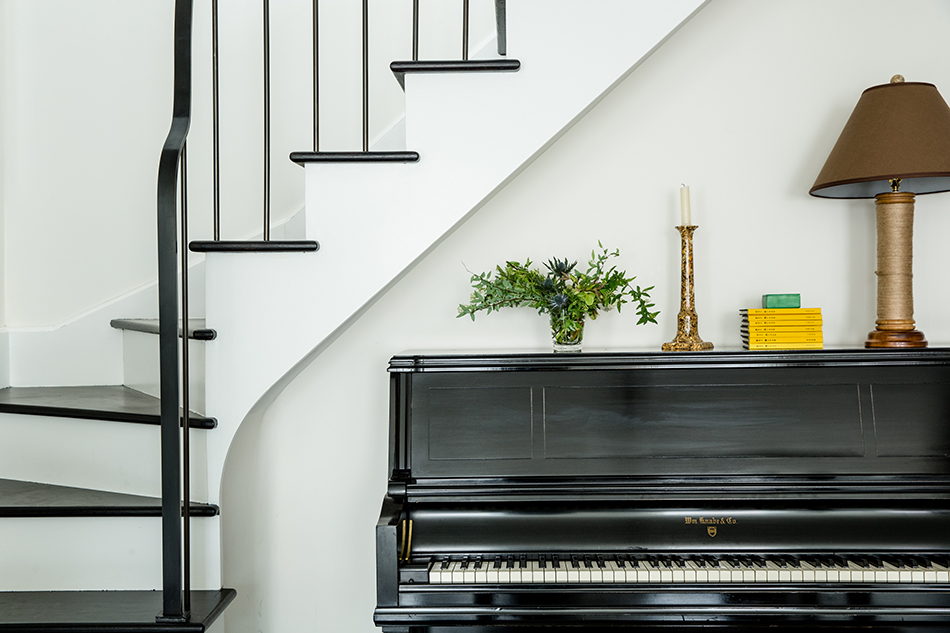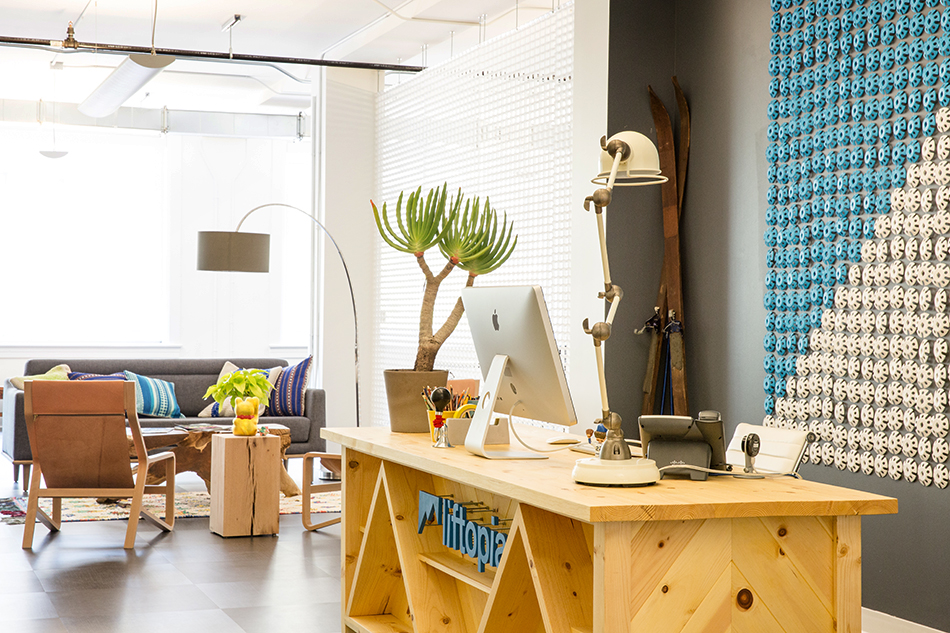 Desiring a change of both pace and scale, Martinez set off for San Francisco with her then-boyfriend, now-husband, Michael, the founder of JuiceBox Games, a mobile gaming venture. The young couple barely knew a soul in their new city when they arrived, but they would quickly make it home, marrying and having a daughter, Amelia, over the next few years. "Something about the West Coast had always been calling to me," says Martinez. In San Francisco, she worked with two well-known Bay Area firms — the Wiseman Group and Nicole Hollis Interior Design — before striking out on her own in 2013. "I felt that I was following a path of going smaller and smaller, until it was just me," says Martinez. "That was always a direction that just felt right."
Martinez's first solo project was a remodel of a Greenwich Village townhouse — formerly inhabited by Vogue's flame-haired creative director, Grace Coddington. There, Martinez drew on her interior-architecture skills and big-picture thinking to make substantive changes, such as replacing industrial spiral steps with a grand, modern-yet-elegant formal staircase. At the same time, her knowledge of vintage furnishings and the emerging art scene allowed her to master all the finer details, from the vintage Swedish rya rug in the master bedroom to the hand-hammered copper sconces in the kitchen to the black-and-white photograph, installed above the fireplace, of a hawk mid-strike, by Geoffrey Knott. The project, completed for a young family, lit up the Internet: Images of the rooms were shared on Pinterest thousands of times, and the proverbial phone started ringing.
Next up, Martinez created a Nordic-industrial wonderland of an office for the ski-loving entrepreneurs behind Liftopia, a digital platform connecting skiers with discounted lift tickets. That downtown San Francisco workspace meets all the requirements for a cheeky start-up — Martinez commissioned an artist to render the company logo in reclaimed blue and white ski-pole baskets and installed a well-stocked bar — while also elevating tech-company chic to a level rarely seen: no bean bags here. In their stead, vintage bentwood chairs slung with caramel-colored leather offer places to lounge, while a rough-hewn floor-to-ceiling shelf expertly styled with books, games and company iconography makes for a sophisticated meeting-room backdrop.
Her design for the combined New York showroom, offices and workshop of jewelry designer Lulu Frost walks the same fine line between residential coziness and professional functionality. A living wall brings a shock of green to a lofty, centuries-old building in Manhattan's Flatiron District, while also creatively dividing the public and private spaces. Instead of bulky (and potentially unwelcoming) jewelry cases, Martinez opted for delicate tables with svelte gold legs and a display wall framed in raw wood. An antique lounge is reupholstered in a shibori-dyed textile, and bare bulbs at varying heights dangle from the high ceiling, echoing the boho-inspired baubles that fill the shop.
Martinez's ability to weave residential details and the warmth they provide into commercial settings has struck a chord, and her list of on-the-board projects ranges from a handful of residential remodels in San Francisco to an ambitious new winery in Napa Valley's St. Helena, for which Martinez is designing everything from the tasting rooms to the terraces. Regardless of the space, each square foot will undoubtedly benefit from Martinez's hands-on, bespoke process. For her (and her lucky clients), small is the next big thing.
---
Hometown:
Bedminster, New Jersey
Early Influences:
Growing up, I was lucky enough to spend a few weeks of every summer on Martha's Vineyard. The house was originally my great-grandmother's art studio. It was rustic and filled with art, books and furniture collected through the years. We  showered only outside and walked the grass driveway to the beach. I am always inspired by memories of its wildness, simplicity and sense of place.
Current Playlist:
Lately, we've been listening to a lot of Leon Bridges, Jorge Ben Jor and Rubblebucket. My husband finds all the good music in our house. Our two-year-old daughter is really into '50s classics — we listen to Alley Oop on repeat.
Favorite Artists:
Lucian Freud, Louise Nevelson and Marta Johansen
Designers You Most Admire:
Annabelle Selldorf, Commune, Rose Uniacke, Dimore Studio, Edwina Von Gal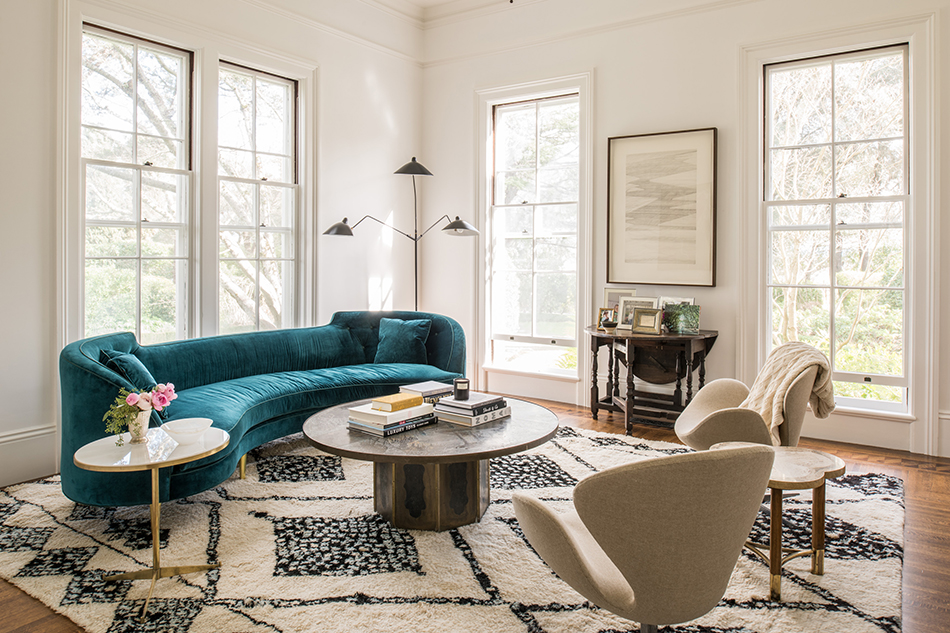 Drink of Choice:
Red wine
Favorite Watering Hole:
Lone Palm, in San Francisco's Mission District
Go-To Dining Spot
Pizzeria Delfina
On Your Nightstand:
The Crossing by Cormac McCarthy
Favorite Vacation Destination:
Point Reyes, California, and Martha's Vineyard, Massachusetts
Always in Your Bag:
A tape measure
---
Katie Martinez's Quick Picks on 1stdibs