Each year, the Kips Bay Decorator Show House in New York offers a select group of outstanding designers their dream commission: to transform the completely blank spaces of a stately Manhattan townhouse into awe-inspiring rooms, with no client to please but themselves. The results are reliably — and unsurprisingly — breathtaking. This year's details include a top-floor lounge sheathed in dark chalkboard paint scrawled with architectural ornamentation; an enchanting garden rendered in a plaster bas relief; and an antiques-filled "lady lair" covered in swirls of neon graffiti. Like many of the design projects of this exceptional set, the rooms here feature furnishings, artworks and accessories sourced from 1stdibs dealers — from blue-chip vintage items that provide a certain patina to new masterworks by the likes of David Wiseman and Joe Wheaton.
The 21 decorators who took part in this latest show house were tasked with reimagining both the indoor and outdoor spaces of a new limestone mansion attached to the Carlton House, a condo conversion on the Upper East Side. Here, we highlight eight favorites that deploy surprising and inspiring objects with particular flair, juxtaposing a variety of styles and periods to create compelling rooms that exude personality and imply a history far longer than the six weeks in which they were realized. The event (running through June 9) expects to draw 15,000 design professionals and enthusiasts, with all proceeds benefiting the Kips Bay Boys & Girls Club, a youth development center that serves underprivileged New York children.
---
SUZANNE KASLER
Atlanta-based designer Suzanne Kasler is admired for her skill in marrying gracious Southern style with urbane sophistication. Her interiors are often rendered in layered neutrals that feel luxe yet unobtrusive, and this serene living room is no exception. "Incorporating beautiful, classic, fluted plaster molding, unfinished oak floors and high-gloss Farrow & Ball Pointing white creates the architectural envelope I always use to begin my projects," she says. To this she added elegant lighting — a pair of crystal table lamps from Winston Exceptional Lighting and sconces from Lerebours Antiques — and a subtle hit of color courtesy of Dusty Griffith's abstract painting Blood and Water Flow 2, from Pryor Fine Arts. The result, Kasler explains, is a room where you can enjoy both the kitchen and the adjacent outdoor terrace. She adds: "How special is that interaction in a place like New York City!"
---
DAVID KLEINBERG
The intimate library created by David Kleinberg Design Associates calls upon the harmonious spaces of Albert Hadley and Henri Samuel for inspiration. "We have combined diverse textures and materials with a curated assembly of furniture and objects," says Kleinberg, who made his long-awaited return to the show house this year in tandem with his five newly appointed partners. Among the standout furnishings are a tapered bronze and glass side table by Roberto Rida, from L'Art De Vivre, and a gilt bronze, amethyst and stained-glass coffee table by Claude Boeltz, from Maison Gerard.
---
TIMOTHY WHEALON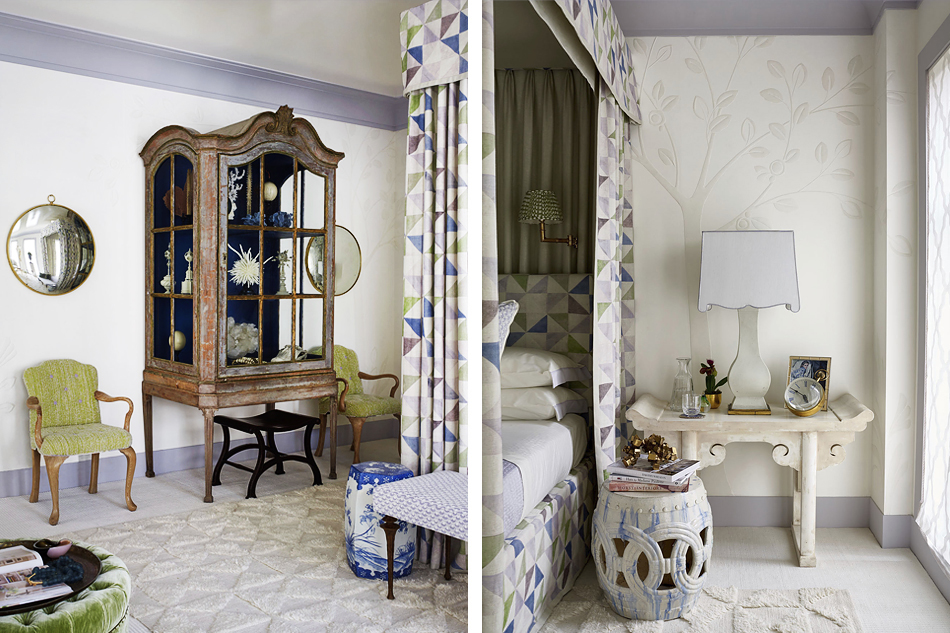 "The White Orchard Room harks back to the bedrooms of the great English country house — reinterpreted with a fresh, edited, modern sensibility," designer Timothy Whealon says of his fourth-floor aerie. The grand estates of Long Island's Gold Coast, in New York, and of Chicago's North Shore also served as inspiration. "It is a room where Doris Duke or Cecil Beaton might find respite from their jet-set lifestyle," Whealon adds. Choice antiques — a foliage-topped floor lamp and upholstered bench from Maison Gerard, a French Art Deco loveseat from Newel — complement the room's striking textile pattern and select contemporary items, including a pair of Liz O'Brien armchairs and accessories by Kelly Wearstler and Creel and Gow.
---
DRAKE/ANDERSON
Jamie Drake and Caleb Anderson's luxurious bedroom is the newly formed design duo's first collaborative project. The shimmering space displays a respect for centuries-old techniques — fabric was applied directly to the walls and moldings using a couture process called gainage — and an enthusiasm for the output of more contemporary creators. A black sculpture by Saint Clair Cemin, from Paul Kasmin Gallery; an oval mirror by Elizabeth Garouste and Mattia Bonetti, from H.M. Luther; and a ribbon table by David Wiseman, from R & Company, provide a wonderful contrast to the room's antique treatments.
---
PHILLIP THOMAS
For his Kips Bay debut, designer Phillip Thomas created a "lady lair," which he defines as a "sanctuary from the day-to-day chaos of urban life and stressful careers" inspired, in part, by his mother. A Maison Jansen commode and desk — from Bernd Goeckler and Maison Gerard, respectively — outfit the space, but the formality ends there. The crème-hued upholstered walls are artfully defaced with swirls of spray paint, a pink sheep peeks out from beside the commode, and the side tables, including a trio of acrylic barbell pieces from Lorin Marsh, hold an array of colorful vessels and flora.
---
DANIEL RICHARDS
Landscape and interior designer Daniel Richards took to the outdoors for this year's show house, creating a city oasis on the terrace. The international talent, who counts Sarah Jessica Parker and Baz Luhrman among his clients, curated a refreshingly spare space with streamlined furnishings and striking sculptures, including Joe Wheaton's Slowly and Conscience #1, from Carrie Haddad Gallery, nestled amid 100 lace cap hydrangeas and clipped boxwood.
---
GARROW KEDIGIAN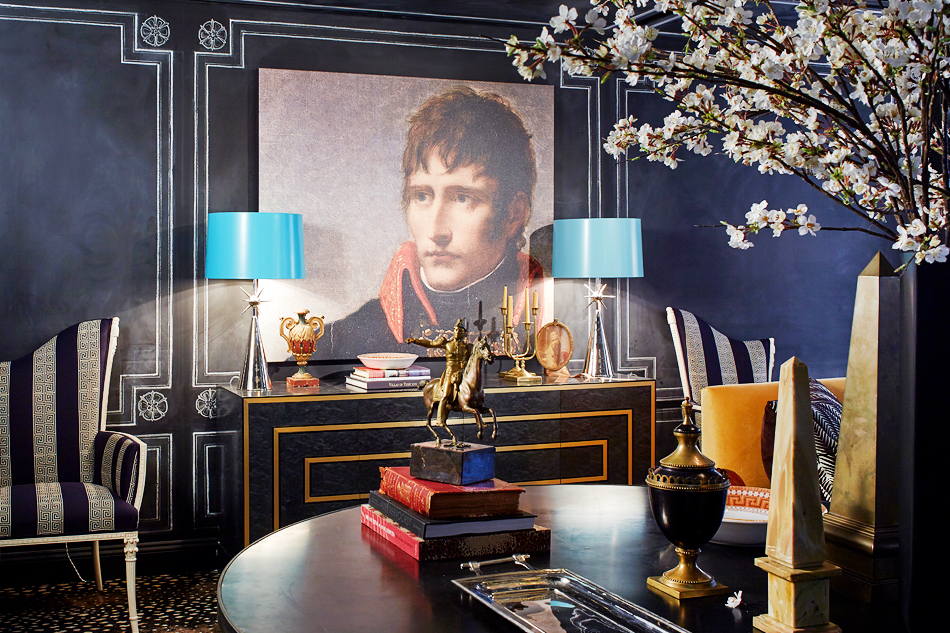 For a top-floor lounge space inspired by Napoléon, designer Garrow Kedigian created a massive trompe l'oeil treatment, coating the walls and ceiling in chalkboard paint and commissioning chalk artist Rajiv Surendra, famous for portraying mathlete Kevin G. in the movie Mean Girls, to sketch in a profusion of architectural detailing. This visual trick is balanced by more enduring furnishings, including sculpture pedestals found at Chesney's, a coffee table by Cosulich Interiors & Antiques and an entry table from Balsamo.
---
HARRY HEISSMANN
German-born, New York–based designer Harry Heissmann expertly deploys bold patterns and cheeky details in his often-eccentric interiors. Here, he has lined the walls of the second-floor powder room in blue leather to create a "worthy canvas" for the space's focal point: a re-creation of Einar Forseth's outsize mosaic portrait Queen of Mälaren, offered by Modernity Gallery. "The panel was created in 1923 as a maquette for Stockholm City Hall, and it was digitally reproduced from the original for the show house," Heissmann explains. A Tony Duquette golden toad, a gilt geranium-leaf mirror by Christopher Spitzmiller, a sunflower-inspired Murano glass ceiling fixture from L'Antiquaire and a roll of orange toilet paper finish off the fanciful room.