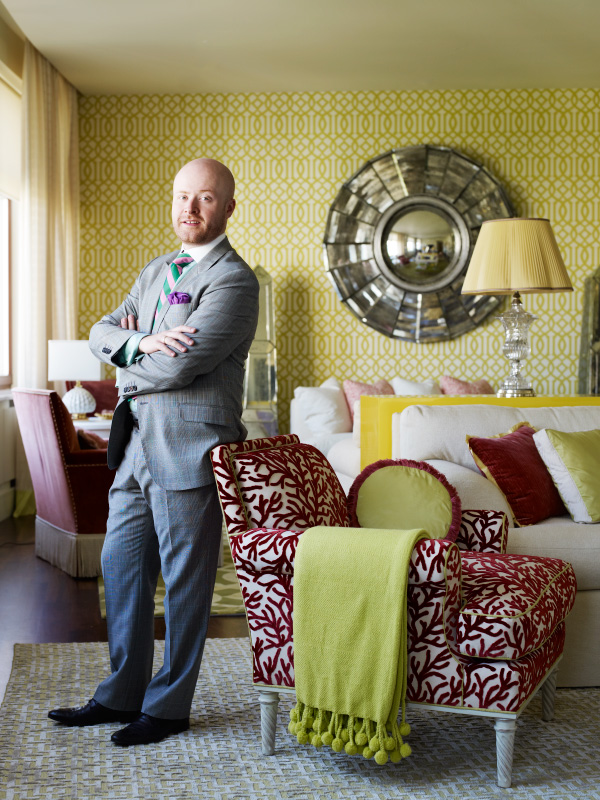 Moscow-born and -based decorator Kirill Istomin began to draw at an early age. Indeed, he still has a portrait that he made of his mother when he was just four years old. ("It's actually not that bad," he says matter-of-factly.) He also created his own illustrations for the early-19th-century Alexander Pushkin novel Eugene Onegin. "I was not so interested in the people," he notes of his childhood attraction to the book. "My main focus was the settings."
Given that focus, it should come as no surprise to learn that Istomin developed a precocious passion for interiors, too. He recounts how he spent childhood art classes creating miniature versions of historical rooms from cardboard, one of which has survived: a pink salon with wall paneling. Around the age of nine, he also painted an enfilade of 18th-century rooms on one of his bedroom walls. "I did this faux perspective with consoles and commodes," he recalls fondly.
Today, Istomin creates an almost dizzying number of spaces for real. "At any given time, I'm working on twenty-five living rooms and thirty-five bedrooms," the designer, only half jokingly, says about the multiple projects he works on simultaneously. "It's a lot of rooms to think of all at once." He maintains a Moscow office of 20 employees and throughout Russia is considered to be a designer in a league of his own.
"He's no doubt the most important Russian decorator," notes the editor in chief of Elle Decoration Russia, Aleksey Dorozhkin. "His interiors are a refined mix of historical quotes, bold designs, outstanding craftsmanship and made-to-measure objects."
"He dreams big, and I love it," says the New York–based interior designer Anthony Baratta, whom Istomin initially befriended on Instagram. "He elevates the European traditional sensibility to new heights."
Since setting up his own practice 14 years ago, Istomin has worked on a diverse assortment of projects. Among them is a 6,500-square-foot villa on the Italian coast, whose stunning living room he refers to as "Tony Duquette-meets-SeaWorld." It features a cornice decorated with seashells and 17th-century sconces from a Sicilian cathedral. There is also a more sedate 27,000-square-foot private house in the French Riviera town of Antibes with a marine palette and countless references to pebbles and coral, as well as a 6,000-square-foot Moscow penthouse that he describes as more urban and modern, "with lots of beiges, which is unusual for me."
For another client, Istomin recently transformed one of the pavilions in the park town of the imperial palace of Tsarskoe Selo, near St. Petersburg, into a fanciful weekend home. Featured in the January 2016 issue of American Elle Décor, the pavilion was part of a pagoda-style Chinese Village imagined by Catherine the Great back in the 18th century. Inspired by the architecture, Istomin came up with a stylish but relaxed interior featuring numerous Chinoiserie touches, four-foot-high sconces in the style of Tony Duquette and pelmets modeled on the building's sweeping roofs. It was a dream commission. "I'm super-fascinated with all the Russian palaces, especially Pavlovsk," Istomin explains. "They're just so inspirational."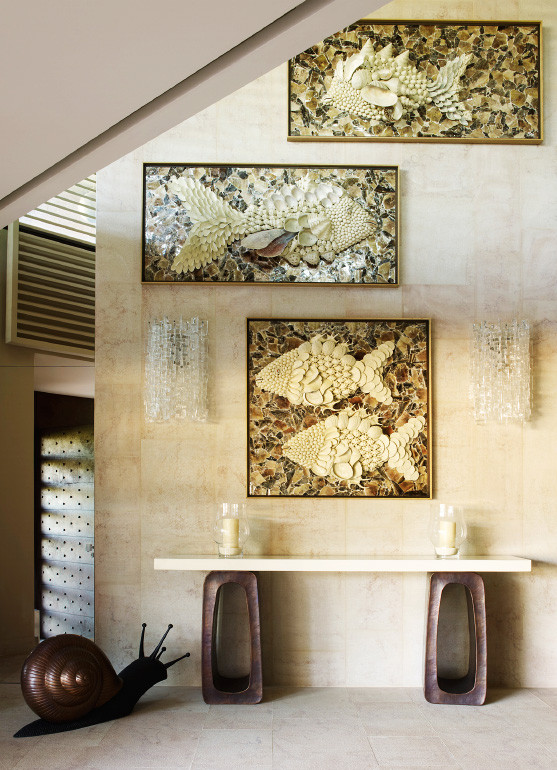 Istomin was born in Moscow in 1976. His father, an urban planner, worked on the reconstruction of the Armenian city of Vanadzor after a massive earthquake in 1988 all but destroyed the area. Four years later, Istomin père was appointed architectural consultant to the World Bank, which led the family to relocate to Washington, D.C. There, Istomin attended the Corcoran School of Art for 12 months before switching to Parsons School of Design, in New York, where he lived in what he calls a "super-small" apartment in the West Village.
The summer after his second year at Parsons, he obtained an internship at Parish-Hadley, then considered the grande dame of American decorating firms, famous for a style that mixed the English sensibility of Sister Parish with her partner Albert Hadley's stricter architectural approach. Istomin segued into a full-time position. "For me, it was amazing," he declares. "It was the leading interiors firm in New York, with clients like Brooke Astor. Aesthetically, it may not have been my style, but I would never have got to where I am now without that visual experience."
He recalls the legendary Hadley as a hard taskmaster, with a great sense of humor. "In his interiors, you always found something quirky, something imperfect, that made them so interesting," Istomin says. "The thing I learned most from him is how to edit — what not to put in an interior." When the firm closed in 1999, Istomin worked for several years for Parish-Hadley alumna Pamela Banker before returning to Moscow, where he opened his own practice in 2002. His first commission, a modest two-bedroom apartment, came through family contacts. Another, the Art Deco interiors of a private bank the following year, helped attract a larger clientele.
---
"He dreams big, and I love it. He elevates the European traditional sensibility to new heights."
---
Asked about his most interesting project, he cites a 32,000-square-foot villa on which he worked in tandem with Nicky Haslam. The British designer oversaw the public rooms on the first floor, Istomin the private spaces above. "I admire Nicky very much," says Istomin, who was particularly struck by Haslam's decision to cover the walls of one sitting room with horizontal bands of fringe. "There were yards and yards of it," he remembers. "It created this almost furry, hairy effect. I've never seen anything like it." For his part, Istomin created an opulent scheme upstairs that included a dressing room with plaster palm trees on the walls inspired by the Eastern-accented architectural fantasia that is the Royal Pavilion in Brighton, England.
The whimsy evidenced in those palm trees is central to Istomin's approach. "I hope I have this sense of fantasy," he says. "That's what true decorating is about. You don't take it seriously. You play with your ideas." He avows an overriding passion for objects and a particular obsession with chandeliers, although he is at a loss to explain why. He has a very deep knowledge of antiques and regularly conceives whole rooms around a single purchase. One dressing room, for example, was based on a set of 18 early-20th-century English plates. And a bathroom in the Geneva villa was inspired by a small sample of dusty-pink brocade from the 1920s or '30s. Another constant in his work is a deft and extremely personal use of color. "I'm not a beige-room person. Maybe it's because I have red hair, or used to," quips Istomin, whose head is closely shaved.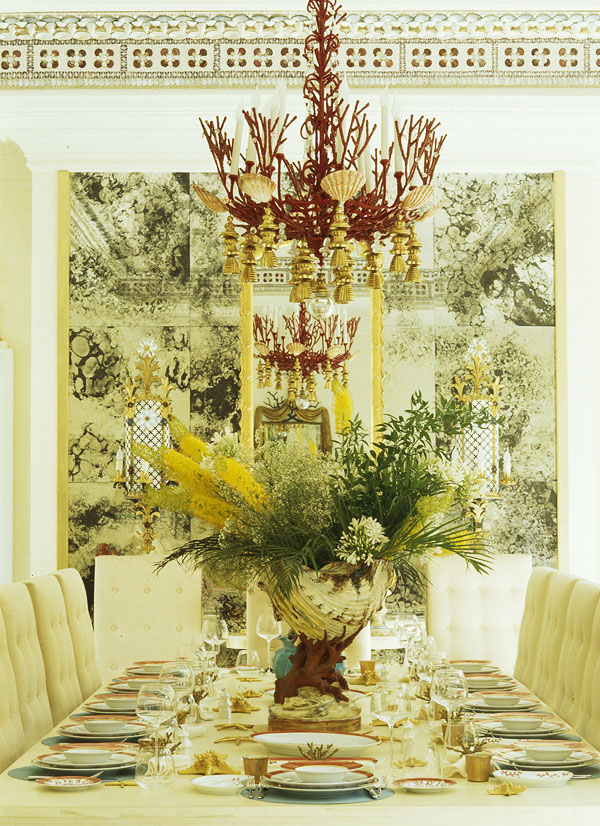 While the opulence and jewel-like tones of Istomin's interiors could be considered distinctly Russian, the influence of his time spent in the States is also present. He places great importance, for instance, on comfort and insists on all his upholstery being done in New York. "He's the only man in Russia who can be called an 'American Classical Style Specialist,' " asserts the editor in chief of AD Russia, Eugenia Mikulina. "Yet at the same time there is always a Russian twist. There's no mistaking that we're seeing his work, and only his."
Istomin's manners, on the other hand, are almost quintessentially British. "He's always impeccably polite, a real gentleman," Mikulina says. He also has a precise demeanor that recalls the English actor David Suchet's depiction of Agatha Christie's Belgian detective, Hercule Poirot.
Perhaps more than anything, Istomin is quite simply a man of the world. He is currently working on projects stretching from Kazakhstan to France; regularly visits his uncle, the Internet entrepreneur Yuri Milner, in California; and keeps an apartment in Manhattan. He also spends his summers at a house in Wainscott, in New York's Hamptons, with his charming wife, Natalia, and their young twins.
If they ever decided to buy their own country home, Istomin says, it would be something a little unexpected. "A lot of people would be surprised, but I would commission or purchase a modernist house," he says. "I really love the architecture of the 1950s and '60s — Palm Springs, Rancho Mirage, Philip Johnson and his Glass House. It's the total opposite of what I do. But I think it's just so beautiful."
---
Kirill Istomin's Quick Picks on 1stdibs