Kylee Shintaffer grew up in Spokane, Washington, in what she calls an "unusual seventies rambler," a house with walls of glass and dark volcanic rock. When she was eight or nine, her mother hired a couple of local decorators, who brought in lots of blue-and-white plaids and checks for a French country look. "We thought it was very fancy at the time," she says, adding that, in retrospect, the interiors clashed with the architecture.
That's not a mistake Shintaffer would make. A successful Seattle designer, she has worked on scores of houses ranging in style from the Japanese-inflected minimalism of the early 21st century to the Tudor and French provincial maximalism of the early 20th. Shintaffer lets the architecture — not her preconceptions — guide her, often finding furniture that was wrong for one house just right for another.
Many of her projects are in Seattle, although with the city's tech millionaires building second and third homes, about half of her commissions have taken her elsewhere, from the mountains of Montana to the beaches of Hawaii. For several years, she says, "we were doing more out-of-town work than in-town work. I feel very grateful to have seen such beautiful locations."
One of those out-of-town jobs was a ski-in/ski-out vacation home built by a Seattle couple for whom she has done several projects. They wanted a place that would feel cozy when just the two of them were there but that could accommodate as many as 20 guests at a time. Shintaffer worked with Miller Roodell Architects, of Bozeman, Montana, to create a house that feels enveloping, with lots of recycled "corral board" — pieces of wood fences that have grayed from exposure to the elements. "It has a mossy, almost lichen-y quality to it," she says.
Shintaffer had to devise rooms that could scale up or down. She did that by giving the larger spaces multiple small seating areas, "where you can lounge with friends or just read a book," she says. But the dining room was a challenge. "How do you do a table for twenty-two people and not have it look like a conference room?" Shintaffer asks. She began with wood from an old water tank cut into four planks so big that the table had to be assembled in place. Above it she suspended ceramic light fixtures from BDDW, which hang not from the usual chains but from steel mounts that she designed (the chains were too rustic, she says). Her best idea, though, may have been having the custom Parsons chairs slipcovered in different colors, to avoid numbing repetition. The various reds and blues, which Shintaffer calls "berry colors," look great against the gray wood floors and off-white plaster walls.
For another client, the designer sought to create a house that respected both the natural and the man-made history of Washington's San Juan Islands, where it was located. "We wanted it to have a Northwest feel," says Shintaffer, who managed to achieve this effect in even the smallest spaces. The walls of one powder room, for instance, were hand-painted in a pattern derived from a Native American basket — "We abstracted it a bit," Shintaffer says, "and did it in a very watery hand, a soft pattern with layers of glazes." The sink is essentially a slab of soapstone on a cedar plank, linking the house to the rugged environment outside.
Seattle Talent Kylee Shintaffer's Tech-World Clientele Keeps Her Busy Both Near Home and Far Afield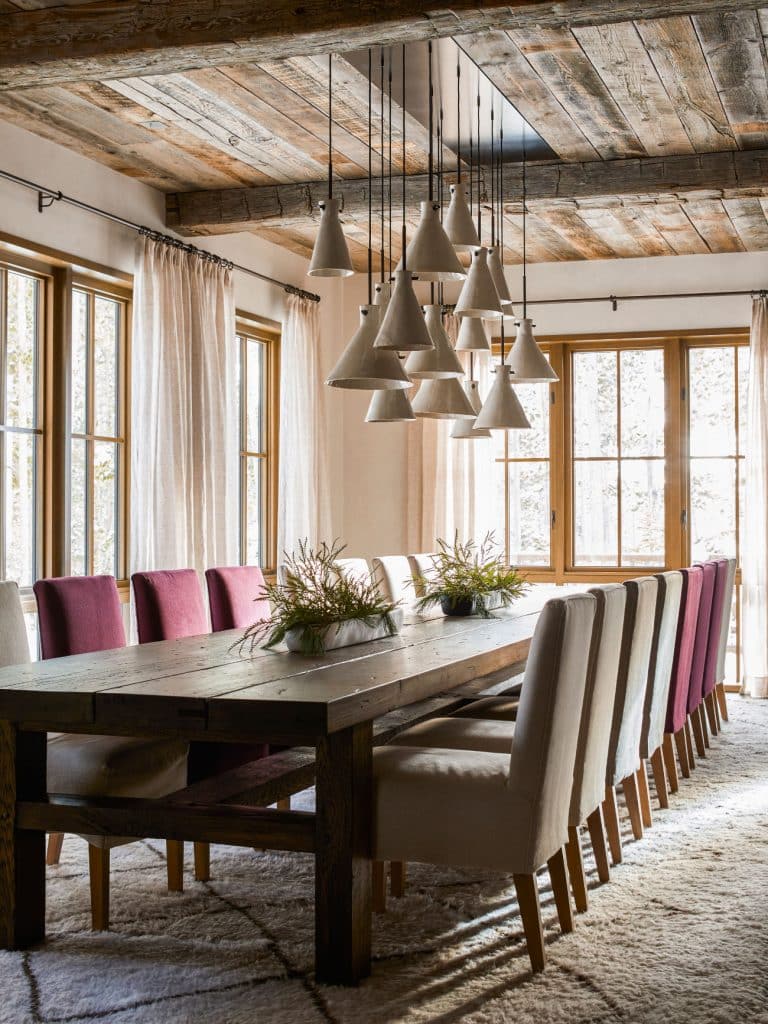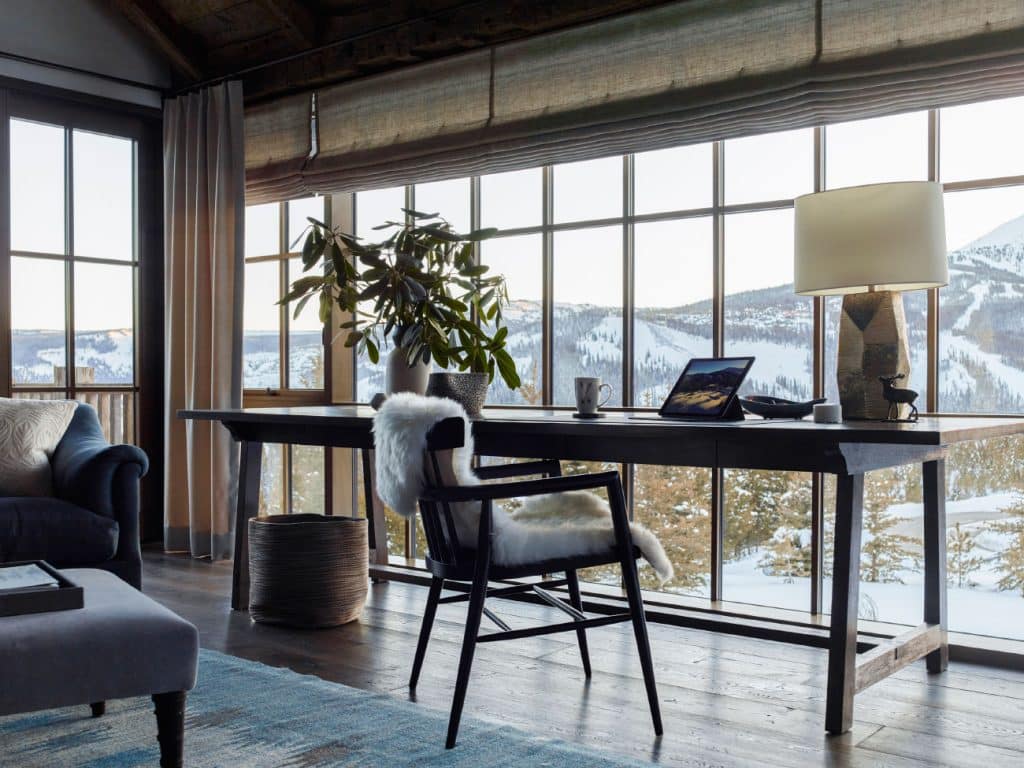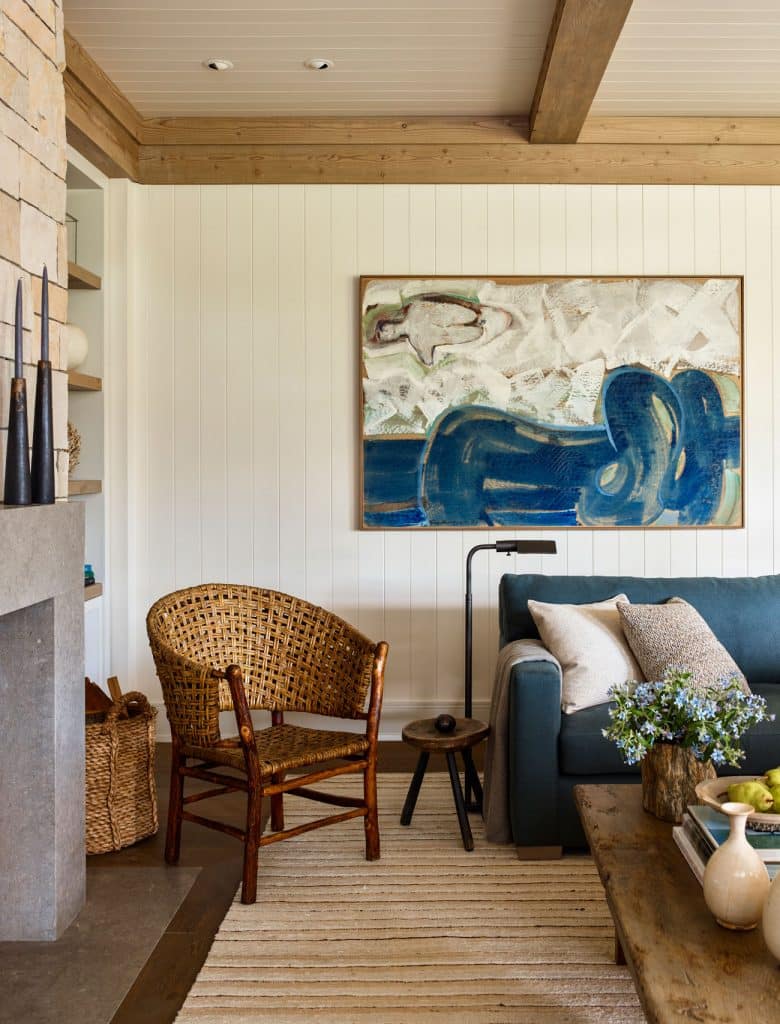 Back in Seattle proper, a couple living in a 1908 brick Tudor mansion overlooking Lake Union hired her to redo its interiors. "We ended up building a lot of things, restoring a lot of things," says Shintaffer, who seeks out — and learns from — the best craftspeople she can find. She became well versed in giving 100-year-old wainscotting depth and luster (she had the wood "French polished," a technique that involves hand applying many thin coats of shellac) and creating dining room walls that look like parchment paper (she had the surface taped off in a grid then painted, glazed and waxed). For the rugs, drapes and upholstery, she followed the clients' instructions to make sure the rooms glowed at night, choosing fabrics that won't wash out when the sun goes down and the lights come on.
Shintaffer was also hired by the adult son of the Tudor's owners, whose aesthetic couldn't be more different from theirs. He commissioned a house from George Suyama, a Seattle architect whose work is quiet, almost zen, with concrete walls and floors and seductive water features. Suyama "carved out a sanctuary" for the son, despite the long narrow lot on which the home is situated, with neighbors pressed alongside it. "It feels very spacious, very open," says Shintaffer, who calls the architect "a visionary."
For the interiors, Shintaffer looked for pieces that would add warmth without interrupting the flow. Among the items she chose are a Pierre Jeanneret armchair, from Frank Landau; BDDW barstools; and a chest by the Belgian designer Axel Vervoordt. In one corner, a lamp by Suyama himself rests on a "triple burnt" side table from Adrianna Shamaris. Much of the furniture, however — including the upholstered chairs and coffee table in the living room — is by Shintaffer.
Shintaffer says she has always loved design but hadn't studied it, or even worked for anyone in the field, before starting her own firm 15 years ago, when she was just 28. "I know there's great value in what I would have learned in design school," she says, adding self-deprecatingly, "I wish I had a more interesting pedigree."
She learned by observing, however. When Shintaffer was 20, her parents built a new residence in Spokane, and this time they brought in the Pasadena-based interior designer Maybelle Wolfe. Wolfe was "very fond of modern art," Shintaffer recalls. "In her own house, she mixed works by Philip Guston, Andrew Goldsworthy and Helen Frankenthaler with beautiful antiques." In Spokane, "she lacquered my parents' dining room in a caramel color that still looks chic today," says Shintaffer. "Her style left a lasting impression on me of what a timeless home could truly be like."
Shintaffer majored in marketing at the University of Washington, taking some art history and drawing classes as well. Following graduation, she worked at a gift company, eventually becoming its creative director. "The company was growing, and it was a wonderfully creative time," she recalls. "I got to help them expand into several new categories." After a few years, though, she decided to "do something that had more lasting impact on people's lives.
"So I took the leap," she says, and opened an interior design studio in Seattle's Montlake neighborhood. "It was something I had always wanted to do, but my path took me in a roundabout way to get there." Her first project was for her brother, who was contemplating a renovation just as she was thinking about her career change. Then, the day she left her role as creative director, the gift company's controller asked her to do an apartment redesign. "It was all word of mouth," she recalls of her business's initial growth. "I was lucky to have had those people trust me from the get-go."
It helped, too, that the media took early notice: Her brother's home was published in Better Homes & Gardens, and, soon after, House Beautiful put her on its Next Wave list.
Today, Shintaffer is in great demand, which is one reason that her most personal project — gut renovating her own French provincial house in Seattle's Madison Park section — won't be completed anytime soon. "It's a really big undertaking," she says, "but it's the first time I've gotten to do something for my own family": herself, her software-executive husband and their daughter.
With about a year to go on the renovation, which began around nine months ago, she has already started buying furniture, mostly vintage pieces that wouldn't work in, say, the minimalist Suyama structure or the island home with the Native American motifs. For Shintaffer, every house is different, and, she says, "that's part of what I love about my job."
---
Kylee Shintaffer's Quick Picks on 1stdibs