June 26, 2022In one corner of French designer Laura Gonzalez's furniture gallery, on Paris's Left Bank, is a playful bar cabinet called the Granchio, Italian for "crab." Its exterior is covered in marquetry using three types of wood — tamo ash and both poplar and madrone burl — and its form mimics that of the crustacean for which it is named. Its two handles even look like eyes.
The inspiration came from an unusual source: a drawing by one of Gonzalez's three young sons, Sacha. "One day, he sketched a crab," she recalls, "and I said to myself, 'It's so fun — I have to turn it into a piece of furniture.' "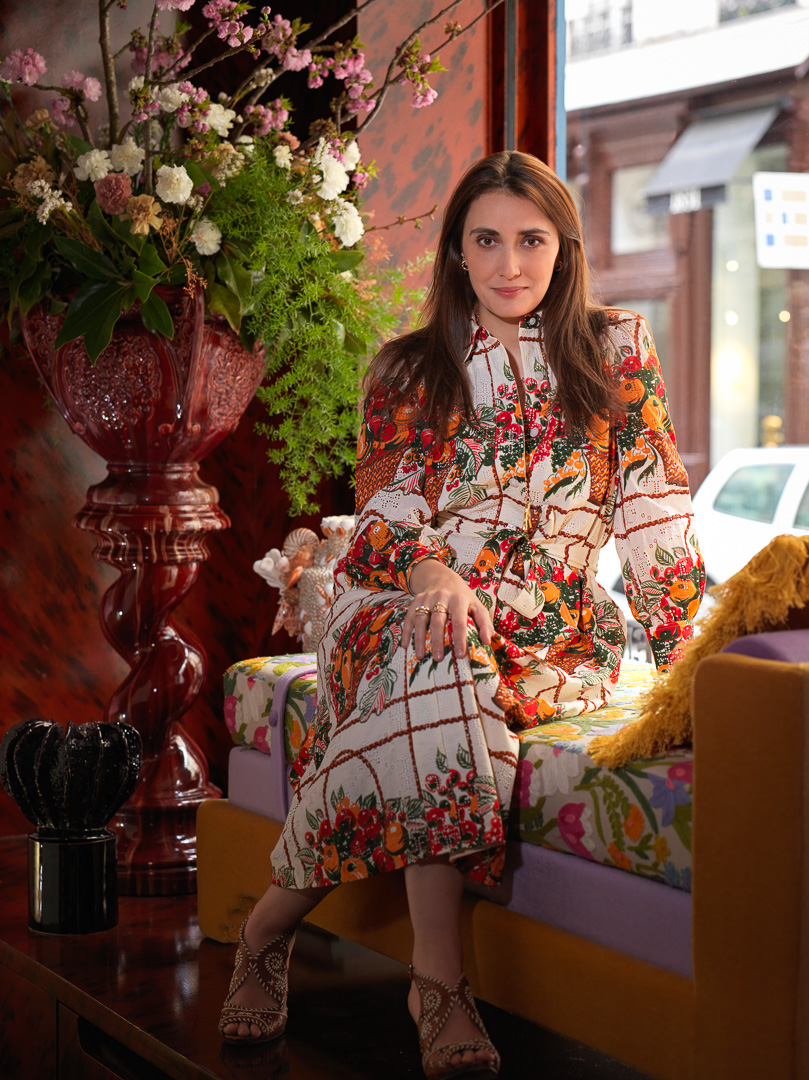 Such lighthearted touches are characteristic of her work as an interior designer, for which she is best known. Bringing together an array of bright hues, a plethora of patterns and a love of fine craftsmanship, her style has attracted an increasingly large following.
She was named Interior Designer of the Year by the international editions of Elle Decor at this year's Salone del Mobile, and her recent and ongoing projects include the revamping of the flamboyant Saint James hotel in Paris and Cartier's flagship store on New York's Fifth Avenue.
First unveiled in September 2019, Gonzalez's furniture collection started out as something of a side project but has quickly gathered steam. From the outset, she declared she had no intention of opening a simple boutique. She doesn't like the term showroom either, preferring the word gallery.
"I didn't want to be on a commercial street with lots of foot traffic," she says. "Instead, I wanted to be surrounded by dealers and to create a sort of destination that is both private and prestigious." The 540-square-foot space she found certainly fits the bill. Opened in late March, the gallery is located on rue de Lille, one of the French capital's major addresses for fine 20th-century and contemporary design. Among her other neighbors is the 7L Bookshop, established by the late Karl Lagerfeld.
Gonzalez's plan is to completely redecorate the space every six months, each time with a new theme. For the inaugural one, "Spring," she teamed up with the venerable New York fabric house Schumacher, which, after some 133 years in existence, is finally entering the French market, with a showroom scheduled to open in the Saint-Germain-des-Prés district in early September.
"It was quite fitting to work with them," says Gonzalez, "because they have a great mastery of floral prints, embroideries and bright colors," all very much part of her own DNA.
She opted for a palette dominated largely by corals and yellows, cladding the walls with Tarnby Stripe from Schumacher's Scandinavian Modern collection and using some of the company's other textiles to upholster all the furniture. One of her favorites is the Crewel Garden floral that covers the top mattress on the daybed in the gallery's window. She also had fun with some of Schumacher's trimmings, using a fringe as a novel cornice.
The space's front wall was painted with a trompe l'œil tortoiseshell motif. "It's very warm and gives a real atmosphere to the space," Gonzalez says. The back section is lined with undulating floor-to-ceiling curtains. "I love the vocabulary of tents," she explains. "I integrate it into a lot of my projects, and my aim here was to create a sort of cocoon."
Key to most of Gonzalez's furniture designs is her collaboration with fine artisans. She has created a series of mirrors and lamps with the Paris-based ceramist Jean Roger, and the glass petals of her Lilypad chandelier were each mouth-blown on the island of Murano, in Venice. The top of the Rainbow dining table, meanwhile, consists of interlocking geometric shapes made from raku by Fabienne L'Hostis, who is based in a small town just north of Cannes.
For the opening of the gallery, Gonzalez created a series of one-off and limited-edition pieces with four other craftspeople: Paris designer and decorator Thomas Boog embellished a pair of vintage vases with his trademark seashells. Lyon-based maker Véronique de Soultrait wrapped the base of the Beau-Jour cocktail table with rope; and ceramist Véronique Rivemale, who operates from a studio in Burgundy, imagined a side table adorned with leaves. "Her work is often based on nature, and when I came up with the theme of 'Spring,' I couldn't create the decor without something by her," says Gonzalez.
Gonzalez also called upon Parisian multidisciplinary artist François Mascarello, asking him to produce a screen painted with a landscape based on David Hockney's painting Tall Dutch Trees After Hobbema, which was itself inspired by 17th-century Flemish painter Meindert Hobbema's The Avenue at Middelharnis, in London's National Gallery. The idea came to her from Hockney's book The Arrival of Spring, which she read while designing the space.
Now that spring is over, Gonzalez is looking toward the decor for September, on the theme of "The Thousand and One Nights." To tie in with it, she's planning to host concerts and Arabic poetry readings. And the gallery interior will no doubt be as magical as the stories.
"The idea is to reinterpret the intellectual heritage of the Middle East," she says. "I really want to create something that transports people into a totally different world."