In the Chinatown building that houses their architecture office, the founders of Leroy Street Studio are working on several sprawling weekend houses, the kind that have made them regulars in high-end shelter magazines. But in the building's lobby, the architects have mounted a small show of their work for underserved communities, including a public library and an environmental education center, Several of those projects were collaborations with Hester Street (HST), a nonprofit founded by Leroy Street Studio's three partners 15 years ago. HST reflects the trio's civic-mindedness, as well as their self-confidence — the belief that they could build an architecture practice with a well-heeled clientele, while also using their skills to help the disadvantaged.
That self-confidence is evident in their buildings, which are strongly modernist, lacking adornment other than the beauty of their materials, and often look as if they were wrought directly from the land. To avoid creating monoliths (or, worse, McMansions), they have perfected a series of techniques for breaking houses into modest volumes and for raising rooms on stilts to let the land continue underneath. Their largest houses aren't mere houses, anyway, says partner Marc Turkel. He notes that many clients are philanthropists, who need space for large fund-raisers. They also are often collectors, who may require galleries for installation art. But however big the houses get, the architects make sure to include rooms in which the owners can feel at home. What the people who seek out Leroy Street Studio have in common, says partner Morgan Hare, is that "they're not building big just for the sake of building big. They aren't building to show off."
Still, the trio seems particularly fond of one client, a grandmother, who requested a smallish box on the beach, which would be a place for her kids and grandkids to gather. So fond, in fact, that when contractors' bids came in over what she could afford, they decided to build the house themselves. That meant having the project architect move out to the site to supervise construction — which also allowed for some design decisions to be made at the last minute. The main stair, for example, was supposed to have solid risers, but when the architects saw the view from the stairwell, they eliminated the risers altogether, allowing peeks between the treads.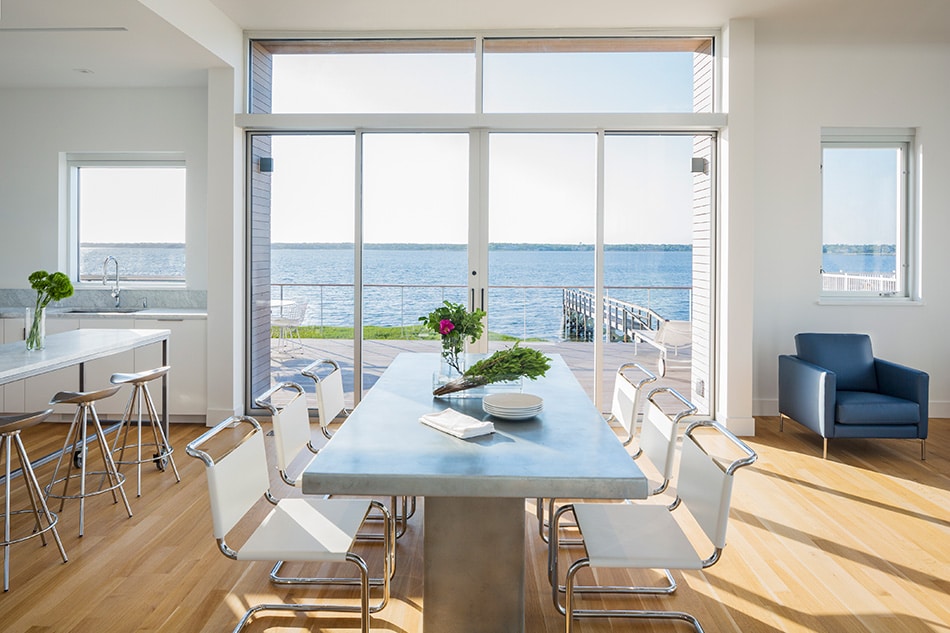 The partners, all Yale-educated, are Turkel and Hare, who teamed up in 1995, and Shawn Watts, who joined them two years later. Early on, Leroy Street Studio became known for sleek yet almost rustic houses. At the same time, the partners were working on a project for the East New York Urban Youth Corps, redesigning the central courtyard of a public housing complex. That experience led them to form HST, which specializes in helping to incorporate community input in public projects — only some of which Leroy Street Studio designs; the three partners founded HST, and some of their clients are HST donors, but the firm and the collaborative are otherwise distinct.
The common thread uniting the two entities is user engagement. "The more people are involved in envisioning their own environments, the stronger the result," Hare says.
---
"There's a common language about making beautiful things that brings us together," says Leroy Street Studio partner Morgan Hare
---
One of their most engaged clients is Lyor Cohen, a music industry executive who bought property on Long Island and wanted a house that almost disappeared into the landscape. Cohen, Turkel says, "was willing to 'underbuild' the site." The structure Turkel and his partners designed is, he explains, "the opposite of the heroic, sculptural object": Its upper floor appears to float, and its lower level is hidden by the natural slope of the land. The firm again supervised construction — the "design-build" process it employs for about one-fifth of its projects. Its director of interiors, Sybille Schneider, created comfortable banquettes, covered in cerulean leather, to make a modest living room feel spacious. She also designed amoeboid cocktail tables of oak and leather that complement the recycled-ash floor and barrel-like Japanese soaking tub. Handling architecture, interior design and construction in-house made it "a dream project," says Turkel. Adds Watts: "There's a seamlessness when we do it ourselves, with architects talking about furniture and interior designers talking about floor plans."
Still, the firm has collaborated with designers like Victoria Hagan (on a waterfront house in Southampton) and Jacques Grange (on a current townhouse renovation in Manhattan). When teamed in this way, "we try to create an open dialogue right from the start," says Hare. So far the partners have managed to avoid clashes with interior designers, even those whose taste is more traditional than theirs. "There's a common language about making beautiful things that brings us together," Hare observes.
When real estate mogul Richard Mack and his wife, accessories designer Christine Mack, asked the firm to turn what had been three townhouses on the Upper East Side into a family home, the trio knew the place would be filled with important furniture and art — indeed, designer James Aman installed giant custom-made crystal chandeliers above Achille Salvagni tables, Vladimir Kagan chairs and iconic photographs by the likes of Cindy Sherman. So they made sure the architecture held its own, with a dramatic stairway that rises through a five-story atrium, is covered in Venetian plaster to reflect light and is configured differently on each floor to signal changes in program.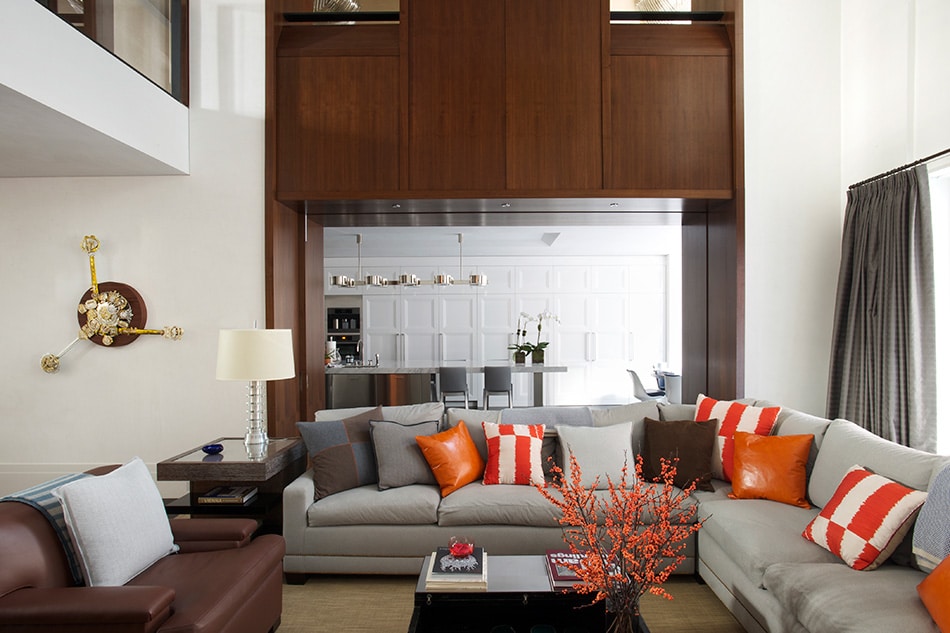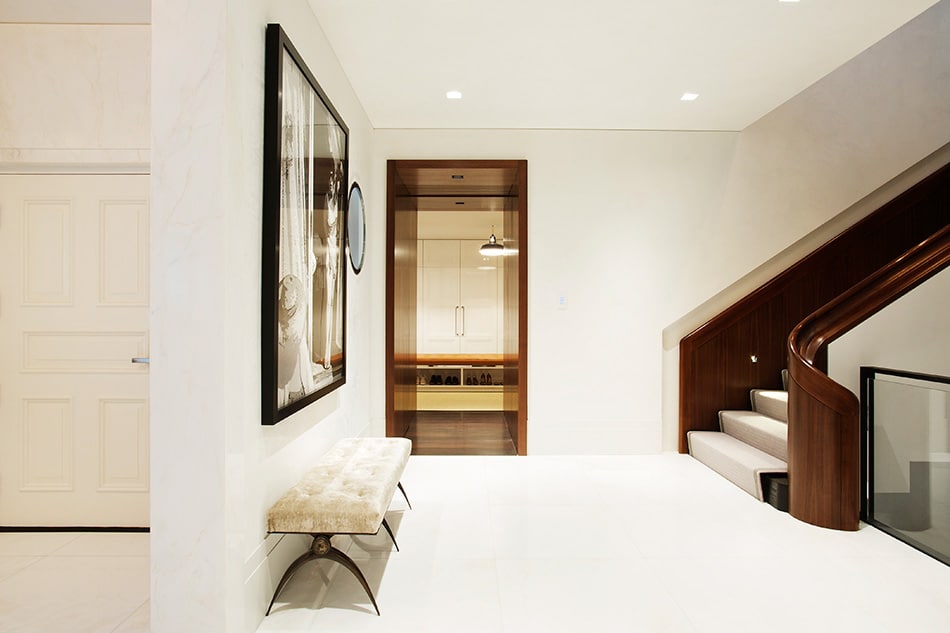 For clients with a nature-preserve-like site on Shelter Island, they created a house composed of a pair of boxes raised up on stone walls. One box contains the master bedroom, the other the kids' rooms, and the only way to get from one to the other is to walk across an open roof deck. Below the bedrooms are the "public rooms," designed, Watts says, to "feel like enclosed versions of outdoor spaces" — alongside actual outdoor spaces. "The house is a canopy that lets the land run underneath it," says Hare. Wood framed to avoid the high costs of steel, and cedar clad, the structure treads lightly on its site.
A residence on Cape Cod for real estate magnate Joshua Bernstein and his family is also divided into two volumes. This time, one contains public spaces, the other private; as the owners approach the house, the gap between the volumes lets them see their sailboat in the harbor. With cedar siding left to weather and shingle roofs, the house blends in with its historic Cape milieu. Inside, smooth and rough coexist; a shellacked teak-root coffee table by Chista, one of the many distinctive furnishings chosen by Schneider, is seen against the backdrop of a board-formed-concrete fireplace.
About a third of Leroy Street Studio's 20 or so current projects aren't residences. A couple of years ago, the 60-person firm designed Pasquale Jones, a sleekish, glass-fronted restaurant in Little Italy. "It was fascinating to find the overlaps in the creative languages of chef, sommelier and architect," says Watts. More restaurants are in the works, as are more projects for underserved communities, some in conjunction with HST. Says Turkel, proudly: "We collaborate with them every chance we get."