October 31, 2021While a student in a photojournalism class at the Parsons School of Design in 1980, Lori Grinker met a 13-year-old Mike Tyson at Cus D'Amato's gym in Catskill, New York, where the coach mentored young boxers.
Grinker had been focused on a different boy for a semester-long photo assignment, but she also turned her camera to Tyson at D'Amato's urging, as she began to get interested in covering the world of boxing for publications including Inside Sports, Ring Magazine and South African Boxing World.
"We both turned pro around the same time," writes Grinker in the foreword of her upcoming third book Mike Tyson: 1981–1991 (Powerhouse Books), chronicling the celebrity boxer's spectacular transformation over the course of a decade from a shy, talented teen to the world's heavyweight champion, navigating riches and celebrities and a volatile marriage and divorce from Robin Givens before being knocked out by an underdog in 1990.
Grinker's images, many in black and white with an intimate informality, show a different side to the brash public persona of Mike Tyson. In the book and her "Mike Tyson Portfolio" (1981–88), which the New York gallery ClampArt is selling exclusively on 1stDibs, a sweet-faced Tyson concentrates on the coaching advice of D'Amato or pals around with his young peers on the bus. In a color shot on the balcony of the Las Vegas Hilton after winning his first world title in 1986, Tyson has an expression of pure unguarded joy at his great achievement.
In the three decades since following Tyson's career, Grinker moved on from photojournalism to more preconceived long-term narrative photo projects on subjects including traditional rituals among Jewish-American women, the effects of war on people around the world, her brother's life and death from AIDS and her mother's battles with cancer and dementia during COVID.
Now represented by ClampArt and teaching a class in NYU's journalism program similar to the one that changed her life, the 64-year-old artist spoke to Introspective about her seminal Tyson images, most of which have never before been published.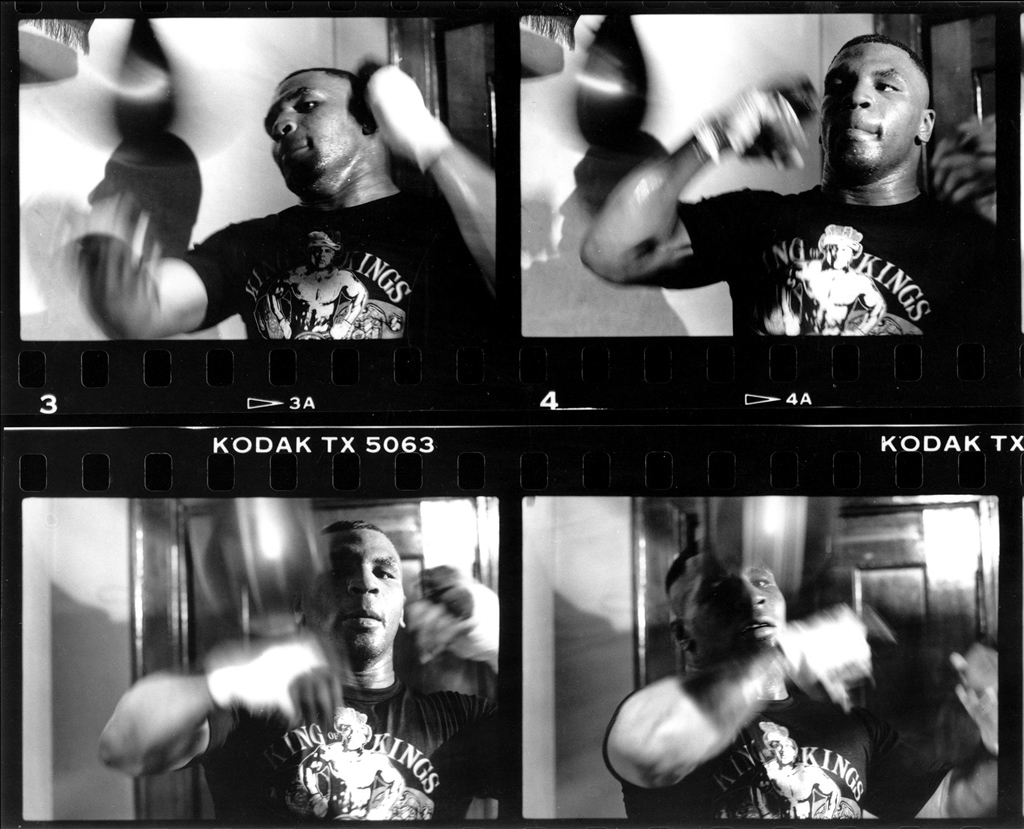 Over your career, you have produced poetic, nonlinear, photographic series addressing history, memory, identity and family. Boxing seems a bit incongruous. How did you get started?
I was in the photojournalism class and had to find a story and try to get it published by the end of the semester. Cus D'Amato and his wife, Camille Ewald, had these young boxers staying in their house in Catskill, and I asked if I could go up on weekends. For me, the whole training was almost like dance choreography.
Visually, I thought it was very interesting. I didn't particularly like boxing but I found it challenging. I started doing this story on boxers and it got me out of my world. It brought me into a completely different place. I always had wanderlust. It gave me everything I had dreamed of — traveling, being with all these different people, telling their stories, using my camera.
What drew you to Mike Tyson as a photographic subject?
I was interested in a young boy named Billy Hamm, this little nine-year-old Caucasian kid with muscles. But all the kids were together, including Mike Tyson. He was huge. He was really incredible looking. Cus was like, "Follow Mike, he's going to be the greatest." I listened, luckily.
In the beginning, it wasn't a one-on-one relationship, but I did do these photographs like the ones where Mike was looking at the fight films up in the attic or with him and Cus. Mike was very shy about being photographed. But as he started turning pro, I was there all the time.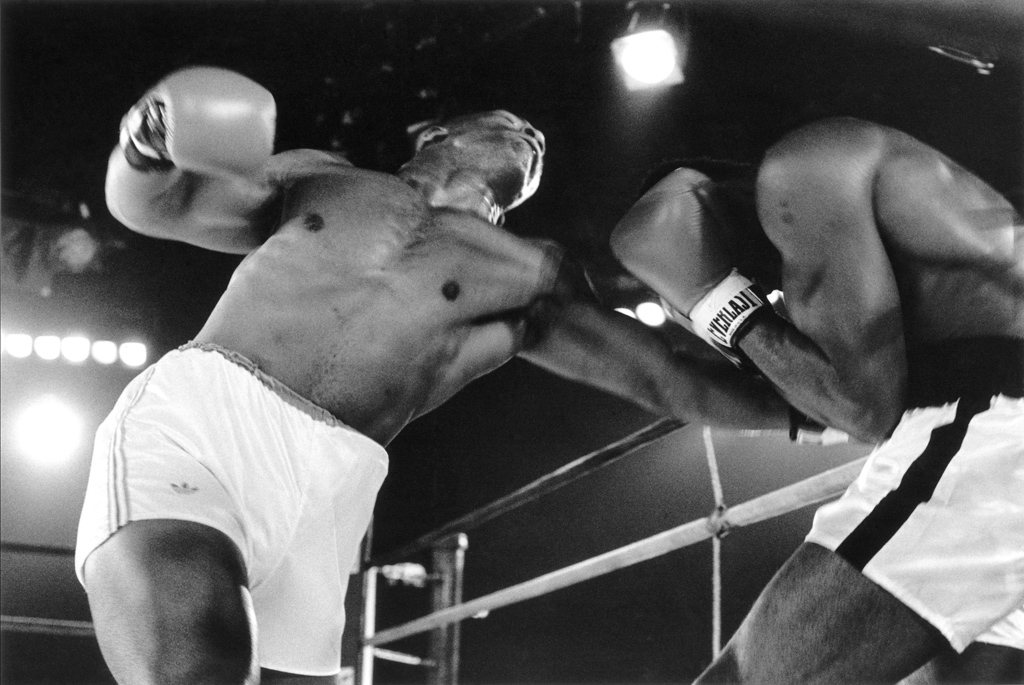 You were truly ringside from the start!
My first professional fight — Mike's bout against Conroy Nelson in 1985 — lasted 30 seconds. I got a really good picture, a sledgehammer left hook. A year later, I went to Las Vegas for his first world title fight, with Trevor Berbick. Howard Cosell was the announcer.
It was all men around the ring, photographers elbow to elbow, you could barely lift your arm to photograph. I was so green. I got to go in the ring after the fight, which was huge, and then go back to the room with him.
What kind of a relationship did you have with Tyson personally?
We became friends, definitely. I was raised with the help of an African-American woman named Jennie Anderson, who raised my mother and her sister. Mike was being raised by Camille, this older white woman. We had that as a connection.
He would speak to Jennie on the phone. My mother and I had this really difficult relationship. Maybe that's another thing that connected me and Mike. I was always trying to escape from my family. Or get out of where I came from.
Mike is really funny. I'd be shooting and we'd be laughing all the time. But there were times when I had assignments where people hired me because they knew I had access, and then he wouldn't show up or he wouldn't be in the mood that day. He'd throw my light meter in the snow. He definitely could be difficult.
What compelled you to create this book and assemble the prints as a portfolio?
The whole kind of operatic story. I'm really interested in having the book show the change from this innocent guy to this world figure, his rise and fall. Athletes are kind of a celebrity's celebrity — you go to fights and all these movie stars and wealthy people would be there.
Seeing all these sharks come in, whether it was Robin Givens's mother or Don King, it was so easy for Mike to fall. After he lost that fight [and the World Championship title to Buster Douglas in 1990], I chose to feature the picture with Mike holding a piece of cake and with his black eye and the bruised hands. I wanted to express what I saw in this world. I was there to document it.