December 6, 2020As an architect, Melanie Raines has specialized in hospitality. Her employers included Soho House, the company that builds and runs clubs, hotels and restaurants across Europe, North America and Asia. "That was my boot camp," says Raines, a graduate of the University of Texas and the University of Washington architecture schools.
One of her last projects for Soho House was the chain's Little Beach House in Malibu, which opened in 2016. It was there that a Texas couple saw her work and decided they wanted her to bring her style of hospitality to their big new house in Austin. Designed by Texas architect Ryan Street, the house was already under construction when the couple messaged Raines on LinkedIn. Remarkably, Raines, now running her own firm, lived just a few miles from the building site.
The residence (which was built by Austin's Koch Construction) had been designed with barn-like elements, and the clients, who are interested in art and fashion, were hoping Raines's interior design would create an intriguing counterpoint to the building's rusticity. So, beneath the house's giant, reclaimed-saltwood beams, she began assembling a mix of furniture that emphasized playfulness and optimism — qualities often found in mid-century modern design. Although Raines made buying trips to New York and Los Angeles, she also purchased many items on 1stDibs.
"Every item had to be a work of art," she says. "With other clients, I might have built the rooms around a handful of really special pieces and then chosen some background furniture. But that was not going to happen with these clients. They wanted every object to be special."
---
Living Room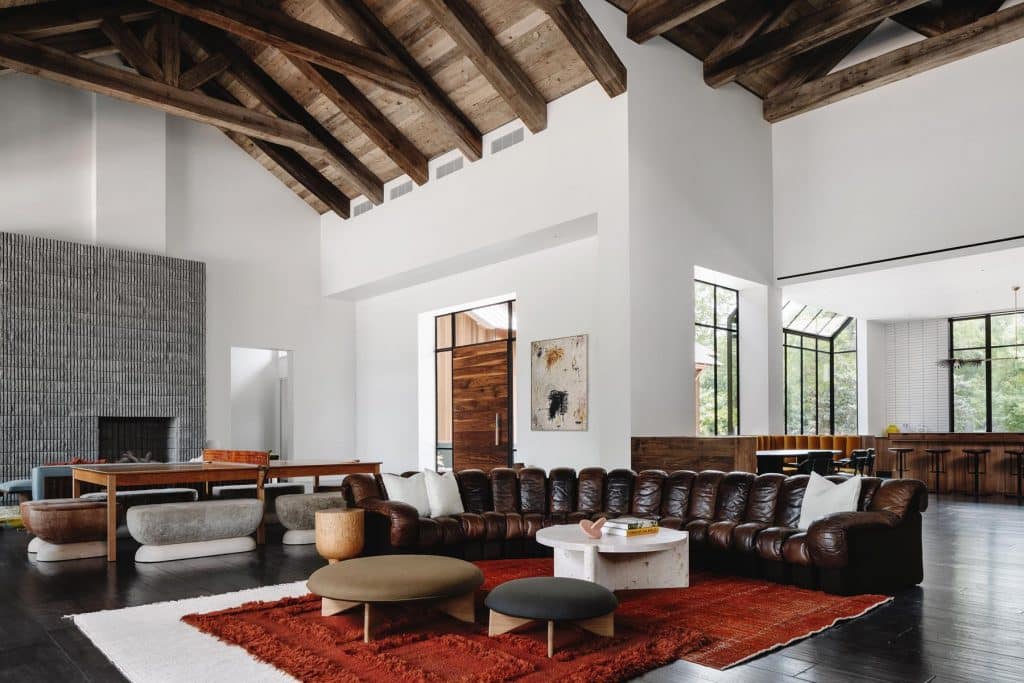 Filling the vast, 30-by-60-foot living room without making it feel like a hotel lobby was one of Raines's biggest challenges. She decided to divide the space in half with a Ping-Pong table — a BDDW table with removable leather "net" that the family can also use for holiday meals. A set of stools in shearling and tumbled leather from Cuff Studio slide under it.
Her next big move was buying a vintage curved de Sede sofa. Composed of 19 units that zip together — all with the patina, she says, "of a well-worn motorcycle jacket" — it wraps around a pair of small Fogia tables and a larger ash and a limestone table.
Then Raines began layering rugs to create distinct zones. Her rule was never more than three at a time, of which two needed to be flat-weaves. "Any more would have been bulky," she says, noting that, even so, "we placed tables strategically" to keep people from tripping on the edges. "The Roomba has been having a lot of fun here," she adds, laughing.
"The fireplace was a focus of many design meetings," says Raines. "The clients wanted it to be big enough to command the space." They settled on an asymmetrical form inspired in part by the work of Luis Barragán. Because the clients love "low aspects done in a high way," Raines says, she had it made of CMUs (essentially, cinder blocks), split open to emphasize their roughness. "It adds a lot of texture to the room," she explains. Gathered around the fireplace (see top image) are 1970s rosewood chairs from Denmark, bought on 1stDibs, and a wicker side-paneled De la Espada Belle Reeve sofa in sky blue, facing a vintage Eames coffee table. A swing from BDDW, with a brass frame and sheepskin upholstery, completes the furniture grouping.
---
Bar
Raines custom-designed the bar with a scalloped-wood front and a top of bold tiles from Fireclay. She also designed the stools, with powder-coated copper frames and bubble-gum pink upholstery. The walnut boxes are for holding liquor bottles. Overhead is a giant hammock/trampoline, a kids' playground over the grownups' bar.
---
Dining Area
The family eats most meals at a table in the corner of the living room. Raines was determined to separate it from the rest of the wide-open space, so she designed a built-in that incorporates a room divider/counter and banquettes. "We got playful with radiuses," she says of the large curves defining the piece's walnut legs. The yellow mohair upholstery is composed of tufts attached with Velcro — damaged ones can be replaced from a stock of extras. The green leather chairs facing the surfboard-shaped table are from 1stDibs.
---
Kitchen
The clients' directive was to keep the kitchen "clean and architectural," Raines says. What isn't white or walnut is generally dark, dark blue. The barstools, from Crump & Kwash via 1stDibs, blend in, while the copper palm fronds and alabaster globes of the light fixture by Brooklyn's Rosie Li provide a lively counterpoint.
---
Pantry
Raines describes the storeroom, with its porthole openings, as "the most beautiful pantry ever." The pantry's light fixtures, beneath a tiled ceiling, are vintage via 1stDibs.
---
Media Room
Raines turned a large windowless space into a place where the family can watch TV and the kids can host sleepovers. After trying a variety of tiered, carpeted platforms for seating, Raines settled on a green Roche Bobois Mah Jong sofa. The room is also a library. Raines designed its walnut shelves not just to hold books but to display some of the owners' favorite volumes.
---
Primary Bedroom
"A lot of the house is light, bright, airy," says Raines. "The clients wanted their bedroom to be a place of calm." She kept the room dark, covering the wall behind the bed in a watercolor-finished paper from Brooklyn-based Calico. The clients bought the sprawling leather-covered bed after seeing a similar one in a Hollywood Reporter article about a Lenny Kravitz–designed house in the Hollywood Hills. It was white when it arrived; Raines had it reupholstered in brown leather. The attached night tables support chrome-trimmed light spheres. Near the window is a space designed for the couple's nightly tea ritual.
---
Wife's Closet
Within a large, skylighted exercise studio, the wife's closet was conceived as an art object in champagne-colored mirrored glass. When the door is closed, the structure appears to be completely sealed; bouclé-covered ceramic stools by Eny Lee Parker guard the entrance. The walls inside the closet are covered in a funky Flavor Paper pattern. The workout room itself was painted "in the whitest of white paints," says Raines.
---
Primary Bathroom
To make this what she calls "the most casual space in the house," Raines looked for materials that were a little less polished than the ones she used elsewhere. The terrazzo tiles have a very large aggregate. "You feel like you're at the beach with sand and shells beneath your feet," she says. The shower is enclosed in reeded (that is, fluted) glass. The vanity is Corian. The basket light fixture and the wooden stool are from 1stDibs.
---
Child's Bedroom
A painting by Los Angeles artist Evan Whale set the tone for a son's room. The mid-century paper-clip sconces and nightstand with a black-glass top imbue the space with that era's sophistication. The wicker-and-leather easy chair is from 1stDibs.
---
Laundry Room
"More people comment on this than on anything else in the house," Raines says of the laundry room. The decorative scheme is simple: walnut below, white above. For drawer and cabinet pulls, Raines used oversize wood coat hooks.
---
Mud Room
Because this space is also the house's side entrance, the clients wanted it to be special. "It was fun to put that much time and effort into a mud room," Raines says. The terrazzo tiles are similar to those in the primary bathroom, but in brighter hues. The pièce de résistance is the Knotty Bubbles light fixture by Lindsey Adelman.
---
Melanie Raines' Quick Picks