Front and center at the start of "Art Deco: Luxury to Mass Market," a new exhibition at the Wolfsonian-Florida International University, in Miami Beach, is a remarkable and important Sèvres porcelain vase that sat for years, crated and unnoticed, in the museum's vast storehouse of well more than 180,000 objects. In many ways, says Wolfsonian curator Silvia Barisone, it epitomizes much of what the Art Deco movement — she does not call it a "style" — embraced: The vase is pure in form, yet it offers a narrative; its decoration depicts a tour of untamed and exotic worlds well away from France.
The vase dates to 1932 and was created by Henri Rapin, who was then Sèvres's studio director. A limited-edition and highly decorative piece from a company that at the time produced utilitarian objects as well as the more luxurious pieces we generally associate with them, it was a smart choice for the frontispiece of this exhibition, which ranges from rare one-off items to such workaday, mass-market objects as sterling-silver-and-plastic salt and pepper shakers from Frank M. Whiting Co. and Lurelle Guild's 1932 Wear-Even (model 5052) toaster. For Barisone and her fellow organizers — curators Whitney Richardson, now at the Asheville Art Museum, and Shoshana Resnikoff — the Wolfsonian's vast holdings of decorative-arts objects from the period (roughly 1924 to 1941) offered the opportunity to delve deeper into the roots of Art Deco. While recognizing that this is well-trodden turf, they felt that by widening their purview to work made not just in France but throughout Western Europe, and well beyond, they could provide a broader context.
This aspiration is in keeping with the Wolfsonian's mission. The museum was founded to explore ideas, particularly the insight that the changes wrought around the world in the modern era can be studied through the decorative arts. Thus, the curators considered it important to tell the story of Art Deco from an art historical point of view, giving it intellectual heft while bringing it all home — literally. The Wolfsonian sits in the heart of Miami Beach's Art Deco Historic District, the country's first 20th-century landmark district and the largest American repository of architecture from the period. Yet during the three-plus decades since its opening, the institution had refrained from mounting an exhibition on the movement. When Tim Rodgers became its third director, two years ago, one of his first impulses was to make its geographic setting paramount.
"I've always thought we should be one of the leading voices on Art Deco, given our location and collection," says Rodgers. "We're smack in the middle of the world's highest concentration of Deco architecture and design, but until this show, we'd never given the topic its due." This is especially surprising, Rodgers continues, given the strength of the museum's Deco holdings. "Art Deco: Luxury to Mass Market" finally brings that collection to light.
The exhibition showcases more than 100 objects from the Wolfsonian's trove, exploring important motifs and ideas. "The themes of exoticism, of the colonies, of a modernity that doesn't deny history, of the stylization of nature and even of the influence of the avant-garde — Cubism and Italian art — all come to the fore," says Barisone. As its title implies, the show also traces the evolution of the style as it became more pragmatic and was incorporated into everyday life.
The name Art Deco stems from 1925's Exposition Internationale des Arts Décoratifs et Industriels Modernes. This show, sprawling across some 57 acres of central Paris, displayed work meant — according to the guidelines — to eschew historic precedent. Indeed, many scholars point to the exposition as marking the emergence of modern design. (Helpfully on display to provide context at the Wolfsonian is the 12-volume encyclopedia produced for the fair, as well as Robert Roquin's 1923 submission for the competition to design its poster.)
The Wolfsonian show moves easily from Europe to the United States, and from custom to commerce. On view are fragments from buildings (a relief by William John Schlesinger from the Rio Theatre in St. Louis and bronze plaques by Mario Moschi from a building in Florence) and pieces from important ateliers and manufacturers (among them Lalique, Puiforcat and Richard Ginori) and department stores (including Marshall Field's, Lord & Taylor, Gimbels and Bullocks Wilshire). These stores, we learn in the show, played a critical role in promoting the new modern products; although such Parisian outlets as Le Printemps and Le Bon Marché were important purveyors, it was the U.S. retailers that took the lead.
An Incomparable Trove of Art Deco Treasures Is on View in Miami Beach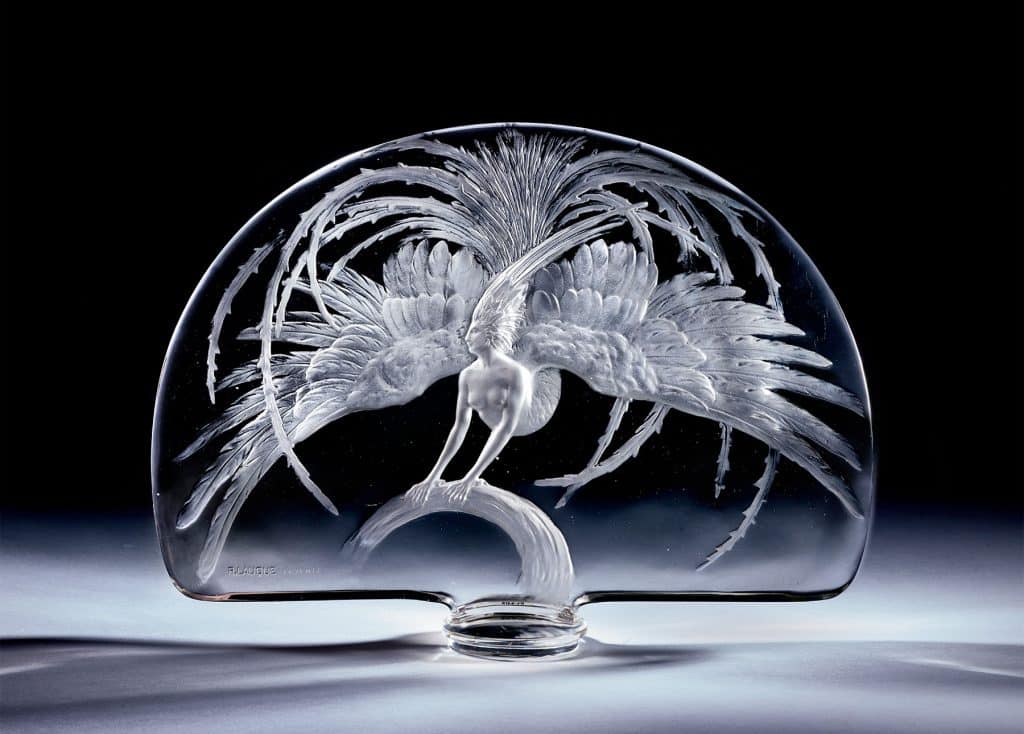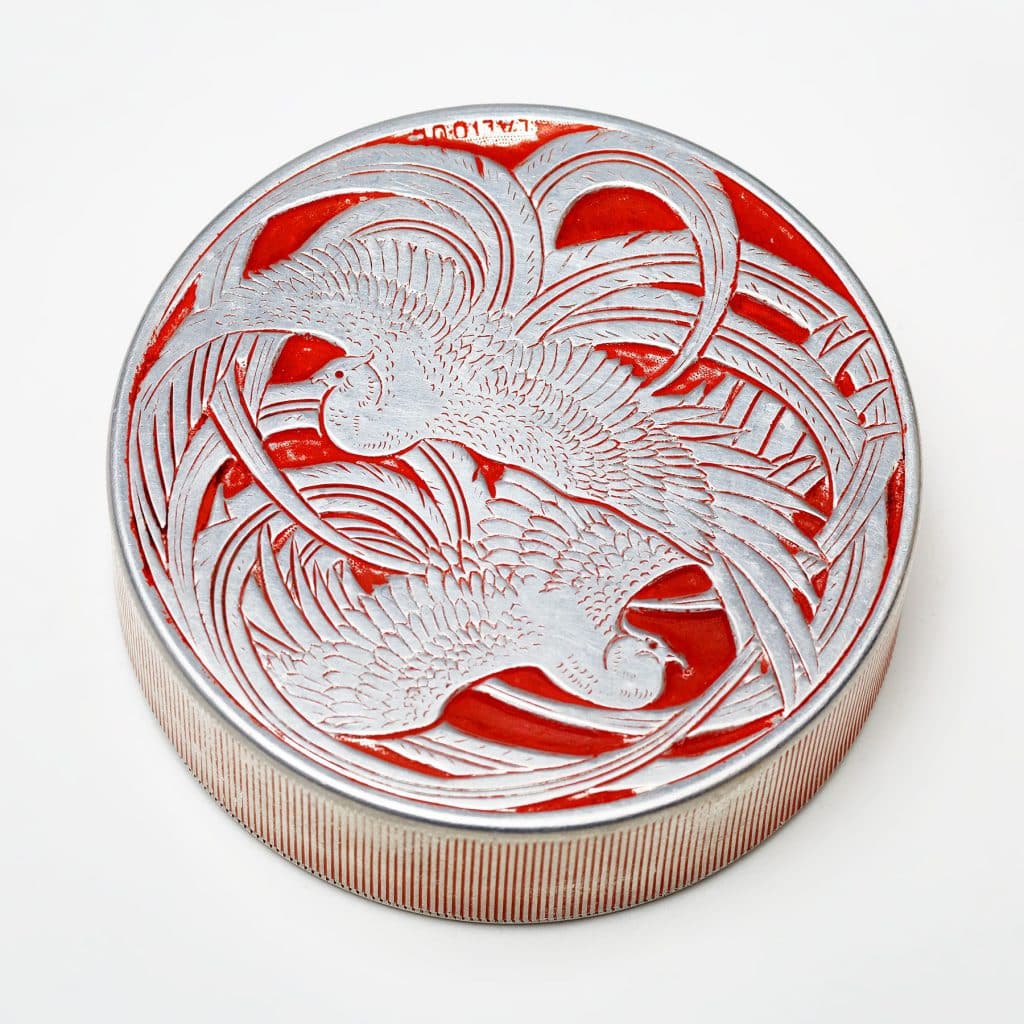 American work was not represented in the 1925 exposition, but directors of department stores and curators of museums in the U.S. attended and paid careful attention. They became major proponents of Art Deco, not just showing and selling objects but encouraging and commissioning design as well. The Wolfsonian amply documents this. On view are pieces integral to the department-store experience, such as 1931 cast-aluminum doors from the John Wanamaker men's shop in Philadelphia (John Torry Windrum and Morton Keast, architects), a 1935 Leo Rackow poster for Gimbels and an elegant shoe display made of steel and painted wood from Bullocks Wilshire, dated to approximately 1931.
The Great Crash of 1929 and the Depression that followed could have hindered Art Deco's mission of making good modern design mainstream and accessible. Instead, these events actually furthered it, thanks to American know-how and mass merchandising, as well as the introduction of more affordable man-made materials, such as Bakelite plastic, aluminum and chrome-plated metal. The Americanization of Deco took many forms, from skyscrapers to cigarette lighters (on display is Louis V. Aronson's enameled-brass Ransom Touch Tip from 1935). The industrial design focus on streamlining likewise pervaded American life at many scales, from trains to toasters, two of which — both chrome-plated and Bakelite, one from Sunbeam, the other Hotpoint — are on view.
The curators plucked from the Wolfsonian's collection such standouts as a 1929 Kem Weber desk and chair from San Francisco's J.W. Bissinger residence; the Nocturne radio designed by Walter Dorwin Teague in 1935; a Donald Deskey bedroom suite; and Paul Theodore Frankl's 1926 Skyscraper bookcase. The skyscraper, of course, was a recurring motif in American Deco, and it is represented elsewhere in the show by a 1937 Manhattan cocktail set by Norman Bel Geddes and a 1928 cocktail shaker from Apollo Studios.
The exhibition moves from a wider international and domestic view to focus on the regional and local, closing with a look at a handful of objects from the museum's own neighborhood, including that Nocturne radio by Teague, which came from the lobby of Miami Beach's Park Central Hotel (now the Celino), designed by Henry Hohauser in 1937; and a brass, chrome and Formica ticket booth from S. Charles Lee's 1946 Miami Theatre, long since stripped beyond recognition for use as a downtown mini-mall. Miami-born Art Deco gained recognition with the Florida Tropical House, designed by Robert Law Weed and presented at the 1933 Chicago World's Fair. By the mid-1930s, an unprecedented building boom was under way in the city. Today, approximately 800 of the resulting Art Deco structures are still standing — several of them illustrated by postcards and sales brochures in the show.
"We always say that the relevance of the Wolfsonian's collecting period is that its stamp is visible everywhere in contemporary life. All we have to do to understand the impact and legacy of Art Deco is step outside our door," says Rodgers. "This show is our first major foray into the subject, but I hope not our last."