Miguel Flores-Vianna's lush, poetic photographs of glamorous interiors by A-list international designers regularly appear in such major magazines as Architectural Digest, Elle Décor and T: The New York Times Style Magazine, whose style-tracking "In the Air" column he helped found. (The photographer's glorious Instagram feed has more than 57,000 followers, including me.) But on a personal level, the Argentine-born, London-based Flores-Vianna has always been drawn to houses owned by creative people who are their own decorators.
This month, Flores-Vianna — who worked at several magazines as an editor before picking up a camera in 2006 — sees the publication of Haute Bohemians (Vendome Press), his discerning look at the homes of people on four continents who have a genuine, innate eye for beauty. Among the places featured: the house and studio of artist Alessandro Twombly, the son of Cy, in the Italian region of Lazio; the legendary editor Marian McEvoy's idiosyncratic Hudson River Valley house in Upstate New York; the renowned antiques dealer Christopher Gibbs's compound in Tangier; and the textile designer Nathalie Farman-Farma's pattern-filled house in London.
As he recounted in a recent conversation with Introspective, what drew Flores-Vianna to these and the other homes in the book is what he calls "the geography of a life," or the idea of home as autobiography.
You've said that Haute Bohemians is not a decorating book but one about the people who live in the homes shown. How did this idea come to you?
It had been in my head for a long time. In the fall of 2000, I visited the designer Peter Dunham at his house in Cadaqués, Spain. We went to have drinks with a friend of his, a woman who lived in an old monastery on a winding mountain road. She was very grand, but her house was not. It was super-bohemian, and that's when the idea came to me. Even the title came to me then.
One thing I noticed right away is that the photographs have no captions, which is quite unusual in a book of this kind.
I didn't want the book to have captions. The more important thing is the mood of the photographs themselves. And I insisted on having a single image per page. Mark Magowan, the publisher of Vendome Press, has been wonderful to work with.
Although the general feeling of the book is indeed bohemian, every house or apartment in it is intensely personal. What are some of your favorite rooms or pieces of furniture, and what do they say about their owners?
There is a set of antlers mounted on a wooden stag head on the wall of Christopher Gibbs's red drawing room in Tangier. I first saw a set like it in the catalogue for the Christie's September 2000 auction of the contents of Gibbs's Oxfordshire house. It was part of a collection that once belonged to Elizabeth of Bohemia. Gibbs discovered the collection in the 1960s, when he was on a picnic. Someone peeked through the windows of an old building and saw an empty room full of antlers, just lying there. Gibbs bought them all but kept just this one. I love that story — it's not about the merchandise. The red room also has an eighteenth-century Georgian sofa, covered in the original needlepoint, which Gibbs once wrote an article about.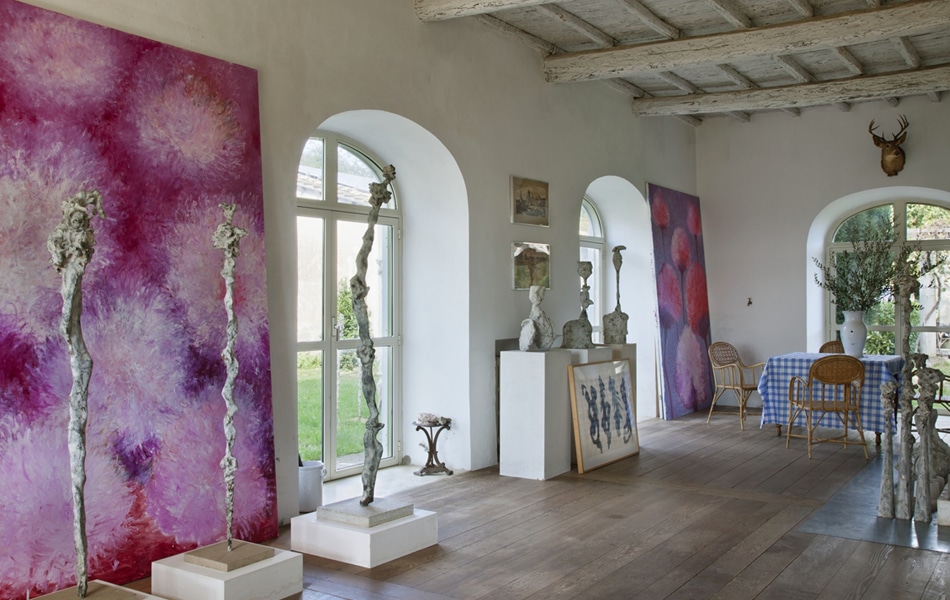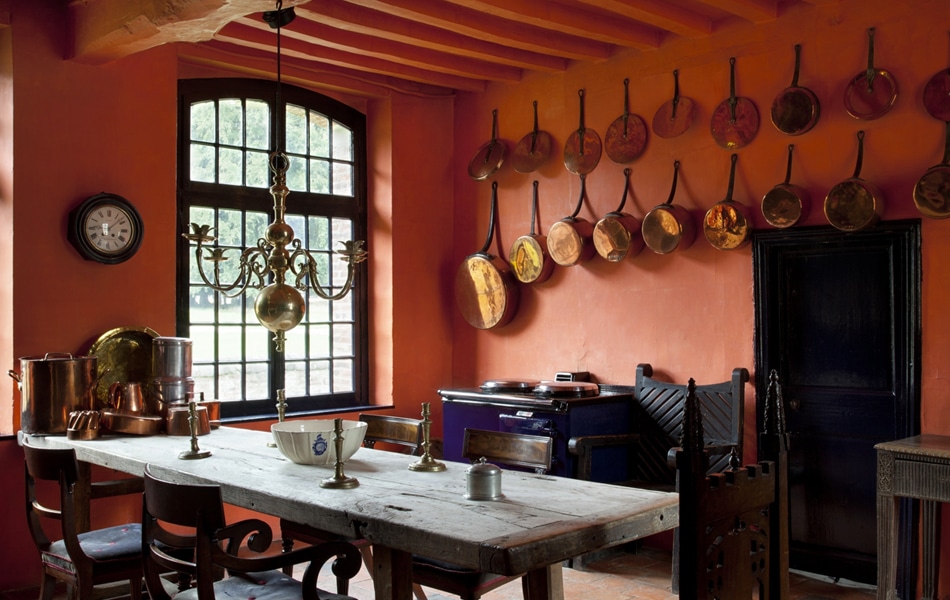 You mentioned that a lot of people in the book share a passion for the things they've collected.
A good example, and another of my favorites, is the collector Peter Hinwood's apartment in London. It's the only home that has been on the cover of The World of Interiors twice. He also has a set of antlers — because he worked for Christopher Gibbs. And he has incredible collections of tiles — Moroccan, Hispano-Moresque, Mogul and Iznik, to name a few — as well as textiles and Indian and Elizabethan prints.
Another favorite is the antiques dealer Andrew Allfree's seventeenth-century château in Normandy. Allfree was a friend of the artist Howard Hodgkin, and the house's intense colors must have been influenced by him. The boiserie in one room had been ruined, but Allfree didn't want to replicate it, so he covered the walls in a pink fabric. With the room's pair of eighteenth-century Neapolitan carved and gilded sofas, it's decoration as performance art. The dining room has an Anglo-Indian table and Victorian chairs, and Allfree found its columns in the Hudson Valley. I photographed that room the morning after a dinner party.
Nathalie and Amir Farman-Farma's house in London illustrates Nathalie's obsession with fabrics from late-nineteenth-century France, Russia, Central Asia and Persia. You forget you're in London. You think you're in a painting by Édouard Vuillard.
Your upcoming projects include a book with the designer India Hicks and photography for Cabana magazine's upcoming American issue.
Yes, for Cabana, I got to photograph Monticello. They let me shoot from six-thirty to nine in the morning, and then from five to dusk. They even let me photograph Thomas Jefferson's clothes.
What do you hope people will take away from Haute Bohemians?
I'd like readers to be inspired to open their eyes to things they might not otherwise. The people in the book are explorers, and exploration makes the world so much richer.
---