In 2007, while living in Brooklyn, Canadian-born architect Kristen Becker founded a design firm which she named Mutuus Studio, using a Latin word pertaining to exchange or reciprocity. She soon found herself doing apartment and townhouse renovations. A former ballerina (she danced Clara in the Nutcracker while in architecture school), Becker tended to focus on interior choreography: the movement of people through spaces. Budgets were tight, so she learned to work with humble objects and materials. Says her husband (and now partner), Saul Becker, "We try to elevate things that would normally be overlooked." Adds Kristen, "We take pleasure in finding something forgotten — whether a stone on a beach or an object someone else discarded — and transforming it into something beautiful."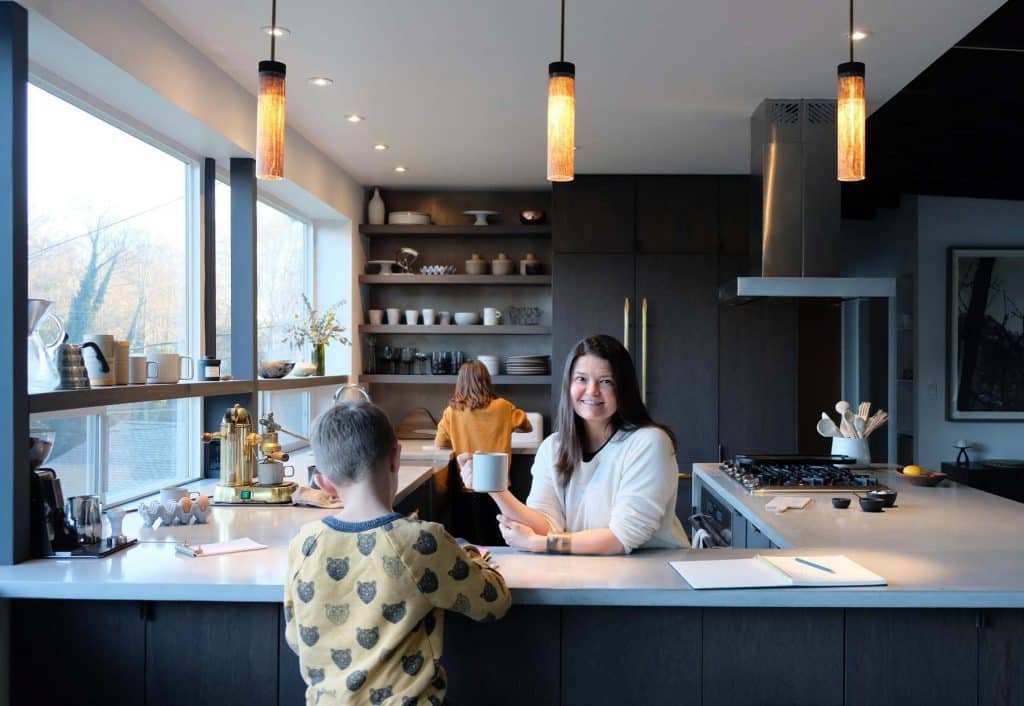 In 2011, the couple moved to Seattle to be near relatives. There, Kristen worked at the blue-chip architecture firm Olson Kundig for five years before reincarnating Mutuus Studio. This time, she partnered with her husband, who works as an artist while doing materials research and fabrication for the firm, and architect Jim Friesz. Today, Mutuus has a range of projects, from houses to restaurants to art installations, all of which give the partners the chance to try out their ideas about elevating the underappreciated. And with economy and impact in mind, says Saul, "we always try to make the smallest-biggest move that we can make."
That approach is evident in a pair of projects the firm did for Brian Henson (son of the legendary Muppets creator Jim Henson) and his wife, actress Mia Sara. The first was an apartment on the top two floors of a converted industrial building in lower Manhattan. Its main space is a long, high-ceilinged rectangle with a giant grid of windows at one end. But those windows looked out onto a big, ugly apartment building. So Kristen "renovated" the view, installing glass that goes from transparent to opaque at the touch of a button. She further softened the backdrop by hanging curtains made from an open-weave gray cotton that she found at a fabric warehouse in Queens. Those small-but-big moves, she says, transformed the space from fishbowl into sanctuary and retreat.
A few years later, Kristen helped design a house for Henson and Sara in Los Angeles. Its great room is also a long, high-ceilinged rectangle with a giant grid of windows at one end. That was Kristen's choice — she wanted to use what she had learned from doing the New York apartment. The big room brings everyone together, she explains, as do the house's compact sleeping quarters: "The kids come out more when they're not in palace-size bedrooms."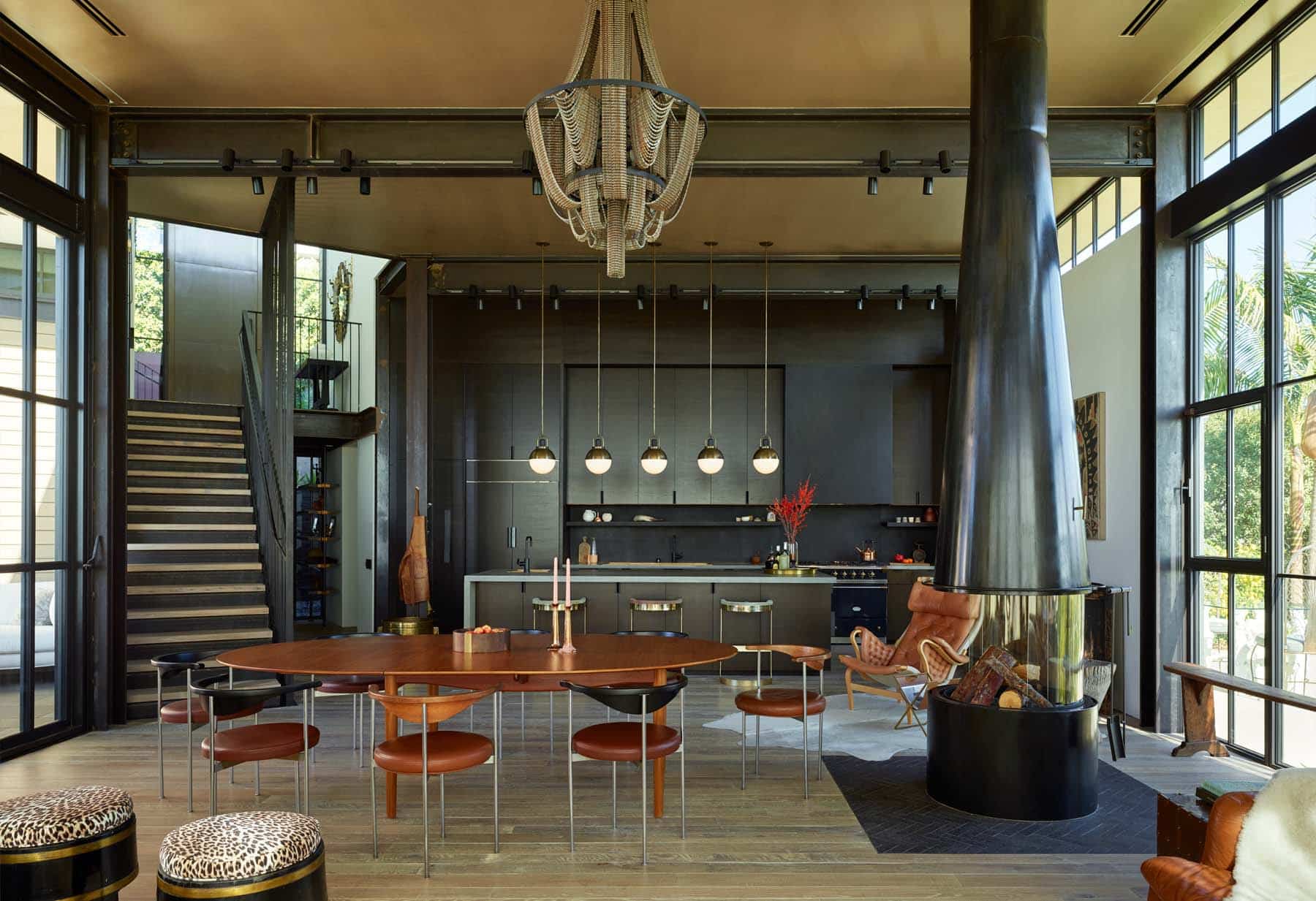 This was a ground-up project, intended to replace the 1920s Spanish-style home Sara and Henson were living in while in L.A. The couple found that house claustrophobic, with enclosed spaces they never used. Says Sara, "We liked the way we were all spending time together as a family in New York, the communal feeling." So, they asked Kristen to design a new home for them a few hundred feet away. At the time, Kristen was working for Olson Kundig, where she began the project with founding partner Tom Kundig. (She later left that firm and finished the house at Mutuus.)
The new house consists of a pair of intersecting rectangles, which are nestled into the hillside at one end and elevated above ground level at the other. The arrangement, sometimes called prospect and refuge, is characteristic of Kundig houses. Also characteristic are the gizmos: In the main room, a crank lifts a giant window overhead, making it possible to roll the dining table and chairs onto the terrace. Other cranks control shutters on the east and west sides of the house. Kristen adapted a commercially available fireplace to her specifications, adding a soapstone surround and a place to hang Tom Kundig's Carlos Scarpa–esque fireplace tools. The house is weighted heavily toward industrial materials — an example of the ordinary that Kristen likes to elevate. But one luxury is a "sleeping niche," little bigger than a berth but outfitted with a custom-made linen mattress and a backdrop of Zak+Fox Strata wallpaper. "All my clients want one," says Kristen, joking that she's now an architect who's found her niche.
Among the pieces Henson and Sara brought from their old house is a delicate metal console table with a turtle and a frog and a bird at its feet, from Jim Henson's childhood home. Other whimsical furnishings include a Ricardo Fasanello Anel chair, which looks like a lifesaver on a metal base, and, hanging over the Finn Juhl dining table, a chandelier made of bicycle chains. Designed by Mutuus with sculptural lighting studio Facaro, it's a perfect example, Kristen says, of her tendency to elevate the humble.
The Beckers' own house in Seattle is another case in point. Designing the new kitchen, Kristen says, "our smallest-biggest move was adding a countertop bar. That made the kitchen the place the kids do their homework and the place guests sit and chat. It became the communal center of our home."
The entire kitchen was custom-built by Saul, with cabinets of marine-grade plywood, made to survive below the waterline. "I wanted something that wouldn't warp, ever," he says. He also fabricated the hardware from layers of linen and resin, which he hand-cut and carved — another way of elevating everyday materials.
But the couple's real passion project is a barn on the Hood Canal (actually a fjord west of Seattle) that they have been slowly renovating for themselves. "We spend almost every weekend chipping away at it," says Kristen. It's the ultimate example of elevating the overlooked, they say, since the barn itself was an abandoned building. Adds Saul, "One of the first things we did was strip away an old carport structure to reveal the original gambrel-roofed volume. That was the smallest move we could make to have the biggest impact."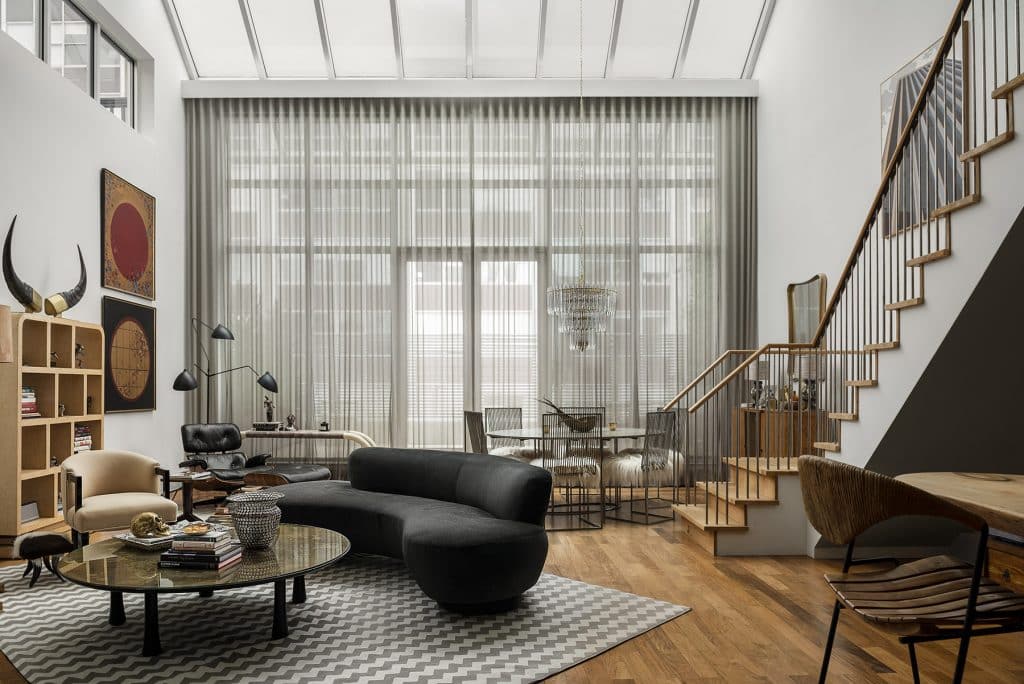 The mix of furnishings includes humble pieces like a teak cabinet that had been left outside and that another couple might have thrown away. "It was covered in moss, and we thought it had the perfect patina," says Kristen. High-backed leather dining chairs, bought on 1stdibs, surround a table from Saul's grandmother's cabin. The table now displays some of the "random" brass candlesticks that Kristen has collected all over the world. In the living room, the couple turned an old camp cot, which they bought for a few dollars, into the base of a coffee table. "Not everything has to be high design," says Saul. "We'll place a piece by an important artist next to a block of coal from Kentucky. It's all about objects that fascinate us."
One of Mutuus's most public projects is Samara, a restaurant in Seattle. Says partner Jim Friesz, "The materials palette was inspired by the fundamental components of cooking over fire with a copper pot. We used copper in its various forms throughout the project — from the custom torched-copper lights to the copper fireplace surround. These elements get even better as they add patina over time." As for the layout, he says, "We made the hearth the center, emphasizing the pleasure you feel eating around a fire." The paintings, which complement the moody decor, are by Saul.
Mutuus's highest-profile project isn't an interior — it's a public artwork in a waterfront park in Bellingham, 90 miles north of Seattle. The city had requested proposals for reusing a 32-foot-diameter steel ball that had stood outside a onetime Georgia-Pacific paper mill since 1938. (The tank, which stored acid that helped break down wood chips, is formally known as an acid accumulator.)
The Beckers proposed moving the sphere closer to Bellingham Bay, where it would become an iconic presence, and covering it in the kind of glass beads that make highways shimmer. Public-art projects are often collaborations between architects and artists, a description that fits the Beckers perfectly. Given their 25 years of personal and professional interaction, "there was none of the usual friction between an artist with a vision and the architect trying to make it work," says Saul. The artwork has become a beloved symbol of Bellingham's waterfront district. "The idea was to preserve this object as an artifact but also transform it," he explains, adding that moving it and coating it "were the smallest-biggest moves that we could make."
---
Kristen Becker's Quick Picks