"Finding duality, a balance between opposites, that's what I really love," says Lebanese designer Nada Debs. Her bespoke furniture and design objects incorporate age-old techniques such as mother-of-pearl inlay, marquetry and brass hammering into modern, often banal materials such as Plexiglas, concrete and resin in a playful cross-fertilization of traditional Middle Eastern craft and contemporary design.
"I want my work to embody a new Arab identity, something spiritual that is also open to modernity," Debs says.
"Nada's is a contemporary language of clear lines and assertive motifs," says French dealer Béatrice Saint-Laurent, director of Galerie BSL in Paris. "She has a talent for revisiting traditional ancestral skills in a nonconformist and, therefore, rebellious way." BSL is currently showcasing her work in the aptly titled exhibition "Connections Rebelles," or "Rebel Connections," through July 22.
Debs's approach is as multicultural as her upbringing. Born in Lebanon, she was raised in Japan and educated in the United States, where she obtained a degree in interior architecture at the Rhode Island School of Design before moving to London to design custom furniture for private clients.
Her eclectic background permeates her designs: In the Marquetry Mania collection, thin wood strips are embedded in curvilinear surfaces in vibrant colors inspired by Japanese kimonos; her flexible Tatami pieces, which can shift between serving as a table or a bench, combine traditional straw-weaving techniques typical of Japanese flooring with the classic Western art of marquetry; her Origami tables' boxy angles and beveled edges evoke the folded-paper sculptures of the same name.
Debs settled in Lebanon in 2000, officially starting her brand in 2002 with what she terms an " 'East and East' philosophy that aspires to capture the boundlessness of Islamic geometry within the purity of Far Eastern minimalism."
By contemporizing local crafts while also honoring their exquisite beauty and cultural relevance, she wants her works to be "handmade and heart-made," highlighting the patience and passion of the artisans with whom she works. "My vision has always been to value people rather than objects, the stories that breathe life into each piece," Debs says.
For several years, she has been working with marginalized craft communities, empowering refugee artisans and helping to keep traditional crafts alive. "For Nada," Saint-Laurent explains, "design isn't just about form and function. We both believe in sustainable, responsible contemporary design that is both socially and environmentally engaged."
The Fatima Bint Mohamed Bin Zayed Initiative (FBMI), a carpet-weaving project that aims to empower low-income Afghan women, asked Debs to imagine a collection of contemporary prayer carpets; with Kohler's WasteLAB team, she designed a hammam featuring custom tiles made from landfill and waste flow. Her work has also been recognized via prestigious commissions, including furniture for the headquarters of the United Arab Emirates' mission to the United Nations and the League of the Arab States Hall in Cairo.
The exhibition at BSL in Paris features three of her most recent creations. Designed in celebration of the 20th anniversary of the Nada Debs brand, the Coming to Life collection of tables contrasts organic, live-edge walnut tops with slanted legs decorated with a spiral mother-of-pearl pattern.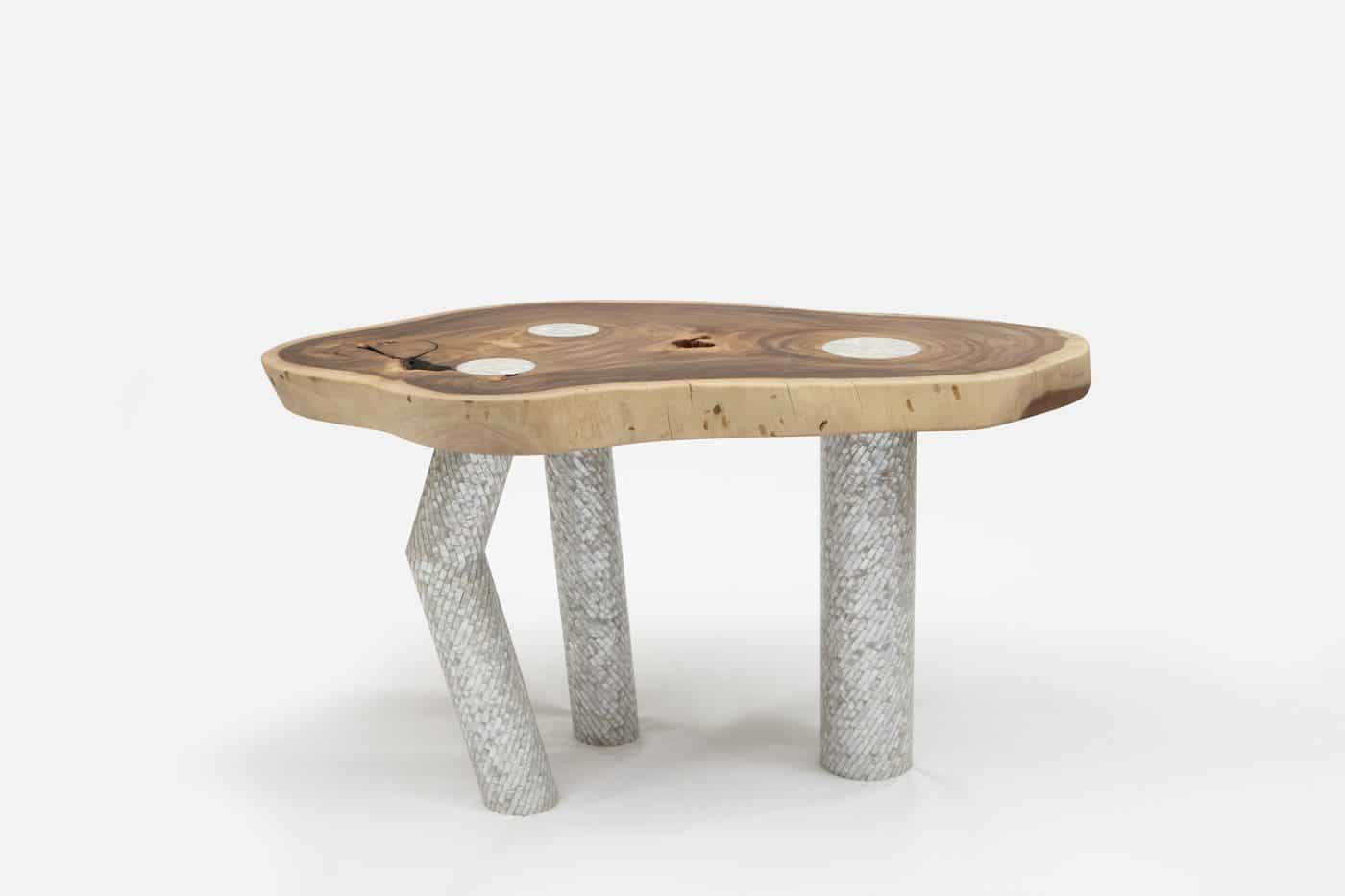 "The legs look as if they were walking," she says, laughing. "In Beirut, we never know what the future holds for us, and it's hard to make progress. It's always ten steps forward, five steps back. So I created something playful that also talks about moving onward and about the fact that we're not stopping."
The Gandhara Carapace table, "a functional creation merging a contemporary design and the centuries-old art of pietra dura," according to Saint-Laurent, was made in collaboration with Studio Lél, a collective of artists and artisans dedicated to the 16th-century Italian and Mughal art of stone inlay.
Produced in Pakistan in collaboration with Afghan artisan refugees, it is covered with a geometric pattern of inlaid amazonite, onyx and marble, whose unusual pink and green hues were inspired by the incredible designs on jingle trucks.
"When I visited Peshawar for the first time, I was intrigued by the bright, vivid colors of the city, in particular the truck art, distinctive to Pakistan. The drivers spend hours painstakingly decorating them," Debs recalls.
Saint-Laurent explains she is currently collaborating with Debs to expand the Gandhara Carapace collection in several directions: "new furniture typologies, new combinations of colors and hard stones like lapis lazuli and malachite and new explorations of the iconic Carapace motif, a polygonal pattern that unfolds over the stone surface, enveloping it like a protective symbol."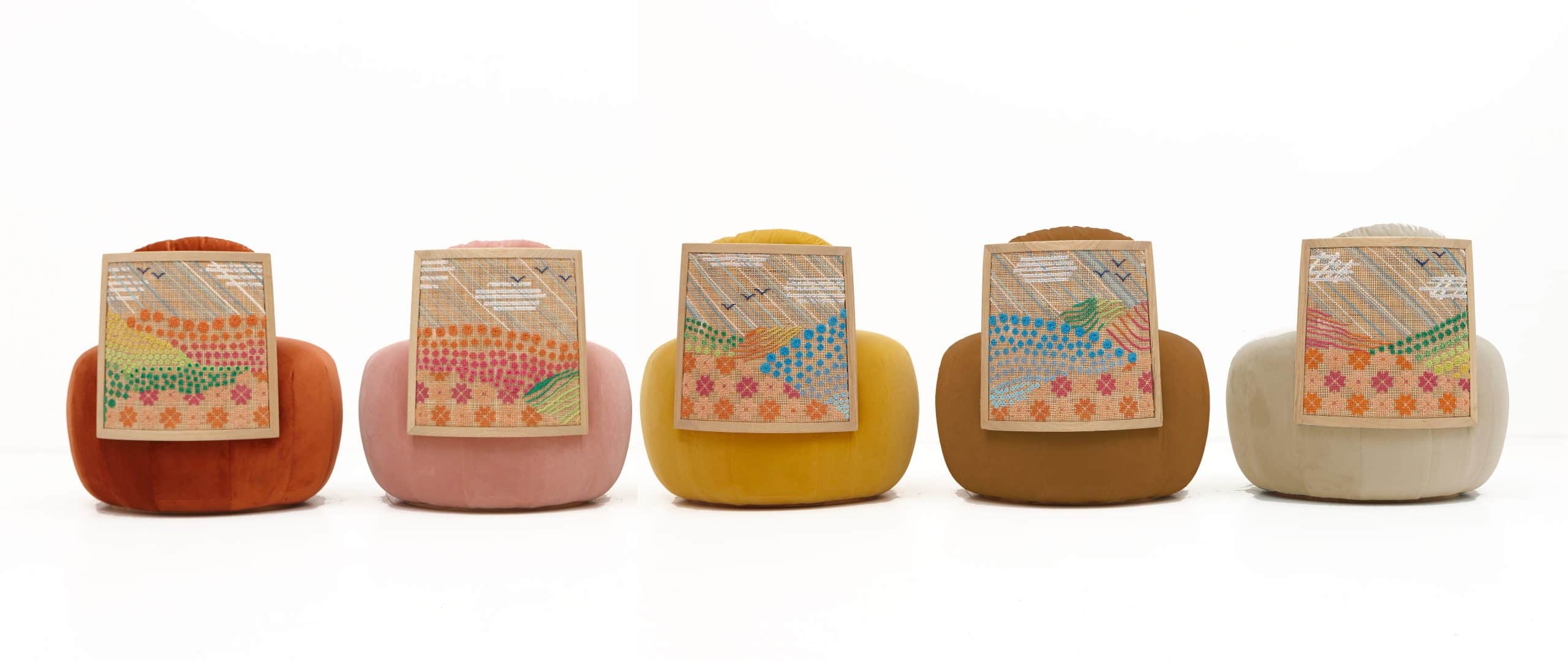 The one-of-a-kind Stitched Horizons pebble chairs resulted from a collaboration with an association of Palestinian women refugees in Lebanon, incorporating intricate embroideries of landscapes in pale, Pop-art colors on straw.
"These women are known for a certain kind of cross-stitch that is often used for dresses and cushions," Debs says. "I decided to challenge them to do something new by giving them a canvas support that was more rigid than what they were used to. This forced them to push their way of working, to experiment and invent new kinds of stitches. Having grown up in Japan, I have less attachment to certain traditions and less fear about disrespecting them and shaking things up."
As for the future, Debs is currently exploring ideas with woodworkers in Uzbekistan to imagine a modern twist on traditional benches. "Noble and down-to-earth, imbued with emotional resonance, objects that embody human stories and a sense of belonging," she says. And she recently restored her atelier in Beirut's trendy Gemmayzeh neighborhood and opened a new Dubai outpost.
The Gemmayzeh space had been damaged in the devastating August 4, 2020, explosion of stored ammonium nitrate that killed 218 people, flattened and flooded a portion of Beirut and left hundreds of thousands without homes.
Ever the heartful innovator, Debs devised a collection of objects made from her broken building's debris, such as shattered windows and splintered framing, called Keeping it Together. "I saw it as a way of transforming our pain into hope," she says.
Shop the Nada Debs Exhibition