To hear Naomi Sarna talk about her gems is to hear true passion — and one that has endured for decades. The designer speaks with unbridled excitement about every stone in her stockpile, from electric green chrysoprase to muted (but highly prized) Rose de France amethyst. "I think maybe it was my upbringing in Montana, where there are great eroded areas and mountains," says Sarna, explaining her appreciation for geology and gems.
Although she studied classical stone carving and sculpture at the Pennsylvania Academy of Fine Arts in the late 1960s, Sarna spent more than three decades exploring numerous — and wildly disparate — careers. She worked as a psychoanalyst, medical hypnotist, baker, caterer and doula, all the while pursuing her artistic education in fits and starts. She studied jewelry fabrication at the Fashion Institute of Technology and the 92nd Street Y, in New York City, and trained with famed stonecutter Bernd Munsteiner.
Working full-time in jewelry design since 2012, Sarna deploys an amalgam of techniques she has learned throughout the years to create pendants, brooches, rings and earrings. She also carves gems into unset, sculptural objects that are both sensuous and powerful, following the natural lines of the stones to form wave-like curves and polishing them for hundreds of hours to achieve a tactile allure.
"I love the process. It's thrilling to me to start at the beginning of something and learn how to master it," says Sarna. That patience — along with her unique style and precise technique — has won her a number of accolades, including the American Gem Trade Association's esteemed Spectrum Award three years running. Here, Sarna explains her process to Introspective.
How do you decide what shape to carve a rough gemstone?
Most people who carve do not make jewelry, and most people who make jewelry do not carve. Those who do, carve to retain weight. I carve to emphasize the design. To me, the design is the number one reason to do the work. The minute I look at a piece, I have a very strong reaction to it, and I know what to do. Almost always, I follow the natural lines — my work is very nature oriented, and people often say it looks like water flowing.
How do you decide on the setting for the carved and polished stone?
I like the idea of my pieces being able to be displayed as art objects. I shrank everything when I started making jewelry, but there is not much difference between using clay or wax to make a life-size figure and reducing it down to the scale of a piece of jewelry. A few years ago, a princess purchased a small carving of mine and then wanted it to be a fountain, so I arranged for a larger copy of the carving to be made in a different material. I'm eager to have some of my carvings in an enlarged version as public works of art, and I'm going in that direction now. I try to give them a sense of monumentality. I always think, "Will it look terrific at ten feet tall?"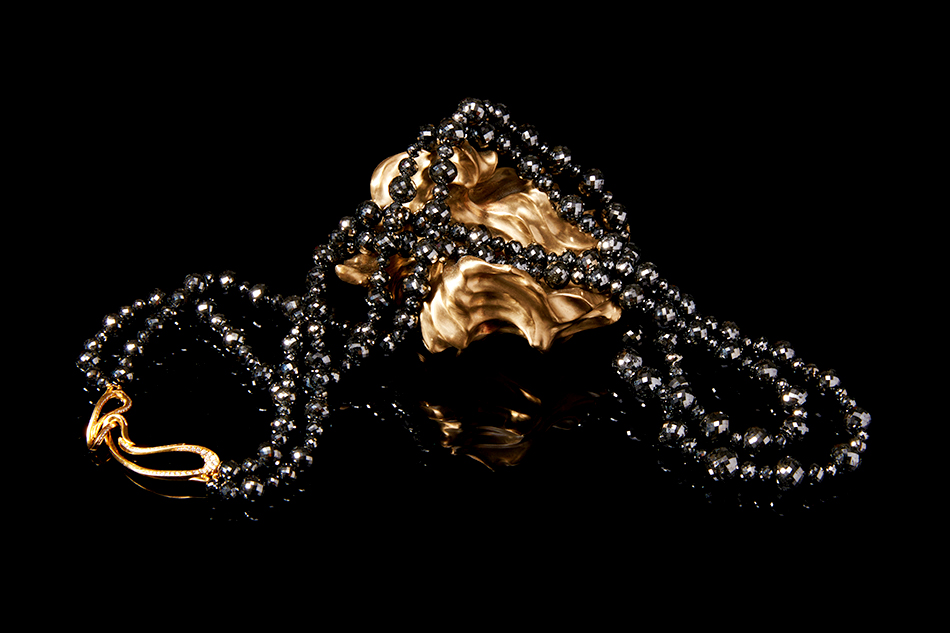 How long does it take you to carve a single stone?
It can take me anywhere between twenty and fifty hours to carve the stone. Polishing is different — that can take up to five hundred hours. Still, I have a tendency to work fast and hot. I'm very proud of my polishing.
Do you ever make a mistake on the carvings?
I think I break a lot of rules, and sometimes I get into a lot of trouble for doing that, but I'm not sure if I would call them mistakes. Many gemstones are brittle — topaz, for example, is very hard, but it has a cleavage factor that is quite dangerous. If tanzanite gets hot, it burns. Opal is not difficult to carve, but it is very hard to polish. I had a piece of Ethiopian opal that was just magnificent. I carved and carved away the dirt, and when I finally got to the stone it cracked in half. It wasn't a mistake — this is nature.
What do you tell clients who are interested in purchasing jewelry as an investment?
Everything I make is a one-of-a-kind piece of art. For an artist, creating a legacy of artworks increases the perceived value of the whole collection, and that is what I am doing. I put the same quality into every one of my pieces, no matter the material. If I made everything in super-rare stones, I would miss out on having a relationship with people who might be interested in my work but can't afford it.
---
TALKING POINTS
Naomi Sarna shares her thoughts on a few choice pieces.