Some of New York's most glittering apartments — filled with extraordinary mid-century furniture, custom upholstery and exclusively commissioned works of art — don't have actual residents. That's because these days, more and more real estate developers at the top end are hiring some of the biggest names in decorating to design new model apartments, alluring potential buyers with fantasies of lounging on BDDW sofas and Giò Ponti club chairs while gazing out at drop-dead, panoramic views.
In what has until recently been an exceptionally strong real estate market, developers have realized that buyers have more options and have become more sophisticated. A builder would never consider deploying basic sofas as "placeholders" that give a sense of scale but not a sense of style to these spaces.
"The direction is moving toward a more thoughtful approach to the interior design of the high-end models," says Britt Zunino, the designer behind a stunning $25 million model penthouse for sale at One Vandam, in SoHo. "Competition in the real estate market has led developers to prioritize design — inside as well as out — to make their buildings stand out. Most of the condo developments in the last economic cycle were pretty generic." And although their designers range from emerging to  established, these model spaces have one essential commonality: an appeal and vibe that is both aspirational and highly livable.
---
432 Park Avenue
"Model apartments are a curious mixture of taste — at the same time conformist and daring," says renowned decorator Robert Couturier. "Conformist because one has to please most tastes but daring because we are freer to try new possible ways." At the whimsical and colorful 4,028-square-foot, $38 million penthouse he designed on the 86th floor of 432 Park Avenue, midtown's newest — and tallest — residential skyscraper (designed by Rafael Viñoly with interior finishes by Deborah Berke), luxurious red lacquer walls and an antique Kurdish Persian rug from Couturier's own collection greet visitors, who are then drawn into an airy and open living-dining room featuring 10-by-10-foot windows framing the kind of views one would expect to see from the Empire State Building. An oversize custom-designed sofa that looks as if it could seat at least eight people anchors the room, surrounded by Couturier's signature eclectic yet luxurious assortment of exceptional pieces: an Eileen Gray club chair, a Pietra Cardosa dining table designed by Egg Collective, Vladimir Kagan dining chairs upholstered in laser-cut leather and a brass Maarten Baas credenza.
Blue mirrored flowers by Hubert le Gall adorn one wall, while a lively multicolored installation by Sol LeWitt fills another (alas, it is rented from the foundation and doesn't come with the apartment). Despite these and other touches of whimsy — like the Fornasetti wallpaper with Roman columns in the hallway and the tall patterned-fabric headboard in the master bedroom — Couturier says that "the architecture is the basis of all design decisions." As a result, he has employed a predominantly neutral palette for the upholstery and window treatments, especially in the main room,  to emphasize the 12.6-foot ceilings and the spectacular city views.
---
One Vandam
by Studio DB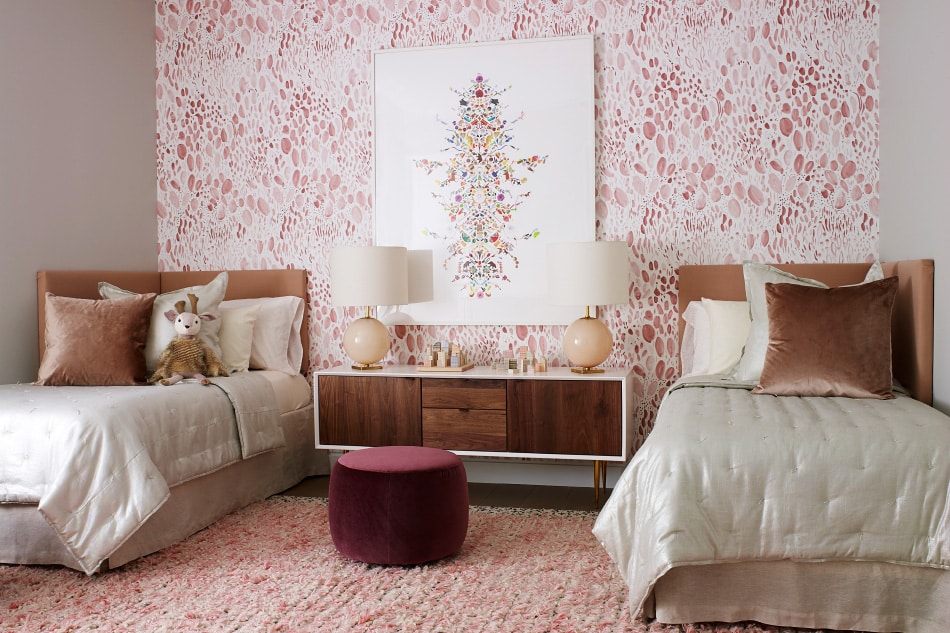 For the developers of One Vandam, in Soho, Damian and Britt Zunino of Studio DB were the obvious choice to plan the building's model penthouse apartment: The husband-and-wife duo had already designed the interiors and finishes of the slender, panel-facaded building, designed by BKSK Architects. "Our original direction for the building was to create interiors that were thoroughly modern in design but softened with natural materials and artisan finishes and details," says Britt, citing the simple clean lines of Edward Wormley and Paul McCobb furniture as an inspiration for their overall design concept.
Though it's hard to tell from the sophisticated appearance, the Zuninos put together the light and modern, four-bedroom triplex with a private interior elevator — currently listed at $25 million — in three weeks, relying on a mix of vintage or easily re-upholstered pieces because there wasn't time to order custom furniture. They wanted to enhance the sight lines of the apartment's three terraces, which include an outdoor living space and a spa, so they placed low-slung sculptural pieces, like 1950s vintage Italian tartan chairs, Eugenio Gerli armchairs and a Warren Platner coffee table for the different sitting areas throughout the space. Envisioning that future owners would want to entertain, the Zuninos selected a walnut and marble slab table by Uhuru partnered with green velvet Panton Series 430 dining chairs. The artwork throughout the apartment was curated specifically by Uprise Art.
As it has in so many fields today, social media has played a role in creating higher expectations for these model apartments, says Britt Zunino. "Buyers are exposed to beautiful imagery all day long," she explains, "so it has been crucial for developers to create distinct identities to set themselves apart. It's about creating an aspirational lifestyle moment." Not surprisingly, aspiration often becomes reality: It is not unusual for buyers to end up purchasing all the furnishings in a model apartment along with the home itself.
---
Austin Nichols House
In the model homes at the Austin Nichols House, a landmarked Egyptian Revival building in Williamsburg, Brooklyn-based property developers and designers ASH NYC demonstrate that they really know how their clients want to live. A loft-like one-bedroom in the former manufacturing plant and whiskey distillery (where apartments range from $500,000 to $3 million) contains a mix of pieces from different eras and regions for a sleek but spirited look fully in tune with the young, creative culture of the neighborhood. "We're seeing that more people are starting to prefer an increasingly clean and minimal aesthetic," says Andrew Bowen, director of operations for ASH NYC. "There was a period about ten years ago, and especially post-recession, when a higher value was placed on more rustic elements — Edison bulbs, industrial relics and the like — and tastes are now moving toward a more forward-thinking contemporary look."
But ASH NYC also likes "to push the envelope," as Bowen puts it. In an otherwise restrained living/dining room, a rose-pink velvet loveseat adds a fun pop, sitting alongside a rugged leather and wood chair in the manner of Børge Mogensen and casual black leather sling chairs by Kyle Garner, while an elongated Jean Prouvé Potence wall sconce playfully extends from the wall. Original artworks, such as a dazzling neon wall sculpture by Max Langhurst and a graphic pink gray and black mural by Amy Currell, catch buyers' eyes, says Bowen, and amp up the energy.
---
560 West 24th Street
Back in Manhattan in West Chelsea, Damon Liss has fashioned a serene 4,500-square-foot penthouse at 560 West 24th Street that is as chic as the galleries that populate the neighborhood. Known for his practical approach to curated modern design, Liss says the goal was to make the residence (asking price $15 million) "feel as nice as the actual apartment," explaining that the architecture is a little dressier than you would expect from the West Chelsea address, with "marble everywhere, even the windowsills.
Liss deployed pieces that he sourced from around the world — vintage 1950s Italian settees, Guillerme et Chambron chairs and black iron armchairs by Brazilian designers Carlo Hauner and Martin Eisler — to create multiple seating areas in the vast living area. A Fontana Arte vintage vetro cocktail table and a fanciful Max Ingrand blue dahlia ceiling light bring extra ornamentation to the rooms, while Joaquim Tenreiro chairs from Liss's personal collection ensure that the space doesn't feel brand-new, impersonal or transitory. "We try not to get caught up in a specific moment," says Liss. "We inherently create things that are more timeless."