There is a story that British interior designer Nicola Fontanella tells of her younger self that perfectly encapsulates her confident, can-do nature. Having landed her first major job in design 20 years ago — more on that later — she asked her bank for a loan to buy some suitably smart clothes. The manager was leery of lending her £1,000 (about $1,525 in today's dollars), since she was  earning only £8,000 ($12,200) a year. Furthermore, she announced that she was planning to spend the entire amount on two Hermès scarves. "I have a black suit and some black boots," she told him, briskly, "but if I have two Hermès scarves I can rotate them day by day and really look the part."
We are both laughing as she tells this story — it's the very definition of chutzpah. In the end, the bank lent her the money, and she bought the scarves. (She admits she then regularly had to spend a sizable chunk of her meager wages having them professionally cleaned.) Such frankness and humor are typical of Fontanella, who launched her London-based company, Argent, before she was 30 as a one-woman operation headquartered in her sitting room. Today she runs a studio with a staff of 30 in Marylebone and a satellite office in Miami, undertaking a raft of international projects from superluxurious private houses to multi-unit developments.
We are talking in her Belgravia home, which she bought as a shell two years ago and has transformed into a glamorous, Deco-inspired oasis with a white onyx staircase, marble floors, shagreen walls, Lalique wall lights, jade ornaments, rich fur throws and bold contemporary art, including works by Andy Warhol, Gavin Turk and Banksy. Although she rightly insists that Argent takes on projects of many different styles and briefs, if there is a signature Fontanella look, this is it: old-school glamour combined with a twist of rock 'n' roll.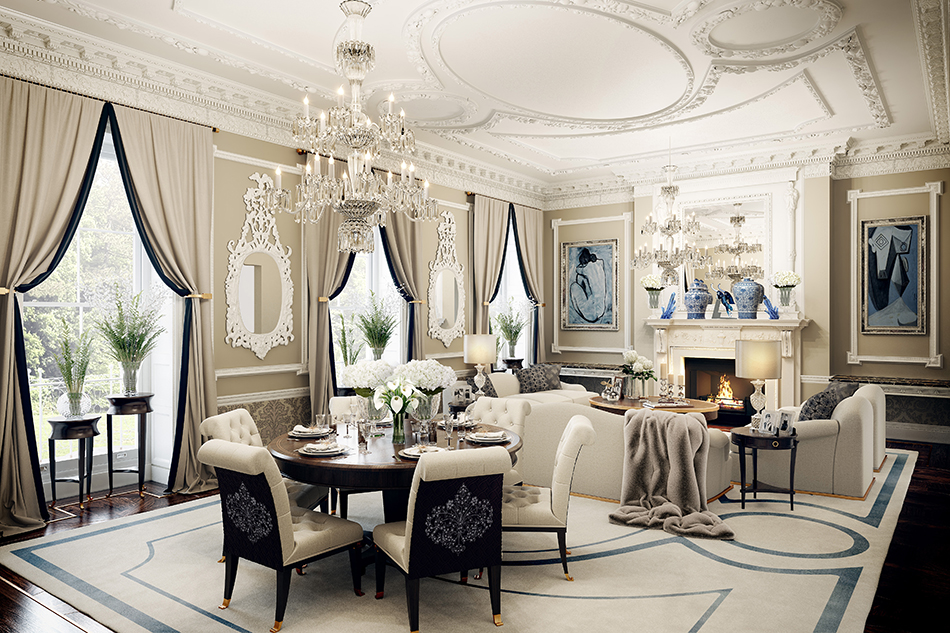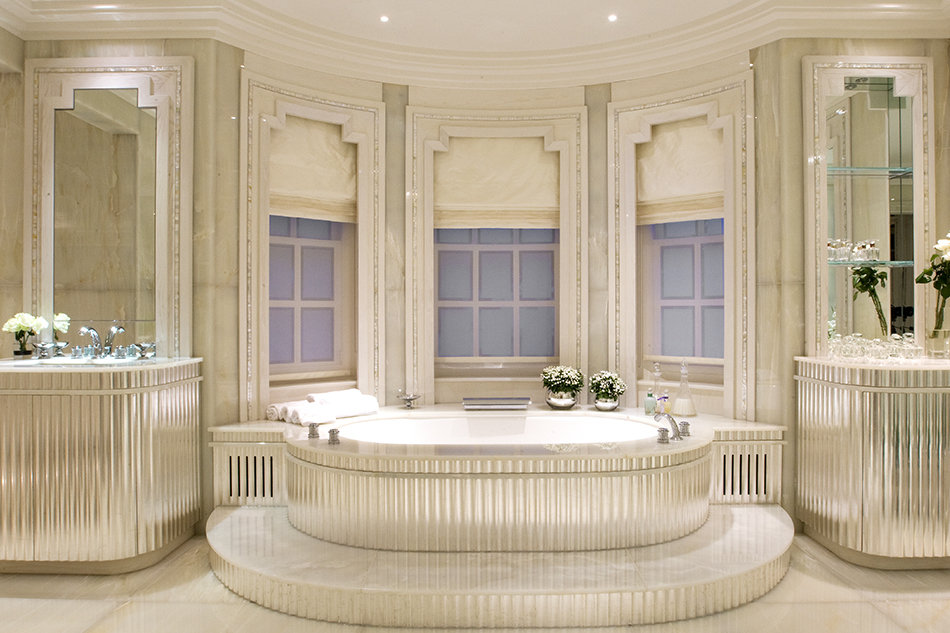 The designer channels the same vibe in her personal style — bare legs, five-inch heels, eye-popping jewelry and the sort of tan that implies she has just stepped off a yacht (which, given her clients, she very probably has). She is also irrepressible, exuberant, loud and hilarious — at a dinner party, you would secretly move place settings in order to nab her as your companion. In the office, she is notorious for punching the air and yelling with delight over some seemingly insignificant design detail. None of this is faked: Fontanella is the real deal in every sense, preferring to commission bespoke pieces and lavish artisanship on behalf of her clients rather than roll out scheme after cookie-cutter scheme. "In my crazy little way, I think of myself as an explorer," she says. "What really counts is getting out there and finding the unique and the special."
She grew up near Stratford-upon-Avon, Shakespeare's birthplace, with what she describes as an "English rose" mother and a "sharp-suited" Italian father. Childhood was a country idyll of pony-club camps and village flower festivals. However, the first time she visited London on a school trip, at the age of 11, she knew that was where she wanted to be. On leaving school, she embarked on a fine-arts degree at Middlesex University but dropped out when she landed an internship at Harrods's interior design studio, which was to dramatically alter the course of her life.
"Those were the days when interns worked their butts off," recalls Fontanella. "But when they offered me five days a week, I said I could work six. The head of design was an absolute dragon, but she was also the most incredible mentor. In many ways, it was worse than being back at school, but I was very ambitious, and I knew I could learn a lot by working like a slave." She also knew that if she looked good, people would think she was good — hence the two Hermès scarves.
---
At a dinner party, you would secretly move place settings in order to nab Fontanella as your companion.
---
After two years with Harrods, Fontanella knew enough to trade up, moving to a company (now defunct) called Instant Design as the number two in the studio. Whereas Harrods had focused largely on its spectacular private client list, Instant Design undertook international commercial projects, mainly hotels and restaurants. This gave Fontanella invaluable  experience with running huge sites. At one point, she relocated to Turkey for two out of every four weeks to oversee a massive project there, and then she did the same in Barbados for a commission of a similar scale. By the time she was 29, she felt ready to go solo. "I was working so hard that it made no sense to be on the low wage I was," she says, "deep down, I knew I could make it on my own."
It was then that another hugely influential personality stepped into her life: Lady Tina Green, wife of one of Britain's most famed retailing entrepreneurs, Sir Philip Green — owner of Topshop and Miss Selfridge, among others — and herself an interior designer of note. Lady Green and Fontanella were introduced at a dinner party and hit it off immediately. "She is my best friend as well as my mentor," says Fontanella, "and she also has the business mind of a genius. Through Tina and Philip, I had introductions to some truly amazing people, and when they saw how good Argent's work was, my client list really took off. Tina and I also did some fantastic projects together, such as the Silver Angel yacht, and I still collaborate a lot with their son, Brett, who is an investor on several joint ventures."
Fontanella's private clients include Madonna and Guy Ritchie (first as a couple and later, when they split, separately), restaurateur Richard Caring and supermodel Naomi Campbell; well-heeled non-doms; and several international property funds that invest in superprime London real estate and rely on Fontanella to maximize their returns. Madonna, for whom Fontanella did a London home, was among her favorite clients — "one of the most phenomenal and dynamic women I have ever met" — but there is nothing star-struck about the designer. She speaks with equal passion about the many corporate clients who beat a path to Argent's door, as well as the many privately owned property companies she has collaborated with. "Of course, it is super-cool to travel around the world on private jets transforming the homes of some of the world's most incredible people," she says, "but I am also proud of the fact that we can deliver multi-unit developments and prove our added value in the rise of the stock."
For the real estate developer Capco, for example, she delivered a new vision for Covent Garden that included a super-luxury mixed-use development, helping double residential property prices to more than $4,000 per square foot in the process. She is  thrilled to be running so many projects — including end-to-end turnkey projects —in Miami, a city that matches her own energy and optimism. Her next ambition, in fact, is to grow her business there so that it is on par with that in London. Already she has achieved a record residential price per square foot of nearly $1,100 with 14 La Gorce Island, a speculative 18,000-sqare-foot mansion whose development she oversaw from external architecture to interior decorating to final styling.
Argent continues to go from strength to strength with such recently completed projects as the interior architecture of a private members club in Saint Petersburg, Russia; and, in London, the complete turnkey service for Lethbridge House, an almost 12,000-square-foot residence in Mayfair set to go on the market next spring for $82 million; the interior design of 89 apartments for a development in Chelsea; and the interior architecture of a 60,000-square-foot residential development in Hampstead.
As for those two Hermès scarves, they proved to be quite a sound investment, indeed. Fontanella still wears them — and she paid back that bank loan long, long ago.
---
Nicola Fontanella's Quick Picks on 1stdibs