July 28, 2019One night in the fall of 2016, I was heading to dinner when I got a text from my friend actress Bridget Moynahan:"Cleaning out my closet and can't bear to throw out any of my old shoes. Should I photograph them? Is there a book there?"
Bridget and I had always tossed around book ideas, although we are an unlikely duo: she, a model and actress who had pairs of eight-inch Manolo Blahnik heels left over from her role as Mr. Big's wife in Sex and the City, and me, a journalist who writes about the arts and has the wardrobe of someone who works at home, alone.
But I actually had some classic, beautiful shoes lingering in my closet — gems like patent-leather Prada slingbacks found in London 20 years ago and more recent gold Gucci loafers that I bought after artist Rachel Feinstein let me try hers on. Three friends quickly acquired their own pairs with my full encouragement. In fact, we dubbed them the "Sisterhood Shoes" and often coordinate wearing them to the same event as a sign of solidarity.
Bridget's shoes also had positive associations — custom Converse sneakers from her wedding day, safari boots and countless pairs from her movie and television roles. But there was one pair that was especially close to her heart: well-worn Miu Miu motorcycle boots she bought in a Barneys Co-op while ducking the paparazzi at a time when they were following her relentlessly. These hardware-laden, tough-but-chic boots spoke to her immediately. Now, 11 or so years later, she calls them her "armor" and credits them with helping her get back on her feet, professionally and personally.
Shoes lend themselves to expressions like "getting back on your feet," as well as to metaphors about footsteps and journeys, especially for women. And Bridget's personal, powerful story about her motorcycle boots led the two of us to Our Shoes, Our Selves: 40 Women, 40 Stories, 40 Pairs of Shoes, a collection of short essays from inspirational, accomplished women about footwear that, like Bridget's boots, were more than mere objects, representing profound ideas.
In the book, we featured a wide range of women in a wide range of professions — from the first female four-star general to a Holocaust historian, as well as serial entrepreneurs, U.S. senators, scientists and artists. Each had a story, and many chose to discuss favorite work boots or sneakers, fitting manifestations of mental or physical feats.
I saw a pair of combat boots still covered with dust from the Iraq war that Senator Tammy Duckworth holds on to even though she lost both her legs in combat. Model Christy Turlington Burns has kept each of her pairs of Brooks marathon sneakers, including the ones she wore in her first race, which she nearly didn't finish. Ballerina Misty Copeland showed me her first pair of pointe shoes, given to her when she was 13 years old by her dance instructor as an incentive to keep training when she wanted to quit.
Some of the enviable shoes in the book, all gorgeously photographed by Melanie Dunea, speak of love and friendship, much as my gold Guccis do. TV host Rachael Ray talked about a pair of Yves Saint Laurent Loulou high-heeled booties — bedazzled with metallic spots — that she presented to Oprah when the legendary talk show star appeared on the 2,000th episode of Rachael Ray. Oprah gave Ray her first break back in 2005, featuring the then-little-known chef on The Oprah Winfrey Show. And she helped develop and back Ray's own talk show, appearing as one of her first guests. Ray had an identical pair of booties that she often wore on the show and wanted Oprah to have "one of her favorite things." Apparently, Oprah was so happy with the shoes, which matched her outfit perfectly, that she started dancing and kept them on during the whole show.
I believe I had the last interview with former first lady Barbara Bush in January 2018. Her cozy, chintz-filled Houston home was adorned with photographs that looked more like the pages of Time magazine than the family snapshots they were. She had just come from visiting her ailing husband, President George H.W. Bush, at the hospital, yet she made time to tell me about the 30 pairs of Keds in every color he had given her as a birthday present. She used to mix and match them mischievously, and people began sending her more Keds, hand-painted with Bush-family motifs like the flag of Texas or Maine lobsters. She joked that she should have asked for diamonds, rather than Keds, for her birthday, and then headed right back to the hospital. She died three months later — ironically, seven months before her husband did.
The Stories Behind the Shoes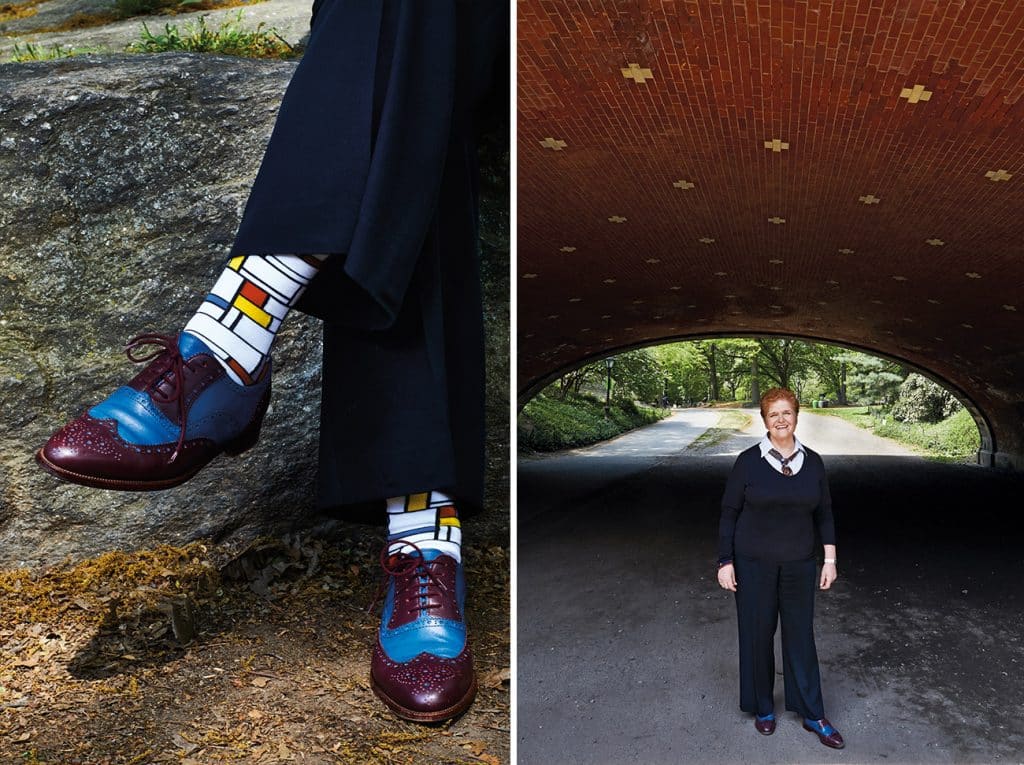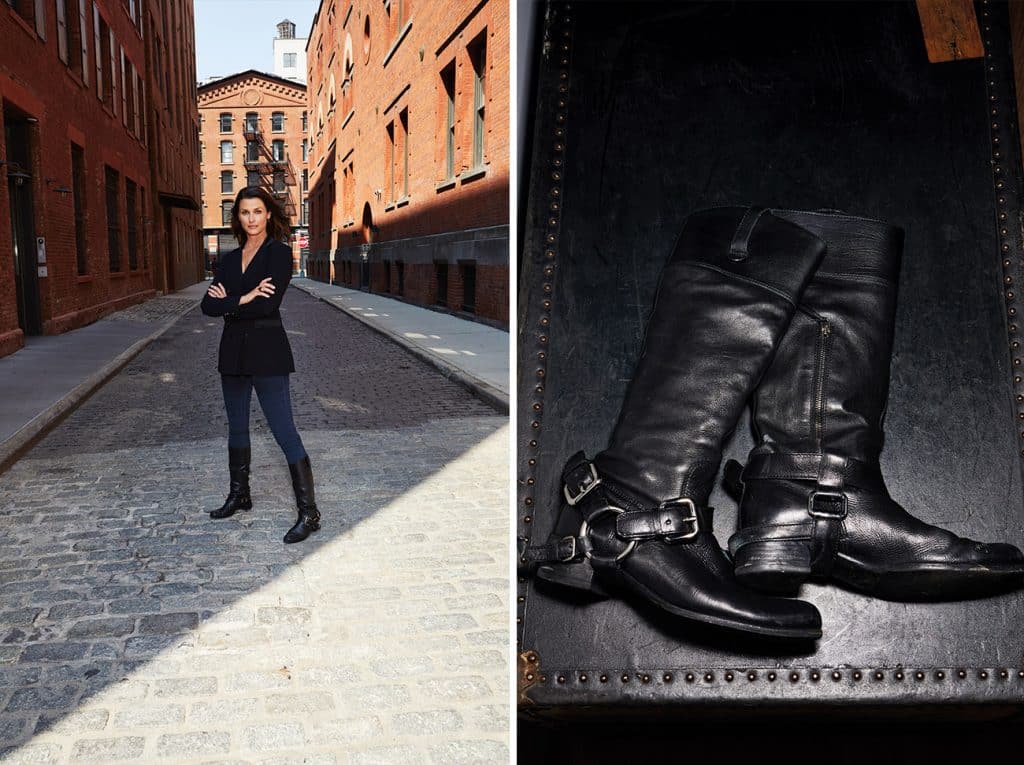 Other shoes commemorated achievements. Katie Couric brought out a beloved 20-year-old pair of black-tip Chanel heels, explaining that she had been a host of the Today show for nearly five years before she felt successful enough to buy something so extravagant for herself. She had grown up in a middle-class household and always wanted to be able to relate to her audience. Only after her husband died at a young age did she decide to seize the day and celebrate her success with the shoes (and a matching Chanel suit). Although she wore them on camera only a few times, she can't seem to part with them.
Celebrated designer Kelly Wearstler had a similar story about a pair of heels by Parisian brand JB Martin that she bought to mark her first trip to Paris, in the mid 1990s. Not surprisingly, perhaps, the vintage footwear — with their black and metallic gold color scheme, much like the palette often seen in her many interiors and design collections — coordinated perfectly with the decor of her Beverly Hills mansion, where we photographed her. "I have worn these shoes to so many important meetings over the years," she said, noting that she even wears them to construction sites.
The late Kate Spade bought sexy gold, high-heeled YSL sandals a couple of years after she sold her namesake fashion company. In the interview for the book, she explained her appreciation of their well-engineered design, which she understood, having just started a new shoe company. But she also mentioned how happy she was when she wore them because they were so different from the preppy look that made her famous.
Putting the book together was a journey of discovery, collaboration and achievement for Bridget and me as well. We learned that shoes can be a gateway to highly personal stories of accomplishment, identity, self-affirmation and overcoming adversity. We wanted to show women of all ages the various footpaths some incredible role models have taken to success while encouraging them to forge their own. Hopefully, in a great pair of shoes.
Explore Shoes on 1stdibs