August 16, 2020Gigantic pouty knitted lips, furry psychedelic eyes and radiant crocheted skies have invaded Emma Scully Gallery, in Los Angeles. Resembling a joyous disembodied army of 1970s cartoon motifs, these "crazy blankets" are the latest creations of London-based textile artists Carolyn Clewer and Tiphaine de Lussy, who make up the duo Paris Essex.
"Our work is inspired by the pattern and color that we see every day on the streets in London, memories from years ago, songs, cartoons, clichés and artworks and from around the world," Clewer tells Introspective by FaceTime from de Lussy's East London home. The two are socially distancing in person, seated sideways on a sofa, for the first time since the lockdown imposed by the coronavirus.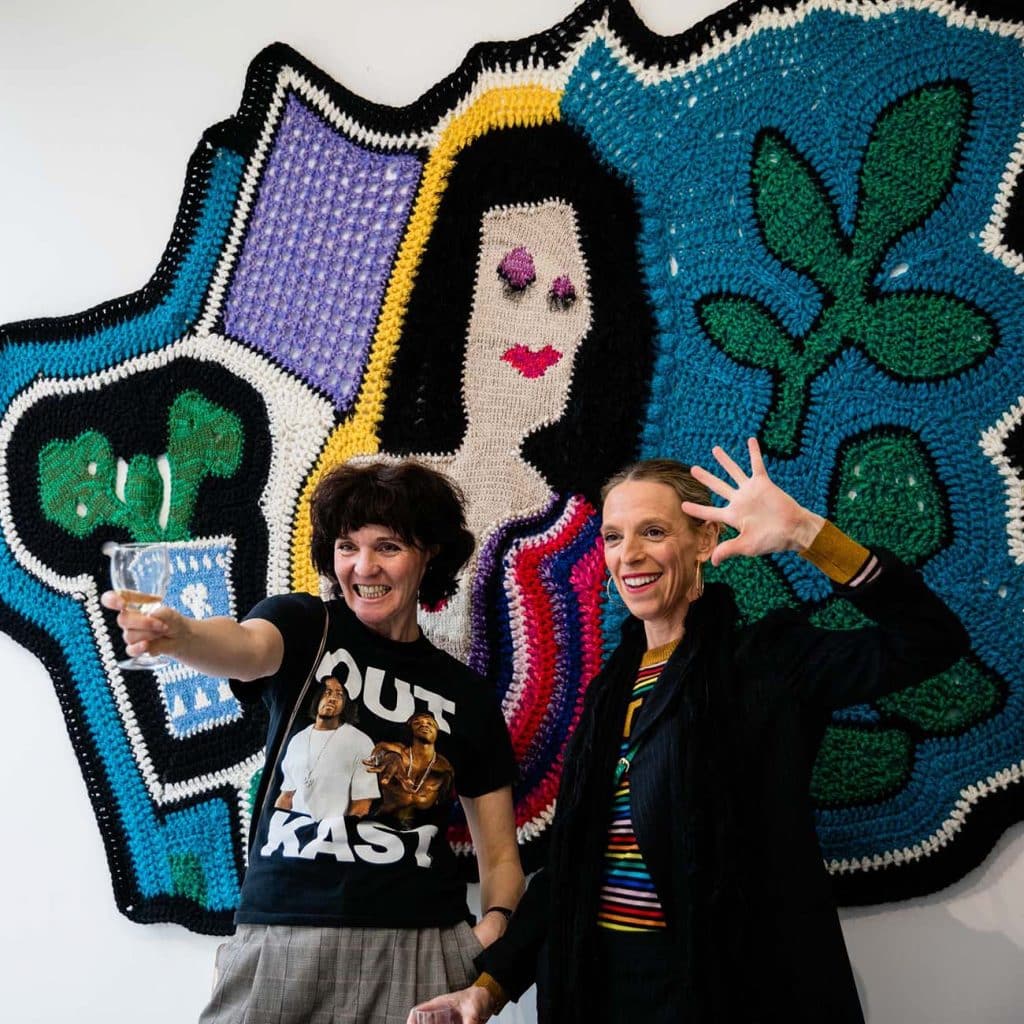 With backgrounds in fashion, the pair met around 30 years ago, while studying textiles at the Royal College of Art. It was an exhilarating moment. Gavin Turk, Tracey Emin and the Chapman brothers were also at the RCA (until recently, de Lussy was the longtime partner of Dinos Chapman), and the Young British Artists phenomenon was just kicking off. There was a spirit of "just do it," with no one having expectations of actually getting a job making art after college.
Close friends, Clewer and de Lussy collaborated on successive projects professionally and in 2004 formed the fashion knitwear brand Paris Essex, creating a line of accessories and a number of womenswear collections. The blankets only began around 2015, when the artists decided to concentrate on making quirky one-off items, rather than reproducing their work for collections.
Why Paris Essex? It's not simply to do with their origins — de Lussy being from Paris and Clewer from Essex, in southeastern England. "It's that low/high culture thing," says de Lussy. "People always have a bit of a stylish bullshit fantasy about Paris, and with Essex, there's this assumption that it's trashy and low, exactly what we don't think it is. Jumbling those ideas is perfect for us."
The pair's work is about contrast and having the best of both worlds, "It's not too serious, not too funny," Clewer explains. "We always want to play with the lines between things, but it's ultimately about good taste/bad taste."
The blankets can be hung on walls, spread over beds — even jauntily worn, as demonstrated by models in a series of zany prints by the artists' friend photographer Louise Melchior, which also feature in the exhibition. "We're not precious about how the work is shown. We like to discover how people see it in a different way," says de Lussy.
The show, titled "Paris Essex in Los Angeles" and viewable by appointment through August 22, emphasizes the work's versatility. Across one wall of the gallery stretches a stunning skyscape of blues and indigos punctuated with pink, yellow and white clouds topped by a yellow-fringed sun (Sunrise, 2016); nearby, a pair of droopy eyes (Sunset Eyes, 2019) draped over two chairs appear to be chilling, languidly taking in the scene, while in a corner, a mannequin is cloaked in a blanket titled Diamond Eyes Poncho (2019), whose mask-like features and angular lines recall Picasso's 1907 painting Les Demoiselles d'Avignon.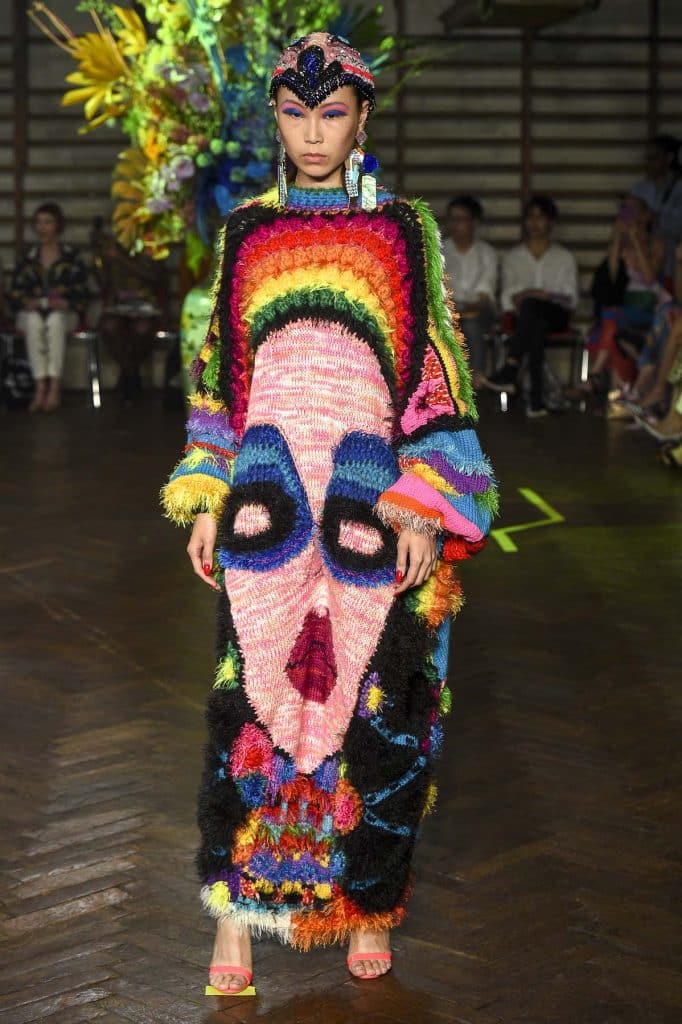 Faces seem to pop out everywhere in this playful show, underlining the artists' love of pareidolia, the tendency to spot faces and shapes in inanimate objects. Nowhere is this more apparent than in the comically lopsided visages adorning three vertical black boards — formed from three pairs of lips (Soft Lips, Baby Purple Lips and Icy Lips, all 2019) and two sets of massive hippy eyes (Red Eyes and Dazed Eyes, both 2019).
"A lot of our things have a character or facial features," says Clewer. Adds de Lussy, "Faces are irresistible. Plonking two eyes and a mouth, whatever the background, they become masks because of how we build them, not because we meant to make a mask."
The artists begin by working separately — based on ideas, sketches and found images — in a manner similar to the Surrealists' exquisite corpse technique. Clewer might knit an eye, which de Lussy will crochet around and return to Clewer to embellish further, and so on.
Spontaneity and accidents are fundamental to their process. There is no set division of labor but each of them has specific strengths. "I'm really tidy. Carolyn is an amazing problem solver," de Lussy says. Clewer elaborates: "Tiphaine's strength is in the finishing, and mine is in the 'Oh, my God, I've got to stay up all night and work out how to solve this' when it went wrong, "
The duo form the core of a piece from materials like sheep's wool and mohair. Then, says Clewer, "we throw other stuff in, like synthetic eyelashes, fancy teddy-bear yarn or chenille." Adds de Lussy, "Suddenly, it takes on a new life,"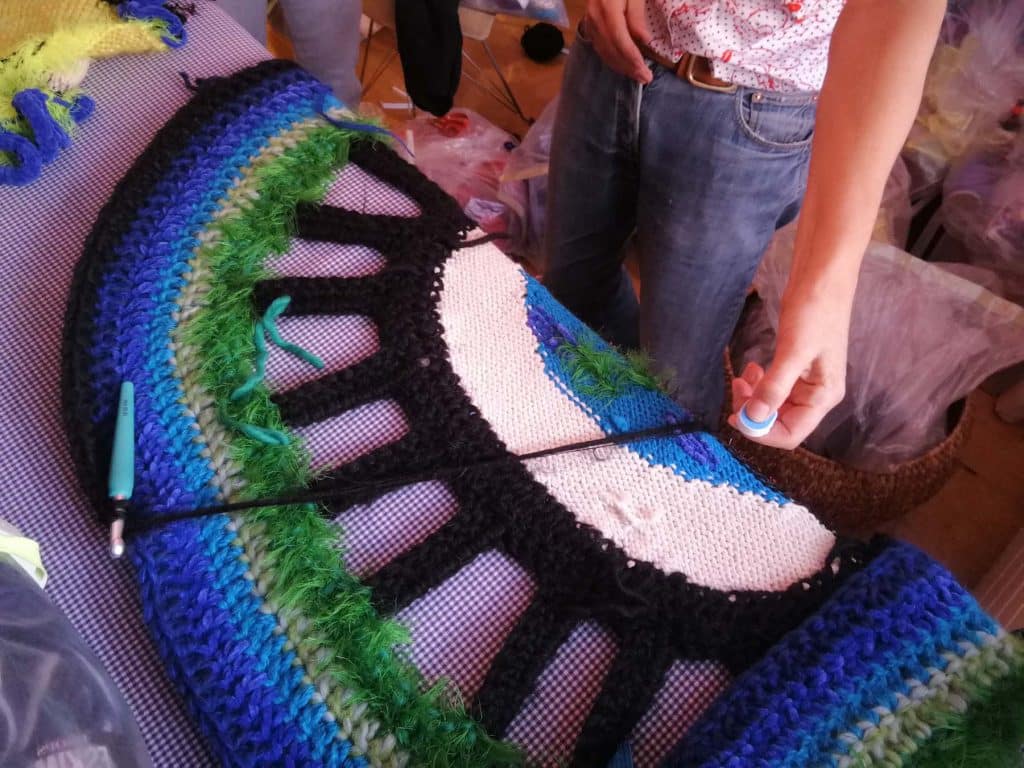 After three decades creating together, they have developed an artistic vocabulary that is both eclectic and funky, as well as immensely Instagramable (check out their lively handle, @parisessex). The mix might include references to George Condo, Hannah Höch and Milton Glaser alongside post-punk icons Adam Ant and Siouxsie and the Banshees, Sesame Street, furry dice, smiley faces and rainbows.
Popular-culture motifs have always had a certain kitsch cool, but for a long time, fashion favored mass-produced textile designs, whereas handmade was deemed synonymous with amateur. "In the nineties and early two thousands, to be a real business and sell at places like Selfridges and the House of Fraser, you'd almost have to make it look like things were made in a factory," says Clewer. "You'd have to virtually put them in cellophane and print some labels." "The idea of handmade made it cheaper," de Lussy concurs. "Nobody wanted that."
But the zeitgeist has changed, and Paris Essex has benefited from increased cross-pollination among creative spheres and a blurring of the line between craft and fine art. The pair's textiles are as likely to be exhibited in a gallery as to be commissioned by a fashion label.
In the past few years, they have participated in fashion shows in Milan and Paris, been shown in New York, Lithuania and China, designed embroidered cushions for Dutch homeware firm Kitsch Kitchen and collaborated with the global fashion software company Unmade and the British heritage men's label Wolsey.
One cannot help but be seduced by Paris Essex's exuberant designs and glorious colors; their sassy blankets animate a room and bring a smile to one's face. That's quite an achievement in these disquieting times.