When discussing their work, contemporary architects often reference Le Corbusier and Louis Kahn, Mies van der Rohe and Frank Lloyd Wright. But the Milan architect Patricia Urquiola name checks filmmaker David Cronenberg and performance artist Marina Abramovic, critic and philosopher Walter Benjamin and memory-meditating author Marcel Proust.
And while many designers talk about their projects in terms of program, plan and points of view, Urquiola addresses practically everything but, instead bringing up ideas of empathy, sharing, mental comfort and, above all else, time, her crinkly blue-green eyes lighting up with excitement as she speaks.
None of which should suggest that the Spanish-born Urquiola — or her projects — are inaccessible or overly conceptual. Quite the contrary, in fact.
Over breakfast in the gardened courtyard of Rome's Hotel de Russie, the bronzed, blond-haired Urquiola comes across as down-to-earth and entirely unassuming. This despite the fact that she's traveled to the Eternal City from her home and studio in Milan expressly to accept an annual award given by Italy's female empowerment–focused Marisa Bellisario Foundation to a dozen or so influential women — with Urquiola the rare foreign-born recipient. "It's nice when you get a prize with this many people," she notes humbly. "You feel it's not only you. That's the joy."
Urquiola doesn't lack for commissions these days, and, unlike the work of many other high-concept architects, her projects tend to get constructed, envelope-pushing though they sometimes are. Indeed, she's become a bit of an of-the-moment go-to when it comes to avant-garde product, hospitality and retail design, working with such blue-chip international furniture, fashion and hotel companies as Alessi, Baccarat, Salvatore Ferragamo, Kvadrat, Mandarin Oriental, Panerai, Rosenthal, W Hotels and Louis Vuitton, among many others. Her residential projects, meanwhile, though few and far between, stretch from such far-flung locations as Punta del Este, Uruguay, and Melbourne, Australia, to closer-to-home Udine, in northeastern Italy, where she designed the two-story, largely open-plan glass-and-cedar home of Patrizia Moroso, creative director of the family-owned design company that bears her last name.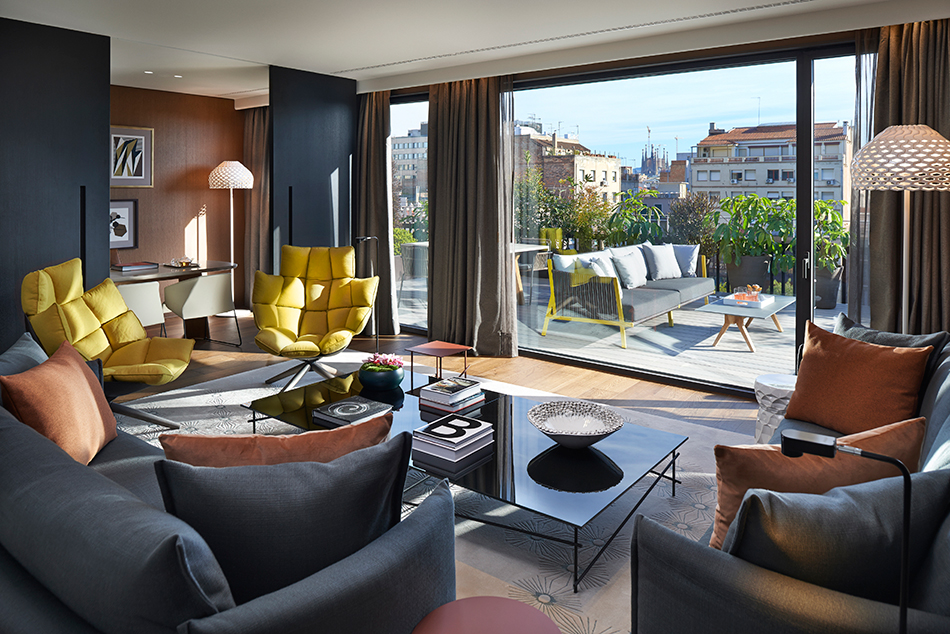 Over the course of a long-term and highly productive collaboration spanning some 20 years, Urquiola has created dozens and dozens of Moroso-branded products. A chair from her 2001 Fjord line of seating, tables and poufs for the company sits in the collection of New York's Museum of Modern Art, and Moroso debuted (love me) Tender, her modular sofa system upholstered in jersey, during Milan's Salone Internazionale del Mobile this past April.
Other high-profile product designs realized over the last two years include a collection of mesh outdoor furniture for Kettal; an array of neutrally hued tiles, glazed in graphic geometric patterns, for Mutina; and a modular system of poufs and rugs called Lana Magnus, which tantalizes prospective sitters with highly tactile, thickly woven, sweater-like coverings in various shades of pastels and gray. Created for Gan, the line launched at Paris's Maison&Objet in January 2013.
Of late, however, it's Urquiola's hotel projects that have garnered the most worldwide attention, turning her into something of a household name (at least in certain design-conscious households): There's Das Stue (2012), in Berlin, where she installed an eclectic array of contemporary pieces to create cozy, conversational rooms and public spaces in the newly renovated Deco-era former Royal Danish Embassy, adjacent to the city's zoo and central park; the W Resort & Spa, Vieques Island, (2010), on a speck of land off Puerto Rico's east coast, where she used the jungled beachfront setting to inspire elements that blend the tropical with the industrial, as in the lobby's graphic, three-dimensional floral wall-mural printed on galvanized extruded metal; and the Mandarin Oriental Barcelona (2009), with its catwalk-crossed eight-story entrance atrium, where she added a new wing this past April.
If the starchitect spotlight needed a while to start shining on Urquiola, who is now 53, that's fine with her. "I took time to open my studio; I did it at nearly forty. I was always working, but I take a rest very easily, and I can take a lot of time to decide to do something," says the designer, before going on to discuss some people's quiet disbelief at her seemingly rapid rise and back-to-back commissions. "I've worked a lot now in the last ten years, and people say 'How incredible, how much work,' and I say, 'No.' " She took decades, she explains, to read and observe, travel and think, and, above all, assimilate. "You have to create your own time to put together what is yours. Then, when the project arrives, the moment arrives where you make the connections with something that is in your mind already, and you put it inside the project. It just comes naturally."
---
Urquiola has become an of-the-moment go-to when it comes to avant-garde product, hospitality and retail design.
---
Urquiola may have taken some time to realize her ultimate design destiny, but her chosen career came about naturally just the same. Born in Oviedo, in northern Spain, she grew up in a family that valued creativity. Everyone in the house, she says, talked and cared about design. She fondly remembers her mother going to London in the 1960s and '70s and coming back home with a Marie Quant this, a David Hicks that. "My mom and all the family, we were all very interested in what to do with this room, with the garden, and what should we buy for here?"
When it came time to go to university, Urquiola decided that her place was architecture school, first at the Universidad Politécnica de Madrid and then at the Politecnico di Milano, where she completed her design thesis — a felt carpet with a panel that connected to a home's electricity source and telephone line so that you could plug, say, a table lamp and your phone into it — under the direction of legendary Italian industrial designer Achille Castiglioni. From there, she continued on as a lecturer at the university, while also working for various design firms and taking on independent side projects, until 1996, when she became the head of Milan's Lissoni Associati design group.
Five years later, she started her present-day practice with her partner in work and in life, fellow architect Alberto Zontone, and she's gone from strength to strength since then. Among their current projects are the architecture and interiors of a new Lake Como hotel from the company behind St. Barths's Le Sereno. Opening in 2016 and built into a mountainside, the sustainable, contemporary-looking project, for which Urquiola is also creating custom furniture, will incorporate local stones and other materials associated with the region, notably silk, as well as the polished-wood look of classic boats from the Italian maker Riva. In Singapore, meanwhile, Urquiola will integrate a series of vertical gardens into a hotel tower she's creating for casino magnate Steve Wynn, and, on a much smaller scale, she'll soon complete a petite jewelry museum within the walls of Andrea Palladio's 16th-century basilica in Vicenza, about 50 miles west of Venice.
Together with daughters Sofia, 9, and Giulia, 19, Urquiola and Zontone recently moved into a new space in Milan, with a studio of around 30 employees downstairs, a residence above and a rooftop that Urquiola says "began as a little garden but now is a jungle." (That's exactly the mood she was after — "not a gentle terrace, but something very potent and energetic.") This all-under-one-green-roof setting suits her sense of time — and timing — just fine. "I was always thinking I have to have a place with my house and studio together, because I think that's a way to not lose all those times in the middle," she says. "I'm always thinking about the value of time in my life. The concept of time for me is much more complex than 'time for home; time for work,'" concludes the designer, who went so far as to title her October 2013 career-spanning monograph for Rizzoli Time to Make a Book.
However she sees chronology functioning in her life these days, one thing is certain: Her time is now.