August 11, 2019Peter Bohlin describes the site of his latest house as "nuanced." "There's a foreground of seagrass," he says, "followed by an inlet, then a spit of land and, finally, deep water in the background. It's a small site but a lovely one."
The house he designed for the site, on New York's Shelter Island, is equally nuanced. Wood is the primary material, but there are exposed steel and copper accents, the former to make the house welcoming, the latter to make it precise. That's a balance Bohlin has often struck in his 54 years of designing houses with clients' needs in mind. The owner of the Shelter Island property, a chef, wanted his kitchen to be visible and easily accessible. "So," Bohlin says, "when you enter, the living room is to the right, the dining room and kitchen to the left. But it's all one space." Throughout the modest-size building, rooms open onto each other in ways that invite, intrigue and — like the view outside — capitalize on the interplay of foreground and background. "I designed a sequence of spaces, as I've been doing all my life," explains the designer.
Well, almost all his life. Born in the Bronx and educated at Rensselaer Polytechnic Institute and later Cranbrook, Bohlin cofounded a firm in Wilkes-Barre, Pennsylvania, in 1965. More than half a century later, Bohlin Cywinski Jackson (BCJ) is a powerhouse, with 185 employees and offices in Wilkes-Barre, Pittsburgh, Philadelphia, Seattle, San Francisco and New York. It is closely associated with Silicon Valley — and best known for its dozens of Apple stores, including the Fifth Avenue outpost, with its unforgettable glass cube.
How did a small Pennsylvania practice end up with clients like Square and Twitter? Around 1990, Bohlin and Jim Cutler, a former BCJ intern who is now partner of a Pacific Northwest firm now known as Cutler Anderson, together won a competition to design Bill Gates's house in Washington. BCJ and Cutler staffed the project out of a joint venture office they set up on Bainbridge Island, Washington, for its duration. When the Gates Residence was complete, the firm opened an office in Seattle. Meanwhile, the firm had designed a regional sales office in Pittsburgh for NeXT, a computer company founded by Steve Jobs in the 1980s. Later, Jobs chose BCJ to design for Pixar and Apple. Other tech companies followed.
These days, BCJ produces a steady stream of corporate, cultural and academic buildings, as well as apartment towers. But — surprisingly for a large firm — it has never stopped designing houses. After working with institutional clients, "it's fun to respond to the needs of an individual," Bohlin explains. Then, too, houses offer a chance to try out new ideas, observes BCJ principal Ray Calabro: "The larger scale projects inform the smaller, and vice versa."
True, some of the 60 or so residences Bohlin has created over the years are far from small —  Gates's compound is the size of a football field. But Bohlin is just as happy with the tiny cabins he designed for students around Frank Lloyd Wright's Fallingwater, in Pennsylvania. "I enjoy big houses and I enjoy small houses," says Bohlin, who enjoys pretty much everything. At 82, he is on the road more than 100 days a year, working with select clients and mentoring the next generation of architects at BCJ. (As often as he can, he travels with his wife, Sally, who he says "makes life fun.")
More and more, other members of the firm are designing houses, sometimes with Bohlin's participation — he is a kind of circuit rider, regularly visiting each of BCJ's offices — and sometimes on their own. Among the principals with significant residential portfolios are Greg Mottola, a San Francisco–based architect who has been with the firm for almost 30 years, and the Seattle-based Calabro, a 24-year veteran. Bohlin doesn't ask that their houses look like his. "It's just like clients," he says. "No two are the same, and no two architects at the firm are the same. We respect each other's differences." Nevertheless, BCJ houses do have elements in common: Crisp details combined with soft materials. Dramatic entry sequences, in many cases with views deferred, for maximum eventual impact. Clear circulation routes, frequently via bridges and covered walkways. Rooms that are easy to furnish, often because they're long and narrow.
Home by Bohlin Cywinski Jackson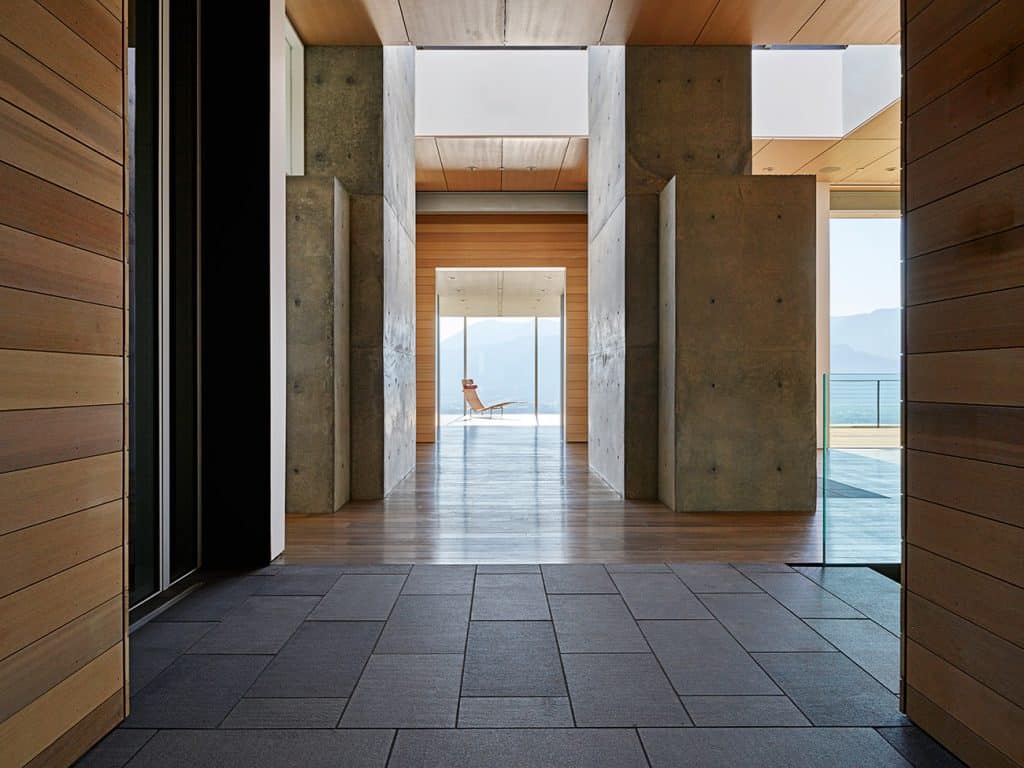 Bohlin calls his architecture "humane modernism." "A lot of what we were taught in architecture school," he says, "was much too doctrinaire." It's as if he had taken the hard-edged architecture of the great 20th-century modernists, like Le Corbusier and Mies van der Rohe, and made it gentle.
The approach seems to work in almost any context.
For clients with a site in a small valley outside Aspen, Calabro and Bohlin designed a two-part residence: a glass-and-steel pavilion on a larger, stone-clad base. This allows the owners to live upstairs when they're alone and use the whole building when they have company. If the top looks something like an Apple store, the plinth couldn't be more different; in a nod to the mountainous setting, the architects gave the quartzite, from Vals, Switzerland, a rough, "broken face" finish. But it is a very studied roughness. Calabro and Lee Mindel, who was serving as interior designer on the project, spent two days with the painting contractor trying out different formulas until they got just the right grays for the walls and ceilings — shades, Calabro notes, that would complement the many wooden surfaces.
In Jackson, Wyoming, Calabro and Bohlin designed a house that is first seen from above. With its planted roofs, the structure almost disappears into the landscape. But it is hardly self-effacing: Thick concrete walls and a pair of monumental fireplaces give it gravitas, while the thin steel canopy over the front door suggests a welcoming domesticity. A courtyard outside the master bedroom provides glimpses of nature up close, balancing the more dramatic views of the Grand Tetons.
Mottola has designed a number of residences in Silicon Valley, including one in a relatively dense section of Los Altos. As in many BCJ houses, the entry sequence is deliberately suspenseful; from the street, nothing is obvious, including the location of the front door. Inside, things are clearer, and clearly modern. "They wanted warm and livable, but they also wanted a floor the dog couldn't tear up with her paws," says Mottola. "So, we went with polished concrete." Other surfaces are warmer, thanks to a palette of woods that are "complementary but distinctive" and occasional board-formed concrete with the texture of rough timber. "The clients," says Mottola, "have some very tactile hobbies — woodworking, baking bread, playing guitar — and we gave them a very tactile house."
Tom and Lauri Poggi, winemakers in Calistoga, asked Mottola to help them renovate the kitchen of their farmhouse; pretty soon they were redoing the entire building. The trick was to make the hip-roofed building modern without sacrificing its inherent modesty. Mottola kept most of the exterior intact, but inside, he removed fussy details and rationalized the layout, using vertical planks of gray-stained western red cedar to mark his interventions. And he gave the enlarged kitchen a wall of glass, big enough to make the vineyards in the distance seem accessible but not so big that it turns the house into something it was never meant to be.
Bohlin is currently working on several new residences, including one in Little Compton, Rhode Island (where he has been enlarging and restoring a family farm for decades), and another in Pennsylvania, for repeat clients. After living in a house he designed for them 41 years ago, that couple now needs one without stairs. "It's lovely that they thought to come to us," says Bohlin. And it's lovely that their architect from 1968 is still ready, willing and able to help out.
Get the Look