May 17, 2020When asked about his beginnings as a jewelry dealer and designer, Peter Suchy is concise and keen to reflect pragmatically on the facts of which he is most proud. Among those facts: He worked at the bench as a repairman and goldsmith for more than 20 years, after which he studied at the Gemological Institute of America.
Suchy has made a niche in antique diamond engagement rings and signed pieces, offering jewelry and watches from brands like Cartier, Bulgari, Tiffany & Co., Rolex and Patek Philippe. One could argue that he is the kind of vintage jewelry dealer that is the backbone of the market, someone who demonstrates expertise and integrity while delivering exceptional fine jewelry to a global client base.
Suchy's showroom is situated in a disarmingly unassuming retail building in Stamford, Connecticut. But inside, it is clear why clients have described it as a "vintage jewelry museum." The characterization is not hyperbole — the store houses more than 10,000 pieces of vintage, estate and antique jewelry.
Like its owner, the space is devoid of artifice or pretense, with classical American decor featuring curved walnut architraves and overhead Art Deco–style light boxes. This lack of ostentation hints at the taste and refinement of the jewels on offer and reflects a sales philosophy belonging to a bygone era, that the only decoration necessary is the jewelry itself.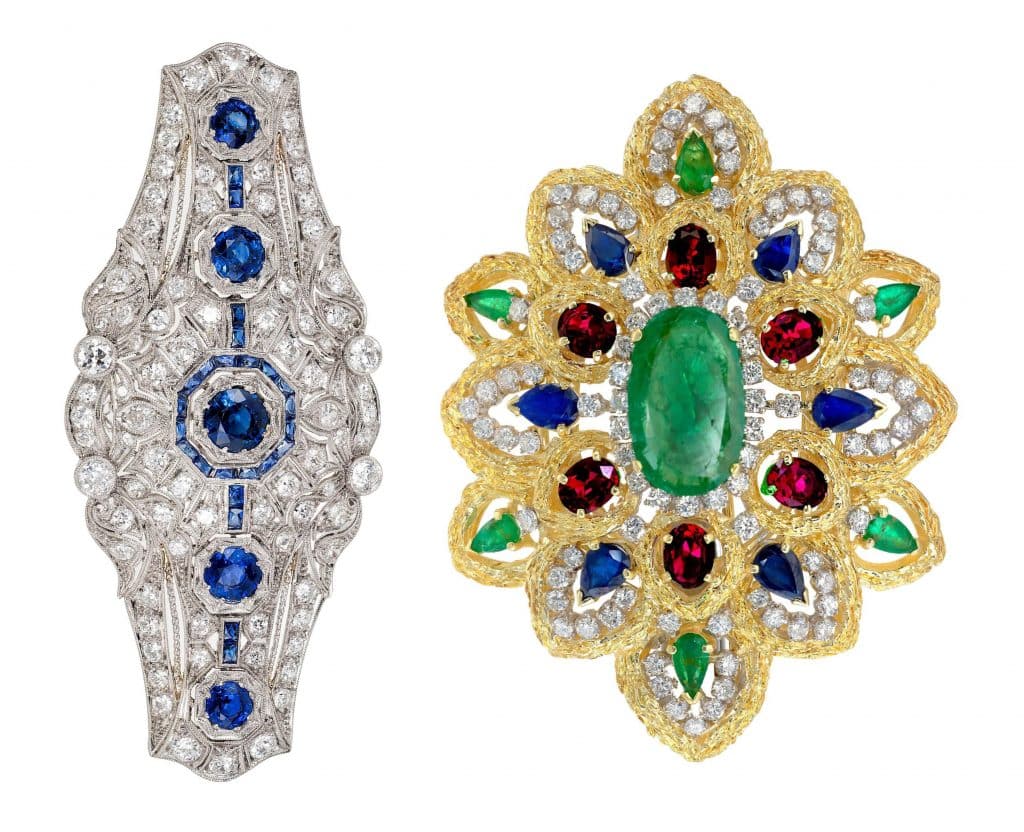 Suchy is one of the world's foremost specialists in vintage and estate jewelry, which he has collected and sold for the past three decades. A perusal of his inventory on 1stdibs reveals a fondness for substantial gemstones of all varieties. Many of his own designs are simple but powerful, with carat weights in the double digits, such as a 30-carat star sapphire ring, a 49-carat citrine pendant and a 20-carat prasiolite ring. Introspective asked him how he goes about designing his eye-popping creations and what advice he has on collecting vintage and antique jewels.
Is there a period of vintage or antique jewelry that is in vogue at the moment?
Art Deco and Edwardian jewelry are both currently very popular. In particular, Tiffany & Co. and Cartier Art Deco jewelry are in high demand — especially rings and earrings — although for me, they are timeless investment styles. I believe that people are beginning to appreciate the quality and distinctive style of vintage jewelry. We are seeing a move away from mass production and back to the handmade art of estate and vintage jewelry.
Can you talk us through the style of Peter Suchy–designed jewelry? What are the defining aesthetic traits?
Large gemstones create one-of-a-kind statement pieces — my jewelry designs itself! We start with a gemstone that we have acquired from an estate because we love it, and we let it inspire the design. We try to bring out the beauty of the stones, with the designs made for the important-size gem that goes into it. Each stone is certainly rare in its own right.
How were you introduced to estate jewelry?
It was my mentor, the renowned jeweler Jack Newstadt, who introduced me to it. As a bench jeweler, I became fascinated by the superior handmade quality and distinct design of vintage jewelry. I remember examining Art Nouveau and Art Deco rings and bracelets and discovering fine hand engraving and detailing on both the front and back of the jewels. Jack was also a gemologist, and I inherited his love for fine diamonds and gemstones.
For a vintage jewelry expert like you, what makes a piece truly stand out? What are the characteristics that get you excited?
Every once in a while, a piece of jewelry will capture the essence of a design period. This is what we are looking for. A great example that we are offering is a Tiffany & Co. Art Deco Colombian emerald ring from the early nineteen hundreds. The high-dome sugarloaf-cabochon-cut emerald is a recognizable and distinctive Art Deco style, as is the handmade setting for the baguette- and trapezoid-cut diamonds.
With so many buyers looking to invest in vintage jewelry by important makers, and substantial gemstones of high quality becoming more and more desirable, what advice would you give to potential clients?
When shopping for vintage jewelry, always look for distinct designs. Above all, find jewels that you love and are personally attracted to. Listen to your instincts.
---
Peter Suchy's Talking Points