A hug, a kiss or even a glance can suggest anything from passionate desire to common civility. When such a moment between people is caught on camera, an otherwise-fleeting gesture is frozen in time, inviting endless speculation about the nature of the relationship pictured and the circumstances that gave rise to the interaction.
It's something to think about while visiting "Picturing Love: Photography's Pursuit of Intimacy," on view through June 25 at the Katonah Museum of Art, about 50 miles north of Manhattan, in New York's Westchester County. Curated by Darsie Alexander, the museum's director, with Olga Dekalo, a curatorial fellow there, "Picturing Love" brings together more than 100 images of lovers, friends, families and strangers communing in front of the camera. The works on view include everything from early tintypes and campy mid-century snapshots to works of art by such photography heavyweights as Helen Levitt, Harry Callahan, Elliott Erwitt, Gordon Parks, Danny Lyon, Robert Frank, Garry Winogrand, Nan Goldin and Catherine Opie.
"We thought it was a great time in our society to do an exhibition about human connectedness," Alexander says. "And the idea of love and intimacy has been an important theme in photography going back to the nineteenth century." It's also a very broad theme, and the curators had their work cut out for them bringing it into focus, particularly considering that they didn't limit themselves to greeting-card-worthy affection.
"The show is not consistently warm and fuzzy. It gets at the complexity of human relationships," says Alexander, who was inspired to organize the exhibition in part by a photo that has long resonated with her: Goldin's The Hug (1980). A portrait of a couple with their arms tightly wrapped around each other, illuminated by an aggressive flash that casts a haunting shadow, The Hug is one of 700-some images in The Ballad of Sexual Dependency, Goldin's highly personal visual diary of friends from the 1970s and '80s. That singular embrace is about as complex as it gets: romantic, aggressive, tender and ominous all at once. "It's one of the most iconic images of that era," says Alexander, who hung the photo alongside other portrayals of hugs.
Photographs That Reveal the Silent Power of a Kiss or a Hug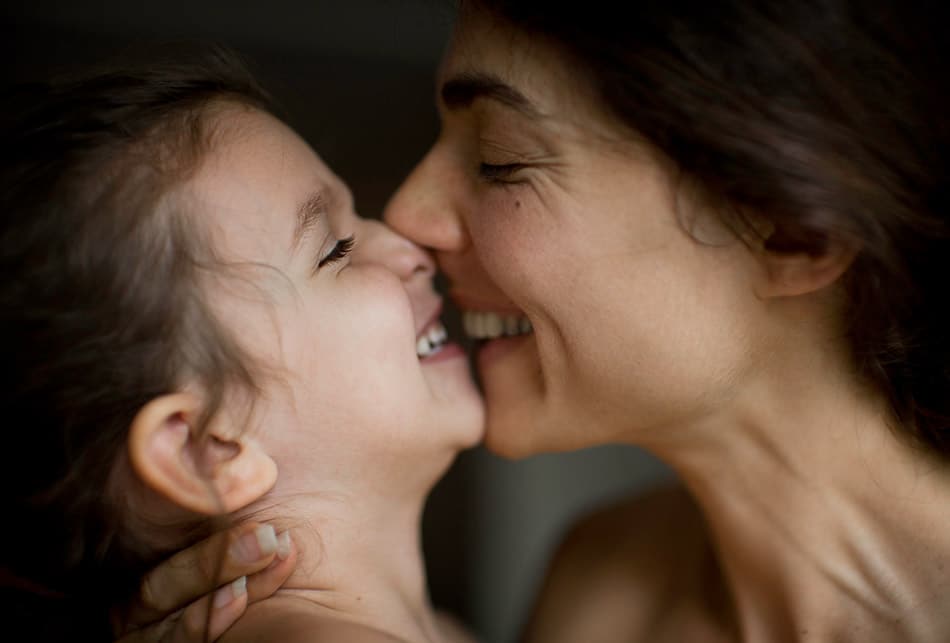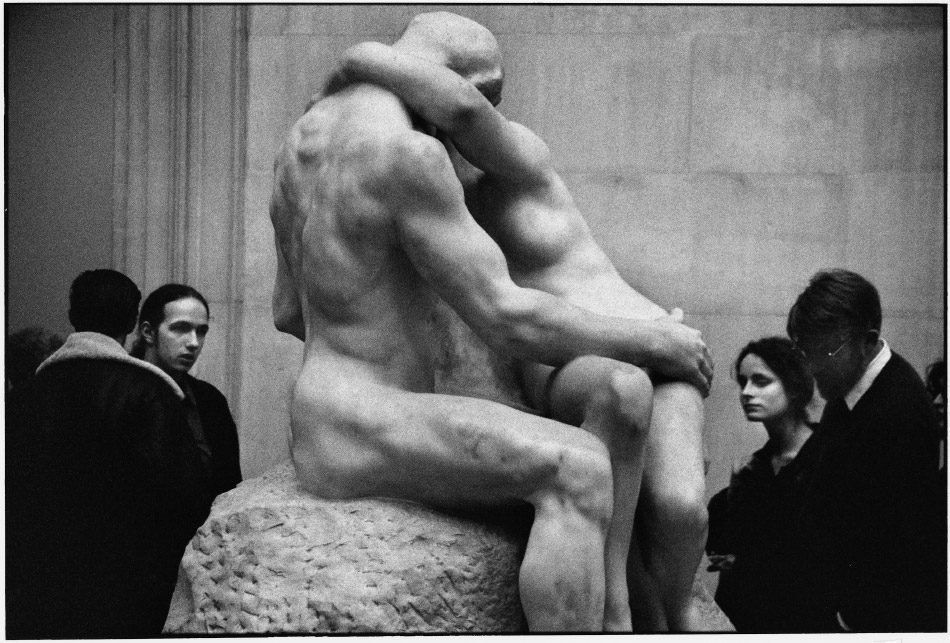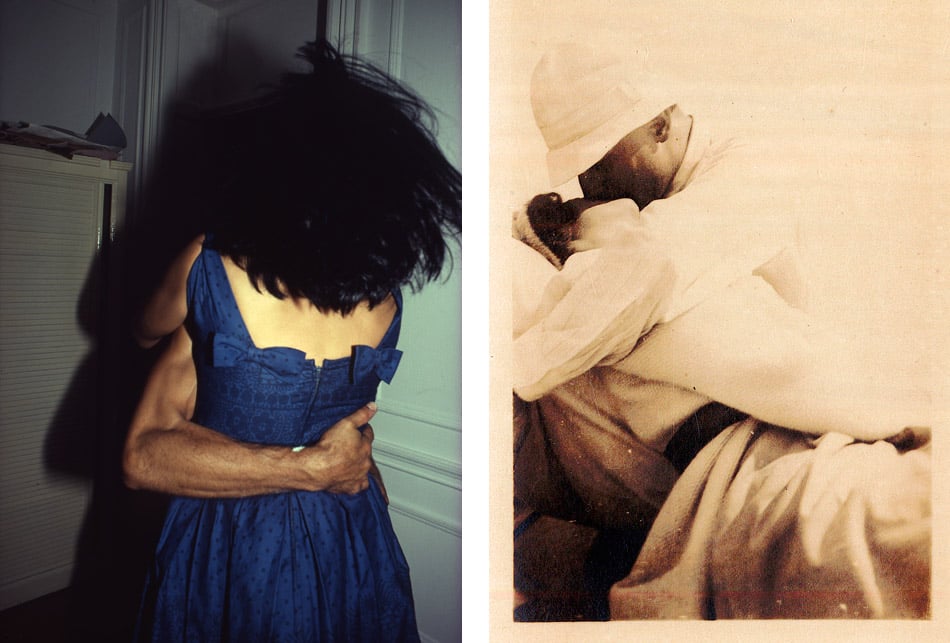 When selecting images to include, Alexander explains, body language was key, coded in a wide range of gestures. In a 1948–49 black-and-white photo by Louis Faurer, a woman busily tends to her partner's comb-over in the city streets, seemingly unaware of the camera, while in LaToya Ruby Frazier's Mom and Her Friend Mr. Yerby on His Couch (2005) a couple sits together, his arm comfortably slung over her shoulder, her hands resting on his leg. They could be posing for the picture or simply sitting as they have many times before, their gestures suggesting both a sense of ease and a mutual attraction.
Studying each couple's body language for signs of attraction and intimacy makes for some fascinating detective work. But looking through the show, it becomes clear that the photographer often determines the viewer's impression of a couple through formal, compositional decisions. "Sometimes, when we look at photos, we jump right to the subject matter and we don't pay attention to the cropping and closeness and what's in focus and what's not, and that dictates how we interpret the image," Alexander notes.
A good example is Wolfgang Tillmans's The Cock (Kiss), 2002, which shows two young men engrossed in an embrace. The shot is taken at very close range. The subjects are almost in the viewer's own space, with little room for air (or anything else) in the frame — a composition that greatly heightens the intensity of their experience for the viewer.
"We were consciously thinking about different forms of coupling today, trying to make the show feel very relevant to this moment that we are in, as people are redefining what it is to be in a relationship," Alexander says of the inclusion of the Tillmans photo. "Those 'different' forms of coupling are not all 21st century, of course. In Brassaï's Couple d'Amies [1932], we see two women at a table in a lesbian bar in France." (Dekalo points out that one of them "became a Nazi sympathizer and was eventually killed by the French resistance.")
---
"The show is not consistently warm and fuzzy," says Darsie Alexander, the museum's director and cocurator of the exhibit. "It gets at the complexity of human relationships."
---
What really sets the show apart from more typical photography exhibitions is the inclusion of dozens of snapshots taken by anonymous shutterbugs. Culled largely from private collections, clusters of these amateur pictures, mostly from the 1930s through the '80s, are interspersed with professional photography and photo-based art. We see informal snapshots of couples and families by the beach, for instance, juxtaposed with Bert Stern's 1962 black-and-white shot of a bikinied Elizabeth Taylor presenting herself to a shirtless Richard Burton.
The contrast is a reminder that there is a rich tradition of capturing human relationships with a camera that extends back to well before the invention of the smartphone. "The history of snapshot photography in general is every bit as interesting as the more formal history of photography," Alexander says. "That's how most people use their cameras: They photograph things they've done, people they love."
---
Intimate Photography on 1stdibs