November 5, 2023Sanford Smith, the founder of Salon Art + Design, chose the fair's name carefully. The idea was to present fine art and functional objects together. Indeed, Jill Bokor, who has run the fair since its debut, in 2012, says booths that contain, say, both furniture and paintings are the preferred model. "They help people imagine how rooms in their homes and offices could look."
This year's Salon, at New York's Park Avenue Armory, will feature 50 booths filled with everything from Old Master paintings to LED lighting. And by the time the fair opens — following a preview benefiting the Dia Art Foundation on November 9 — Bokor will have seen practically every item. In the days before the vernissage, "as exhibitors start to unpack, I look, and I look, and I look," says Bokor, who has been known to purchase objects for her own collection.
She will also guide a vetting committee from booth to booth before the official opening. The committee checks the authenticity of the older pieces, but she doesn't expect much drama. After more than a decade, she can recall just one item that was removed from the floor — an Italian chandelier that had been over-restored — and a couple of others that had to be relabeled.
And even with experts ensuring authenticity, there could still be bargains at Salon. "Our highest price would be the lowest price at some contemporary art fairs," Bokor says.
This year, the main exhibition space, in the armory's vast Wade Thompson Drill Hall, will include jewelry dealers for the first time. That's good news for Rosior. The Portuguese jeweler will dazzle fairgoers with the bright colors of emeralds, rubies, tsavorites and, in the case of one pair of gold earrings, a burst of deep turquoise ceramic. The jewel-like furniture of Achille Salvagni will also dazzle, on a larger scale. His Achille Salvagni Atelier (a partnership with downtown dealer Maison Gerard) is just a few blocks from the armory, but decamping to Salon means meeting more potential customers in five days — the show runs through November 13 — than he might encounter in months on his home turf. 
That explains why so many New York dealers — 22 this year — flock to the fair. And it explains why they pull out all the stops. "I set aside some very exciting pieces for Salon this year," says Manhattan gallerist Paul Donzella, who specializes in 20th-century treasures. A cabinet by Gio Ponti and Piero Fornasetti, designed for Casa Ceccato in Milan in 1950, is a fantastic example of the collaboration between these two important artists. Also in Donzella's booth: a very rare pair of leather-wrapped gaming chairs by William Haines. They were made for his "Desert Living Room" display at the 1939 Golden Gate International Exposition in San Francisco. "For me, having these chairs to present is a holy grail moment," Donzella says.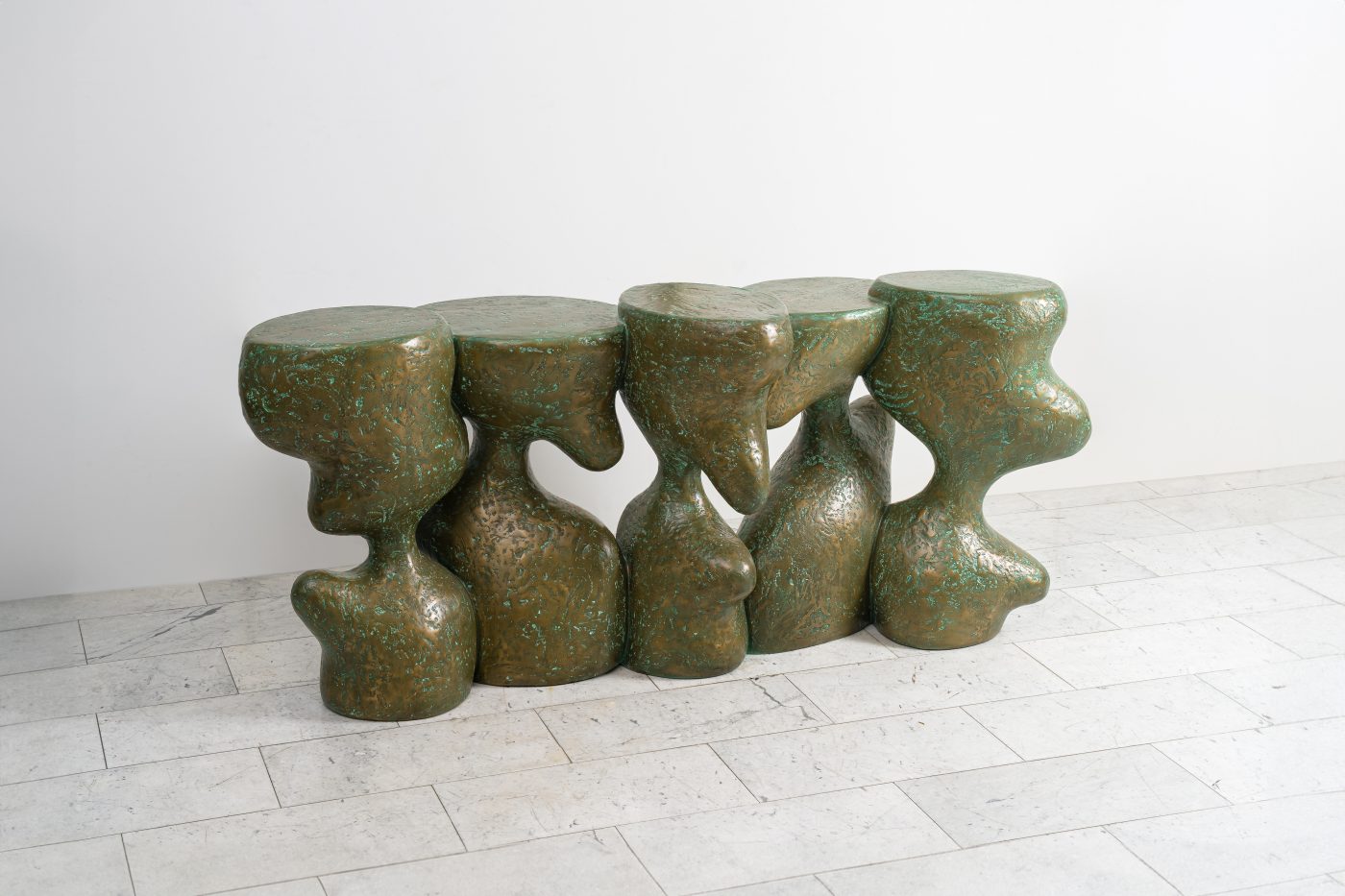 Todd Merrill, whose eponymous gallery is located in Manhattan's Tribeca neighborhood, says he has put together "a more impactful booth than ever," starting with the oversize moiré patterns of DEDAR's Amoir Libre fabric on the walls. A bronze console from the Unintended series by the young South Korean artist Yunhwan Kim holds the floor. Trained as a woodworker, Kim is now producing bulging, biomorphic metal furniture. The console's heft makes it a perfect foil for Paul Swan Topen's LED lamp, a gracefully skeletal, almost ethereal bronze sculpture.
Liz O'Brien, a Manhattan dealer in 20th-century decorative arts, will show quilts by Massachusetts-based contemporary artist Carson Converse, who, O'Brien says, "plays with scale, to zoom in to the process and reveal how it all works or to step way back and make the question almost moot." The dealer will also be presenting works by a selection of Irish makers: Isobel Egan's delicate paper-like porcelain sculptures, Cecilia Moore's brightly enameled metal objects and Alan Meredith's turned-wood vessels. O'Brien brought in Brian J. McCarthy, a former partner in the legendary interiors firm Parish-Hadley, to design the booth. He is working with plaster artist Stephen Antonson to create a classical-inspired setting.
Hugues Magen introduced the work of Pierre Sabatier to U.S. collectors in 2016 at his Greenwich Village gallery, Magen H. One of the highlights of his 2023 Salon booth is Dots Argent, a handmade 1975 steel-and-tin wall sculpture by Sabatier. It will hang near a slate-top coffee table by Jean Prouvé and an exceptionally sleek wood desk designed circa 1960 for Chandigarh by Le Corbusier. Along with a chunky circa 1965 cedar coffee table by Pierre Chapo, the pieces will constitute a master class in materials used wisely.
Another Manhattanite, art and antiques dealer Guy Regal, will journey less than two miles from his midtown showroom to the armory with his Salon offerings, but it will be an auspicious procession, complete with several dozen favorites. Regal says he is especially proud to be showing an early (circa 1922) Art Deco mahogany sideboard by Maurice Dufrêne, which he calls "a tour de force of French craftsmanship." An exceedingly rare, circa 1900 Carlo Bugatti cabinet of walnut inlaid with parchment, copper, pewter and bone will be another highlight. Regal will surround the older pieces with contemporary ceramics, including dramatically textured lamps and vessels from Peter Lane Studio and Colleen Carlson.
Traveling a little farther to Salon, Simon Stewart, of London's Charles Burnand Gallery, will be showcasing what he describes as "very playful" work by DenHolm, composed of U.K.-born, Melbourne-based artists Lars Stoten and Steven Clark. Pieces will include their Ronin chair, made of South Australian limestone infused with brightly colored dyes, and their Sister Dead Mental table, composed of colorless but deeply textured limestone slabs in a macabre arrangement. Stewart is also showing a monumental, pillar-like metal-and-acrylic lamp by Paris-based designers Agathe Labaye and Florian Sumi, along with Dawn Bendick's Rock Stack sculptures, made of cast dichroic glass that shifts from warm pinks and oranges to cool electric greens and blues when exposed to natural and artificial light. Also in the mix will be Harnessing the Elements, Stewart's own spectacular, gold-toned mica-and-LED chandelier, which, he says, "embodies the marriage of art and science."
"We're going to have a very glamorous booth," promises Cristina Grajales. The Lower Manhattan gallerist will introduce a few new discoveries: Tim Horn's wall sculptures of nickel-plated bronze and mirrored glass, Christina Z Antonio's leather-fronted cabinets and Ann McCoy's animal-sculpture sconces. Christophe Côme's highly inventive lighting and Mark Grattan's sleek furniture will round out the booth, which is to be outfitted by 1stDibs 50 interior designer Young Huh with calligraphic compositions by Aamir Khandwala, burlap-covered paintings by John-Paul Philippe and a natural-fiber rug with bronze filaments by the incomparable Colombian weavers Hechizoo.
The lower Manhattan gallery Twenty First is showing three spectacularly quirky cabinets. Polish artist Marcin Rusak, descended from generations of flower growers, created the front of his Flora credenza by suspending vividly colored petals and leaves in snow-white resin. Jean-Marie Fiori's Sumer cabinet features not flora but fauna — stylized animals in cast metal on doors made of patinated bronze and ash wood. Fiori was inspired by the bas-reliefs of ancient civilizations. By contrast, Erwan Boulloud's Romane cabinet is pure abstraction, a stunning display of polished-brass marquetry with inlaid lapis lazuli, tigereye, amethyst and other gemstones. "We think of the booth as a kind of living room where our pieces will spark a whimsical and joyful atmosphere," says Twenty First founder Renaud Vuaillat. "We're not looking for decorum."
Along with the 50 dealers' booths, Salon has given space to individual makers in both the drill hall and the armory's smaller front rooms. Interior designer Phillip Thomas has reimagined the elaborate Colonel's Reception Room as a cabinet of curiosities. "Every element celebrates the idea of your home as the showcase for a life well lived," says Thomas. Among the pieces he chose for his "cabinet" are a pair of bronze-and-quartz tables by Arriau from Paul Donzella, a graceful floor lamp by Israeli artist Ayala from Maison Gerard and a chinoiserie chest from Liz O'Brien.
The Spaceless Gallery is taking over the armory's South Hall, where it will show voluptuous clay sculptures by Ukrainian-born artist Olga Sabko, paintings by Pierre Bonnefille and plates by Ruan Hoffmann, a ceramist who covers the surfaces of his misshapen works with images and text that, according to the gallery, can be "unapologetic, politically confrontational, improper and even sometimes rude" — but also "uncompromising and exhilarating."
Back in the drill hall, the Spaceless Gallery has collaborated with Humans Since 1982, a Stockholm-based studio founded by Bastian Bischoff and Per Emanuelsson in 2009, to present the kinetic installation A million Times 120, which entrances viewers with its choreography of 120 meticulously synchronized analog clocks.
Also marking time is DeMuro Das, a firm based in New Delhi and New York that's introducing several new lines of furniture. Part of a range of tables made with semiprecious stones and hand-cast metals, the Tempest side table, in smoky quartz and solid bronze, seems to embody eons of natural history.
California- and Hawaii-based furniture designer James De Wulf, in his first time at Salon, is showing additions to his Exo series: a console, side table, poker table and library table made of concrete with external bronze, brass and stainless steel reinforcements. Those visible frames mimic the geometries of shells and flowers. "I'm having fun and following nature," says De Wulf. "My goal is to make heirlooms out of the finest materials. And, yes, I think of concrete as a fine material."