January 8, 2018Woodworking and metalworking have historically been disciplines dominated by men. That has changed, with a new generation of female makers rising up and showing that they are equally capable of conceptualizing and building furniture with heavy, rough materials. Nevertheless, women are still underrepresented in this field, as in most others. In response, last May, the three women behind the design studio Egg Collective — Stephanie Beamer, Crystal Ellis and Hillary Petrie — curated an exhibition in their Manhattan showroom featuring only female designers, including Anna Karlin, Lindsey Adelman and Bec Brittain.
Beamer, who heads the studio's wood shop in Brooklyn, told online architecture and design magazine Dezeen that on the heels of the historic Women's March in Washington, D.C., at the start of 2017, "it felt like an important moment to do something that supports our community and speaks to the inequities that still exist." In the same spirit, we highlight here five innovative women who have founded their own furniture design studios. Some transitioned into design from a related field, while others struck out on their own right out of school. All are audacious, accomplished and completely dedicated to their craft.
Christina Z Antonio's career has been something of a Hollywood story from the beginning. After studying fashion design at University of the Arts London, she moved to New York and got a job working on the costume design team of Sex & the City. "We had a giant warehouse full of vintage Dior," she recalls. "It was paradise!"  Later, she decided to use her expertise in leather tailoring to work on interiors, creating leather-covered walls, bespoke leather furniture and the like. She founded her studio in 2005 and began working with such clients as the Standard and Rosewood London hotels. "I wanted to create something more enduring," she recalls, "like walls where an art collector could hang Helmut Newtons and Damien Hirsts." Today, she is focused on furniture and hardware, such as gemstone-embellished doorknobs and her Raven credenza cabinet, which is made with black-hair calfskin, black leather and blackened oak. Her passion for animal hides also comes through in her Shibori console, for which she hand painted her own secret messages on delicate goatskin parchment.
Portrait by Steve Crawford. Above right: Christina Z Antonio's Shibori console table in hand-painted goatskin parchment and hand-forged steel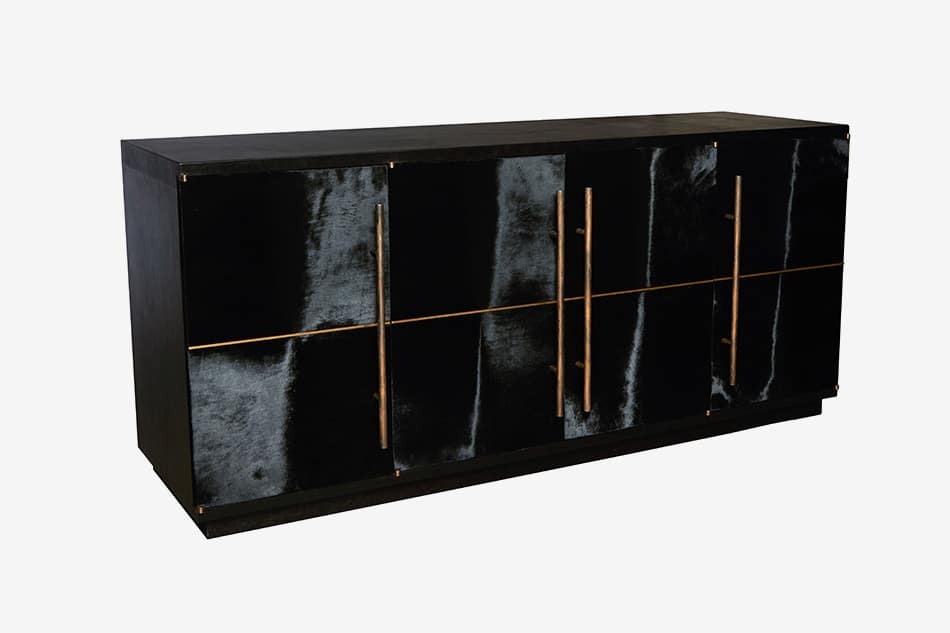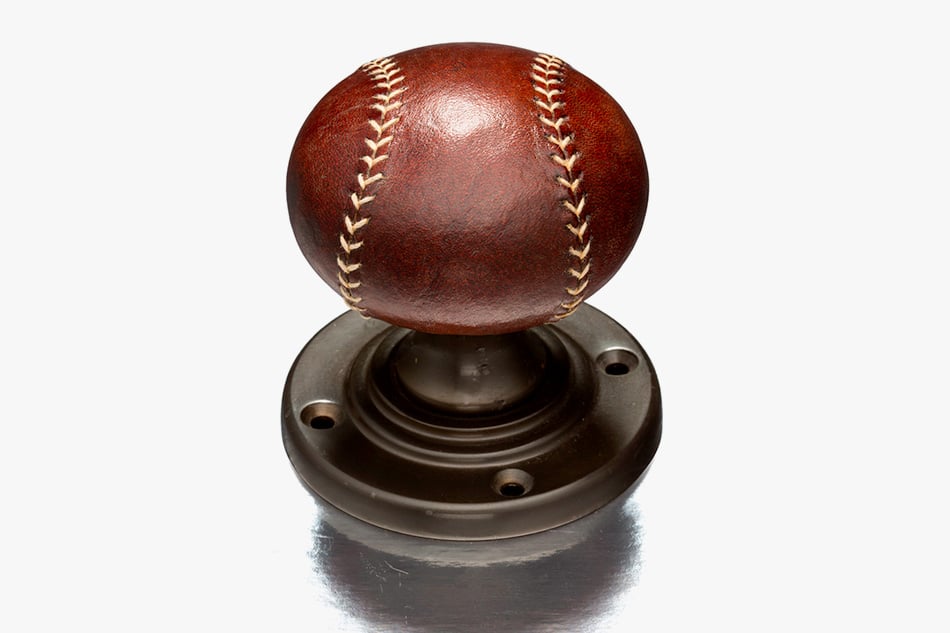 Shop Christina Z Antonio on 1stdibs
---
A native of Slovenia, Lara Bohinc was something of a star even before she left school. When she was studying for a master's degree in jewelry design at the Royal College of Art in London, she made a few pieces for a friend's graduate show, which drew the attention of Lucinda Chambers, then fashion director of British Vogue. Chambers featured some of Bohinc's work in the magazine, and her career took off. She created designs for Montblanc, Gucci and Cartier. But after 10 years, Bohinc found herself missing industrial design, which she had studied as an undergraduate. In 2014, she began making furniture, and two years later, she founded a studio. Her experience with jewelry translated naturally into creating pieces such as the Solaris Kinetic table, composed of stacked rings of moveable marble plates encased in metal. Metal and stone are still her favorite materials. "Furniture is jewelry for the home," she says. "And I have even more freedom to express myself, because I don't have to worry about the piece being too heavy or that it will catch on someone's coat."
Portrait by Kate Martin. Above right: Lara Bohinc's small Solaris Kinetic table in marble and 18-karat-gold-plated brass
---
Nina Cho grew up in Korea and studied woodworking and furniture design at Hongik University, the country's top art school. After that, she received an MFA in 3-D design from Cranbrook Academy of Art, outside of Detroit. "I always wanted to study abroad, to push myself and my practice further," she says, noting that she first heard of Cranbrook as the alma mater of such design luminaries as Harry Bertoia, Charles and Ray Eames and Eliel and Eero Saarinen. Upon graduating, in 2015, she debuted her first furniture collection in New York City at Sight Unseen Offsite, a curated annual showcase of emerging and established independent designers. She earned a spot on the organizers' "Hot List" and the attention of numerous collectors. Her über-minimalist approach to design is exemplified by her two-tone, coated-steel Cantilever table, which looks like a pie with a single piece cut out to form a leg. "I distill the design down to only the absolutely necessary components," explains Cho, who is still based in Detroit. "I believe there's really nothing negative about negative spaces, which poetically invite the air, the atmosphere and the surrounding space to complete the piece." Her design philosophy is informed by the traditional Korean aesthetic of emptiness. "In Korean painting," she writes on her website, "the unpainted portion of the surface is as important as the painted portion. This aesthetic is about respecting the emptiness, and practicing the beauty of the void."
Portrait by Matthew Tait. Above right: Nina Cho's Cantilever minimalist coffee table in coated steel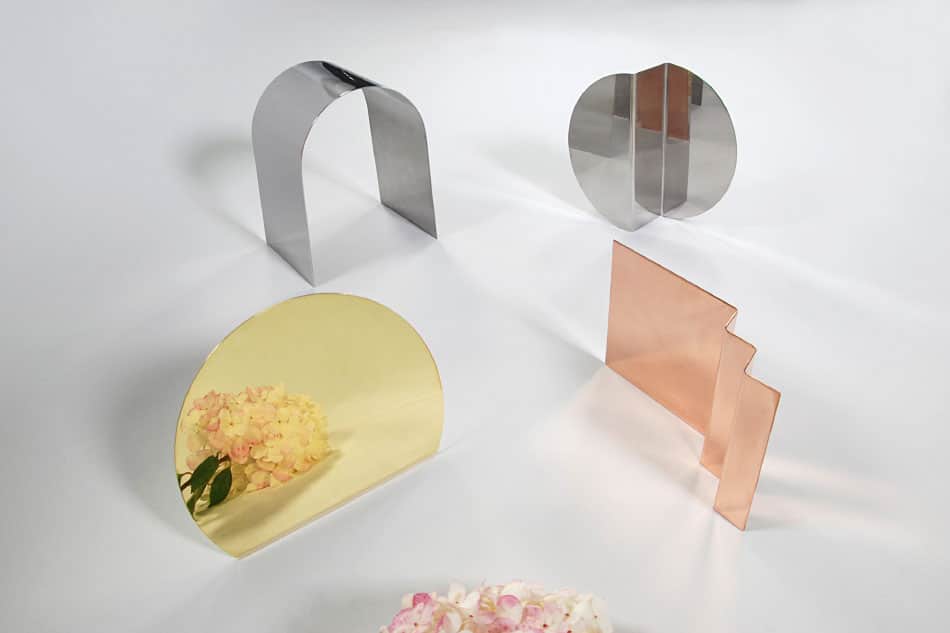 ---
Charlotte Kingsnorth's creations read more like figures than furniture. The London-based designer, who earned her master's degree in product design at the Royal College of Art, studying under Tord Boontje, says she finds characters in inanimate objects. She takes vintage wooden and metal furniture frames and sculpts asymmetrical biomorphic forms around them with tactile materials, such as velvet and fur. "I'm all about organic curves," she says. "I'm really not a fan of straight lines." Her most recognizable — and controversial — piece is At One, a sofa "narrates the bond between a person and their sofa," complete with flesh-colored latex shell. (She was commissioned by Design Miami to create a new version of the piece for its fair last month.) She has also become known for her Babafelt chairs, which feature thick gray felt folded in organic, cocoon-like shapes. These sit on bases made of walnut wood, which has been bent using steam to mimic the curves of the felt. Bill Gates was photographed sitting in a Babafelt chair for the cover of the Daily Mail magazine.
Portrait by Harry Jones. Above right: Charlotte Kingsnorth's Babafelt chair, made of solid walnut timber and thick natural wool felt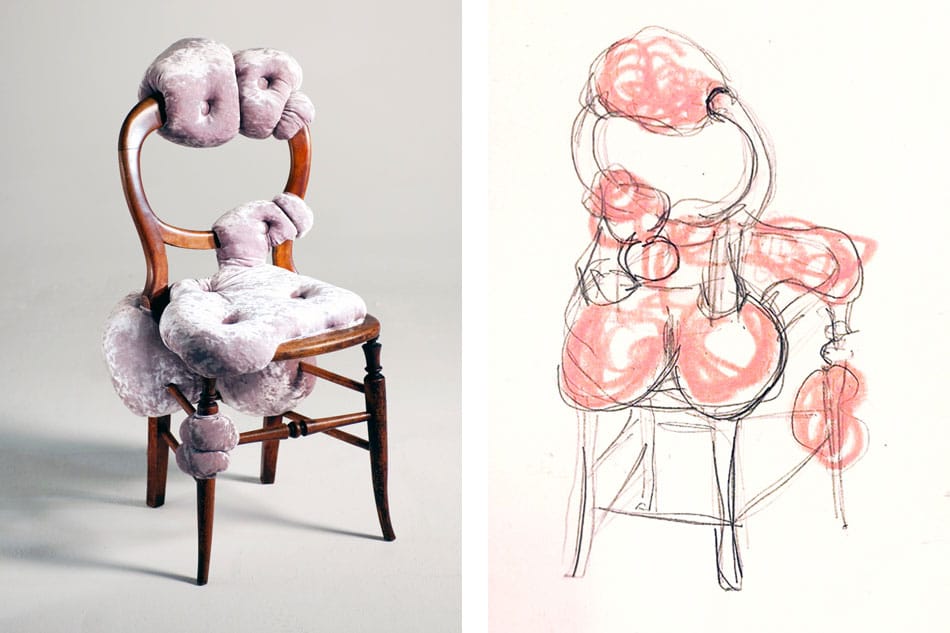 Shop Charlotte Kingsnorth on 1stdibs
---
Alexis Moran's fascination with the patterns and forms of nature germinated when she was an undergraduate studying industrial design at the Georgia Institute of Technology. In her very first design course, she was tasked with creating a pair of bookends taking cues from earth, wind, fire or water. Her element was earth. "I went down a rabbit hole," she recalls. "I spent hours in the library looking at photos of rock formations." The result was bookends made of concrete trapezoids that stacked like layers of rock. Moran, who founded her Bay Area studio in 2010, is best known for her substantial wooden shelves and tables. (She was commissioned to design conference tables for Dropbox's first office, in San Francisco.) But concrete is still a big part of her practice, as in her Soft Rocking bench: a long exotic-wood seat atop two concrete wheels. "Working with concrete is the opposite of woodworking, because you're building a wood form that will ultimately be destroyed. It's very exciting. When you strip the wood mold from a concrete piece, it feels a bit like Christmas morning."
Portrait by Daniel Dent. Above right: Hive freestanding bar display shelving unit in natural and blackened walnut