Trained as an architect in Paris and renowned in London for glamorous interior design projects and high-profile townhouse renovations with screening rooms, swimming pools and underground garages, Rabih Hage nevertheless seems most enthusiastic about the "design art" movement he helped pioneer during the first decade of this century.
"Part of my work is curating," the 51-year-old polymath says in the conference room of his Mayfair suite, where nine employees (in tandem with two more in a recently opened Manhattan office) are working on residential projects in London, New York and Spain, as well as a resort hotel in Finland. "As an architect, I create the space as a shell or core, dress it up as a designer, then commission artists to do site-specific pieces." This last part of his process recalls what he did from 2002 to 2012 at his eponymous London gallery championing the limited-edition, often startling work of unconventional, forward-thinking artists.
Hage refuses to be hemmed in by labels even as, within the past few years, he received the French government's National Order of Merit for architecture, he won Britain's prestigious Andrew Martin Interior Designer of the Year award, and British House & Garden dubbed him one of its Top 100 Interior Designers. "I view architecture, interior design and product design as seamless. It's all part of the same process."
You might say Hage's career began when he made his first art sale in his native Beirut at age five. "I sold a drawing I'd done of Batman to a friend of mine," he recalls. "I thought, 'Why not? I can do another one.' " To hear Hage tell it, it wasn't a huge leap from there to Paris's École des Beaux-Arts, where he got his architecture degree. "There was always a link between my brain and my hand in expressing what I could imagine. It was a natural evolution."
The Rabih Hage gallery, in Knightsbridge, was in the right place at the right time to help spearhead what Hage, an intense man whose rapid-fire speech just about keeps pace with the flow of his ideas, calls "the push of dealers wanting to bring out some artists' names and make their work more valuable." Alexander Payne, of Phillips de Pury, termed this movement "design art." Hage, who sometimes refers to it as "collectible design," defines its beginning as coincident with the inception of the influential Design Miami show in 2005. "I completely embraced and promoted design art as a movement, just like the Memphis movement of the nineteen seventies," he says.
Hage's gallery mounted an exhibition of Gaetano Pesce's experiments in polyurethane resin, was involved in a re-edition of the work of Swiss-born artist/designer Janette Laverrière and helped launch the career of Paris-based sculptor and furniture and lighting designer Christophe Côme. "I basically made Piet Hein Eek famous," he says, referring to the Dutch designer who "upcycles" scrap wood and other discarded material into works with considerable market value. Hage was an early champion of American artist Johnny Swing, best known for his sofa made of U.S. nickels, which has increased nearly tenfold in value since he presented the artist's work in 2003. Says Hage: "I explained to him he has to do limited editions, break the mold when he finishes a piece."
---
"I view architecture, interior design and product design as seamless. It's all part of the same process."
---
Five years ago, Hage closed his gallery. He continues, however, to apply his intimate knowledge of the design art market and the players involved both in his flourishing architecture and interior design practice and on DeTnk, the website — described on its About page as an "online think tank" — that he founded in 2008 as an educational resource and marketing tool. "Clients come to me for this element of discovery, my knowledge of who's interesting to commission," he says.
Hage's Knightsbridge home, in a 19th-century mews house, is a design art gallery in itself. The spare but inviting rooms contain many pieces of his own creation, including a red sofa inspired by Émile-Jacques Ruhlmann and a minimalist coffee table whose base is made of steel I-beams cut into chunks. These are joined by a Piet Hein Eek cabinet covered with antique wallpaper; pottery by Karin Ryan, who sandblasts industrially produced crockery to reveal its internal layers; works by Zoé Ouvrier, who chisels plywood to fantastic decorative effect; and Moritz Waldemeyer's "mechatronic" Candle in the Wind, a tiny LED screen displaying a video of a flame. "It's about looking at nature through artifice," Hage explains.
In hiring him, Hage's upscale clientele signal their openness to talents yet to become household names. A case in point is a recent project, a West Kensington townhouse in which an organically shaped bronze coffee table by the hotshot L.A.-based Haas Brothers shares space with a tufted sofa by the long-established Milanese designer Romeo Sozzi and the clients' own Queen Anne chairs upholstered in bold purple fabric.
Except for its stately stone staircase, that property was "completely gutted to bare bones," Hage says. Then, he set about painstakingly installing elaborate plasterwork and chevron-patterned wood floors. "We kept the space grand," he explains, "mixing classic with contemporary," including a transparent elevator, a sleek modern kitchen with supremely functional oak cabinetry and bathrooms of book-matched marble.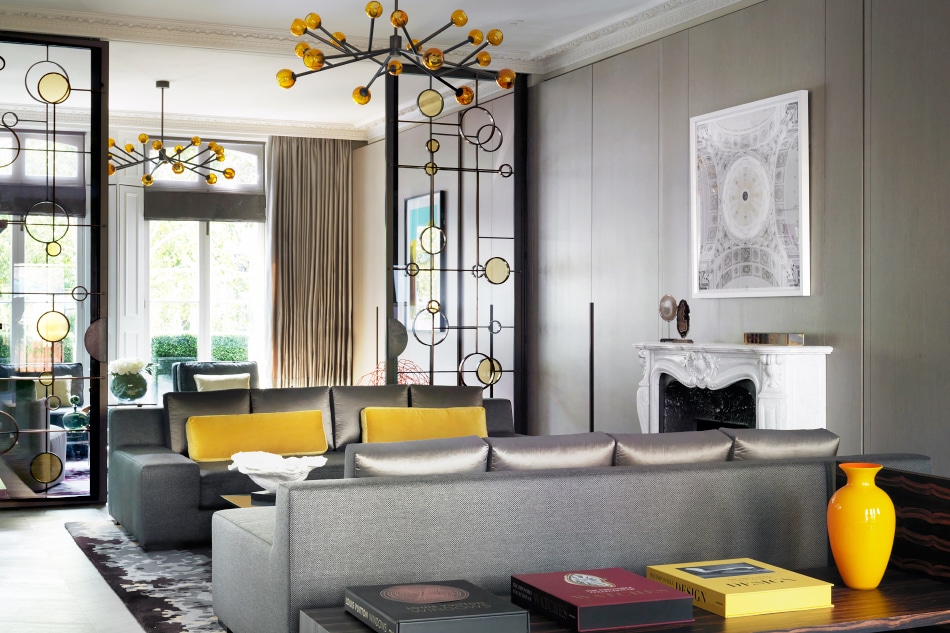 Hage's renovation of an 1880s townhouse in London's Chelsea, on a street that he says contains "the most expensive houses in the world," was monumental in scope. "We emptied everything to the roof," he says, then put it all back more sumptuously than before, even shifting the floor plates to create additional ceiling height on the second and third floors and digging down three levels to create subbasements containing a garage and car lift, wine cellar, pool and gym.
Outstanding features of the interior are Charles Rennie Macintosh–inspired leaded-glass room dividers and a dining room light by Ingo Maurer made of 24-karat-gold sheets sandwiched between Plexiglas. Along with tables by Sé, a European design brand headquartered in London, and Hage's own Tonneau (barrel) chairs, a bright orange Pebble seat by Naoto Fukasawa, Japan's best-known industrial designer, provides an unexpected Pop touch.
Despite the extraordinary level and caliber of custom detail in Hage's projects, there's still room, he says, for homeowners to make their own mark. Indeed, his finished residences have an air of spaciousness and livability. "I give them a jewelry box," he says, "and they have to bring in the action."
---
Rabih Hage's Quick Picks on 1stdibs