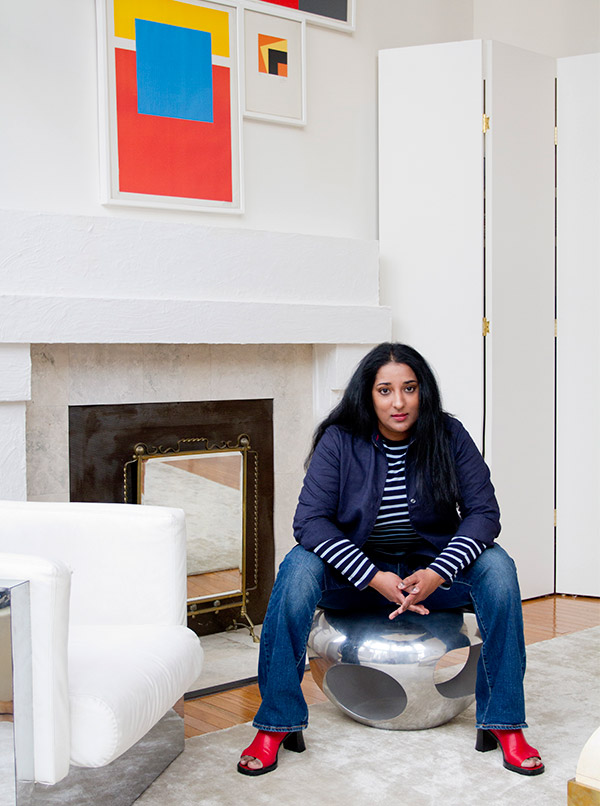 Classical Indian dance is composed of mudras, an intricate vocabulary of hand gestures that, when strung together, communicate elaborate historical and mythical narratives. Lifting the arms and splaying the fingers mimics a blooming lotus, which can indicate the sky or happiness. A closed fist with thumb over fingers demonstrates strength and steadiness. When a dancer crosses her hands above her head, it is meant to symbolize the abode of the gods.
The 44-year-old interior designer Raji Radhakrishnan, who runs offices in Washington, D.C., and New York City, knows these mudras well. From age 11 to 19, she traveled the world performing traditional Indian dances, sometimes visiting 16 or 17 countries in a single trip. When you practice anything that intensely and for that long, it never leaves you. And in fact, Radhakrishnan sees her former and current passions as one seamless continuum. "Listening to clients almost always reveals the story you have to tell," she says. "It's very much like choreographing a dance."
Taking the metaphor further, you could even say that Radhakrishnan's repertoire of interior design strategies is also composed of mudras, the gestures she employs to relate those clients' tales. A fondness of classical references and a sculptural approach to furniture placement characterize her rooms, as does the use of white (and occasionally black) walls, vintage European furniture spanning the 1930s through the '70s and, perhaps most emblematic, large-scale murals that she has printed for many of her projects. These are the design correlatives to the stylized mannerisms she used on stage.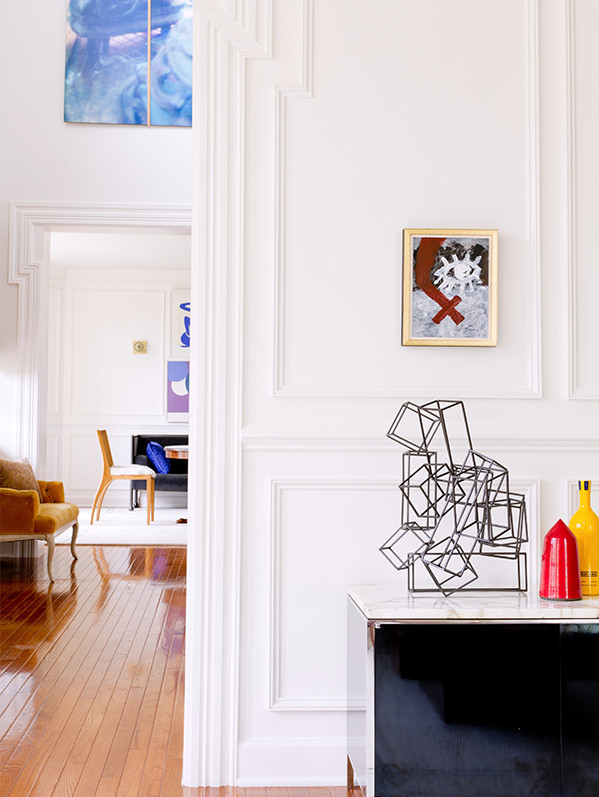 Both dance and design are matters of choreography and composition, and both were present in Radhakrishnan's life from her earliest days in Chennai (then known as Madras), on the southeastern coast of India. She was raised surrounded by her large extended family (her aunts and uncles alone numbered 13) in a compound of houses some of which were built when she was very young. They have left an impression. She recalls with particular fondness the home of her maternal grandfather, an architect and engineer who designed and built it with his business-partner brother.
"You could see so many influences of Le Corbusier, who was working in the north of India," Radhakrishnan observes. "Every door and window had a thick overhang. The way the windows were randomly placed — Le Corbusier was not wed to symmetry." She also remembers an interior staircase whose wall featured a ribbed design intermingled with a pattern made by sifting cement and crushed stones through a jali, the decorative perforated-stone screening typical of Indian architecture.
Yet when Radhakrishnan chose a subject to pursue in college, it was neither dance nor design. Instead, after a traditional arranged marriage to Murali Narasimhan — with whom she has two children (daughter Shruti, 24, and son Aditya, 11) — she earned her undergraduate degree in business and accounting from Ethiraj College for Women in 1991 and her master's from Meenakshi College in 1993, both in Chennai. The couple eventually moved to Washington, D.C., where Radhakrishnan got an MBA from American University in 1996.
---
"What I put in a room matters, of course," says Radhakrishnan, "but what I don't put in matters almost more. I don't want to edit afterwards."
---
This D.C. Designer Deploys a Delightful Mélange of Influences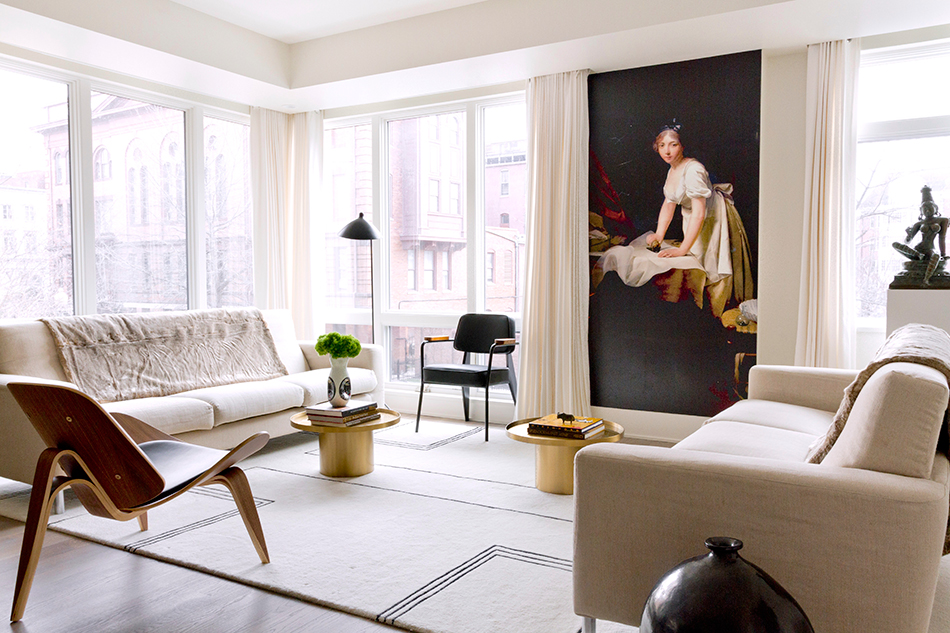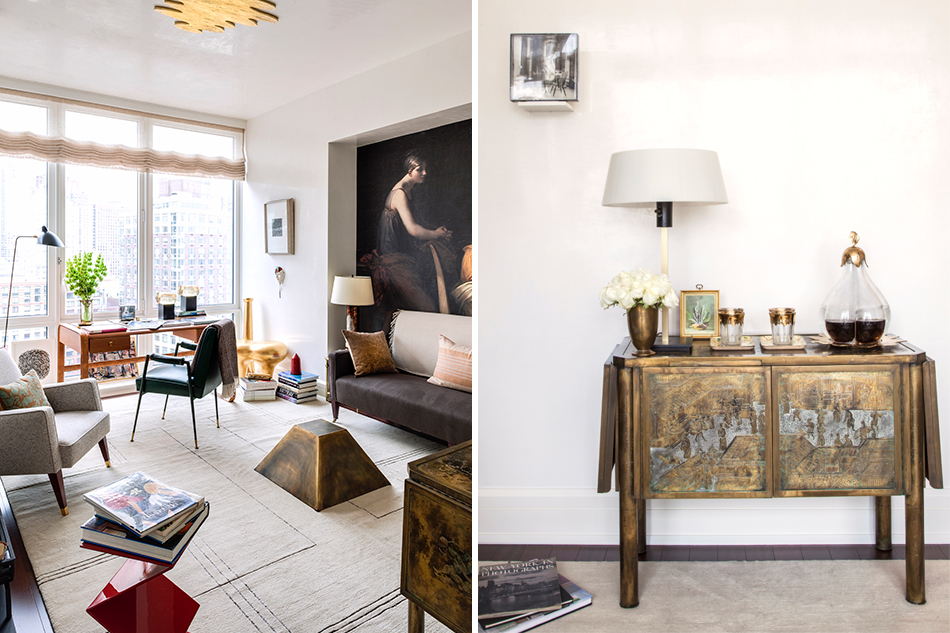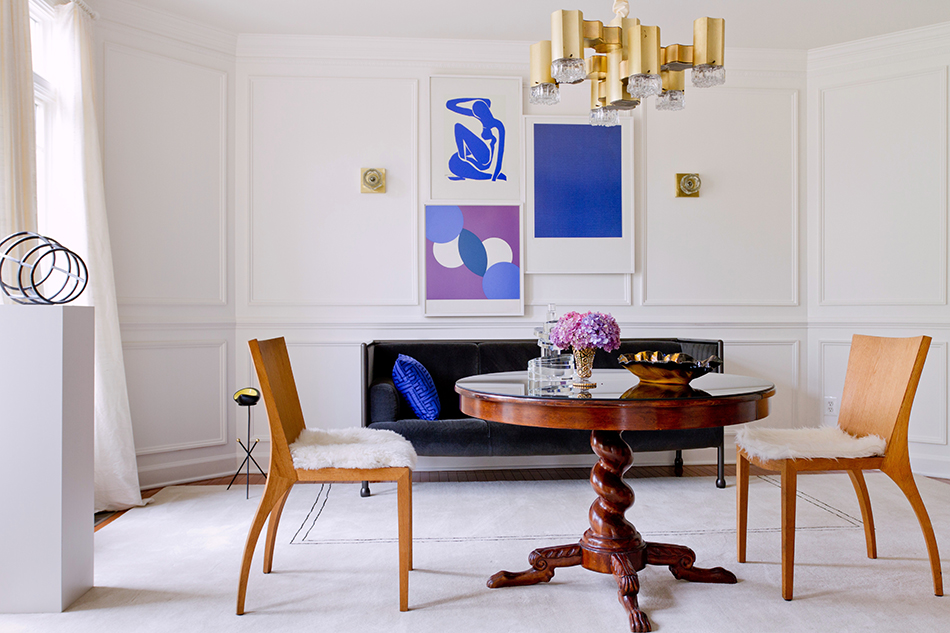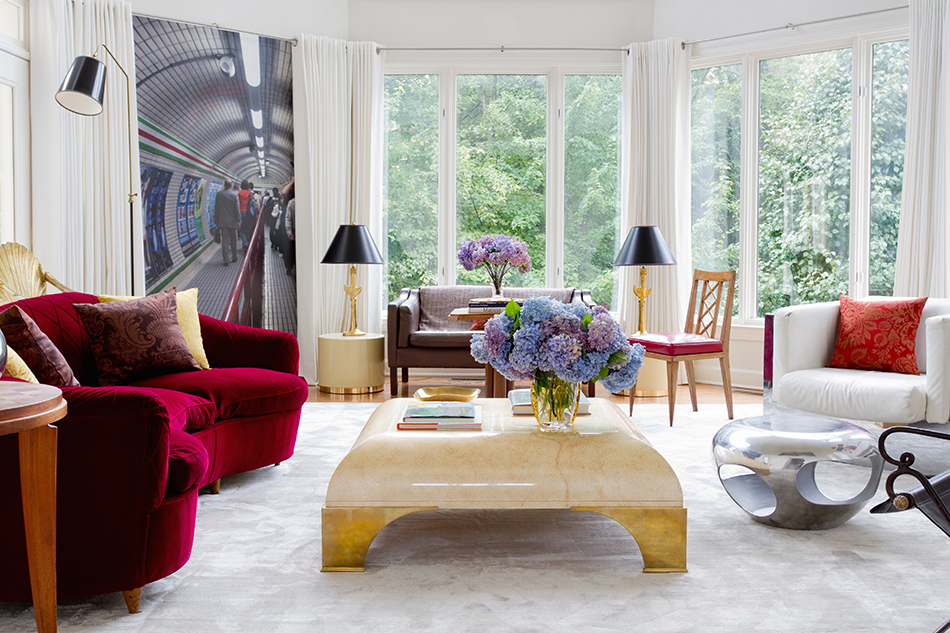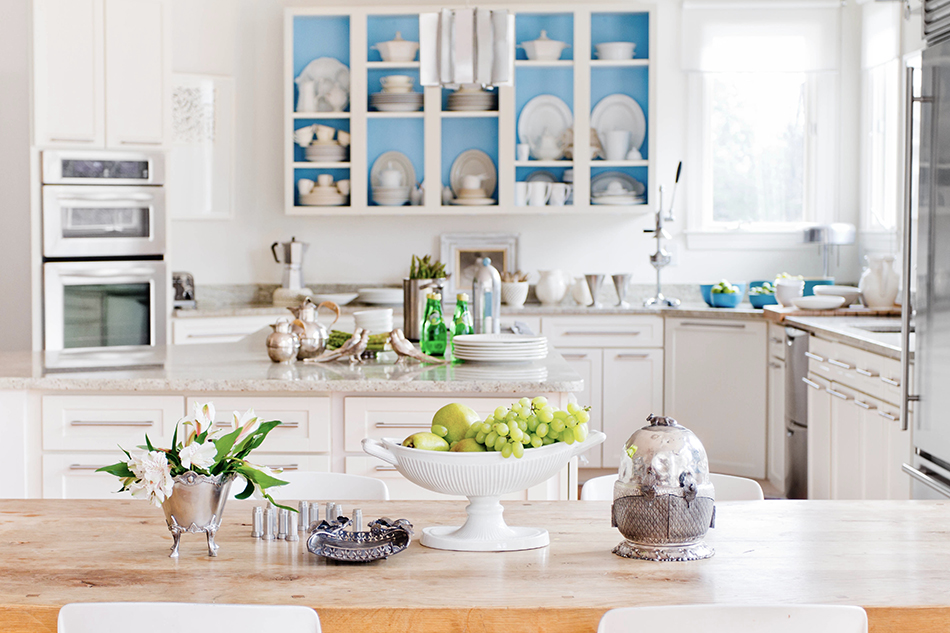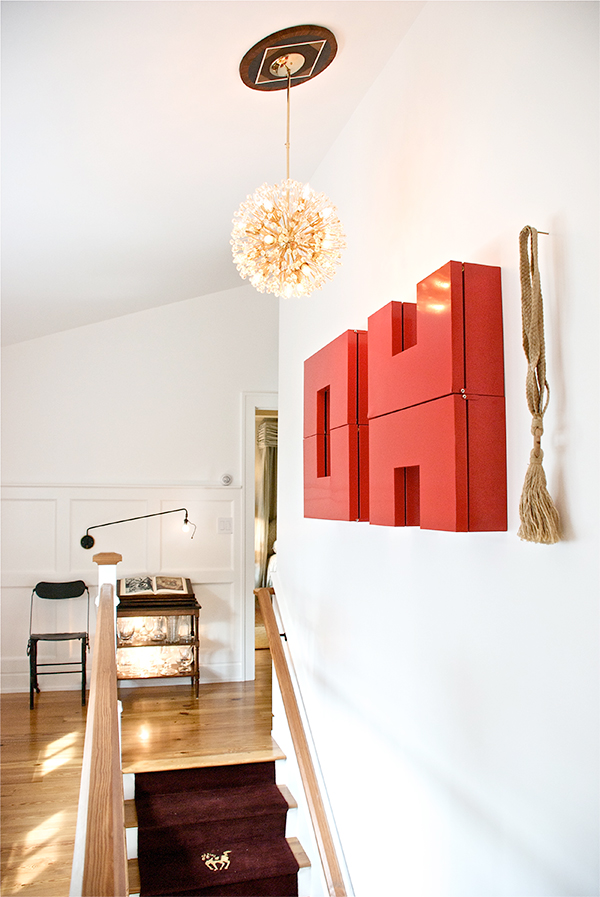 It was during her MBA studies, she says, "that my love of design and architecture exploded." Despite her clear affinity for that field, however, Radhakrishnan went to work as a management consultant for Price Waterhouse Coopers for six years and spent another two years at market-research and telecommunications firms, doing what she calls "completely left-brain work. I hated it so much."
Determined to finally pursue design, Radhakrishnan enrolled at George Washington University, where she took a drafting course in her first semester. But when she became pregnant with Aditya, she left school, finishing the drafting course work on her own. To get the education she craved, she says, "I bought every interior design, architecture and art book I could get my hands on. I kept reading and reading like a madwoman. I created my own curriculum."
By 2003, even before Aditya's birth, she had launched a business designing for friends. Almost on a whim, she sent photographs of her own Georgian manse in northern Virginia to Metropolitan Home. The magazine published the project in 2006. "Before that, it was like a crawl," she says of her fledgling firm. "But in 2006 it sped forward. The phone hasn't stopped ringing."
Looking at her thoughtful synthesis of classical and modern design tenets, it's easy to see why. "I'm a classicist at heart," she concedes. "I love Sir John Soane and Robert Adam. But then, in my brain, I'm ruled by modernism. Le Corbusier is my philosopher, my teacher, my muse."
In Radhakrishnan's rooms, recessed paneling and Soanean fireplaces are often juxtaposed with graphic modern art, and traditional antiques mingle with mid-century, mostly European furniture in clean, uncluttered configurations. "What I put in matters, of course," says the designer, "but what I don't put in matters almost more. I don't want to edit afterwards." These ideas are not necessarily unique to Radhakrishnan, although naturally, every designer deploys them with her own personal panache. "I also like drama," she admits. "I think life without drama is boring."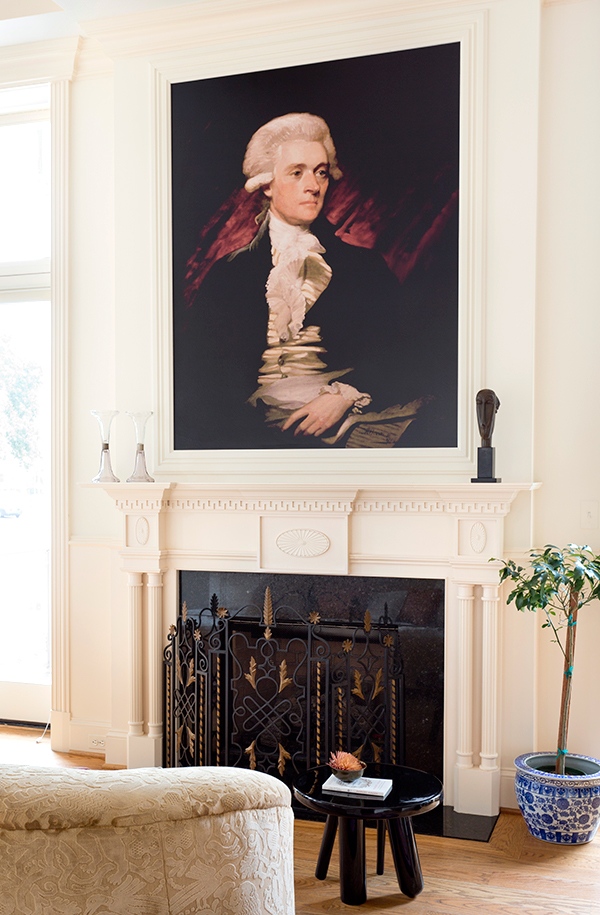 Often, this element of theatricality manifests itself in murals created from photographs she snaps on her travels. Occasionally, these are contemporary images, such as one of people streaming through the London Underground. More often, though, they are shots of classical paintings, architectural renderings, rooms at Versailles or august figures sculpted into the pediment over the British Museum's entrance. Using her computer, Radhakrishnan tints and crops the images, plays with the light and shadows or removes undesirable elements before having them blown up to wall-size scale at a photo lab. A selection of the murals are sold through her website, and they require a professional wallpaper hanger to install.
Other murals are completely customized, in that they relate to an aspect of her clients' personal stories. For a Greek-American couple who expressed their love of the Acropolis, Radhakrishnan found a painting of the famed temple-topped hill overlooking Athens, then rendered it in sepia tones, had it printed and used the result to paper a living room wall. For a political writer who admired Thomas Jefferson, she enlarged a portrait of America's third president and situated it above the fireplace in the living room of the client's duplex apartment.
"The murals become like set designs," she says. "They can take a very small room and make it feel grand." They can also function much like the oversize interior prints of Candida Hofer or Massimo Listri. Like the works of these famous photographers, which have become ubiquitous in blue-chip interiors from Malibu to Milan, Radhakrishnan's murals create the illusion that a room extends beyond its confines. And because of their size, the visual impact of the murals is striking.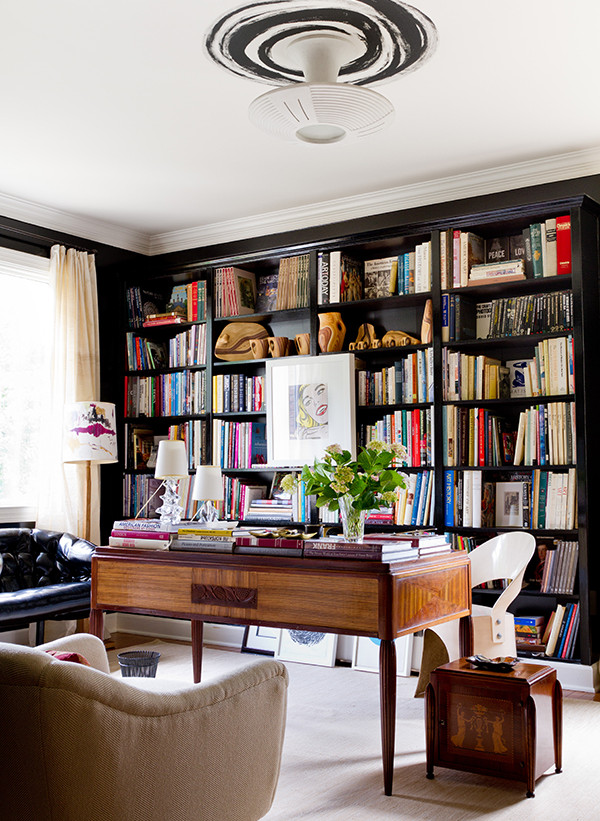 Despite the highly curated nature of her furniture selections and the knowledge of art and architecture that inform her aesthetic, Radhakrishnan's rooms feel neither self-conscious nor precious. "I'm not a perfectionist," she says. "Many of my vintage pieces have cracks or imperfect finishes. This gives rooms an instant lived-in look."
These days, Radhakrishnan is a busy woman. She is working on nine projects, including one on Manhattan's Upper West Side, another in the Washington suburbs with architecture by Piet Boon and a saltbox cottage in Virginia for "very spirited young clients" who have asked for something "bold and adventurous but still nuanced and balanced for family life."
She is adding new images to her collection of murals, and she has just started offering her first collection of rugs through her website. Hand-knotted in India, they are named after famous world museums (Accademia, Orsay, Rijks, Whitney). Her love of design has also spread to another generation: her daughter, Shruti, is currently enrolled in the New York School of Interior Design.
As for Radhakrishnan's own education, she sees it as an ongoing endeavor. "Learning is perpetual," she says. "I'll never stop."
---
Raji Radhakrishnan's Quick Picks on 1stdibs