On February 20, a mere two days after the unexpected death of civil rights activist, education advocate and philanthropist Peggy Cooper Cafritz, a book chronicling her groundbreaking collection of works by artists of the African diaspora was published. Fired Up! Ready to Go! Finding Beauty, Demanding Equity: An African American Life in Art (Rizzoli) now stands not only as a document of the preeminent collection but also as a tribute to the extraordinary woman who built it.
"She was indomitable," says artist Hank Willis Thomas, whose work Cafritz collected.
In a moving memoir-like essay that introduces the book, Cafritz, who was 70 years old at the time of her death, makes clear that her art collecting was not separate from her civil rights and education activism. Her objectives were always intertwined. "It was my purpose," she writes, "that this nation face the absence, the erasure, the impermanence, the noninclusion of African Americans in our cultural treasure." Cafritz recounts her childhood in segregated Mobile, Alabama, where she was born to a prominent African-American family and raised to demand equality. In a particularly poignant section, she recalls being sent to Michigan to a Catholic summer camp because her father wanted her to become comfortable among white people. But there she was subjected to a shocking level of cruelty, physically separated from the white campers in a cabin of her own, teased and left emotionally isolated.
In 1964, Cafritz entered George Washington University, where she became a vocal activist practically the moment she set foot on the segregated campus and went on to earn her JD. She was also an avid museumgoer. Her twin passions — justice and the arts — knew no divide. As an undergraduate, Cafritz and a friend founded a summer program, which grew into the prestigious Duke Ellington School of the Arts, aimed at serving Washington, D.C.'s majority black population. She eventually became president of the D.C. board of education. Even her art collection began as a form of political activism: She bought an African mask at a fund-raising table for the Student Nonviolent Coordinating Committee (SNCC), one of the era's most prominent civil rights organizations.
After law school and marriage to the wealthy developer Conrad Cafritz (which ended in divorce), she was able to collect extensively, concentrating on a segment of artists overlooked by too many of her peers. She acquired pieces by such seminal African-American artists as Jacob Lawrence, Romare Bearden and Norman Lewis, as well as by major contemporary artists, including Kerry James Marshall, El Anatsui, Chris Ofili, Mickalene Thomas and Glenn Ligon.
In July 2009, a fire swept through her three-story house on Chain Bridge Road, destroying the gabled mansion and, with it, more than 300 artworks. Although the pieces themselves were lost, her friend Jack Shainman, whose namesake Manhattan gallery represents a disproportionate share of great African-American and African artists, had just visited her the previous night and, as he recounts in an essay in the book, took away with him a USB memory stick of information to help her archive the collection. "It was a horrible thing to happen," Shainman says, "but she really just picked herself up by her bootstraps and started again."
Cafritz decided not to rebuild the house but to launch the next phase of her life in a modern condo in Dupont Circle. With the new home came a new art collection, one even bigger than the original, numbering more than 500 works. Architect Calvert Bowie and designer Paul Siskin devised a system of sliding panels to maximize the wall space in the apartment, which, although smaller than her old house, still comprised more than 4,000 square feet.
She filled it with artworks by many of the artists she had previously collected but also with ones by a new generation. Virtually every big name of African heritage is represented, including Kara Walker, Carrie Mae Weems, Titus Kaphar, Malick Sidibé, Toyin Ojih Odutola, Njideka Akunyili Crosby and Adam Pendleton, among scores of others. A strong figurative thread runs through her holdings, but abstraction is not ignored.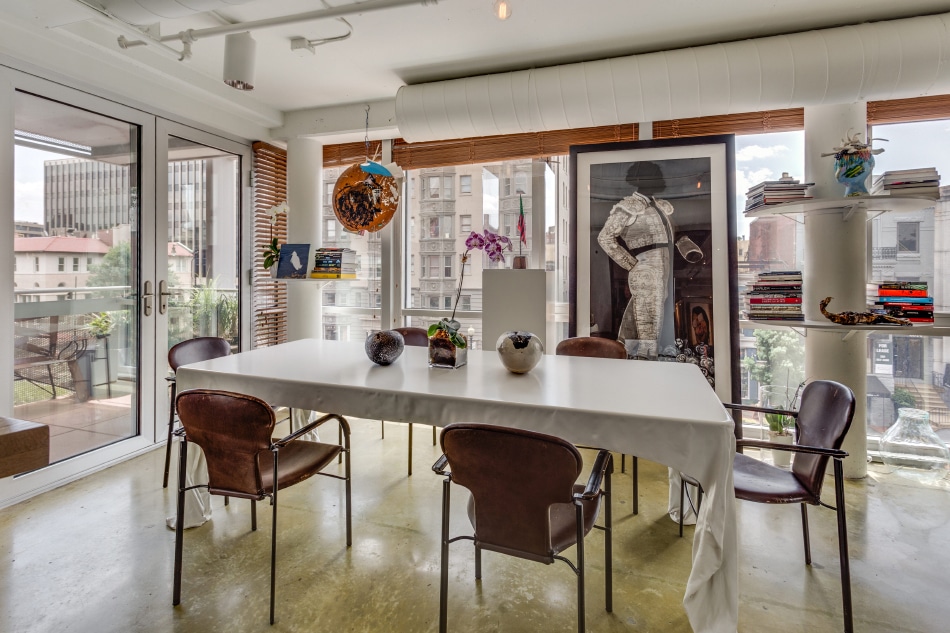 "As an art collector, especially for young African-American artists, she was pretty much everyone's first collector," says Hank Willis Thomas. "There was almost a Peggy litmus test. If she collected your work, you were going somewhere."
Thomas, a Duke Ellington alumnus, recalls that the biggest status symbol for a student at the school was an invitation to Cafritz's house. He didn't score one until years after he'd graduated, by which point Cafritz had begun to acquire his work through Shainman. Thomas grew close to Cafritz and admits to being a little possessive. "I'd go hang out with her and feel that I was special," he says with a soft chuckle. "Then another artist would call and say, 'We talk all the time,' and I'd be like, 'Wait, we talk all the time.' She made you feel you were the only one."
Charmaine Picard, who coedited Fired Up! Ready to Go! with Cafritz, notes that the collector was adept at listening to artists and relied on them to introduce her to others worthy of her support. "She really integrated herself in that community," Picard says.
Thomas points out that Cafritz's generosity was not limited to African-Americans. He recently ran into another Duke Ellington alumnus, a white artist, who told Thomas that he had abandoned the idea of going to college until Cafritz intervened, helping him get accepted and even paying his first year's tuition.
 Fired Up! Ready to Go! takes its title from President Barack Obama's mantra on the 2008 campaign trail; he, in turn, had adopted it from an elderly supporter in South Carolina who chanted it at a rally on a rainy, windy day.
"I thought that was a strange name for an art book," Thomas says. "But that was her. It's a brilliant send-off."
Shop Modern and Contemporary Art of Africa and the African Diaspora
---
Or Support Your Local Bookstore