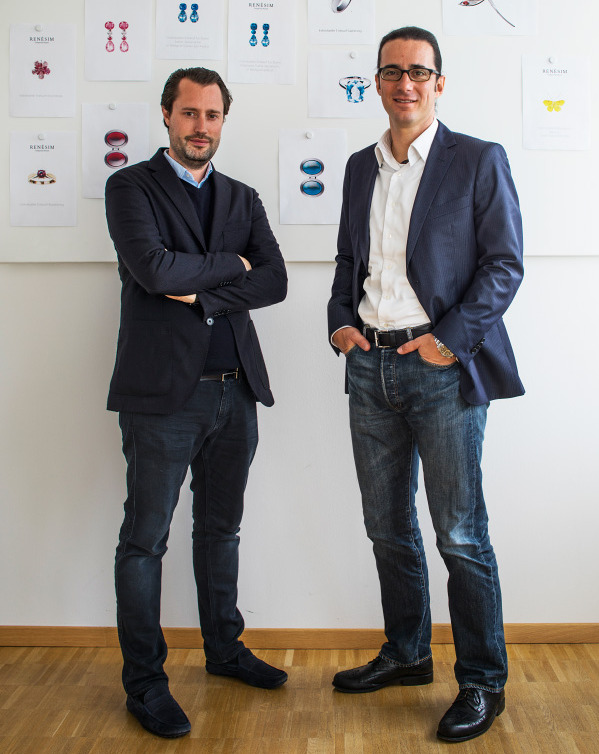 For Maximilian Hemmerle, co-founder of the Munich-based online jewelry boutique RenéSim, there was no escaping his destiny: His father, Franz Hemmerle, comes from a family of esteemed Munich jewelers, while his maternal grandfather was René Sim Lacaze, the celebrated Van Cleef & Arpels jewelry designer responsible for some of the most iconic jewelry of the 20th century.
Despite spending nearly every Saturday of his childhood in the family store in Munich, however, Hemmerle, now 34, didn't intend to work in the jewelry business. He studied sociology at university and was working in marketing and advertising when he met his future business partner, Georg Schmidt-Sailer, through a mutual friend some six years ago. A freelance IT expert, Schmidt-Sailer, 39 and originally from Vienna, specialized in e-commerce, mainly for start-up companies. After discovering they were wearing the exact same type of shoe by the Viennese company Ludwig Reiter, the two men bonded over a love of quality craftsmanship.
As Hemmerle shared his family history, the discussion sparked the idea of combining his professional heritage with Schmidt-Sailer's digital knowledge to create an online jewelry boutique. "Jewelry was not really my piece of cake initially," Schmidt-Sailer says, "but I could see the potential of offering very fine, beautifully conceived and crafted contemporary jewelry online."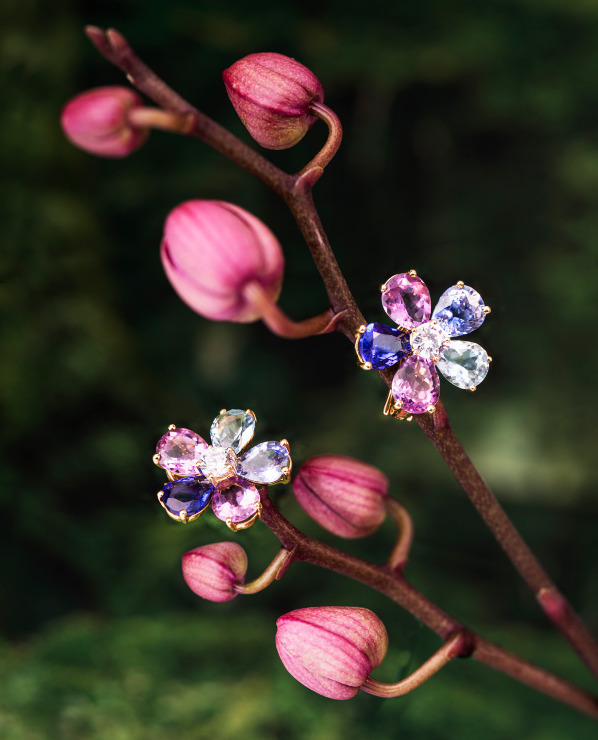 Talking to Schmidt-Sailer, Hemmerle came to appreciate all that he had absorbed from his father, who had worked in the family business for 33 years, and from his grandfather, who after retiring had focused on painting, producing watercolor land- and seascapes until his death in 2000 at the age of 99. "I had the chance to know him and speak to him about jewelry," says Hemmerle. "He taught me how to paint, but also how to appreciate beauty, how to feel and express. And he taught me the pleasure of gemstones."
Indeed, when the pair began visiting gem dealers in the early days of their venture, Hemmerle was often able to home in on those stones among hundreds that turned out to be the rarest and most precious. "It's an intangible gift," says Schmidt-Sailer. "Distinguishing between a good stone and an outstanding specimen is an instinct."
Hemmerle and Schmidt-Sailer launched their site five years ago, naming it RenéSim in homage to Hemmerle's grandfather. Their offerings comprise three main categories: prêt-a-porter collections; classic diamonds, including bridal jewelry and engagement rings; and customized jewelry. Hemmerle designs all the pieces and says, "My dream was always to unzip the file of creativity inside myself. When I need to, I ping-pong design ideas back and forth with my father."
---
"My dream was always to unzip the file of creativity inside myself." 
---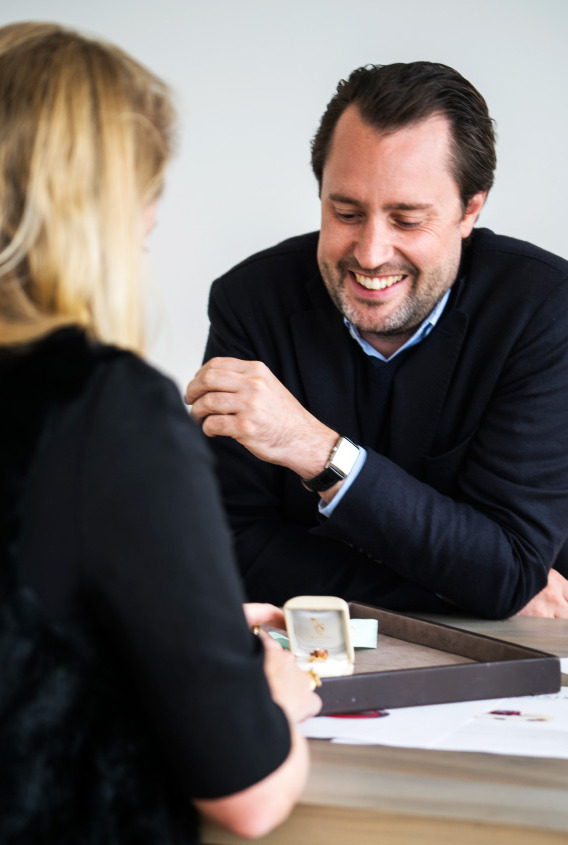 RenéSim's designs are stylized yet spirited, with refined details, fine proportions, minimal settings and well-cut gemstones. They embody a new kind of luxury: less showy and status-oriented and more about quiet, personal pleasure. Prêt-a-porter collections include "Flowers" (simple, stylized multi-gem blossoms), "Rocks" (strong, streamlined cocktail rings highlighting a central colored gemstone); and "Character" (inspired by calligraphy). In the classic diamonds category, single-stone studs and pendants accompany solitaire diamond engagement rings. With the "demi-couture" approach, customers can select their own diamonds and customize the design, adhering to RenéSim's philosophy of "individuality on demand."
It is, Hemmerle and Schmidt-Sailer believe, closer to the way in which jewelry was traditionally made — individualized, by a personal family goldsmith. And, indeed, highly skilled craftsmen working in small ateliers in Germany and Italy make every piece of RenéSim by hand. "We wanted to overcome the associations of the online jeweler," says Hemmerle. "That term sounds cheap and quick. It was time for something new."
Customers are welcome to visit the RenéSim office in Munich to see samples or discuss bespoke commissions. The pair pride themselves on providing a fast and flexible service: Customizing a ring, for example, may take just two weeks, and they can even whip something up in 24 hours if a client has a special event. More complex, bespoke commissions can take between one and two months to design and a month to handcraft. "It is how clients like to approach a traditional jeweler, but more discreet, intimate and without having to come to the shop several times," says Hemmerle. "The purchase, and design can be worked on at home."
Today, Hemmerle and Schmidt-Sailer are planning ways to expand RenéSim without compromising this personal touch — using advanced software to improve images and on-screen presentations, for example, and to speed up customer service and administration. At the same time, they are working on a signature prêt-a-porter collection to define their young, but fast-developing brand. Building the future while honoring the past, this duo would make René Sim Lacaze proud.
---
Talking Points
Maximilian Hemmerle shares his thoughts on a few choice pieces offered by RenéSim.