April 18, 2016London. The city of light it's not. Which is why it's so striking to find a home here that is absolutely flooded with it. And that's the very first thing I notice whenever I walk into the Chelsea home of Pritzker Prize–winning British architect Richard Rogers and his American wife, Ruthie, famed for her reinvention of modern Italian cuisine at London's beloved River Café.
Thirteen large windows let light pour into the 21-foot-high open space at the heart of the building, created by Richard's elegant joining of two 1840s brick townhouses. Such an airy, expansive feeling is especially unexpected given the home's setting, amid otherwise evenly proportioned, predictable and buttoned-up 19th-century Georgian buildings.
I've been visiting the Rogers family here since 1995, when the couple's son Roo and I became friends while undergraduates at Columbia University, in New York. From the first time I stepped into the house, the building has been an object lesson for me in how an unequivocal architectural showcase could also feel like an intimate family home. To the Rogerses and their friends, the house has long served as a place of creative inspiration, encouraging exploration both of the spaces it contains and of the ideas its occupants and visitors discuss. I fell in love with Philip Guston and Cy Twombly here, for example, while gazing at their works hanging on the walls, and have rubbed elbows with the family's unusually interesting social circle, which includes everyone from artist Anselm Kiefer to photographer Eve Arnold to actor Alan Rickman.
Standing in the kitchen, I have watched our hostess, one of the greatest culinary talents in the United Kingdom, transform a humble loaf of bread into a bruschetta to take your breath away and then delicately finish a plate of perfectly cooked pasta by lightly shaving bottarga over it. Every time I've looked around the house, meanwhile, I have learned from one of the most important architects of the late 20th century how to combine unadulterated elements of industrial design with softer notes of brightly colored accents and comfortable upholstery — an aesthetic that my husband and I have integrated into the two boutique hotels we own in the Tuscan countryside. But at the same time, the home's owners have always been just Ruthie and Richard, Roo's parents, our friends and the perfect hosts.
Two decades have passed since I first set foot in the house on Royal Avenue, and over the years, gardens have been added to the roof and on a small terrace outside the kitchen, art and furniture have moved around, spaces have been reinvented. The family has grown and contracted. But the building's essence as both a highly personal family home and a very public portrayal of architectural prowess remains the same, and I still experience a sense of surprise at its ability to feel so contemporary and fresh 30 years after its completion. Nowhere is this more true than in that soaring, light-filled open living room, which encourages commingling and the sense of community so central to Richard's public buildings but so rarely found in private homes.
Richard, now 82, and Ruthie, 66, found the buildings in 1983, shortly after returning to London from Paris, where Richard had been making his name with the Pompidou Centre, designed with Renzo Piano. "After we moved back, I still had the idea in mind of the Place des Vosges, where we lived during the museum's construction," explains Ruthie. "Most houses in London are so narrow, so it was hard to find that same sense of light, space and view. But when we saw the two empty houses side by side," damaged by World War II bombings, "Richard could immediately see the potential for linking the two lateral spaces so that we could have the same effect."
An architect known for his untraditional eye — consider the stairs, elevators, water pipes and electrical systems made visible on the exterior of his London headquarters for Lloyd's insurance company or, more recently, the undulating wooden roof supported by rainbow-colored columns at his expansion of Madrid's Barajas airport — Richard turned the townhouses' dilapidation to his advantage. He easily received planning permission for larger rooms and the cathedral-like ceiling in the main living room. "It was actually one of my easiest permission processes," he recalls with a large smile. "Many of the original details had been worn away or removed."
Richard set about designing and overseeing a two-year-long reconstruction of the pair of five-story townhouses, turning their warren of rooms into a more open-plan home for the couple and their two children. To do so, he removed the party wall between the two buildings, replacing it with a reinforcing steel structure that would become an industrial-feeling design feature. He also took out nearly the entire floor plate on the second level, leaving a floating mezzanine that originally held the couple's bedroom and is now a library and office. As for the garden section beyond, Richard enclosed the outdoor space, turning it into an imposing rear entryway that served as an access point to the three garden-level apartments built for Ruthie's mother and visiting friends and family.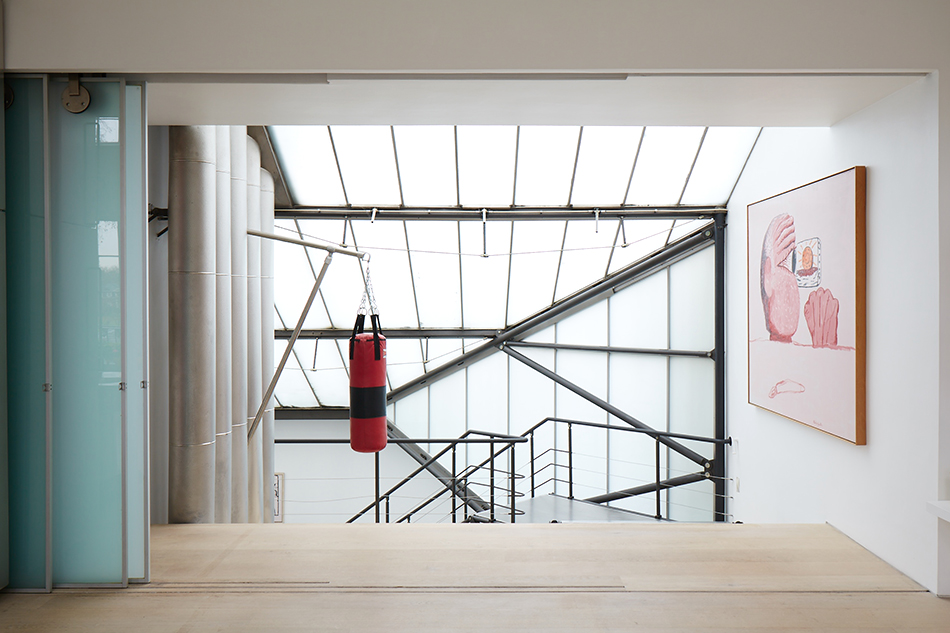 More than any other element in the home, it is that commodious but never cavernous-feeling central living space that stays with me. No surprise, as it is this area that Richard and Ruthie use most. It has also changed more than any other as the family has changed — with the arrival of 12 grandchildren; the burgeoning of the couple's professional lives, which seem busier now than ever; and the early loss of their younger son, Bo, in 2011, after he suffered a seizure in Italy.
Accessed from the ground-floor entrance by a winding metal stairway and connected to the mezzanine above by a set of steel steps, the living room is the home's nexus, its white walls and bleached hardwood floors offering a blank canvas not only for its boldly colored furnishings and art but also for impromptu meetings, quick chats with loved ones, encounters with close friends and predinner discussions of new dishes. It has also hosted more formal and much larger functions, like political fund-raisers and exhibition-opening-night parties. "I always want the feeling of an indoor piazza at a home's center, a central space where people meet," says Richard. "We don't have much need for private spaces."
True to Richard's words, this living area includes an open kitchen and room for a round glass dining table surrounded by four chairs, bringing all the most important socializing spaces together. It also connects to much of the rest of the house by a suspended steel staircase that sways ever so slightly when you walk on it. Running up and down through the interior of the building, the stair is as much sculptural installation as circulation route, a design element that speaks to Richard's interest in engineering. But it, too, has come to have a very social function: "I walk up and down the staircase countless times a day," says Ruthie, "and I love seeing who is around from above."
These days, you never know who will be in the Rogerses' piazza of a living room. Richard might be sitting on the dark blue oversize Poliform sofa in his signature red socks while Renzo Piano leans against the central column, whose blue-lacquered finish recalls the duo's work on the Pompidou. Nearby, a few grandchildren may play beneath the huge Andy Warhol "Mao" prints near the yellow lounge chairs from Charles and Ray Eames's Aluminum collection, as Ruthie whips up pasta in the stainless-steel kitchen, listening to a friend bringing her up-to-date on the day's news. "I love the space," Ruthie says. "It can feel very private and quiet at seven a.m., and, then, for Thanksgiving dinner, we can fit forty-five at one long table."
Today, a much more tranquil and poignant spot lies just above this often laughter-filled living room. Here, in the middle of a rooftop garden filled with green shrubbery, Richard and Ruthie planted a majestic, sculptural olive tree as a memorial to Bo. The couple sit by the tree throughout the seasons, watching the changing light and the clouds that slowly move across the London sky, thinking about Bo's special legacy in their family. If that living room is the home's piazza, its social heart, then this is its chapel-like spiritual center.
Containing elements, and accommodating desires, both private and public, introspective and social, high-minded and humble, the Rogers's home is, at its heart, a living monument to their lives and to their careers but, most of all, to their family. It is an ever-changing microcosm of their memories of what was, of their life in its current incarnation and of a future that has yet to be.