When UK House & Garden published its list of the top 100 British interior designers earlier this year, one name on it  was already very familiar to readers of the magazine in an entirely different context. Journalist and author Rita Konig contributes a regular column to H&G, "Rita Notes," delivering witty and sensible "dos and don'ts" of decorating, including such pithy gems as "Only put fancy socket plates in the kitchen, as you really don't notice them anywhere else" and "A major building project should not be run by a layman with a day job — i.e., you or me."
Dear reader, that last statement is a touch misleading. There is only one Rita Konig: The writer of the column and the new entry to the Top 100 are the same person. After years of writing about the subject, Konig has relocated from New York City back to her hometown of London and officially put up her shingle as an interior designer. Not only does Konig know her way around a building site very well indeed, but she has since childhood. She is, in fact, decorating royalty — the eldest child of interiors legend Nina Campbell, whose eponymous Chelsea shop has been a go-to destination for "smart casual" tabletop items, home accessories, occasional furniture and lighting since she opened it in 1978. When I first met Konig, some 20 years ago, she was running that shop, and recently, when we got together to catch up, we met in a bijou café just around the corner from the boutique, giving our conversation the sense of a circle coming to a full close.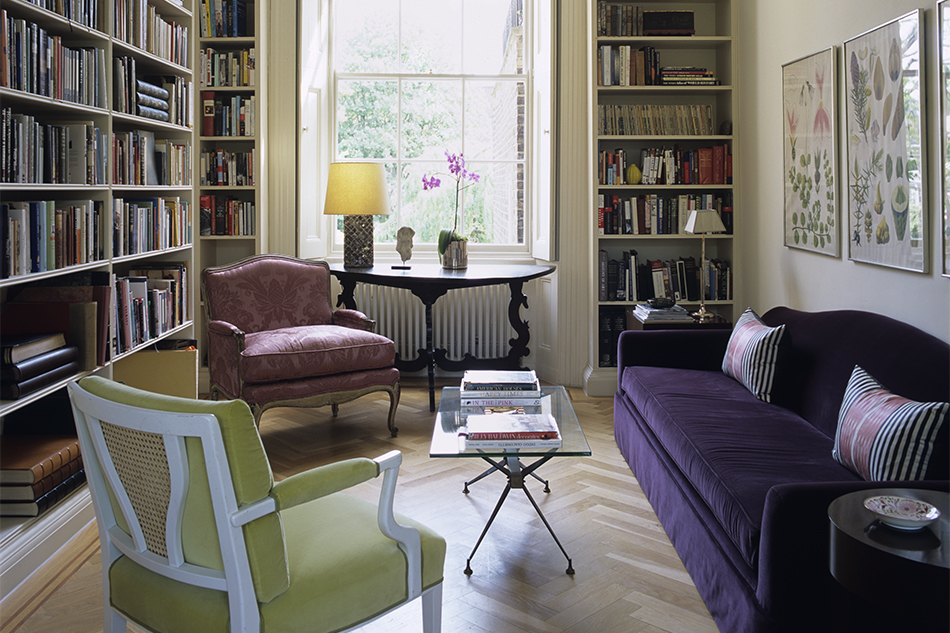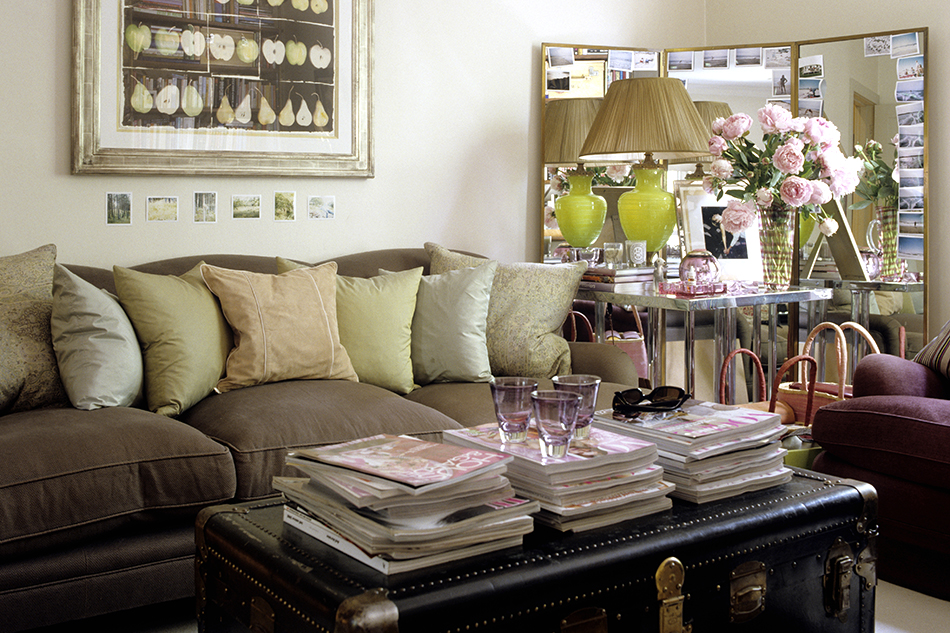 Campbell once commented to me that "when Rita walks into a room, she brings the sunshine with her." It is a beautiful quote — and absolutely sums up Konig's wonderful, life-enhancing energy. She is close to her mother, as well as to her brother, Max, and her half-sister, Alice, both of whom work for Campbell — he on business development and she on marketing — and has happy memories of her childhood home life. "We moved house fairly frequently," Konig recalls, "but I always loved the fun of helping chose fabrics for my new bedroom. Mummy would take me on site when I was older, and the smell of paint and wood made a lasting impression. Still now, when I drive around London, I will pass one of the houses she did, and it all comes flooding back to me."
While Konig has only the fondest memories of home, school was another matter. Sent off to boarding school at age 11, she was unhappy and homesick. And even though she excelled at art and history, she had no wish to continue her studies beyond high school. Instead, she went to work as a researcher for eminent editor and journalist Meredith Etherington-Smith and later became a buyer for her mother's shop. Before long, she was manager, and in 1998 an impressed customer asked her to design his home. At first she protested, telling the man that she was not part of the Nina Campbell design team. But it was Konig's eye he wanted. She describes her first foray into design as "a disaster" — but on close questioning, it becomes clear that she simply suffered from a surfeit of inexperience, something that resolved itself as soon as she assembled the right building team. When she says now that "happily, it looked very nice in the end," I think it's fair to interpret that as very British understatement.
Throughout this period, she was also building a busy writing career, having picked up her first freelance jobs straight out of school, and in 2000 was offered her own column in British Vogue. This formed the foundation for her highly successful book debut, Domestic Bliss (2002), followed by Culinary Trickery (2005). With a weekly column first for The Sunday Times and then for the Telegraph — plus a fledging list of interior design clients — by 2001 it was time to kiss the shop good-bye.
It was all going along so comfortably, but then, in 2005, Konig decided she felt a little too comfortable and shook up her entire life by relocating to New York City, where she landed a job at Condé Nast's Domino magazine in its first iteration, under editor in chief Deborah Needleman. When the publisher folded Domino and Needleman left, going on to edit WSJ magazine and now the New York Times' T magazine, Konig followed, becoming British editor-at-large for T, a position she still holds. Meanwhile she was also quietly building up her reputation as a decorator in New York. Clients found her through word of mouth, drawn to her style, which is functional, comfortable and pretty — but with a dash of Konig quirkiness. Her  decorating heroes include Billy Baldwin, Albert Hadley, John Fowler, David Mlinaric, Robert Kime and Cecil Beaton, a roster that gives a good steer on what to expect from Konig. "I decorate more by feeling than by eye," she confesses. "I like finding a mixture, old things that appear to have been gathered over time set off by more contemporary pieces. The litmus test for me is: Would you like to sit in this room and simply hang out?"
Among her clients is a family she helped with their large townhouse in Greenwich Village, then  worked with again in London, when they relocated there for two years, and once more in New York, after they came back. "When they moved to London, they rented a house, but I persuaded them to take all their stuff with them," she says. "I knew they would never enjoy their London life if they were living somewhere that didn't feel like home."
Other projects have included a Gil Schafer–designed home in San Francisco that she furnished from top to bottom, a smart tailored apartment on Manhattan's Upper East Side and a renovated London pub that became a family residence. Her largest  to date is a hotel and private members club in West Hollywood, which will open in 2017. In sharp contrast to that club, with its laid-back, Boho feel, is the work she is currently doing designing bedrooms and baths for the refurbished Weston Park hotel in Shropshire, once the seat of the Earl of Bradford, "with the most wonderful views across Capability Brown landscapes," Konig says.
Having moved back to Britain at the end of 2011, she finds it ironic that most of her decorating projects are on America's East and West Coasts. She's aware that she needs to establish a bigger design presence in London. "I always seem to be rebuilding my career, rather than being on a sensible trajectory like most people," she says. The fact is, she loves America and misses it. "My fantasy would be to work nine to five in New York and live in London," she says, laughing. "I love the American way of working — all that enthusiasm and 'yes' mentality — but I like the English way of living."
Today, she runs a team of three from a West London studio not far from the apartment she shares with her husband, writer Philip Eade, and their 18-month-old daughter, Margot. While she manages — as she has for two decades — to juggle two entirely separate careers, she is keen to expand the Rita Konig name into licensing opportunities and put, as she says, "some turbo into the business." Part of this includes one-day workshops in interior design for people putting their own homes together, which are already proving very popular — and an online shop of her own carefully curated collection of furniture, lighting and accessories — some of which is designed by Konig and others just things she loves.
Until then, it's all going quite well — and she knows it. "I must remember to enjoy it, rather than looking to the next stage and worrying," she says. "In fact, if I could give some advice to my twenty-year-old self, it would be exactly that."
---
Rita Konig's Quick Picks on 1stdibs