January 17, 2021Robert A.M. Stern Architects is known for the broad range of its work, from buildings for Ivy League universities to ultra-luxury apartment towers like 220 Central Park South. But houses have always been a big part of the practice of the New York firm, whose four residential studios are each run by a different partner: Roger H. Seifter, Randy M. Correll, Grant F. Marani and Gary L. Brewer.
Since 1997, there have been three books on the firm's domestic designs, and now there is a fourth. HOUSES: Robert A.M. Stern Architects (Monacelli Press) features a foreword by Stern, a noted architectural historian and academic in addition to architect — he was the popular dean of the Yale School of Architecture for nearly two decades — who favors a classically influenced approach to design. It was edited by the firm's Peter Morris Dixon and Shannon Hohlbein and written with Architectural Digest's Samuel Cochran.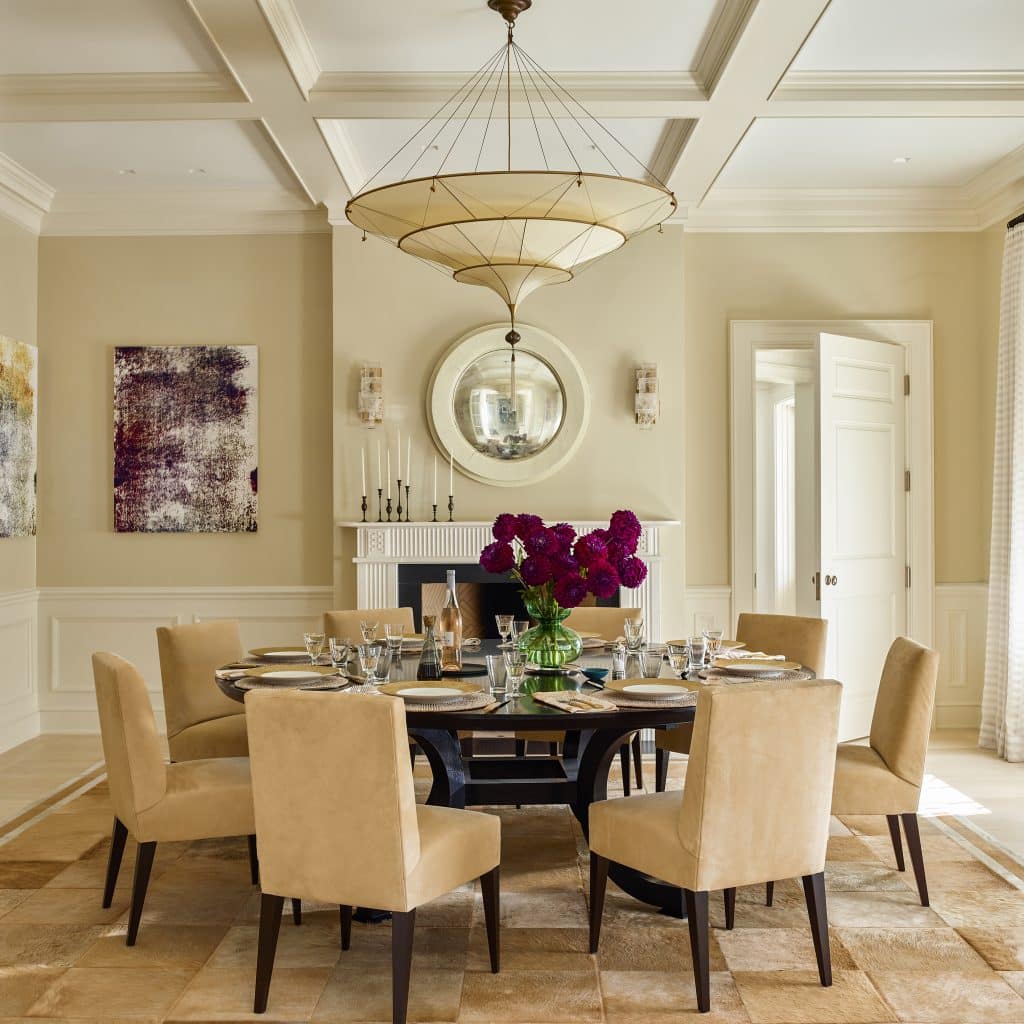 The volume showcases 17 houses and apartments, in locales including the Hamptons, Fort Lauderdale, Los Angeles and Singapore. The projects all exemplify the architects' thorough knowledge of architectural history and commitment to the desires of the people who inhabit them, an approach that has produced many repeat clients.
Whether wholly new construction or an extensive renovation, a RAMSA project foregrounds comfortable, functional spaces that evoke any number of historical periods (including the mid-20th century).
The book starts with a house on Lily Pond Lane, one of East Hampton's most desirable streets. Its architect, Correll, explains that although his clients liked the existing 1920s Colonial on the site, its rather claustrophobic eight-foot ceilings led them to demolish the main part of the structure while keeping a 1990s wing.
Its replacement, a gracious new home clad in yellow cedar shingles, has a columned porch — inspired by that of a McKim, Mead & White house nearby — that runs the entire length of the facade. A screened porch on the west side and a dining porch outside the family room (part of the original east wing) offer additional space for entertaining and for admiring the Justin Terzi–designed landscape. Inside, details like the dining room fireplace, based on a design by Sir John Soane, and the glamorous glass one in the navy-blue-lacquered library are subtle but elegant.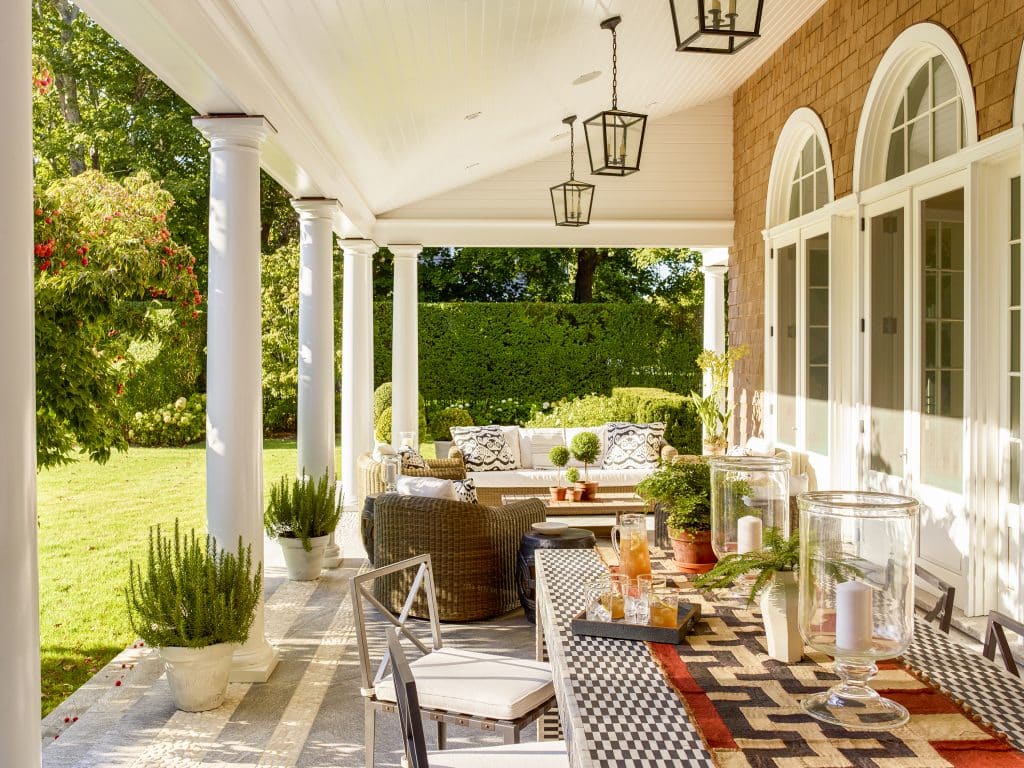 New York interior designer Dara Stern (no relation), who has a longstanding relationship with the owners, created calm, monochromatic rooms that serve as backdrops for works by Frank Stella, Sean Scully and other noted artists. Accents are provided by such pieces as a Biedermeier table in the library; an elegant Fortuny light fixture above the dining table; and inlaid tables and bold pillow fabrics from Morocco, a favorite of one of the client's.
Another Correll project featured in the book is the renovation of an apartment in Los Angeles, in Wilshire Terrace, a 1958 modernist building by Victor Gruen & Associates. The home's owners are longtime clients who had previously lived in a French-style Wallace Neff house and have extensive collections of art and antiques. "The building's architecture was a total disconnect from their taste," says Correll, "but they really wanted to live there," as it is the only cooperative in a city of condominiums and some good friends were already residents.
Along with his colleague Lauren Kruegel Siroky, an interior design director at the firm, Correll "focused on the finishes and details," like walnut parquet, marble floors and Venetian plaster walls. To correct what was an awkward arrangement of rooms after a previous owner combined three apartments into one, they created a "strong, axial plan," forming an enfilade connecting the breakfast room, with its DeGournay wallpaper and David Adler–inspired silver-leafed doors; the conservatory, with its Neff-style marble floor and green-lacquered wall panels; and the husband's office.
The great room, which contains the living and dining areas, is filled with the owners' antiques, such as a Sheraton dining table and a Chinese lamp that illuminates a corner banquette, as well as new, custom pieces, like a gold-leafed steel coffee table, and paintings, including two by Milton Avery above the sofa. The challenge, says Kruegel Siroky, was to use the clients' beloved furnishings while "creating a new space" — something at which she and Correll more than succeeded.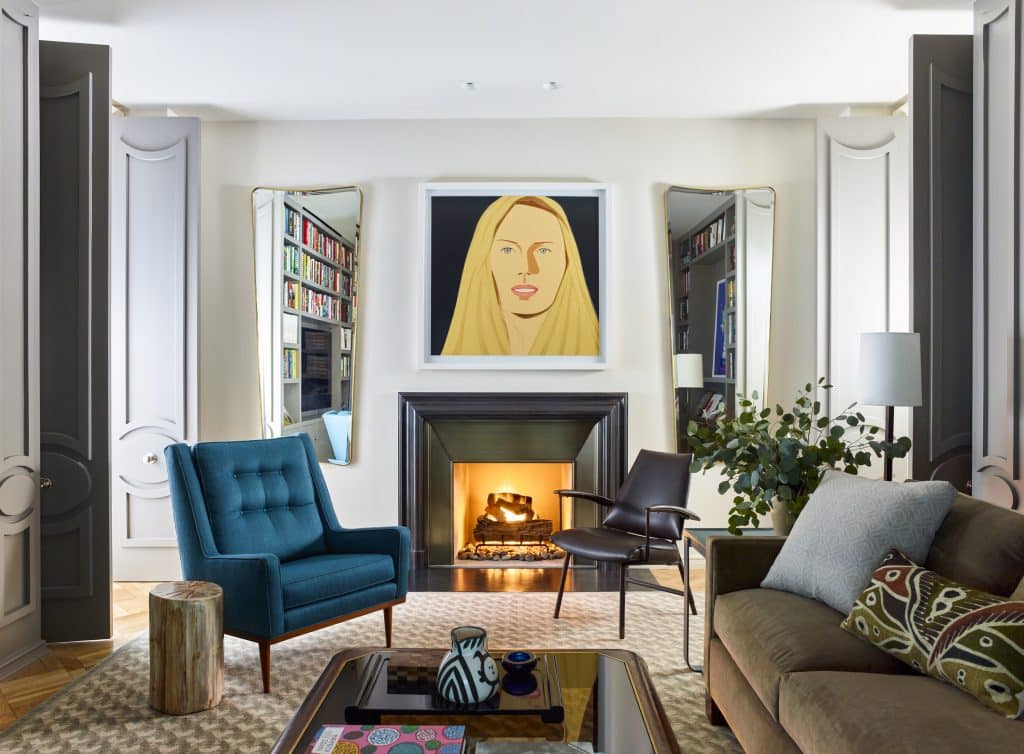 Also in the Los Angeles area, RAMSA worked its magic on a house, owned by an East Coast couple, that was designed by the architect John Elgin Woolf, known for his Hollywood Regency–style homes of the 1950s and '60s.
Created for the actress Eleanor Parker (and later owned by Woolf himself), the one-story house had a "dynamic, butterfly-shaped plan," Seifter, the project's architect, notes in the book, and so needed no redesigning, although it did undergo extensive renovation.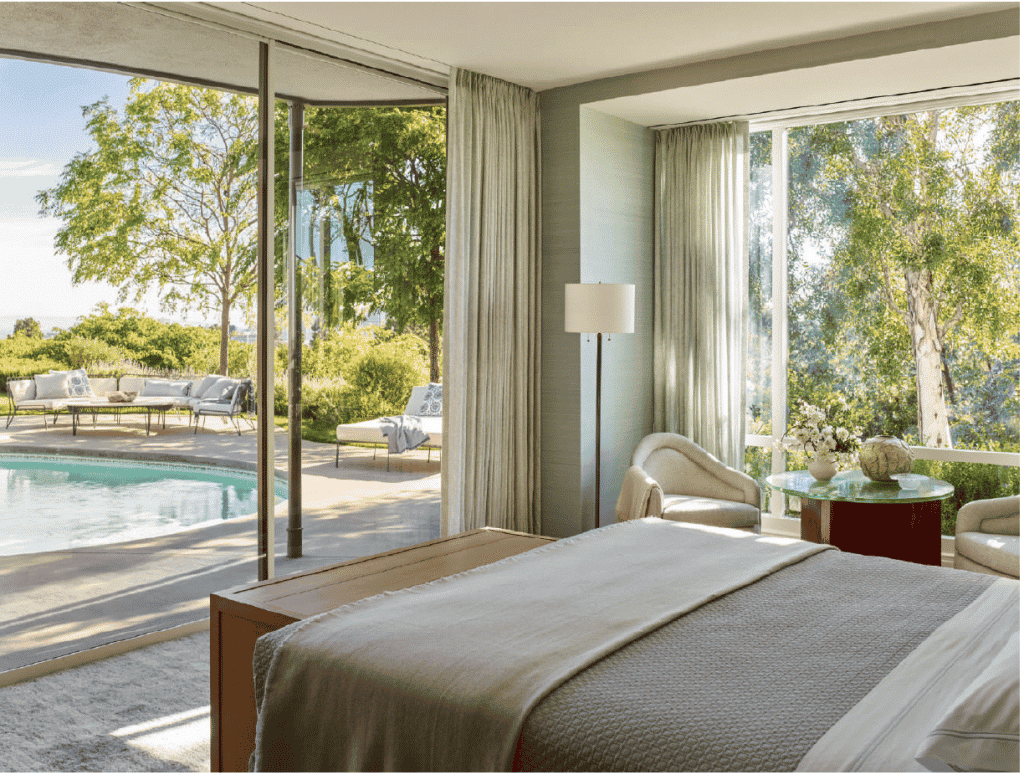 Drawings in the Woolf archive revealed that the boxy, sheetrocked living room was originally 10 inches higher, with beamed ceilings and a rubblestone fireplace wall. Seifter kept the beams but, fearing the stone would overwhelm the room, plastered the wall. He also added an off-center cantilevered hearth while otherwise preserving or re-creating Woolf's architectural details, as he did throughout the house.
John Gilmer, an interior designer and architect and a Stern office alumnus, collaborated with Seifter, selecting furnishings that evoke, but don't mimic, the house's mid-century vibe. Gilmer found Karl Springer ottomans at Danish Modern Noho for the living room, for example, and sourced from his own gallery, Porter & Plunk, the entry's pair of brass chests, attributed to Gabriella Crespi; the primary bedroom's Milo Baughman armchairs; and an adjacent bedroom's 1970s Murano glass chandelier.
With these choices, Gilmer crafted a sophisticated setting for works by such artists as Alex Katz and Ellsworth Kelly. Meanwhile, the landscape architect Mario Nievera, Seifter writes, "reimagined the landscape to encourage the free flow between indoors and out characteristic of Southern California living." But then, as he says, every project in the book "is very much of its place."