Founded just over 20 years ago and headquartered in New York's East Village, the architecture and interior design firm FormArch has made a quiet, discreet name for itself. If you haven't heard of it, that's because its clients prefer it that way. "We have a lot of homeowners who do not want their houses photographed," says Brent Leonard, the firm's principle design director. Among those clients, the studio — which specializes in residences — is known for its smart focus on plan and program and on how people flow through spaces and experience them.
With a staff of less than a dozen people, FormArch crafts tasteful, family-oriented domestic spaces gently inflected by 1960s modernism. It's no surprise that Leonard, a Canadian who studied at Parsons and then never left New York, invokes Oscar Niemeyer as a touchstone. Like that great Brazilian architect, he says, "we believe in movement in and out of the landscape.
FormArch Houses in Amagansett and Sag Harbor
Leonard's cofounder and business partner, Sean Webb — a Buffalo, New York, native who studied at the University of Texas at Austin — describes their approach this way: "We try to be subtle, and there's not always a 'moment' that's easily photographed. We don't orient the projects around a splash of color."
Indeed, in their interiors, the designers often work in a neutral palette. "The inhabitants create the color," says Leonard.
The area between Southampton and Montauk on the East End of New York's Long Island is home to much of FormArch work. The firm retrofits and updates older houses and also builds clean-lined new structures that manage to jibe with the traditional vernacular of the area. Perhaps the best example of this is a cedar-shingle-clad Sag Harbor residence. From the street, it seems to be an old farmhouse, but inside, it is revealed as a brand-new loft-like building with minimal articulation of rooms. Its living room skews strongly toward the 20th century, with a Paul Evans coffee table and a pair of Pierre Paulin Élysée chairs in sage. Sunshine streams in from all over, in accordance with one of FormArch's guiding principles: Move toward light.
For an Amagansett family, the firm built a modern L-shaped home of concrete, stucco and cedar composed of two slightly offset stacked volumes, with the bottom one jutting out slightly. The flowing floor plan is typical of FormArch's work, evoking what Webb calls "expansiveness and spaciousness."
In the dining room, a high-modern 1960s aesthetic comes to the fore, with snazzy vintage Venini lights, mid-century Thonet chairs in a mottled blue color from Metro Retro Furniture and a Portuguese credenza, which sits under a photograph of a grotto taken by one of the homeowners' family members.
Architecturally, one of the firm's most ambitious pirouettes was the renovation of a 1905 East Hampton house of some renown. Featured more than 100 years ago in House Beautiful and once owned by the architect and historian Robert A.M. Stern, it had to be lifted up and turned 90 degrees.
"The construction crew put it on these steel girders. You'd think it was a very technological thing, but it's a low-tech process," says Leonard. "And there are five guys under the house saying, 'A little to the left.' "
FormArch Residences in East Hampton and Palm Springs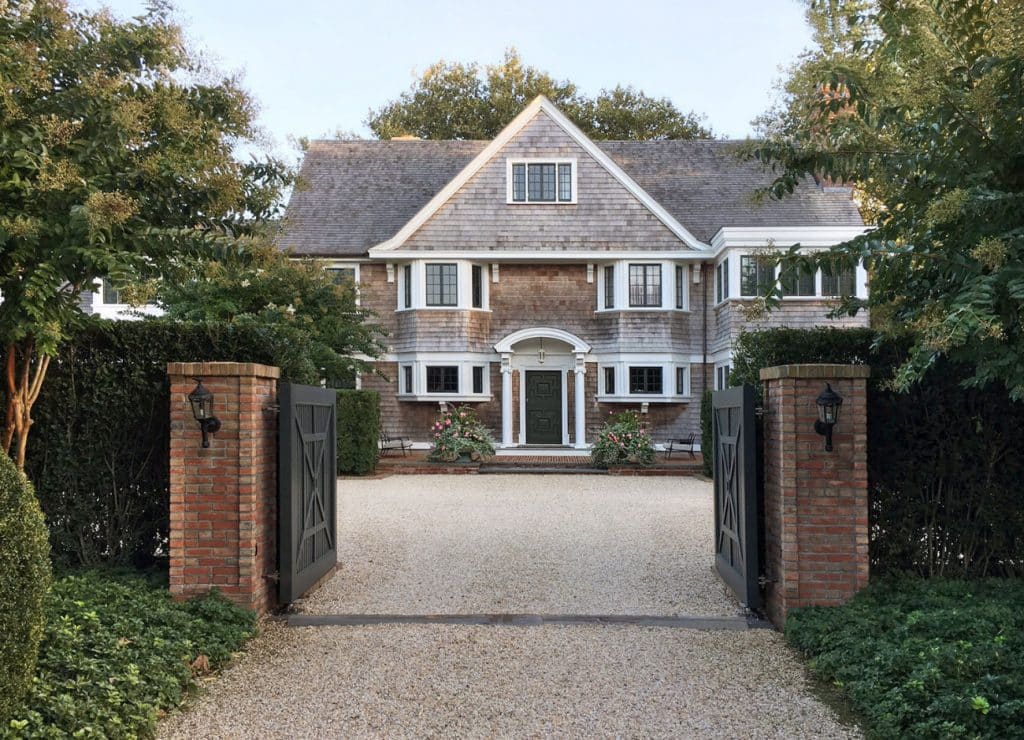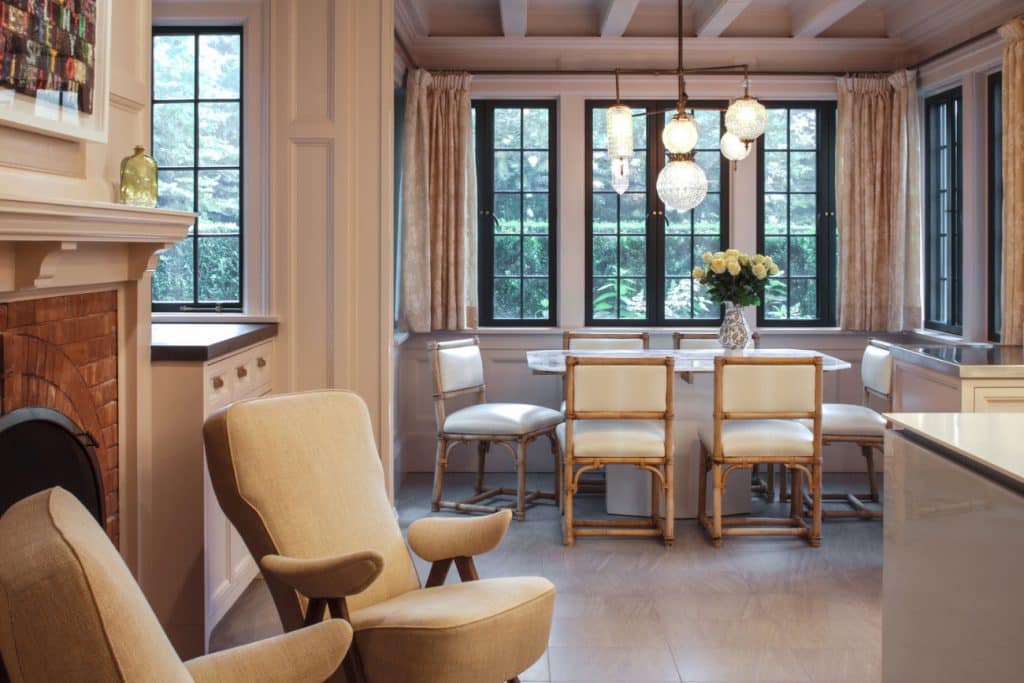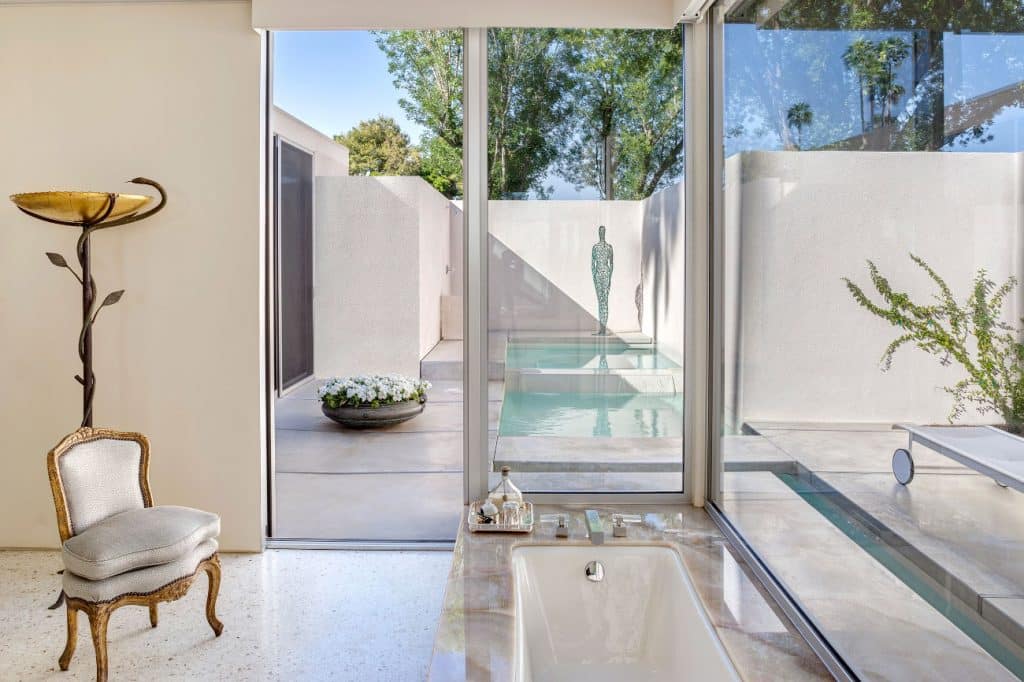 Adding to the square footage wasn't possible, given the site, but the architects increased the number and size of the windows, "to make it breathe," says Leonard. He notes that they adhered to their "one-room-wide philosophy" by gutting the huge portion of the house devoted to service and staff, including secret passages, to create four large rooms on the first floor.
Now, in the middle of the central space on the main floor is an egg-like custom table, sitting under a starburst-shaped fixture in bronze and onyx created by Italian designer Achille Salvagni and purchased from New York's Maison Gerard. The circular sisal rug on the new limestone floor is understated enough to let the other design elements — which include a Piero Fornasetti lamp — shine.
Given the partners' taste for mid-century modernism, a project retrofitting a late-1960s house designed by architect William F. Cody in Palm Springs was irresistible. The focus, Leonard says, was on "reprogramming and reorienting" the U-shaped home while incorporating the owner's existing furniture.
The bones of the house were unusually good. Instead of the all-white palette used in most local properties, it had dark-walnut paneling that provided a contrast with the brightness of the sun outside. The firm managed to locate the artisan who had poured the terrazzo flooring decades earlier. Now 100 years old, he helped restore it to its original glory. The partners were keen, too, to keep the original white-rock fireplace, which added texture to the many smooth surfaces. The owner's unorthodox collection of art and furniture — a Frank Stella abstraction here, a Biedermeier chair there — also appealed to the FormArch team, standing out against the sameness of some contemporary spaces.
"We're always focused on this subtle balancing act of the architecture, the interiors and the objects" says Leonard, "and on getting that balance just right."
FormArch's Quick Picks on 1stdibs