Chicago has been on something of a high-design hotel run of late: Radisson Blu opened in architect Jeanne Gang's wavelike Aqua skyscraper a few years back, and a bit later the Langham landed in a 52-story Mies van der Rohe–designed icon on the banks of the Chicago River, featuring a lobby by the mid-century modernist's own grandson and rooms by David Rockwell. In the last few months, Virgin launched its hotel brand here, commissioning Italian design star Paola Navone for its rooftop lounge, and Soho House resident designer Vicky Charles brought her chic Brit sensibility to the club's new Chicago home in a turn-of-the-20th-century former warehouse. Now, New York City–based Roman and Williams Buildings and Interiors have turned the Windy City's historic Chicago Athletic Association — Henry Ives Cobb's 1893 Venetian gothic landmark — into a playful but stylish, sports-inspired funhouse for Chicago's coolest citizens and those who come to visit them.
Part of Commune Hotels and Resorts — whose chairman John Pritzker is a fourth-generation Chicagoan and a member of the family that sponsors an eponymous annual prize honoring the world's top architects — the hotel made its debut in May, following a two-year restoration and renovation that completely reinvented the original space. Even as it looks toward the future, however, Roman and Williams's redo also celebrates the Michigan Avenue landmark's clubby, cozy, 122-year-old aesthetic, its sporting history and its high-society social cachet in unexpected ways, whether with a pommel horse at the foot of a bed, a bocce court in the game room, a refined plaster ceiling in the ballroom or the lake-house look of Cindy's, the 13th-floor rooftop restaurant and bar. (For those who come to the hotel still looking for some athletic activity, there's a basketball court and a modern-day gym.)
Here, former Hollywood set designers Robin Standefer and Stephen Alesch — Roman and Williams's founding principals, and partners in both work and life — tell 1stdibs about the look that defines this newly remastered landmark, and the philosophy behind it.
The Project
The project was to take the beautiful, lacy bones of this Venetian gothic building and reanimate them. The building was used by the gentlemen of Chicago as an athletic association for almost 100 years — women were only admitted in 1972 — and what we found was astonishing. There were all of these lovely, very graceful untouched details to be mindful of, while not being overly precious or fussy. The biggest risk was in being overawed by the structure and the iconic role of the building for Chicago; that would have been dangerous, because sensibilities have evolved so dramatically. We had to find out how to make the building relevant today.
The Inspiration
It all started with the original building, and then all of the ephemera we found strewn about and tucked in little corners, including artworks, athletic equipment and furniture. It was a bit of archaeology. Our first impulse was to rescue these bits and pieces from obscurity, but we also had to be ruthless. We wanted to create a space that lives and breathes with many layers but also clearly tells a story and isn't overwhelmed by detritus.
The Palette
There are different palettes for different rooms, but the tone is set by the gorgeous gothic arches in the drawing room. These have eggplant and almost lilac tones in their finish, which was embedded and burnished with years of tobacco smoke. Against that, we contrasted clear-varnished wood — one of our key materials here — which is similar to that employed for wooden sporting equipment, and is in keeping with a generation that was accustomed to tennis rackets, field hockey sticks and pool cues coated in shellac and banded with lacquer. The utilitarian, durable nature of these glazes is why they are still in use today, protecting both athletic equipment and furnishings.
The Art of the Mix
Our best juxtaposition of styles greets visitors immediately as they enter the hotel and approach the reception desk. We brought sporty right up to the edge of gothic. That's not a combination one sees often, but it definitely works here. We varied and contrasted our wooden materials, bracketing the sturdy, laminated-plywood reception desk with the ornate gothic screens found throughout the room. Looking up, guests see contemporary artist Chuck Meyers's beautiful painting of Chicago's "L" train, the steel girders of which seem to reach out into the room, providing a vector through the space that directs the visitor's view outward. The painting is almost like a fresco, which adds a layer of gentleness and mitigates the aggression of the steel girders depicted. Higher up in the room are the tough, unsentimental angles of a metallic chandelier, which lights the space while complementing every other element.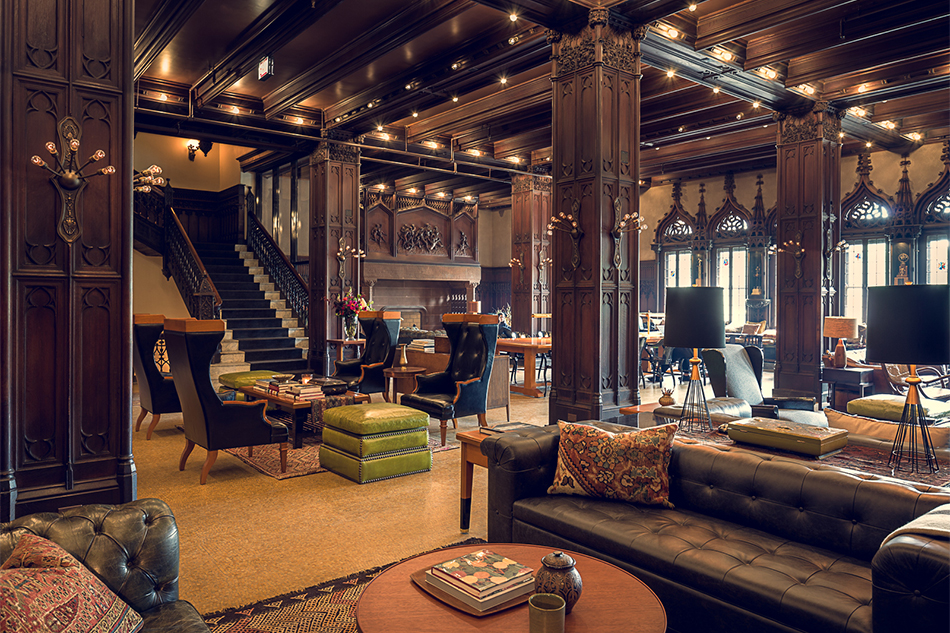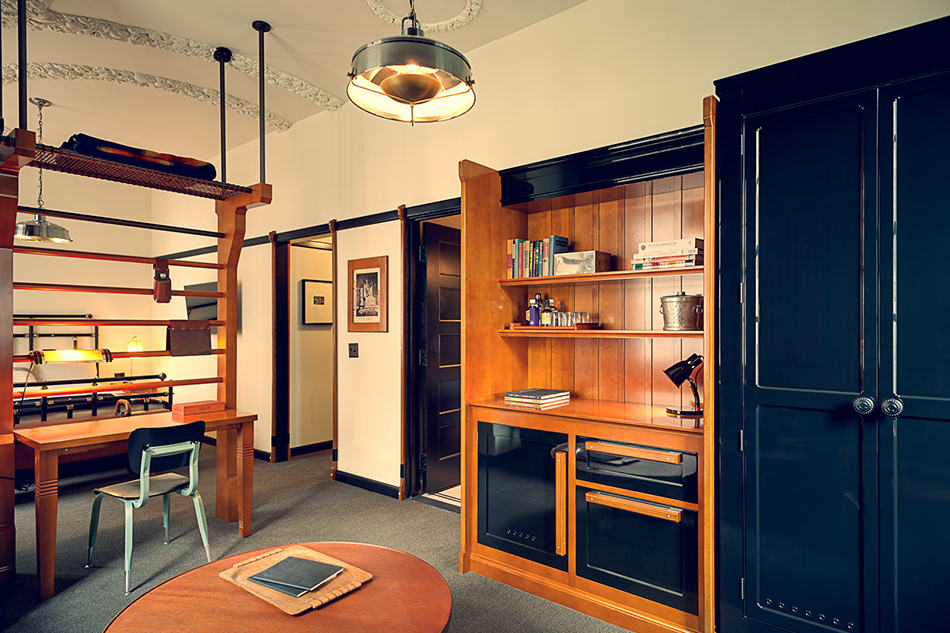 ---
"The room just begged for a bit of mischief that would reveal itself to anyone who cared to look closer."
---
The Devilish Detail
We're really happy with the trophies that Stephen improvised for the trophy cases in the drawing room. One of our favorites is the second-place award for playing one-on-one basketball with a sumo wrestler, which we thought sounded like great fun — fun to imagine as an actual sport, anyway. This is absolutely one of those times where a touch like this wasn't required, but in another way it was totally essential. The room just begged for a bit of mischief that would reveal itself to anyone who cared to look closer.
The Innovation
The plasterwork in the White City Ballroom is one of the most-photographed features in the hotel because of the stylized stalactite lights hanging from the ceiling, the construction of which is almost incomprehensible to the average person. Vintage pieces are very rare and not many seem to have survived, and that's exactly why we wanted to track down the technique for creating them. It turns out to be a bit of a lost art, one that uses layers of horsehair and hand-carved wooden molds. We finally did find a plasterer from Chicago who was able to make the proper molds and help us craft the lights. We don't feel compelled to find a new way to do something when an old way is better.
The Speed Bump
Cindy's, the gorgeous rooftop bar, was an unusual and unexpected choice for all involved. The challenge for us was in figuring out how to make something sweet, light and sunny work within the more formal dignity of the rest of the building. We wanted it to feel dynamic and a bit impromptu, like a picnic or one of those charmed afternoons at a lake house where everyone lingers out of doors until the last possible moment. It took several presentations and evocative conversations until everyone eventually embraced the down-to-earth, open Midwestern sensibility in the vision that we painted, and now that it's fully realized, it makes perfect sense. People emerge into the bar as if in an entirely separate world from the rest of the hotel; we've lined it with unfinished cedar, fashioned beautiful picnic tables for the space and lit the bar with lanterns filled with honey. Cindy's also opens up on a magnificently serene vista of Lake Michigan that stretches away from Millennium Park. Because we're lower down, it's not that "God's-eye view" that you get from Hancock tower — it's much more intimate.
The Custom Commission
We designed a number of custom pieces for the hotel, but we're especially proud of our homage to the great vintage Scandinavian wingback chair. We applied some of what we call our "historical modern" principles, and they came out very elegantly, with a great silhouette that is a streamlined version of the classic wingback. We removed some of the plumpness and gave it a new identity that works better for the more taut, muscular atmosphere we wanted to give the space.
The Pièce de Résistance
Stephen did some "invaded artwork" on top of a few of the old dusty paintings we found in the building's basement. We cleaned them off, and then he found ways to make them local and modern, like painting a baseball cap onto Abe Lincoln. This really encapsulates our ethos. It's the essence of what we love to do — finding these pieces was like finding the breadcrumb trail to a completely new destination.
The Room to Book
All of the rooms have their own charms, but No. 727 is a particularly good choice, because it features a broad view of the lake. Every room, though, has a great reimagining of the old wooden stretching racks we found in the building's original gym, which we've used as rails for holding water, pencils and note pads. At the foot of the brass-and-bronze beds we added a pommel horse as a bench, recalling a sense of athleticism and activity.
The Splendid Surprise
The game room is splendid and a surprise on so many levels. First, it really is a tribute to the spirit of the place, where men used to come to work off steam, to hit the court and refuel over a game of basketball. The echoes of that time are still here, so we were thrilled to have a space of this scale purely for fun and play.
There is a broad and cheeky mural painted on a slate wall to set the tone, designed by LAND COLLECTIVE out of Austin. The mural overlooks a full-size bocce court, which is given pride of place in its own elevated balcony. On the main floor, we added pool tables, room for shuffleboard and hand-painted chess- and checkerboards, for those whose play is a bit more cerebral. We wanted to fully activate the space with all of these possibilities, for every mood and type.
We also created some luscious green leather banquettes for lounging, which are beautifully lit by custom brushed-nickel light fixtures. We think that the little surprise to look out for is the moment when, in the middle of having a drink or a snack, guests get the impulse to jump up and play foosball or bocce. We know that happens many times a day here now, and we love that.
---
BRING IT HOME
Channel the look of the Chicago Athletic Association with items from 1stdibs dealers