Designer S. Russell Groves's two homes — one an apartment with panoramic views 15 floors above Manhattan's Chelsea neighborhood, the other a cedar-shingled house in the woods of East Hampton — are two complementary halves of a harmonious whole. The decor of each is firmly grounded in Groves's love of classic mid-20th-century modernism and his conviction that we all get plenty of color and pattern outside our residences. "We're bombarded by visual stimulation all day long. I like my homes to be a palate cleanser and a rest for the eye," he says.
To that end, both places have a serenity born of precisely arranged furnishings and a controlled, neutral palette, with walls painted gallery white — "so spaces flow from one to another, with art and decorative items that provide punch and can be changed over time," Groves explains. "I want the art and furniture to be the stars." That said, there's room enough in both town and country for the fundamentals of the celebrated designer's signature look: tactile, sensuous elements (some as simple as giant natural sponges displayed as sculpture), luxurious materials, rich finishes and bespoke details.
But there the general similarities end. Stylistically, Groves's urban residence is what he calls "Halston meets Mad Men," in keeping with the mid-century vintage of the white-brick building that houses it. "The city apartment is more black, white and gray, with chrome and shiny finishes, materials like silk and wool, glamorous high-tech touches and nods to the sixties and seventies," the designer says. A hundred miles due east, his Hamptons house, built three decades ago, with two dramatic single-story wings flanking a central living area, is "more wood-driven," Groves says. The palette tends toward taupes, beiges and "saddle color," rendered in hard-wearing materials like leather and canvas. Wood furnishings dominate, from occasional tables by Florence Knoll sourced on 1stdibs to an X-base dining table and chairs by Danish master Hans Wegner. The warmth of the natural material "feels appropriate to the wooded setting," Groves notes, and harmonizes with the greenery outside the horizontal band windows.
Russell Groves's Manhattan Apartment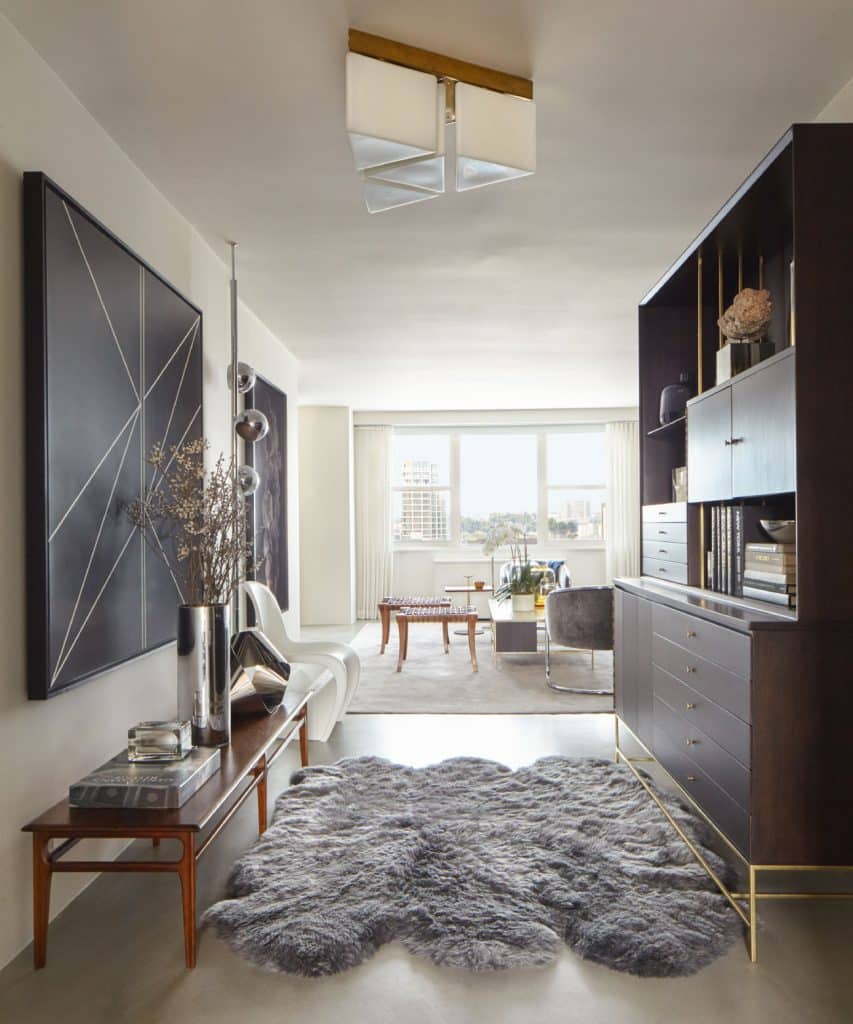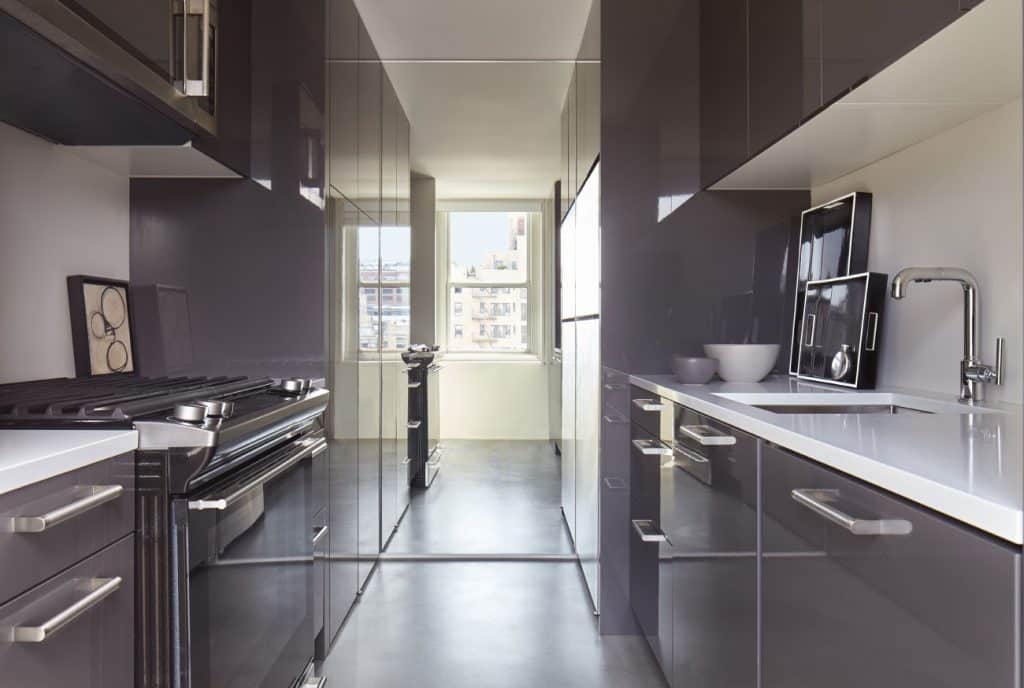 Both interiors have come together in just the past few years. In 2015, Groves traded an apartment in the low-rise West Village for those extraordinary views in Chelsea. "It's easy to forget nature in the city, but the view of the sky and the changing light on the river remind me," he says. "From down on the street, you don't get to see that." Shortly after moving into his new Manhattan pad, Groves had the opportunity to buy the East Hampton house. Between them, the projects have provided the busy designer with plenty of extracurricular work.
The Nova Scotia–born Groves was raised in the New York City area, earning an architecture degree from the Rhode Island School of Design before veering toward the study of interiors, which gave him, he says, "a broad exposure to the arts — furniture design, fashion, furniture making, woodworking, pottery, textiles." He brings all this to bear in his firm's practice, which has included high-end residential and commercial commissions in New York, California, Atlanta and elsewhere.
Groves began work on the city apartment with a thoroughgoing renovation. He judiciously relocated doorways, utilizing pocket doors that disappear into walls, to give the two-bedroom unit a more loftlike feel and allow sunlight a straight shot through the rooms along an east-west axis. Poured concrete floors replaced generic oak parquet tiles; a new kitchen with high-gloss gray cabinetry was installed, and two sybaritic new baths featuring cork floors and basalt tubs introduced a pronounced Japanese aesthetic.
More architectural redesign and, naturally, landscaping, came into play in East Hampton. There, Groves created a stepped, plinth-like front deck, moved the central circular driveway to a more discreet position alongside the house and relocated the swimming pool to the far end of the property, where it's now hidden behind a row of shrubs for a more pleasing wintertime view.
Russell Groves's East Hampton Home
When choosing interior furnishings, whether for himself or for clients, Groves says "vintage is a huge part of the mix," represented in his own homes by such key pieces as a towering Paul McCobb wall unit and a marble pedestal dining table by Italian postwar designer Angelo Mangiarotti, both in Manhattan, and rattan and chrome armchairs by Marcel Breuer, on Long Island. He interweaves these items, all sourced from 1stdibs dealers, with the occasional contemporary piece and a significant amount of custom millwork. Groves likes to create storage opportunities by using large-scale vintage furnishings, such as the group of Danish modern case pieces that he "took apart and reconfigured" to make a unit that fills an entire wall of the New York apartment's master bedroom. "If they're pedigreed, of course, you don't touch them," he says. "But if they're not, or in dire need of refinishing, I like to ebonize them." The sleek, dark finish reinforces the apartment's chic urbanism.
The majority of artwork here, found in large part on 1stdibs, is black and white, from the muscular industrial photographs by American painter and photographer Charles Sheeler in the entry hall to the enormous minimalist 1973 canvas by painter Duayne Hatchett located nearby, which greets visitors just before their attention is stolen by sweeping city views in three directions. In East Hampton, aptly, "most of the art is about nature: the moon, the sky, the water," Groves says.
Now that both projects are behind him, Groves and his partner, fitness executive Todd Allen, and their two dogs, Max and Butch, have the luxury of traveling between them as whim and work dictate, finding their coveted serenity as soon they open the door on each of the two tailor-made abodes — separate, yet very much of a piece.