Isabel and Stella Tennant are staring at an elaborate chandelier made of beech branches cast in resin and gilded with 23.5-carat gold leaf. "Maybe it could hold candles," says Issy, as the elder of the two sisters is commonly called, sounding slightly dubious. "Someone else can figure out how to light it!" Stella says, dissolving into laughter shared by her sister. They are standing in a workshop in Issy's house in southern Scotland, just over the border with England, where they produce the gorgeous gilded mirrors, tables, lamps and fanciful glass domes of their Tennant & Tennant line.
A few hours earlier, Stella was contemplating the small mews house in Edinburgh, just over an hour's drive away, that the sisters have refurbished as an additional studio, this one with showroom space, too. "I think we'll paint these upstairs rooms pink, yellow and orange," she said thoughtfully as workmen drilled and hammered around her.
The new studio and showroom is a testament not just to the sisters' bold color decisions but also to the growth of their business. It launched in 2012 when Stella happened to spot some sample gilt panels that Issy — a professional gilder since her days studying decorative arts at the City & Guilds of London Art School — had left lying around her kitchen.
"Stella came in and said, 'These would be nice on a lamp,' " Issy recounts. "The next thing, she arrived with some lamp bases she'd had made at a foundry. So we did them. And then" — she looks slightly surprised — "people wanted to buy them!"
As the tale illustrates, Stella, who shot to fame as a model at 22 while studying at the Winchester School of Art, is the sort of resourceful, creative talent who knows how to get lamp bases made at a foundry. (She is also still modeling at 45, as well as designing clothes for the English brand Holland & Holland, whose store on London's Bruton Street displays some of Tennant & Tennant's wares.) "I've always been practical, and I've always loved making things," she says. "I studied sculpture, then realized after four years that I didn't want to be an artist. I'm much more interested in interiors and things with functionality."
Tennant & Tennant's objects are mostly functional and always beautiful: tables supported by bronze-cast hawthorn branches; Brancusi-like lamp bases with subtle triangles of color glowing through gold; mirrors framed by butterflies in gilded squares; antique glass domes encasing butterflies and hummingbirds on gilded twigs; wall panels featuring carved wooden daisies and roses, seed heads and fern-leaf patterns and gilded beetles.
"There are a lot of beetles in our work," says Issy. "That's because of the illustrated book of beetles we had when we were growing up, which actually belonged to the poet John Betjeman, who, weirdly, lived with our great-aunt. And Dad collected wonderful butterflies, so a lot of this goes back to our childhood."
It also goes back to the sisters' heritage, which helped them develop a feel and taste for beautiful things. They are the nieces of the current Duke and Duchess of Devonshire, the proprietors of one of Britain's most glorious stately homes, Chatsworth, now known as much for its exhibitions of contemporary art and sculpture as for the interior treasures of its 300-odd rooms and its spectacular gardens.
Their famously stylish grandmother Deborah, the former Dowager Duchess of Devonshire, who died in 2014, was one of the Mitford sisters; their uncle Stephen Tennant was a celebrated aesthete whose extravagantly decorated house, Wilsford Manor, was one of the sisters' favorite childhood destinations. Their mother, Emma Tennant, is a painter, and their paternal grandparents, Elizabeth and Christopher, Lord and Lady Glenconner, illustrated books and painted.
"We both had that all our lives," Issy says. "Making clothes, making stuff. Mum used to sew, make hooked rugs, paintings. She used to keep craft magazines and do decoupage. I can't resist a bit of arts and craft!"
The sisters grew up on a farm in the Scottish Borders, where both still live, about 40 miles apart, with their husbands and families. "We grew up in a really modest way," Stella says. "Mum and Dad were not living a glam lifestyle at all. It was a real farm. We'd have these long summer holidays with no telly." She pauses. "It was awful!" She and Issy burst out laughing. "Actually, we were incredibly fortunate. It was the best of both worlds. The farm kept it real, and then we would go to Chatsworth for wonderful candle-lit Christmases. How incredibly lucky we were!"
---
Tennant & Tennant's objects are mostly functional and always beautiful.
---
Their grandmother Deborah, Stella adds, was "very much an influence. She was never cowed by other people's opinions, and she made her own mark on everything. She loved putting out clashing combinations of flowers, and when she moved out of Chatsworth, she painted the hall in her new home apple green and her sitting room pink." But her real influence on her grandchildren, Stella says, was to give them an example of getting on with what you want to do. "She set up a farm shop at Chatsworth before everyone started doing that. She restored the stables, she hugely improved the gardens. She was an innovator."
That can-do attitude seems to be in the genes. After the designer Marianna Kennedy, for whom Issy had done a lot of gilding work, saw their lamp bases, she suggested they create a collection and show it. "That gave us a focus," Issy explains. "So we made tables, because we wanted to display lamps, and other things, like the mirrors, because we started to experiment and think about what we wanted."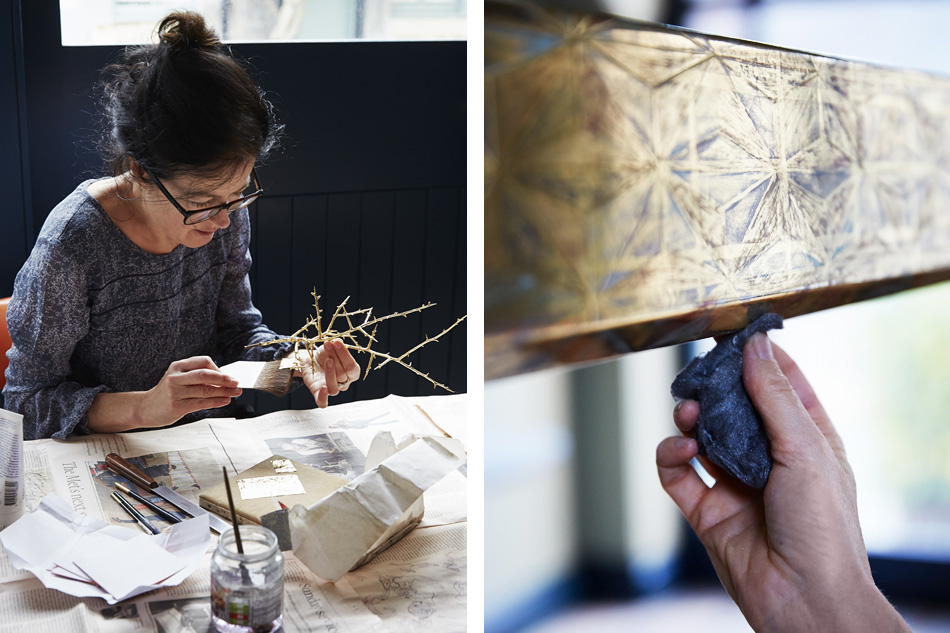 And thus, Tennant & Tennant was born. The sisters held a weeklong exhibition in September 2014 at the London premises of the architect Ben Pentreath, attracting favorable reviews and a good deal of attention from glossy magazines.
"In a funny way, we hadn't planned for success, because you don't want to get ahead of yourself," Issy says. "We're also limited as to how much we can produce, because we love working with our hands and making everything ourselves."
The water gilding process they employ is painstaking. It involves applying seven layers of cream-consistency gesso to their chosen object, then sanding it down to a smooth-as-silk finish. After that, they paint on the under-colors — usually reds, yellows and browns — before applying and burnishing the gold leaf, which can range in tone from lemony yellow to rich gold. Two assistants help with some of the gilding, and Stella has learned the technique ("I still like Issy to hold my hand," she demurs), but the work is time-consuming, delicate and labor-intensive.
It can also involve close collaboration with a foundry, especially when the sisters want to cast tree trunks to deploy as bases for tables or use a technique called burn-out. The latter involves pouring molten bronze onto a twig or branch — the heat carbonizes the wood, leaving a perfect reproduction of the original.
"We are doing a table for our aunt and uncle at the moment using lime twigs and have worked our way through a whole van-load of twigs looking for the perfect shape for a table that is a meter and a half long," Issy says. "You can only use each twig once, so these sorts of pieces are one-off."
The sisters personally track down all the branches, twigs, insects, birds, butterflies, animal skulls and other objects, such as antique glass domes, used in their work, and are constantly on the lookout for sources of inspiration and ideas.
"For example," Stella says, "a tree fell down in a field next to my house, and I said to Issy, 'Come quick, before it gets hauled away!' We went over, and there were so many beautiful branches. It fills you with awe at the wonder of nature. Then it's an editing process. You find something you think is exceptional and look for a way to transform it. We tend to bounce ideas back and forth. It's much easier making decisions with two people."
Both admit to obsessive collecting. "I have what Stella calls hoarder-disorder," Issy says. "In fact we're both a bit magpie-ish. If Stella is in Paris, she'll pick up things, even without a specific project in mind. I found a whole lot of sweet little hummingbirds with iridescent chests. We collect blue bottle flies from my conservatory. So there is a library of stuff for ideas."
The sisters report that new directions for their work may involve more lamps and glass, and perhaps embossed leather. "I think having the studio is going to be inspiring for us," Stella says. "What matters is that there is something magical and joyful about what we make. When you went into our Uncle Stephen's house, and the dining room was painted with stars, and there was bright pink wallpaper with zebra rugs on the floor, and he was lying in bed with his hair an unbelievable shade of aubergine, there was something romantic and irreverent and wonderful about it all. What we do is closely connected to nature and the seasons. But it's the joy of it that matters."