September 11, 2022A new six-story townhouse in Brooklyn's Boerum Hill neighborhood had a lot going for it, including high ceilings and an abundance of natural light. But its interiors lacked character. "It was delivered to me as a white box," says designer Marc Houston, who feels about a white box the way nature feels about a vacuum.
Working mostly before the pandemic, Houston transformed the 4,200-square-foot house into a collection of spaces that make powerful impressions. "For me, designing is not just about picking paint colors," he says. "I want to create singular emotional landscapes for my clients." Here, he had to create those landscapes quickly. After a period of "design development," also known as sweating every detail, "the clients decamped for a month," Houston says. "I was instructed that when they returned, the place needed to be livable."
Given that directive, and the fact that the house was new, Houston didn't move any walls. Instead, he added functional and aesthetic richness to existing walls with shelves, cabinets and other kinds of millwork. And he covered horizontal and vertical surfaces in a range of materials — including fabric, metal, stone and wood — to enhance the architecture. Says the designer, "I am enamored of spaces that are layered thick with sensuality."
Born and bred in Boston, Houston, 42, became interested in design while a student at the University of Maryland. His part-time job at Illuminations, a lighting company in Washington, D.C., put him in daily contact with architects and designers, whose work, he says, "excited me and sparked my curiosity." So much so that after college, he moved to London to study interior and spatial design at Chelsea College of Art & Design. While there, he worked for Patrik Fredrikson and Ian Stallard at their avant-garde design firm Fredrikson Stallard.
When his student visa expired, he returned to New York, where he did stints with designer Frank de Biasi and at the architecture/interiors firm Workshop/APD. In 2011, he founded Marc Houston Lifestyle and Interiors (MHLI). Although he is now juggling projects in New York, Los Angeles, Houston, Baltimore and Boston, he manages to get by with just one part-time assistant. "I haven't learned to delegate," says Houston, who admits he doesn't really want to. "I know building or renovating is an emotional experience for each client, and I want to be the one to walk with them on that journey."
Here, he walks with Introspective on a journey through the townhouse.
---
Living Room
"It's materials like this that get me excited about my job," Houston says of the heavily veined spider marble that determined the palette for the living room. The clients fell in love with the sample he provided. He ran into a problem, however. "I couldn't find enough usable slabs. I suggested alternatives, but the clients rejected all of them." So, he kept looking and eventually found enough of the golden veined marble to cover the fireplace. On either side of that architectural centerpiece, Houston created shelves and niches for some of the clients' best ceramic pieces.
He had a topographical wool-silk rug from Marc Phillips cut into a circle to resonate with the swooping curves of the Atelier Purcell lounge chairs and the curved sofa by Tacchini. The glass Galotti & Radice coffee table leaves the rug as exposed as possible. Of the finished product, Houston says, "It feels like a sexy gallery that just happens to be a living room."
The most eye-catching item in the living room is a very large artwork by Kaari Upson, whom the New York Times once called "one of the most significant artists to emerge from the vibrant Los Angeles art scene this century" and who died last year at 51. Houston describes the massive piece as "a stream-of-consciousness map, a visual archive rendered in graphite." The husband wanted it in his top-floor office, but it proved too large to get up the stairs. (The art movers tried, with cardboard mock-ups.)
So, the drawing ended up in the living room, where Houston thought it belonged from the start. "It feels like an expedition through the artist's psyche," says the designer. The Upson shares pride of place with a plaster and jesmonite bust of Bengali poet Rabindranath Tagore by Goshka Macuga, a Warsaw-born, London-based artist.
---
Dining Room
For the dining room, also on the high-ceilinged parlor floor, the clients wanted a "statement light fixture," Houston recalls. He discovered one by Stuart Haygarth, a British-born artist who works with found materials, in this case turning hundreds of bits of flotsam into a perfect sphere. "It feels like you have a front row seat to the rising of a rare supermoon," says Houston. "Its enigmatic presence is impossible to fully capture in a photograph." It hangs over a custom table, conceived by MHLI and fabricated by Zachary A. Design, which Houston says "reads like a monolithic altar" and "elevates the ritual of shared meals." 
The dining chairs are by the young Rio de Janeiro–based designer Gustavo Bittencourt. "I had been eyeing those chairs for a long time," he says of the cane, wood and brass constructions. The wood, bronze and resin bar cabinet is from Wüd Furniture.
---
Primary Bedroom
Speaking of the house, Houston says, "The architect handed me a set on which to stage a theatrical performance." That is nowhere more true than in the primary bedroom, where "every single surface demands to be touched."
The walls are covered in slubbed linen, the bench in bouclé and the windows in crepe sheers. Houston liked the sculptural quality of the couple's own Poltrona Frau bed but added Verel de Belval silk velvet to its rails and a whole lot of high-touch throws and covers. Drapes by Dedar and a thick Marc Phillips carpet continue the adventure in tactility.
There's additional texture in the cantilevered straw marquetry nightstands, by Brooklyn-based KGBL. They form a tight tableau with the jewel-like pendants by Günter Leuchtmann (coincidentally German for light-man) and, to the bed's left, the painting by Raymond Hendler, a fifth-generation American artist who died in 1998.
But the best thing about the bed may be the view it offers. There had been a hole-in-the-wall fireplace across the room. "It needed something a little more poetic," explains Houston, who added a surround of textured Ogassian tiles. Flanking the tile surface are cabinets faced in metal mesh. Overhead, a doodle of a light fixture by Massimiliano Locatelli, a Milanese architect and maker — purchased from Nilufar Gallery via 1stDibs — adds a bit of whimsy.
Both upbeat and dead serious, the finished room is "very moody," Houston says. "I wanted it to be a place of respite, but that didn't mean the surfaces had to be boring."
---
Kids' Bedroom
For the two older children Houston created a room that, he says, "really feels like you're stepping inside a kaleidoscope." The wallpaper from Bien Fait is almost psychedelic. The designer juxtaposed its repetitive geometry with a pair of maple-and-walnut George Nakashima for Widdicomb headboards from the 1950s.
Other key features include a lot of gender-neutral, mustard-colored bedding. Houston is especially fond of the Atelier Areti hanging light fixture. "I like the way its geometry mirrors the geometry on the walls," he says.
---
Nursery
This room was designed to be calming and enchanting, to soften — on the parents' behalf — the effects of sleeplessness that accompany the arrival of a newborn. At the same time, Houston adds, "I try to avoid anything cloying or overtly gendered. But designing for kids lets me experiment in ways I can't for my adult clients."
The couple were expecting their first child when they hired Houston in early 2018. By the time he put the finishing touches on the house, two more children had been born. For the youngest, he outfitted the nursery with a Kalon Studios crib, a Scacchetti tulip armchair in Maharam woven wool and BDDW velvet upholstery. The wallpaper is a Cole & Son's Mosaic, the light fixture is from Los Angeles maker Jason Koharik, and the egg-shaped mirror is from Bower Studios.
---
Indoor Play Area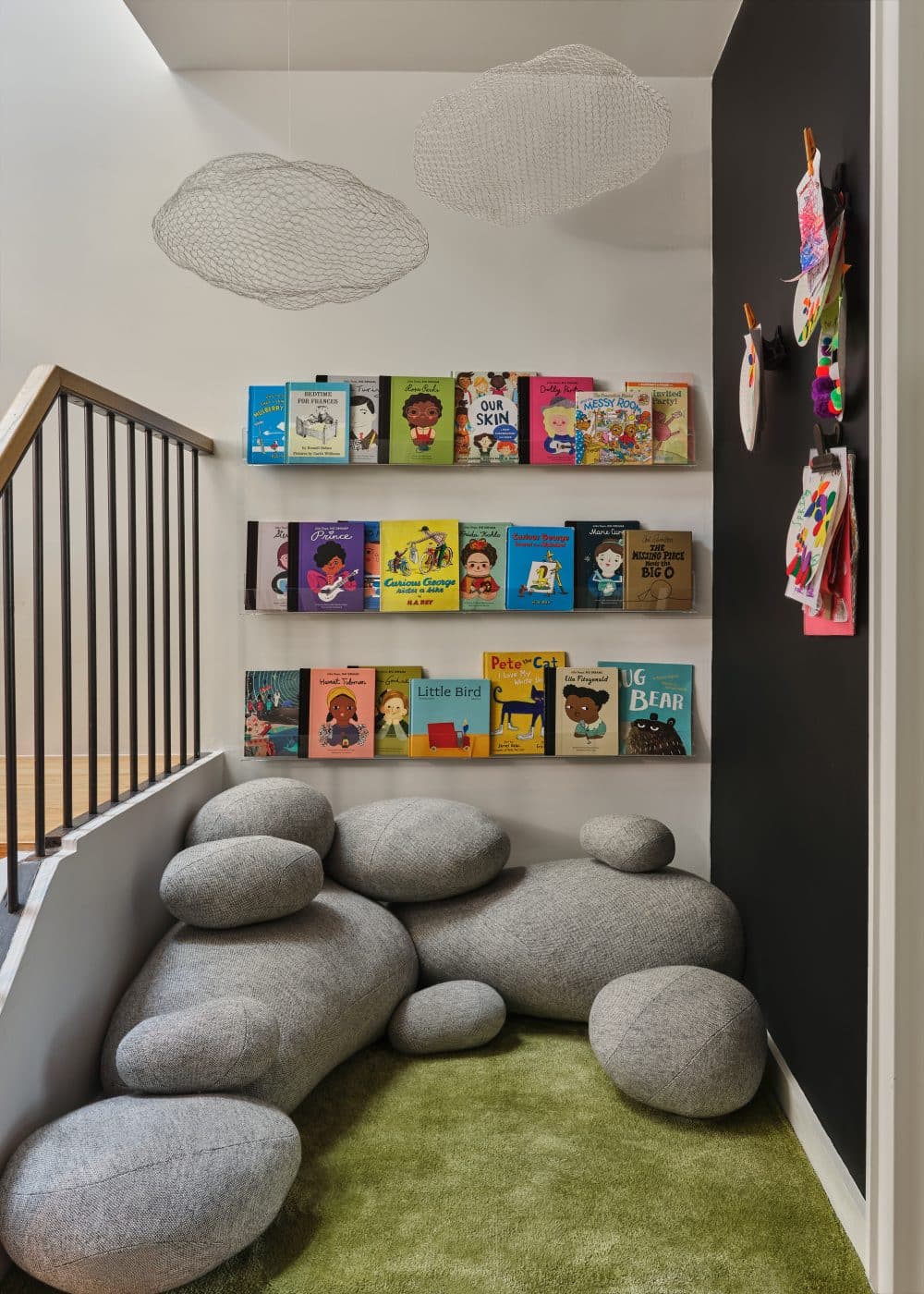 Next to the stairway on the the children's level, Houston created an ersatz outdoor space. The carpet, by PFM, simulates grass, while the clouds overhead are chicken-wire fixtures from Magis. The main event, though, is the boulder-like foam poufs by Stéphanie Marin, whose Nice, France–based company is named Smarin. Houston started out with a few, but the clients wanted more and more.
---
Rec Room
This space was a windowless box. "My instinctual response was to play the cards that we were dealt," says Houston, meaning he didn't try to brighten the room. Instead, he gave the sofas, the walls and the millwork the same deep chocolate hues, which he sees as a color for cocooning. The room has to perform multiple duties — as bar, theater (TV room) and guest room. For the furnishings, Houston went high-low. To the sectional sofas (with end tables that look built-in) from Room & Board, he added such pricier, one-of-a-kind pieces as a poured-concrete coffee table from Brooklyn's Opiary and bronze shelves, designed by Houston and made by Gabrielle Shelton, of Brooklyn's Shelton Studios. The sculptural table lamp in the corner was designed by Harry Balmer for Laurel.
---
Top-Floor Office
The husband's top-floor office has rooftop terraces at either end. With natural light pouring into the room, "I knew it could handle the dark millwork," says Houston, referring to the ebonized oak desk and shelving.
A built-in bronze-tinted mirror seems to expand the available workspace. At the top of each window is a Houston trademark, a perforated metal valence, in this case painted the same color as the millwork. A BassamFellows chaise sits on a Woodnotes rug, which was made in Finland of paper yarn and cotton. The dog carrier is for the clients' pooch, who, like its owners, prefers to remain anonymous.
Marc Houston's Quick Picks