Many makers — artists, craftspeople, designers — start off on a small scale and, as their careers gain steam (and financing), turn out work that is bigger and bigger. Not architectural metalworker Gabrielle Shelton. Although her Shelton Studios is nearly 20 years old and counts among its clients artist Richard Serra, gallerist David Zwirner, restaurateur Keith McNally and designer Kelly Behun, these days Shelton's creations keep getting smaller and smaller.
In March, Shelton had a booth at the Architectural Digest Design Show in New York. This wouldn't be unusual if it weren't for the fact that she's more typically surrounded by huge cranes and swinging sheets of metal, strapped into a harness several hundred feet in the air while installing a five-story staircase. Indeed, while Shelton Studios works with architects, designers and clients to design and fabricate all things metal — from lighting to doors to furniture to planters — it's best known for sculptural, minimalist staircases.
But Shelton didn't bring a staircase to the AD show. There, she displayed her latest obsessions: bespoke rolling library ladders and an imposing chess set, with weighty pieces made of bronze atop a board of marble. The chess sets sprang from her desire to create something with all her scrap metal. "I like that each piece has a history, that the rest of its stock is in a staircase somewhere, or a pergola or a ladder," she says. Also, she loves the tradition of artists making chess sets: Man Ray, Marcel Duchamp, Alexander Calder, Isamu Noguchi ("Only Duchamp was any good at playing," she notes). In April, Shelton began selling a limited number of the sets on 1stdibs through R & Company, the blue-chip design gallery in Tribeca co-owned by her husband, Evan Snyderman. (The couple began dating while Shelton was working on a staircase for R & Company, her first ever. He proposed when she finished it.) Checkers and backgammon are next.
As it happens, the elegant ladders and chess sets are less a departure for Shelton than a return to form. That's because she's the rare combination of craftsperson and artist. She first trained as a sculptor, attending L.A. County High School for the Arts, then earning her BFA at the Art Institute of Chicago. As a kid, she learned to work with metal from her uncles, one a smith and the other an architect. Everyone in her family is creative: Her dad, Ron Shelton, is a screenwriter and director; her mother, Lois, is a documentary filmmaker; her sister, Stephanie, is a landscape architect. Shelton grew up in a big Arts and Crafts home near Hollywood, in Silver Lake, that her parents were always renovating. On weekends, they'd head up to the extended-family camp in Santa Barbara, a pastoral hotbed of making and doing that still hums along today. "My cousins and I all learned how to weld before we could drive," Shelton says.
After art school, in 1995, she moved to a loft in Brooklyn's Williamsburg, where she continued to make art while doing construction and working in welding shops to pay the bills. She became more and more interested in metal fabrication and began taking commissions on the side, her first being an industrial-style desk for a hair salon. In 2000, at age 27, she opened her own business.
Today, Shelton Studios, based in Greenpoint, offers all manner of services — fabrication, machining, casting and finishing among them — in metals ranging from carbon steel to copper to brass. Some of her favorite projects include several pieces she did for Behun's Hamptons house, including a bronze door handle cast from a piece of driftwood and several thin, 12-foot-tall sculptural outdoor chairs that look custom-crafted for a Giacometti figure. "Regardless of the scale of the project, she brings not only exceptional technical skill but a wonderful passion and enthusiasm," Behun says of Shelton. "You get the feeling she's capable of creating just about anything you can imagine, and quite possibly things you can't imagine too."
---
"My cousins and I all learned how to weld before we could drive," Gabrielle Shelton says of her creative upbringing."
---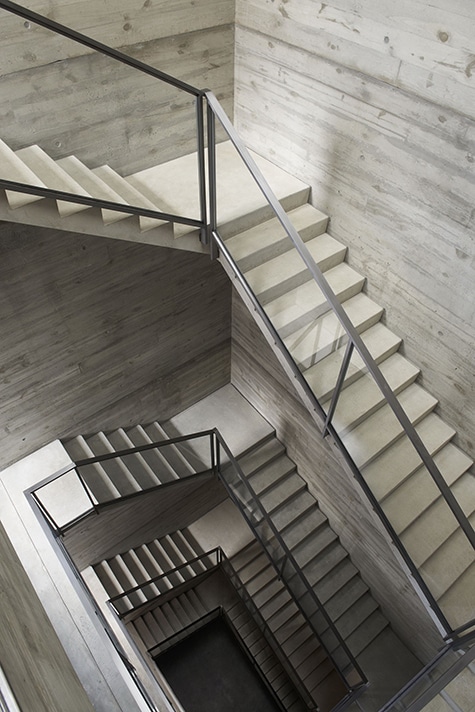 Shelton collaborates with designers and architects on about 70 percent of her commissions; the other 30 percent are her own designs. "That's up from fifty-fifty. I'm moving more and more toward my own projects, my own art," she says. "I'm weaning off the bigger jobs. A lot of the construction industry has become very corporate in the past ten years, and that's not as interesting to me."
Last year, she created a library ladder, three sets of doors, and two sets of railings for the remodeled Manhattan loft of Naomi Watts and Liev Schreiber, a major project overseen by the firm Ashe + Leandro. "When I work with Gabrielle," architect Reinaldo Leandro says, "I imagine that this must have been the relationship architects and designers in the nineteen-fifties and -sixties had with their tradespeople. Not only is she a master of her craft, but she cares so much about the design, and there is so much pride in her work. She is interested in the execution, of course, but also in the exchange of ideas. She is an artist."
Asked about her early influences, Shelton ticks off Louise Nevelson, Eva Hesse, Lee Bontecou, Robert Rauschenberg and Serra, who had the greatest impact on her.
Several years ago, she got the chance to work with Serra when his architect commissioned her to build a wall of steel-and-glass doors in his Tribeca home and studio. "I was so afraid I was going to completely lose my cool that I adopted this totally tough demeanor," she says with a laugh. He'd say good morning, and she'd answer with a faux-casual jut of the chin. Shortly after that, in 2013, Shelton and Serra crossed paths again. She was installing a staircase railing in the newly expanded David Zwirner Gallery, a project overseen by Annabelle Selldorf. The gallery opened before construction was completely finished, meaning that every night for two months, Shelton and her team had to work the grueling "graveyard shift," from 7 p.m. until 3 a.m., dismantling and rebuilding the scaffolding each day. Serra was staging a show of his early pieces at the time, and Shelton helped him restore one. "It had nothing to do with artistry, but he kept telling me how good my work ethic was,"  Shelton says, laughing. "I'll take that."
Indeed, Shelton has never shied away from hard work. Especially in the early days of her career, she was almost always the only woman on a job site or in the shop. "I wasn't fazed by it. I never felt out of place or like a spectacle," she says, conceding that "I used to get asked to prove myself a lot." She's now firmly beyond that stage. Yes, she still "absolutely has had both contractors and employees say things to me that I know they would never say to a man. But I think that's true of any woman at any job."
It's safe to say, however, that not many metalworkers stow a playpen in their offices, as Shelton did when her daughter, Cleo, and son, Ellery, now 9 and 11, were babies. During nap time, she'd holler at her employees to keep the noise down. The kids today love coming to her sprawling shop, where they each have their own drawer of materials to futz around with. "My daughter comes in and completely takes over," Shelton says. Both children love to draw and want to be cartoon artists — or maybe graphic artists or musicians. Cleo is currently going through a Joan Jett phase, while Ellery is deep into David Bowie and the Clash.
Looking ahead, Shelton has no major expansion plans. "I don't have any interest in being the biggest, toughest shop in Brooklyn," she says. "I just want my studio. I want to be able to make beautiful things for people, and for myself. And to keep developing my skills as a craftsperson and an artist. I'm in this for the long game."