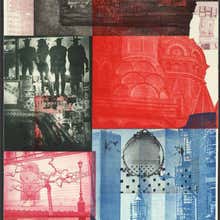 American, 1925-2008
Robert Rauschenberg was one of the preeminent American artists of the 20th century, occupying a singular position that straddled the Abstract Expressionist and Pop art movements, drawing on key elements of each. An artistic polymath equally adept at painting, collage and silkscreening, Rauschenberg is best known for for the complex assemblages of found objects he termed "combines."
Rauschenberg was born in Port Arthur, Texas, in 1925. He first began to seriously consider a career in art in 1947, while serving in the U.S. Marines. After leaving the service, he briefly studied art in Paris with support from the G.I. Bill, then moved to North Carolina to attend Black Mountain College, home to a flourishing cross-disciplinary art community. Among his peers there were choreographer Merce Cunningham and composer John Cage, both of whom became friends and artistic collaborators.
Relocating to New York in the mid-1950s, Rauschenberg was initially put off by what he perceived as the self-seriousness of the adherents of Abstract Expressionism, then the dominant movement in the New York art world. Like Andy Warhol and Roy Lichtenstein, Rauschenberg was drawn to the visual landscape of popular culture and mined its imagery for inspiration. He used unorthodox materials like house paint and tried novel techniques in his studio like running paper over with a car whose wheels he had inked. Shortly after his inaugural solo exhibition at Leo Castelli Gallery, which featured paintings and drawings, he pivoted to a new format, creating his first found-object combines, which became his signature. The most famous of these is the 1959 Monogram in which a taxidermied goat is surrounded by a car tire, recalling the way a person's initials are interwoven in the design referred to by the title.
Later in the 1960s, Rauschenberg turned his attention to silkscreening, creating prints that feature iconic figures of the day, very much in line with the style and content of Pop art. One such work, 1965's Core, which was created to commemorate the Congress of Racial Equality, combines photographs of President Kennedy, an unidentified Native American man, and a statue of a Civil War soldier with images of highways, amusement parks, street signs, and other features of the built environment. A circular color-test wheel sits at the composition's formal core, reflecting the work's commentary on race and ethnicity.
Throughout the 1960s and '70s, Rauschenberg experimented with printing on unusual materials, such as Plexiglas, clothing and aluminum. Venturing even further afield, he created performance works, such as his 1963 choreographed piece "Pelican" and the 1966 film Open Score. In 1998, the Guggenheim Museum presented a large and comprehensive retrospective of Rauschenberg's work, highlighting his influence on American art in the second half of the 20th century.
Find original Robert Rauschenberg art for sale on 1stDibs.
Creator
:
Robert Rauschenberg
Previously Available Items
Robert Rauschenberg furniture for sale on 1stDibs
Furniture by Robert Rauschenberg is available for sale on 1stDibs. These distinctive objects are frequently made of
paper
and designed with extraordinary care. There are many options to choose from in our collection of Robert Rauschenberg furniture, although
gray
editions of this piece are particularly popular. In-stock we have 8 vintage editions of these items, while there is also 0
modern
edition to choose from. Many of the original furniture by Robert Rauschenberg were created in the
Modern
style in
United States
during the
20th Century
. If you're looking for additional options, many customers also consider furniture by
Jim Dine
,
Sam Francis
and
Donald Sultan
. Robert Rauschenberg furniture prices can vary depending on size, time period and other attributes. Price for these items starts at
$650
and tops out at
$18,000
, while pieces like these can sell for
$3,479
.
Creators Similar to Robert Rauschenberg
More Robert Rauschenberg Furniture