August 16, 2020For fifth-generation Angeleno Stephanie Booth Shafran, author of the newly released You're Invited: Classic Elegant Entertaining (Rizzoli), setting a beautiful table has always been a given. "I grew up in a family that would gather around a formal table every night," she recalls. "Family dinners were something I always valued." It shouldn't be surprising, then, that the recently shuttered online magazine The Salonniere included her in its illustrious list of America's 100 Best Party Hosts in 2019, along with Mercedes Bass, Carolyne Roehm, Oprah Winfrey and Gabrielle Union and Dwyane Wade. "I felt entertaining was a dying art, which is what inspired me to write this book," Shafran says.
Little did the preeminent hostess know when she began the project that her book would take on a very different sort of resonance in this age of sheltering in place and social distancing. Shafran, her husband, Steve, and their large blended family have been waiting out the pandemic in their 1950s John Elgin Woolf–designed French Provincial residence in Bel-Air (they also have homes in New York and Sun Valley). "We've been having family dinners for several months," she says, noting that an attractively set table is more important to them now than ever before. "I don't entertain to impress. I entertain because it's a passion and I'm giving part of myself to family and friends. It's about opening up my heart and my home."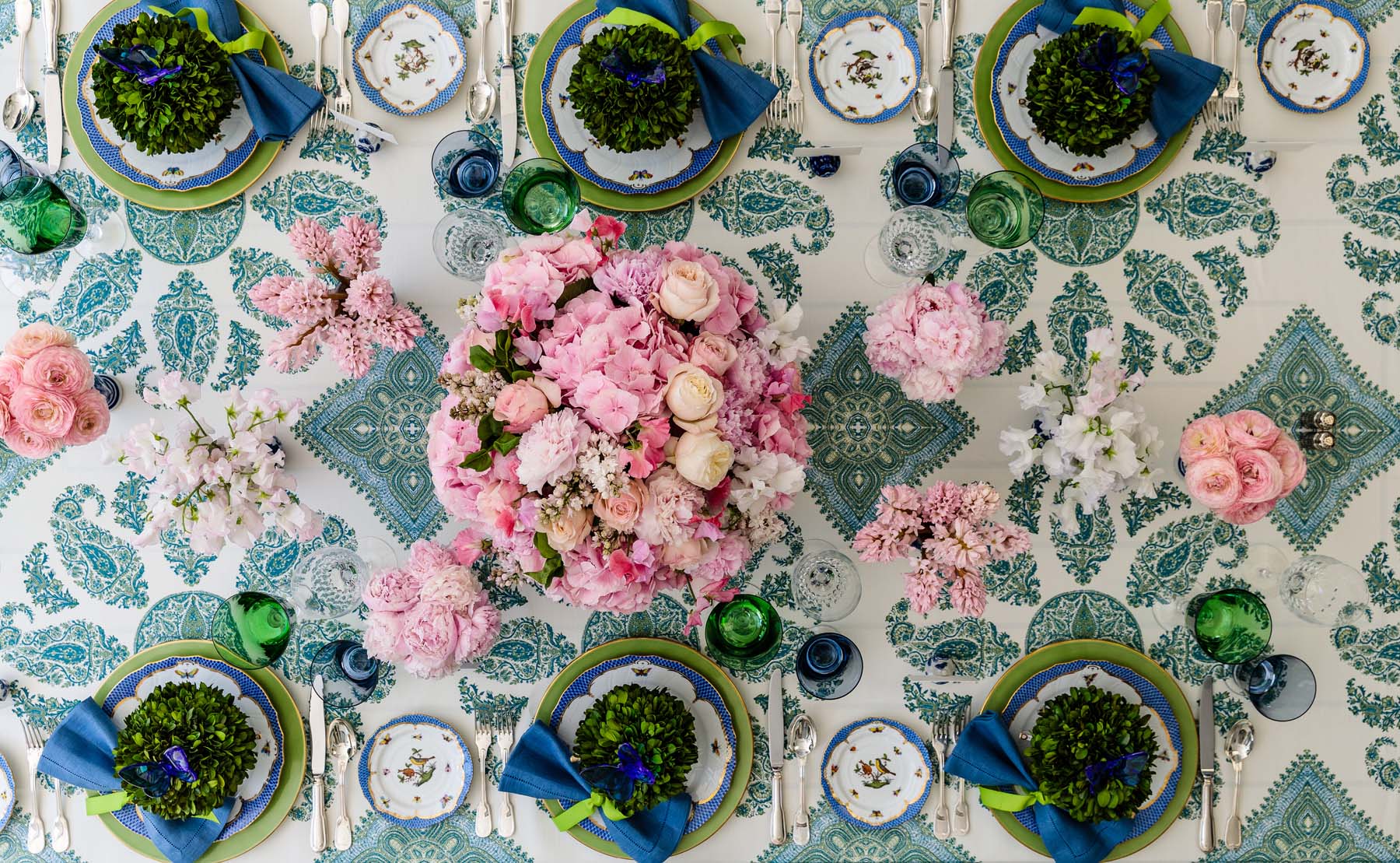 With that, Shafran introduces her rule number one: "My motto is 'Have fun with it.' It's yin and yang, high and low, Crate & Barrel with Christofle silver. I like to mix it up — sometimes in the dining room, sometimes on the kitchen banquette, sometimes in the loggia. It transports your guests and makes them feel more comfortable and relaxed." Even if your guests are your spouse and children, an elegantly composed tablescape can elevate the experience, not to mention inject some surprise and variety into the monotony of forced isolation.
Gracious entertaining, of course, brings together an array of elements, from china and silverware to flowers and accessories. You're Invited is filled with helpful suggestions you can use to make any meal a memorable one, whether it's Wednesday night at your kitchen table or — when it's possible again to socialize beyond videoconferencing platforms — a special-occasion dinner for 12. Below, Shafran offers tips, from her book and confided during an interview, on the different elements of a well-considered tablescape, from china and crystal to cutlery and accessories. She also gamely "shopped" 1stDibs for tablescape elements that will abet your every creative dining impulse.
---
China and Porcelain
China should reflect the setting. "If I'm hosting outside in the loggia, I select china and linens that coordinate with the garden," Shafran writes in the book. "Over the years, I've purchased and inherited china — L'Objet, Ginori, Herend — that harmonizes with the hues of our décor."
"Set is an interesting word," she says, pondering her approach to dinnerware, "because for some of our china, I have full sets, for some I don't. It doesn't have to be a whole set. Buy just twelve dinner or salad plates and mix them into your collections."
"One of my secrets is to use buffet plates as dinner plates," she writes. "Because they're larger and flatter than the norm, I think food looks prettier on them." Standard dinner plates are about 10½ inches in diameter, while buffet plates can range from 11½ to 12½ inches. Shafran is especially happy when she finds plates that have colorful borders (but are blank in the middle "so it doesn't distract from the food"), as they bring livelier visual interest to the table.
Stephanie's Picks
---
Stemware and Glassware
"If someone's thinking about exact rules, they're not going to push themselves to be creative, and they won't have a good time," Shafran says. "I love to mix and match glasses. I use colored glasses for water and champagne." Favoring tinted glassware for champagne, she admits, mainly stems from a beloved set of jewel-toned Saint-Louis flutes in her collection. For wine, however, she employs clear glasses, so the color of the liquid isn't obscured.
"I use a variety of glassware for a variety of purposes," she continues. "Oversize wine glasses make good water glasses. Sometimes I put fruit and sorbet in goblets." For a housewarming party celebrating Jeffrey Bilhuber's redecoration of her Los Angeles home, Shafran served crudité with beet hummus in colorful Moroccan tea glasses set on a silver tray. "I found them in Turkey, and they were not expensive," she notes, yet they became what she describes in the book as "a transportive serving solution." At a pool party for her daughter and friends, Shafran filled Italian tumblers with watermelon and orange ice and offered to top them with Aperol or Campari.
Shafran keeps a fully stocked bar for her guests and serves beverages in a wide variety of drinkware, including tumblers, highballs and double old-fashioned, martini and wine glasses.
"Near my bar, I always keep a little bowl of nuts — See's Candies' mixed salted nuts are the best in the world," she declares in the book.
"Decanting wine before serving is a must," she writes, so make sure to have a good wine decanter in your collection as well.
Stephanie's Picks
---
Silverware
"Appropriate accoutrements — caviar spoons made of mother of pearl; oyster forks; fish forks and knives — keep the proceedings feeling flawless," Shafran notes in the book. Their particularized functions make each course feel like a special interlude.
"I love the London Silver Vaults — a really fun place to find great accessories for the table," she writes. But 1stDibs, she says, also abounds in flatware, from antique to modern, made by some very fine houses, such as Casa Bugatti, Christofle, Georg Jensen, Gorham, Lunt and Tiffany & Co.
Trays, particularly silver ones, can be used for more than carrying food to and from the table. A pretty silver salver makes a great setting for a grouping of poured cocktails. It can also be used to hold place cards, folded napkins or cutlery, if you're serving buffet style, or for presenting cigars after dinner. It's one of the most multifunctional pieces in any collection.
Aside from their practical uses, silver and gold cutlery and serveware achieve other valuable objectives at a dinner table, adding weight and texture and, by reflecting candlelight, enhancing the sense of magic.
Stephanie's Picks
---
Accessories
"Flowers are among the most important elements in a tablescape," Shafran states. "I'm not into mixed, fussy arrangements. I think it's cleaner and more sophisticated to use simple bouquets of single blossoms. I want it to look like it came from the garden." As for the containers that hold those flowers, "mix up shapes but not kinds of vases," she recommends. "I like cohesiveness. There's an orderliness to it."
Vases and other traditional flower receptacles, such as tulipières and small jardinieres, are just the beginning. Experiment with antique terrines, all manner of export porcelain, mercury glass, mint julep cups — the possibilities are endless.
"It's nice to have one accessory that makes an impact," says Shafran. Case in point: For a garden party she threw, she topped each plate with a boxwood topiary ball on which she propped Baccarat crystal butterflies.
Place-card holders, candlesticks, salt and pepper shakers, figurines and many other objects can also embellish your table. But be careful not to overdo it. "You want it to be beautiful and approachable. When there's too much going on, it can be confusing. Bring out everything, and try it on the table. You'll see if you have too much." The key is balance, she says. "Consider textures that complement rather than compete with each other. If I have heavy carved candlesticks, I mix them with simpler vessels for flowers."
Returning to her rule about having fun, Shafran concludes: "Encourage yourself and others to just pause and enjoy the moment. That's what it's all about."
Stephanie's Picks