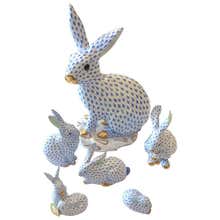 Hungarian
Herend Porcelain occupies a singular place in the world of luxury European ceramics. The firm's distinctive patterns are visually striking, and notably different from those of other major porcelain producers like Meissen or Sèvres. Whereas the latter tend to feature discrete decorative elements that appear to float on a white ground, Herend favors large, bold designs incorporating historical scenes, animals or vegetation.
Vince Stingl established what would become the Herend Porcelain Manufactory in 1826 in the town of Herend, Hungary, to produce earthenware. When he went bankrupt in the late 1830s, Mór Fischer, who took over, switched the focus from earthenware to porcelain to take advantage of the growing European market for fine china. By 1849, Herend counted among its clients members of the Habsburg dynasty and the Hungarian aristocracy. Thanks to its participation in several important international exhibitions and fairs—including the 1851 Crystal Palace Exhibition in London, the 1853 Exhibition of the Industry of All Nations in New York and the 1855 Exposition Universelle in Paris—its wares became a popular choice for courtly dining in the middle of the 19th century, and its patrons included Francis Joseph I of Austria and Queen Victoria of England, for whom its Viktória pattern was named.
The company foundered in the latter half of the 19th century under the leadership of Fischer's two sons. But it was given new life, artistically and financially, when Fischer's grandson, Jenő Farkasházy, himself a trained ceramist, took the helm around 1900. Farkasházy designed new patterns and revived classic ones. After World War II, Herend was nationalized by the Communist government, but kept alive its tradition of skilled craftsmanship by continuing to produce its classic patterns. In 1993, after the fall of the Iron Curtain, the factory was privatized once again and today is owned by its management and workers.
Herend's animal figurines, like this grouping of white rabbits, are often covered head to toe with the factory's famed "fish-scale" pattern, also known as Vieux Herend, which produces the effect of a dense coat of feathers or fur. The fish-scale pattern also appears on this chocolate cup and saucer decorated in the Cornucopia pattern.
Applied Filters
194 results
Herend Furniture for sale on 1stDibs.
Herend Furniture is available for sale on 1stDibs. These distinctive objects are often made of
ceramic
s and are designed with extraordinary care. There are many options in our Herend furniture collection, although
gray
editions of this piece are particularly popular. In stock are 177 vintage editions of these items, while there are also 10 modern editions to choose from. Many original furniture by Herend were created in
Europe
during the
20th century
in the
Rococo
style. If you're looking for additional options, many customers also consider Furniture by
Zsolnay Furniture
. The prices for Herend furniture can vary depending upon size, time period and other attributes. On Amazon, the price for these items starts at $30 and tops out at $18,995, while pieces like these can sell for $816 on average.